Pros

Cons

Large menu of 100+ recipes each week

Extra pantry ingredients often required

Caters to a range of diets

No allergy exclusion options

100% carbon neutral


No free shipping

Current deal – Get $260 off your first 8 boxes!
What's on the Marley Spoon Menu
Marley Spoon's menu boasts 100+ recipes each week, which is well above average of all the meal delivery services I've reviewed! The menu includes entrees, sides, Premium meals, microwave-ready meals, and desserts. This variety is welcome, especially since there aren't extensive dietary and allergy accommodations.
The menu mostly consists of classic American crowd-pleasers, such as the Glazed Mini Meatloaf (pictured below) and turkey burgers. Families with picky little ones will also be able to order kid-friendly meals like quesadillas and breaded pork cutlets.
But Martha Stewart & Marley Spoon caters to more adventurous palates as well, with international dishes like Pork and Korean Rice Cake Stir-fry (pictured below), Lebanese Hashweh (a one-pot rice dish), and Mexican tortas.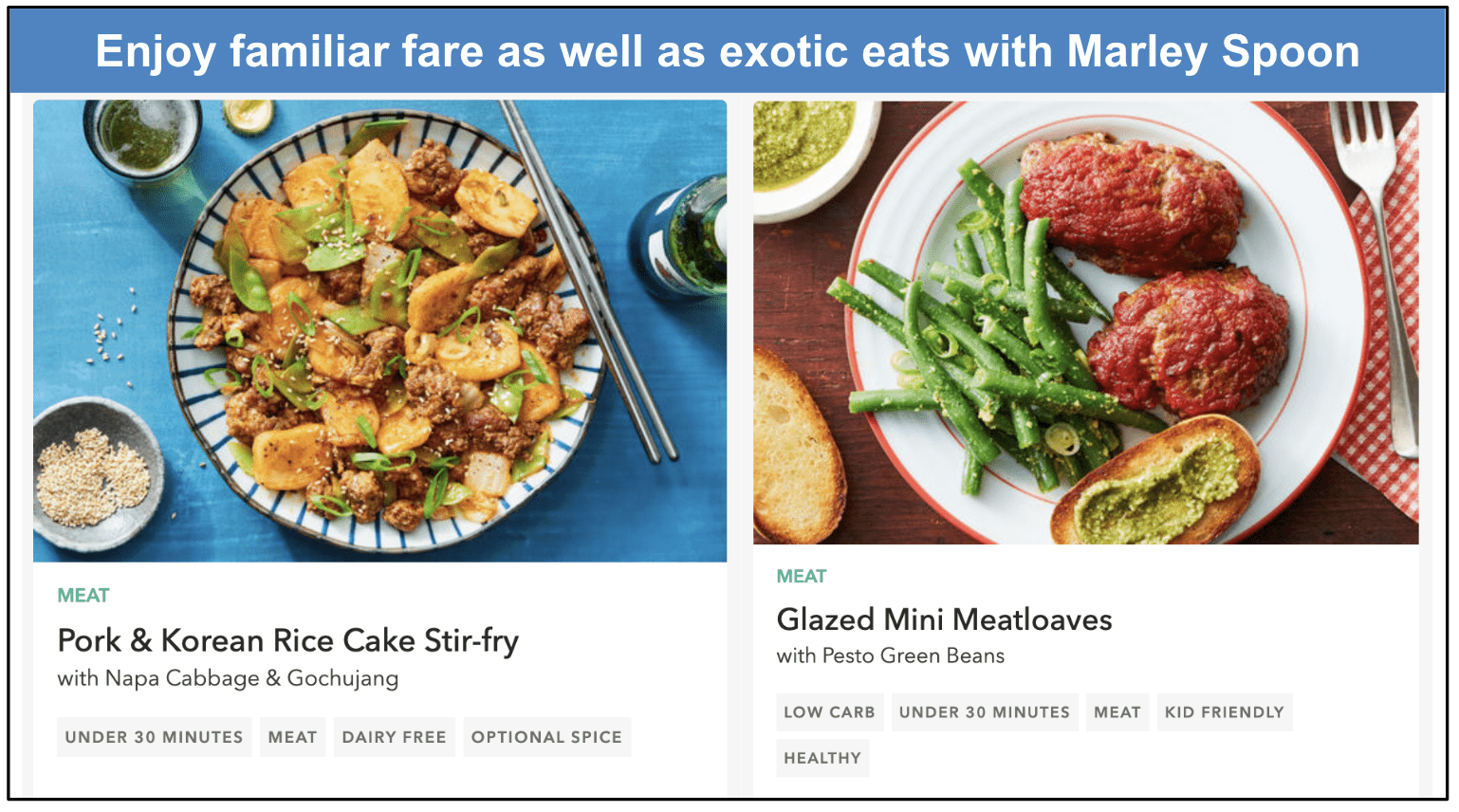 The menu also accommodates vegetarians, while vegans and pescatarians might want to search elsewhere.
You'll find plenty of other diet tags – like you can see in the picture above – including:
Veggie

Vegan

No Gluten Added

Dairy-Free

Healthy

Nutritious

Climatarian

Meat

Fish

Poultry

Family-Friendly

30 Minutes

Kid Friendly

One Pot

Special

Seafood
However, there's no way to sort the menu by diet. More on that in the Meal Customization section.
| | |
| --- | --- |
| Diet | Is Marley Spoon Good For This Diet? |
| Vegetarian | Yes, there are several options each week |
| Vegan | Sort of, there are about 5 vegan recipes each week |
| No Gluten Added | Yes, there are many No Gluten Added options |
| Calorie-Conscious | Yes, there are many Low-Calorie recipes |
| Low Carb | No, there are few Low Carb recipes each week that aren't very carb-conscious |
| Dairy-Free | Yes, there are 15+ recipes each week |
| Keto | No, there are no meals catering to this diets |
If you feel like getting fancy, you can select Marley Spoon's Premium meals, listed at the bottom of the main menu. There are about 35 Premium recipes each week. These include higher-quality cuts of meat, organic ingredients, and richer flavors as you'll find in the Organic Truffle Butter Steak (pictured below).
However, what qualifies as a Premium meal isn't entirely clear. While there are a few more decadent options like the Organic Truffle Butter Steak, there are also more simple options like the below Chicken Stir-fry.
The stir-fry doesn't include ingredients I'd qualify as premium, like organic, wild-caught, grass-fed, etc., and doesn't include exotic or impressive flavors. However, ordering the meal will still incur an upcharge.
When adding Premium meals to your order, I suggest checking the ingredients and flavors and keeping an eye on the upcharge to determine whether the meal will be worth it for you.
Click on any recipe and you'll see the time and level of skill required, nutrition facts, allergens, and a complete dish description.
You'll find a list of everything included in your delivery on the online recipe cards, as well as what ingredients you'll be expected to provide. This information is handy and can help you plan whether you need to do any extra grocery shopping.
The international cuisines on the menu can feel daunting to tackle if they're unfamiliar, but the easy-to-follow recipes and prepared spice blends make trying these new recipes more convenient.
A downside I've noticed is that Marley Spoon asks for way more pantry ingredients than other services. Marley Spoon's recipes call for everything from flour and sugar to sherry vinegar and finishing salt, while most meal kits will only expect you to have things like oil and pepper on hand.
Some ingredients, like sherry vinegar, are pretty niche for a standard pantry – so I'd recommend checking each recipe carefully before ordering.
One thing I love about this service is all the extras you get as well as its entrees. On the menu, you'll also find desserts, protein packs, and brunch options – as well as seasonal recipes. You'll also find some microwavable meals.
However, you can't see the marketplace and extras until you've signed up and provided your payment information. You can ask customer service if there's a particular protein add-on you'd like to order so you can double up on a recipe you like, or to give you examples of what else might be available as an extra, but you still can't see the market itself.
Marley Spoon's customizable options cover sides, proteins, and add-ons on some of its menu. Customizable options are different for each meal, ranging from swapping jasmine rice for ready-to-eat rice, to adding desserts like cheesecake, to swapping non-organic proteins for organic, wild-caught, or plant-based options.
These customizable options really expand the menu. They are great for increasing vegetarian options with plant-based substitutes, increasing the nutrition factor of your meals, or rounding out your meal with a proper dessert.
Recipes with customizable proteins or sides are labeled with a Customizable icon on their recipe card on the main menu (pictured below).
However, you'll want to note that Marley Spoon's entire menu is subject to allergen cross-contamination, despite the customizable feature. People with severe allergies may be better suited to a more specialized meal delivery service like Green Chef or will need to make ingredient substitutions from their own kitchen.
The menu is huge, but I was surprised to see there's no way to filter it based on diet, ingredients, or allergens. Recipes are tagged according to diet or meal contents and whether they take less than 30 minutes, but there's no easy feature to sort the menu and only see recipes according to your diet.
Some of the recipe tags are vague, like Healthy, Special, Low Carb, Low-Calorie, and Climatarian. For example, meals labeled Low Carb included around 40 g carbs per meal. Given that low-carb diets recommend eating 50 g or less of carbs per day, 40 g of carbs is a lot of carbs to consume in one meal.
Pro tip: You can search the page by recipe tags by hitting "ctrl + F" on a PC or "command + F" on a Mac and typing in the tag you want to search. You can then click through search results to see the type of recipe you'd like to view. This is great if you want to search One Pot or Family-Friendly, but it's impossible to search two tags at a time, like Seafood + No Gluten Added.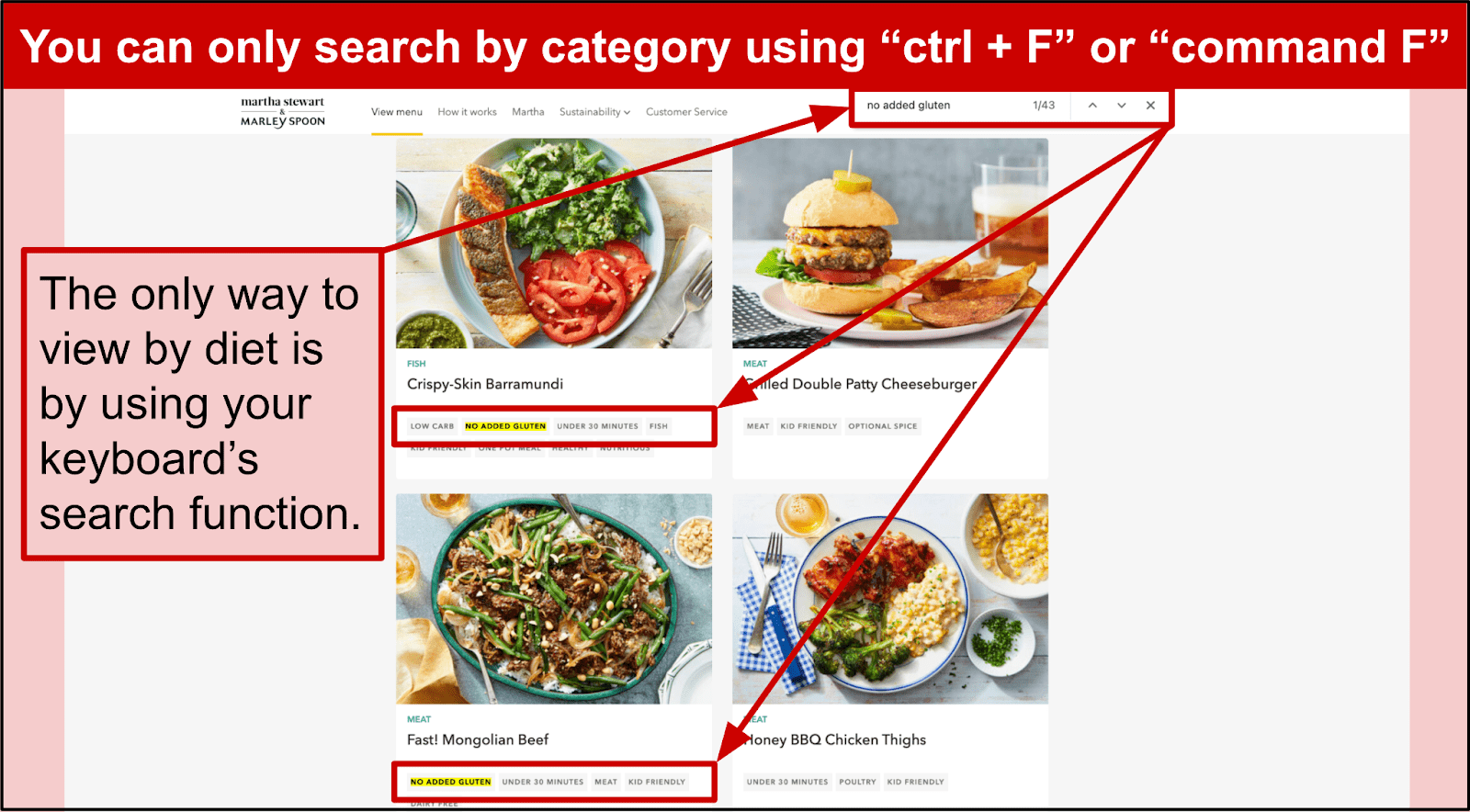 Green Chef is a more diet-conscious meal kit delivery service with similar prep times and excellent cuisine variety within its Mediterranean, Plant Based, Keto, and certified Gluten-Free plans. You can also read our reviewer's tried-and-tested experience ordering from Green Chef.
As Marley Spoon mainly offers meal kits, you can leave out certain recipe ingredients you don't want to consume. The only downside of addressing recipe customization this way is that you might end up wasting food if no one in your home is willing to eat what you don't want.
Or, you can read through the Ingredient Hub – Marley Spoon's online ingredient database. It lets you search for any ingredient that you'd find in a Marley Spoon box. This is the best way to learn about allergens and potential cross-contamination in your ingredients and is great for people with allergies or other restrictions who need to know exactly what's in their food.
If you have allergies, it's up to you to sort through Marley Spoon's weekly Ingredient Hub and recipes for the ones that suit your needs. It's a thorough resource but can be time-consuming when it comes to choosing meals each week.
Unboxing
Ingredients arrive packaged by meal in clearly labeled paper bags. Ingredients that require freezing or refrigeration are separated by an insulated layer and kept cool with ice packs.
Produce arrives whole and will need prep, including chopping, slicing, peeling, or by whatever method your recipes require. Meat and seafood typically arrive frozen or partially thawed and require immediate refrigeration.
Ingredients are pre-portioned according to the recipe, though this service typically gives you a little more than you need. This might leave you with extra food waste, or an opportunity to devise your own meal delivery minestrone at the end of the week! The recipes do suggest other uses for the extra ingredients, which was a nice touch.
Some seasonings, sauces, and sides are popular name brands like Philadelphia cream cheese, BelGioioso cheeses, and Giovanni Rana pasta. These will all include storage instructions on the labels. The service recommends you enjoy seafood dishes within 2 days, ground meat and chicken dishes within 3, and all other meals within 2 days of arrival.
Otherwise, you can use your best judgment when storing the rest of your food such as dry seasonings, premade sauces, and fresh produce.
Martha Stewart & Marley Spoon prides itself on being both 100% carbon neutral and sustainable. You'll find plenty of information on the website on how to recycle or reuse each piece of shipping material in your delivery. The company balances any unavoidable emissions with carbon offset projects.
You'll also find printed recipe cards for the meals you ordered in each delivery. While this seems a waste of paper since you can find complete recipes online, you won't have to scroll through recipes on your phone, laptop, or desktop as you meal prep with food-covered fingers.
Cooking with Martha Stewart & Marley Spoon
Martha Stewart & Marley Spoon's biggest strength is its thoughtful menu with a balance of comfort and exotic foods.
While recipes are simple to follow, they can take longer than the estimates. Every recipe is broken down into 6 steps (though they aren't always "simple"), and meals generally range from 20 to 25 minutes of prep.
Inexperienced cooks shouldn't be afraid to try this service but might want to add 10 to 15 minutes of extra prep time for learning new cooking skills.
Shortlist of My Favorite Meals
Let's take a look at cooking 3 Marley Spoon meals.
Crispy Skin Barramundi
770 calories

70 g fat

35 g protein

10 g carbs

Meal tags: no added gluten, under 30 minutes, low carb, fish, kid-friendly, one pot meal, healthy, nutritious
Most beginner chefs can follow this recipe, while a complete beginner might take extra time chopping, slicing, and wondering whether the barramundi is cooked properly. The most complex skill required in this dish is actually frying the fish. Otherwise – chefs of all skill levels can easily try cooking this healthy, low-carb, pescatarian dish.
Organic Steak with Truffle Butter and Fondant Potatoes
The first step of "prep ingredients" is actually several steps of peeling, chopping, cutting, grating, and coarsely chopping ingredients. I'd separate this step into 5 steps. Plus, I'd recommend using a peeler as the safest and easiest way to peel a potato, but a peeler isn't included on the "What you'll use" list for this dish.
This recipe might also be difficult for the beginner chef with the potentially confusing instruction of "cook until well-browned and medium rare". Since I'm not a complete novice, I understand the instruction, but a super beginner might be confused by the contradicting "well-browned and medium rare" description. Otherwise, cooking skills are pretty simple for this one! I'd add about 10 minutes extra for skill Googling and cleanup.
Ready Made! Cheese Enchiladas
630 calories

32 g fat

29 g protein

60 g carbs

Meal tags: special, vegetarian, no added gluten, under 30 minutes, low-calorie, kid-friendly, one pot meal, healthy
Microwave-ready meals are super easy to prep – just heat and eat for an average of 2:15 minutes, or until your meal is cooked completely through.
| | | |
| --- | --- | --- |
| Starting from | Order size and price (before shipping) | Shipping fee |
| $12.99 per portion | 2 meals for 2 people/week: $51.96 | $11.99 |
| $10.99 per portion | 3 meals for 2 people/week: $65.94 | $11.99 |
| $10.49 per portion | 4 meals for 2 people/week: $83.92 | $11.99 |
| $9.99 per portion | 5 meals for 2 people/week: $99.99 | $11.99 |
| $9.49 per portion | 6 meals for 2 people/week: $113.88 | $11.99 |
| $10.49 per portion | 2 meals for 4 people/week: $83.92 | $11.99 |
| $9.49 per portion | 3 meals for 4 people/week: $113.88 | $11.99 |
| $8.99 per portion | 4 meals for 4 people/week: $143.84 | $11.99 |
| $8.99 per portion | 5 meals for 4 people/week: $179.80 | $11.99 |
| $8.69 per portion | 6 meals for 4 people/week: $208.56 | $11.99 |
Per-serving prices decrease as you order more meals per week, but shipping remains the same. Marley Spoon is one of the more affordable meal kit delivery services out there that still offers an impressively large menu with international cuisines and premium options.
Premium meals all require an upcharge, which changes depending on the number of meals you order each week and depending on the meal. All Premium meals require at least a $2 per portion fee, but some meals are more expensive. Premium meal prices show once you've confirmed your first order.
These prices are lower than eating out at a restaurant – even at the most expensive per portion price, including the shipping fee. That said, they can still be pricier than grocery shopping for yourself and cooking at home.
Marley Spoon delivers to most US continental states. You'll have to type in your zip code on the site to check whether Marley Spoon delivers to your area.
What's great about this service is you can choose your delivery day. This is super convenient so that you can more easily plan your weekly schedule. You may find that you have more or different delivery day options – it all depends on your location.
Like most services, Martha Stewart & Marley Spoon gives a broad delivery window between 8 am and 8 pm. While you can't choose your delivery time, you'll at least know which day your delivery is expected to arrive.
When your order is confirmed, you'll receive an email with all the delivery details, including a list of additional ingredients you'll need to complete your recipes. You can also track your delivery through the app, or your website login, by contacting customer service, or typing in delivery details on the courier's website.
Marley Spoon uses different couriers for each shipment, which means the service delivering your box might change for each order.
The change request deadline varies by zip code and is midnight 6 or 7 days before your next delivery for most orders. You'll see your change request deadline in your account and will receive an email reminder to make any last-minute changes. If you want to change any detail for a delivery that's already confirmed or en route, you'll have to reach out to customer service.
Marley Spoon will confirm all delivery changes with an email. If you don't receive an email, you should reach out to customer service to confirm that changes have been made.
Your first delivery will arrive within 1-2 weeks after you've confirmed the order, depending on available delivery days and couriers in your area. You can also delay delivery for up to 3 weeks, should you need to.
Plus, this service prides itself on being 100% carbon neutral. Being carbon neutral means the company's carbon footprint has been measured according to international standards and fully offset by certified carbon offset projects that promote clean air and energy.
Shipping material is mostly recyclable and at least follows meal delivery industry recyclability standards. You can find detailed recycling instructions on Marley Spoon's website. For name-brand products, you can follow recycling instructions on the labels.
How Marley Spoon Works
The entire process to sign up for a Martha Stewart & Marley Spoon account is simple and easy, and it can be broken down into 5 simple steps:
How to Sign Up for Marley Spoon
Click on Choose Your Meal Kit. You'll start by selecting a plan. Here you can choose the number of people – 2 or 4 – and the number of recipes you want per week – between 2 and 6. You can also opt to make your box vegetarian, which simplifies choosing your meals later on.

The first step requires that you know how many meals you want each week

Input your zip code and email address. The zip code will help determine which days you can receive your weekly delivery.
Select your delivery day and input your address. Delivery day options differ depending on your zip code.

Ensure you've entered the correct billing and delivery address to receive your order

Input payment details. You can pay via PayPal or with a credit card, but you have to put in your payment method before you choose your meals.

You can pay with a credit card, debit card, or PayPal account

Pick your meals! Marley Spoon will suggest meals based on your taste profile, but you have total control over which dishes you add to your shipment.
Once you're in, you can set up a taste profile where you can select the meat varieties that you do or don't eat (or exclude them altogether). There's even the option to say if you like spicy food.
Based on the preferences you've already added, you'll get a few recommendations. I prefer to go through and pick my own meals, but it's great that there's a choice for people who are indecisive, busy, don't have dietary concerns, and want to try something new.
Once you've chosen your recipes, all that's left is to wait until your meal kit arrives. If you stay subscribed and don't choose your own meals, you'll continue to get recommended meals each week.
Managing Your Subscription
It's easy to change recipes or skip a week. But keep in mind – your last chance to make changes will be midnight 6 or 7 days before your delivery day.
When it comes to canceling, many services make you jump through hoops to close your account, and I'm happy to report that this isn't the case with Marley Spoon. The process is stress-free, whether you want to skip a week, pause your subscription, or cancel it outright.
Customer Service
Marley Spoon's customer service offers some of the best customer support features for a meal kit delivery service. The website is easy to navigate, there's a comprehensive and easily searchable FAQ and Ingredient Hub, and you can chat with a live customer support agent 6 days per week.
Plus, you can manage your subscription entirely through the app that's iOS- and Android-compatible. In my experience, using a mobile app is the easiest and most seamless way to manage meal deliveries since you can change any delivery detail with a few taps on your device.
You can also chat with customer support via the app by tapping the phone line number, through the automated chatbot, or by typing "human agent" into the chatbot messaging window.
You need to sign up before accessing all the app's convenient features, but you can still contact customer support via live chat, phone line, or email before you sign up.
I was connected o a customer service representative through live chat within 2 minutes. If you encounter a longer wait time or require answers to questions beyond the live customer service hours, the chatbot remains a valuable tool.

You can manage and cancel your subscription either through the app or by logging into your account. If you're looking for step-by-step guidance on how to cancel your Martha Stewart & Marley Spoon subscription, there's a short blog post that lays it all out in just 3 easy steps

I recommend contacting customer support via live chat since I was always connected with a friendly live agent very quickly. I waited an average of 5 minutes to be connected each time I tried the phone line, and email responses took 12 to 36 hours for me to receive.
Customer support hours are in EST and are as follows:
Monday: 9 am to 11 pm
Tuesday: 9 am to 11 pm
Wednesday: 9 am to 11 pm
Thursday: 9 am to 10 pm
Friday: 9 am to 10 pm
Saturday: 9 am to 9 pm
How Marley Spoon Compares to Other Meal Delivery Services
Marley Spoon vs. Green Chef
Green Chef is, in my opinion, the best organic meal kit service out there right now. All produce is CCOF- and USDA-certified organic, and all ingredients are non-GMO. Prices are higher than Marley Spoon's, starting at $9.99 per serving, but you'll find excellent diet-friendly options like the Keto, Gluten Free, Plant Based, and Calorie Smart plans.
Marley Spoon isn't great for people on keto or meat-free diets and doesn't prioritize ingredient quality. So Green Chef may be a better option for you if it fits your budget. You can choose from 45+ meals each week.
Factor is a meal delivery service that offers high-quality microwavable meals ready in 2-3 minutes. The menu changes weekly and includes 35 recipes and 40+ add-ons each week.
The cuisine is primarily American and Mediterranean, and you can choose from 5 Factor meal plans, including High Protein, Keto, and Vegetarian, which you can mix and match as you prefer.
Factor prioritizes sourcing high-quality, humane, and sustainably grown ingredients. All poultry and eggs are cage- and antibiotic-free, all meats are pasture-raised or grass-fed, and the salmon is sustainably sourced. Prices start at $6.19 per serving.
Marley Spoon offers 3 to 5 microwavable meals on the menu each week, but only as an add-on with a few dollars upcharge, and they're not as diet-conscious.

Marley Spoon vs. Blue Apron
Blue Apron is a gourmet meal delivery service for those who want to get a little fancy and is one of our best meal kit delivery services of 2023. Meals are flavor-forward, include custom seasoning mixes, and are less comfort food and more restaurant-style than Marley Spoon's meals. Plus, you can try Blue Apron's Wine Pairing service for those culinary nights in.
There are Vegetarian, Wellness, and Signature For 4 plans, so those hoping to eat more plants, lose weight, or cook for a family while enjoying gourmet recipes will find great options on this menu. Prices start at $5.74 per serving.
The Bottom Line: Is Martha Stewart & Marley Spoon Worth It?
Martha Stewart & Marley Spoon's service is worth it if you enjoy mostly American comfort foods with some internationally inspired recipes, don't mind spending an average of 30-45 minutes prepping, don't have any allergies, and aren't on a specific diet.
There's an extensive selection of 100+ recipes each week, which is one of the largest selections of meal kits on the market. You'll likely need to purchase a few extra prep ingredients before you cook, but you'll find what you need on the website, your order confirmation email, and on the recipe cards you'll receive in your box.
Overall, I think this meal delivery service would be perfect for couples and families who just want to save time on grocery shopping and deciding what to eat, and don't mind spending time cooking in the kitchen. There are plenty of familiar recipes and some exotic meals that will keep most palates satisfied.
FAQ
How much does Marley Spoon cost?
Marley Spoon meals range from $8.69 to $12.99
depending on how many recipes you order per week. This price puts Marley Spoon in the middle of the meal kit delivery pricing spectrum. If you order
Premium
meals, this will be a more expensive meal kit delivery option.
However, the overall service features, customer support, and app make trying Marley Spoon well worth it. Plus, you can bring your costs down to $2.99 per serving if you're trying it for the first time.
Is Marley Spoon good for weight loss?
Marley Spoon doesn't offer a specific weight loss menu,
and
recipes don't offer customization
for weight loss or diet planning. However, you can search the page for Low Carb or Low-Calorie labels for recipes that might fit your weight loss diet.
If you're trying to diet or lose weight, you should check out our list of the Best Weight Loss Meal Delivery Services.
Are Marley Spoon Meals Healthy?
Marley Spoon offers a range of low-calorie and low-carb options.
There's also an extensive menu of veggie options as well as vegan and seafood dishes. However, don't count on Marley Spoon to be healthy across the board. Many recipes exceed 1,000 calories per serving so you'll have to choose carefully.
If going organic is your version of healthy, you can check out our full review of Green Chef's service to find out more about its USDA-certified organic produce, humanely-raised proteins, and sustainably-sourced fish.
Does Marley Spoon have prepared meals?
Yes. Marley Spoon offers 3 to 5 microwave-ready meals each week. They're ready within 2 to 5 minutes of heating, depending on which meal you order, and are part of the Premium menu so will incur an upcharge per portion. The upcharge depends on how many meals you choose to order that week.
Where is Marley Spoon shipped from?
Marley Spoon orders are shipped from centers in New Jersey, Texas, and California. Its office headquarters are in New York.