Overview
Quality prepared meals are so convenient if you prefer not to cook for any reason. I get it – I would certainly avoid cooking for the rest of eternity if that were an option! But you might be wondering how MealPro stacks up. In this MealPro review, you'll find out how it stacks up to the competition (like Factor, for instance).
In this article, you'll find out whether it's ultimately the right service for you. It offers some great features like customizability and upgradeability. But I found some things a bit off-putting, like its higher-than-average prices and high shipping fees. However, MealPro could still be worth it, especially if you live in Alaska or Hawaii, as shipping is available there.
The portion sizes are very generous, and most meals can be upgraded with extra protein or double veggies. But overall, I believe that Factor is a better service with more diet options and lower prices. It also offers extras and add-ons like desserts and snacks, which MealPro simply doesn't.
| | |
| --- | --- |
| Pros | Cons |
| Very generous portion sizes | Large minimum order requirement |
| Free delivery to parts of the Western US | Half of the meals are quite expensive |
| A good selection of affordable meals | High shipping fees beyond the Pacific US |
What's on the MealPro Menu
The menu is quite simple, with around 30 weekly prepared meals to choose from. Overall, I'd say that MealPro is best for those who want large portion sizes and don't mind paying for expensive meals.
Meal Options
| | |
| --- | --- |
| Diet | Is MealPro Good For This Diet? |
| Keto | No, there aren't any keto meals |
| Vegan | No, there are no vegan meals at this time |
| Vegetarian | Yes, there are around 6 weekly options |
| Pescatarian | Yes, you'll find around 7 options each week |
| Gluten-free | No, there aren't any gluten-free meals |
| Low-carb | Yes, many meals contain fewer than 50 g of carbs |
| Low-calories | Yes, there are lots of <500-calorie meals |
There are lots of options to choose from including cuisines and ingredients. You'll find everything from Japanese, American, Latin American, French-inspired, Italian, and many more.
There's a decent variety of proteins and veggie options. For example, there are around 8 beef, 7 seafood, 11 poultry, and 6 veggie dishes every week. Meal examples include Turkey Bolognese, Atlantic Salmon with potatoes and asparagus, Fish and Chips, and lots more.
You can also find some extras, sides, snacks, and add-ons. Examples include pot stickers (dumplings), chicken wings, fried chicken tenders, tri-color tortellini, cheese ravioli, extra chicken breast, prawns, salmon, and meatballs.

One thing that sort of took me by surprise is the lack of any desserts. You won't find any keto desserts like you will at Factor, for instance. For keto dieters, Factor is the better overall choice.
In our Factor review, you'll notice that it offers an entire Keto meal plan. This includes main dishes, sides, snacks, extras, add-ons, desserts, and tons more. And, the service is far more affordable than MealPro in many instances.
Something I really appreciate about this company is the customization options. Though they aren't terribly extensive, it's easy to filter the menu. Menu filters include Beef, Seafood, Vegetarian, Poultry, or simply "All."
One thing to keep in mind is that MealPro doesn't cater to allergies. The website basically states that if you have a health condition or allergy, MealPro might not be good for you. But, if your dietitian gives you the go-ahead, it's up to you.
You'll find all the allergens listed on the menu card. Click the Nutrition drop-down arrow to display the nutrient info like carbs, proteins, fats, calories, full ingredients, and any allergens present in each meal.
You can also customize individual meals. Most meals allow you to order extra protein (just click the button to add it). For example, if you select Extra Protein for the Turkey Bowl, this takes the dish from 20 oz to 23 oz. Any of the meals with meat let you do this, but they do cost a bit extra.

I appreciate this feature, especially as a very big eater myself. Another example is the Lean Beef Lasagna. You can get 18 oz of it, or you can upgrade it to 24 oz. Again, this will increase your price by a couple of dollars.
There are many more ways you can customize your meals. You can do the No Carb Double Veg option for most meals, add cheese or sour cream to the Chili Con Carne, or add a side of rice to the Crab Cakes. These features are awesome and let you really personalize your meals.
You can apply multiple customization options for dishes that have the option. For example, you can apply both Extra Protein and Double Veg to some meals. You're not just limited to 1 or the other! This is another unique feature that other services don't offer.
You're also free to mix and match any meals from any of the menus, which adds an extra layer of customizability. That way, you're not stuck with just veggie meals or beef meals, for instance.
You can get an item containing seafood, an item containing poultry, and 1 with beef, all in the same order if you wish. There's no limit to how you can sort of customize each order you place.
There are plenty of specific proteins in the meals like salmon, beef, chicken, and even turkey. Each meal is generally served with a starchy carbohydrate like sweet potatoes and a veggie like asparagus, peppers, or green beans.
What Proteins Are Available?
If you click the Beef menu filter, you'll be presented with a few choices. Examples include Steak Teriyaki, Beef Brisket, Lean Beef Lasagna, Beef Meatballs, and a few more. Head over to the poultry tab to find options like Roasted Chicken, BBQ Bean Chicken, and Avocado Chicken.
There are also many pescatarian and vegetarian options. For seafood items, you're looking at jumbo prawns, Alaskan cod, and more. Veggie options include brussels sprouts, fried rice, and cheese ravioli.
The veggie menu feels more like side dishes than main courses. The only complete meal is a 20 oz serving of lentils, Brussels sprouts, and mashed potatoes. This sounds like a tasty and very nutritious meal, but it's sadly the only complete meal on the veggie menu.

Unboxing your meals is straightforward, as they come neatly organized in an insulated cardboard box. The meals are packaged in a vacuum-sealed, microwave-safe tray. If you're not planning on eating your meals within a day or 2, place them in the freezer.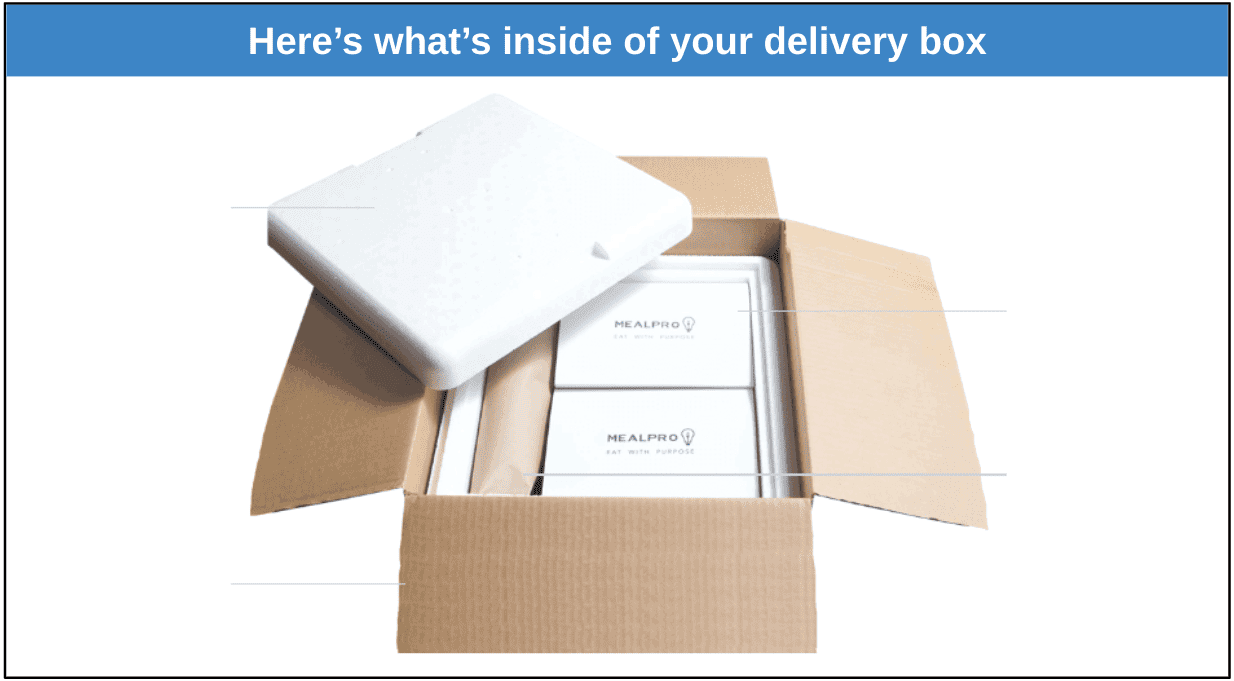 Your order will arrive in an insulated cardboard box with dry ice, and your meals will arrive vacuum-sealed
Since they're vacuum sealed, they should last a few weeks frozen or a few days in the fridge. This is according to the company's FAQ page. Before heating frozen meals, MealPro recommends that you take the meals out 1 to 2 days before consuming them so they have enough time to thaw out.
The company also promises that the meals fit in your fridge with ease. For instance, the measurements of the meal trays are 6.5 inches wide x 8 inches long x 1.3 inches deep. They're designed to easily be stackable.
Cooking with MealPro
Meal prep is pretty basic, as there really is no cooking involved. You just need to heat up your meals. This takes 2-3 minutes in the microwave or 20-30 minutes in the oven. Trays are microwave- and oven-safe.
There aren't any foods or meals that don't require heating. If you're looking for a wider range of meal options, including those that can be eaten directly from the package, check out our MealPro vs. Factor section below.

Shortlist of My Favorite Meals
I love most foods, but a few options – like the Chili Con Carne – look especially good. It contains 35g of protein and 650 calories. The serving size is 15 oz. You can also upgrade it with added cheese or sour cream (as shown).
I'm also a sucker for Lasagna, so I'd go with the 24 oz portion of it. The regular, 18 oz serving contains 31 g of protein and 607 calories, and the 24 oz serving contains 42 g of protein along with 810 calories. Now that's my kind of (large) serving size!
These are just 2 examples, but I think I'd like pretty much anything on the menu. This is especially true for the Beef and Poultry sections. MealPro clearly can cater to a number of taste preferences.
| | | |
| --- | --- | --- |
| Starting From | Order Size and Price (Before Shipping) | Shipping Fee |
| $6.99 - $18.99 per meal | 18 single-serving meals | $24.99 - $129.99 |
| Same as above | 20 single-serving meals | Free to the Pacific US (CA, WA, and OR) |
Overall, prices vary widely based on what you order. Meals start at around $6.99 for extra proteins like 8 oz of grilled chicken – and they only go up from there.
By far, the most affordable meals are from the vegetarian menu, if you can even call these "meals." These start at around $8.99 for the fried rice, for instance, which is more of a side dish than a main dish.
Anything containing beef, chicken, or seafood will be more expensive. This is especially true for the more "complete" meals. For example, the Steak Teriyaki dish (21 oz) is served with broccoli over rice and costs $16.99.
You can also do the Extra Protein upgrade, which will cost you $18.99, or the No Carb Double Veg upgrade, which costs $17.25. Or, you can do both at the same time for a grand total of $19.25 for this dish.
Depending on where you live, you can get free shipping when you order 20 meals. This is limited to the Pacific US (CA, WA, OR). Other states are subject to a delivery fee that depends on your specific location.
MealPro ships to many places, but the shipping fees are kind of ridiculous. Deliveries to Ohio for example, may cost as much as $24.99 for shipping. Shipping to Honolulu, HI, on the other hand, can get as high as $129.99 per shipment.
Everything from MealPro comes frozen in an insulated cardboard box with styrofoam as a liner. Dry ice inside of your box helps keep the food cold. All you need to do is let your meals thaw before heating them.
Shipping is available anywhere in the US, including Alaska and Hawaii, plus BC (British Columbia), Canada. Just keep in mind that the further you get away from the Pacific US area, the more you'll pay for shipping.
You can also choose your own delivery day as a subscriber. If you opt-in for recurring shipments, deliveries happen on the day you set in your account. Recurring shipments automatically happen every 7 days.
Deliveries take around 1-3 days for non-subscription orders. Again, this depends on where you're located. Here's when you can expect your orders to arrive:
US Pacific: Daily shipments are dispatched

Canadian PT (British Columbia only): Daily shipments are dispatched

US EST, MT, and CT: Shipments are dispatched Monday and Tuesday and delivered from Wednesdays to Fridays
How MealPro Works
Signing up for MealPro couldn't be any easier. Simply visit mealpro.net, click on SEE MENU at the top, choose your box size, and start adding meals to your order. You need to buy at least 18 meals at a time.
How to Sign Up
Head to the homepage and click SEE MENU.
Choose the 18- or 20-meal option. Then, add your 18 or 20 meals and head to the next step, which is the secure checkout screen.
Click Go To Secure Checkout in the top-middle of the screen.
Complete the checkout process. Enter your personal information, then check out.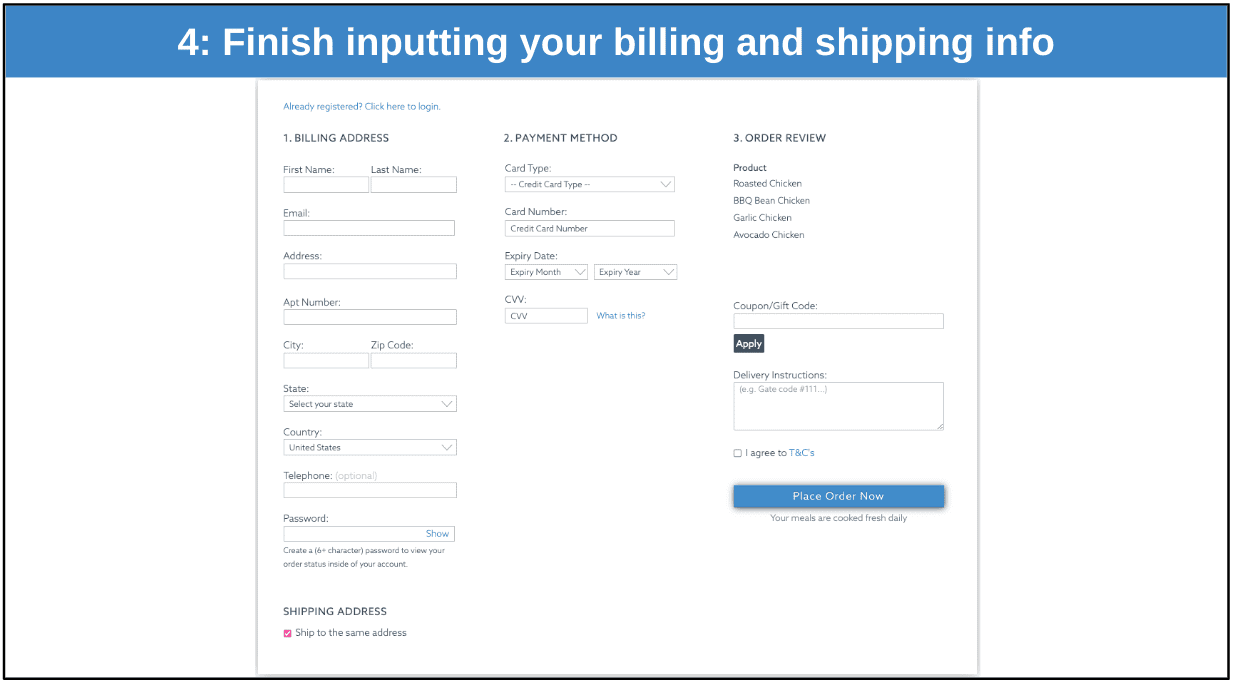 Managing Your Subscription
You need to place your first order to be sent login credentials via email. Once you can log in, you can head to your account dashboard to manage different aspects of your account.
Here, you can:
Change/choose your delivery days

Opt out of recurring shipments and switch to a la carte

Cancel your subscription

Skip deliveries
Customer Service
MealPro's customer service is pretty basic compared to the competition. It only offers support via a contact form, phone, or FAQ section.
I also found the lack of live chat to be a bit concerning, and the FAQ itself could be fleshed out a lot more. But at least you can get in contact with someone if you have any pre-sales questions.
I tested out the contact form for myself to see what the experience would be like. Overall, it was just OK. It got the job done, sort of.
The agent didn't seem overly interested in answering my questions in much detail. Instead, I was left to my own devices to figure it all out. Not very impressive or helpful, overall. But at least the agent was friendly, courteous, and professional.
The Bottom Line: Is MealPro Worth It?
In my personal opinion and experience, MealPro probably isn't worth it for most people. Its closest competitor is Factor, and I really don't see a reason to choose MealPro over Factor, for the most part. For one, MealPro's shipping fees are also absolutely astronomical if you're outside of the Pacific US states (CA, WA, or OR).
Factor also offers more weekly prepared meals and dietary preferences like keto and vegan. Its pricing is also much lower, with much more reasonable shipping fees on top of that. MealPro's meals are priced individually, and some of them are incredibly expensive in my experience.

However, MealPro could very well still be worth it if you enjoy large portion sizes. Most meals weigh around 15 to 20+ ounces (567 grams) of food, which is pretty substantial. You can also upgrade and customize your meals with extra meat protein, or skip the carbs and double up on your veg, which is a unique feature of MealPro.
FAQ
Is MealPro expensive?
It definitely can be, yes. Though many of its meals are over that $12 - $13/meal mark, it still does offer a nice selection of affordable meals that start as low as $6.99 per serving.
How long do MealPro meals last?
MealPro's website states that the meals last for "a few days" in the fridge, or "a few weeks" frozen. If you freeze your meals, make sure to thaw them out for a day or 2 first before heating in your microwave or oven.
Does MealPro deliver to Canada?
Yes, but sadly only to BC (British Columbia). Check out my Shipping & Delivery section above to find out when your shipment will arrive in BC.