Overview
Competition between fitness-focused prepared meal delivery services is as tough as a triathlon. Metabolic Meals lists athletes, celebrities, and executives among its customers and has been in business since 2009. But how does it stack up against the challengers?
Metabolic Meals is a healthy and tasty way to lose weight or kick-start a keto or paleo diet. You can choose from 30+ meals and food items each week and fresh, ready-to-eat meals will arrive at your door. It's also really easy to skip a week or cancel anytime. But it isn't cheap and has no vegetarian or vegan options.
Overall, I prefer Factor's menu of microwavable keto- and vegan-friendly meals, but Metabolic Meals has some unique advantages. Read on to learn more about this low-carb meal delivery service.
| | |
| --- | --- |
| Pros | Cons |
| Special diabetic diet plan | No plant-based offerings |
| Many meals suitable for low-sodium diets | Single-serving meals only |
| No prep or cleanup | Extra protein upcharges can add up |
Metabolic Meals specializes in prepared meals for health-conscious eaters.
Its food contains no gluten, wheat, soy, refined sugars, or artificial colors and flavors. Most entrees clock in between 350 and 600 calories.
Meal Options
Metabolic Meals gives you a choice between Fit and Performance plans if you sign up for Chef's Choice. Meals on the Fit Plan average around 360 calories per meal, while Performance portions are larger and come in at around 575 calories per meal. A 3-meal Fit plan gives you a total of around 1,200 calories per day, while Performance gives you around 1,700.
The à la carte plan has a good selection of meals for many specialized diets, but there aren't any vegetarian or vegan plans.
| Diet | Is Metabolic Meals Good For This Diet? |
| --- | --- |
| Low-carb | Yes, Metabolic Meals has a low-carb menu |
| Low-calorie | Yes, Metabolic Meals has a low-calorie menu |
| Diabetic-friendly | Yes, Metabolic Meals has a diabetic menu |
| Low-sodium | Yes, Metabolic Meals has a low-sodium menu |
| Keto | Yes, Metabolic Meals has a keto menu |
| Dairy-free | Yes, Metabolic Meals offers dairy-free meals |
| Gluten-free | Yes, all meals are gluten-free |
| Soy-free | Yes, all meals are soy-free |
| Vegetarian | No, Metabolic Meals is not suited for vegetarians |
| Vegan | No, Metabolic Meals is not suited for vegans |
Customization
Metabolic Meals lets you filter for other allergens like dairy, fish, shellfish, eggs, peanuts, and tree nuts. You can also choose Diabetic Friendly, Low Carb, Keto, Low Sodium, and Under 450 Calorie entrees.
Metabolic Meals offers a weekly selection of 15+ main entrees and 5+ breakfast dishes, along with Premium Proteins, Signature Sides, and healthy desserts.
But when you filter meals for specialized diets, your selection becomes much narrower. For example, when I checked the menu using the Keto filter, only 2 of the 15 main entrees were labeled for Keto, though I could choose between 4 of the 5 breakfasts.
If you're on a strict keto diet, check out our list of the best keto meal delivery services. Metabolic Meals gave me a choice of 4 "Keto" side dishes, but 2 of those, potato wedges (29 g carbs) and mashed sweet potatoes (42 g of carbs), are not suitable for Keto diets.
Most entrees offer an "extra protein" option to double up on lean meat or fish. However, I prefer Home Chef's thoroughly customizable menu, which lets you swap or double up on the protein for many dishes.
The menu has options for soy- and gluten-sensitive eaters, but there are only 1 or 2 plant-based entrees. Green Chef offers vegan and veggie meal kits as well as keto and protein-rich meals.
Unboxing
Every week, Metabolic Meals sends between 6 and 22 fresh, ready-to-eat meals. They arrive like tasty little Russian dolls in their own boxes, which are then cradled in a chilled and insulated bigger box. Your meals are beautifully organized, but what about the carbon footprint?
Metabolic Meals uses recycled cardboard, and the box liner is made from a recycled and biodegradable cotton blend. The ice packs contain a non-toxic gel that can be emptied into the trash after use.
Metabolic Meals works hard to make sure that packaging can be reused. And while the packaging and meal containers are all 100% recyclable, they can still keep your food cool for over 12 hours on your doorstep.
Your meals can stay in the refrigerator for 4-5 days or can be frozen for longer shelf life. Most Metabolic Meals freeze well, but the company recommends you don't freeze meals containing eggs or leafy greens.
Cooking with Metabolic Meals
With Metabolic Meals, healthy eating isn't just convenient, it's delicious. Metabolic Meals chefs prepare your food and send it ready to eat. There's no prep and very little in the way of clean-up.
You can heat it up in your microwave for 2-3 minutes or use your oven. If you do the latter, you'll need an oven-safe container and a meat thermometer. Metabolic Meals recommends you heat your meal to an internal temperature of 165 degrees.
While you see nods to international cuisines, most entrees are comfort food that aims to satisfy your palate rather than expand it. If a diverse menu is more important to you than having diet-friendly options, I recommend Blue Apron's menu of restaurant-quality dinners and wine pairings.
All the specifications below are for the regular-sized entrees and will increase to varying degrees with the "Extra Protein" option.
Shortlist of My Favorite Meals
Any recipe that combines coffee and steak is bound to be a winner. Now add caramelized onions and brussel sprouts tossed in red wine and balsamic vinegar and you have a meal that's sure to please! This is Metabolic Meals' best-selling entree, and it's easy to see why.
The Coffee Rubbed Steak is a good example of a typical Metabolic Meals entree. It's simple but sophisticated and combines nutritious vegetables with lean protein for a diet meal that wouldn't be out of place in a restaurant.
Eggs. Beef. Pork Bacon. Cheese. These are classic, delicious breakfast ingredients. With butter and olive oil added, the Meat Lover's Keto Scramble is a blast of good fat and clean proteins that'll kick your ketosis into overdrive.
Metabolic Meals has a few good keto breakfast offerings, but most of its menu is geared for lower-fat diets. If you're strictly a keto dieter, you may want to check out Factor's dedicated keto plan.
A great temptation for any dieter is the siren song of greasy, calorie-laden takeout food. This Cashew Chicken Stir Fry is made with organic chicken, cashews, and bone broth. Soy-free misos and coconut aminos provide a healthy umami alternative to soy sauce.
This Cashew Chicken Stir Fry is also suitable for sodium-restricted diets. It contains only 365 mg of sodium, and there is no MSG like you often find in takeout meals.
Shepherd's Pie probably doesn't sound like a diabetic-friendly food, but Metabolic Meals replaces the mashed potato topping with a yummy cauliflower and Parmesan cheese mash. This is an indulgence you can enjoy without spiking your blood sugar.
Metabolic Meals also has dedicated plans for people with diabetes and pre-diabetes. Just check out the options under Chef's Choice.
With Metabolic Meals, you can enjoy a biscuits and gravy morning with just 18 grams of carbs. These gluten-free biscuits are made with white rice flour, and the eggs and turkey sausage are 100% organic.
Most entrees at Metabolic Meals contain between 15 and 35 grams of carbs and would be suitable for a reduced-carb diet.
Prices
The following prices are for meals on the Chef's Choice plan:
Starting From

Order

Price (Before Shipping)

Shipping Fee

$12.13 per portion

Breakfast & Lunch
or Breakfast & Dinner
(Fit)



3 days/week (6 meals): $79.95
5 days/week (10 meals): $134.95
7 days/week (14 meals): $169.95

$19.95

$16.42 per portion

Breakfast & Lunch
or Breakfast & Dinner
(Performance)



3 days/week (6 meals): $104.95
5 days/week (10 meals): $174.95
7 days/week(14 meals): $229.95

$19.95

$13.92 per portion

Lunch & Dinner

(Fit)

3 days/week (6 meals): $89.95
5 days/week (10 meals): $149.95
7 days/week(14 meals): $194.95

$19.95

$18.56 per portion

Lunch & Dinner

(Performance)

3 days/week (6 meals): $104.95
5 days/week (10 meals): $174.95
7 days/week(14 meals): $259.95

$19.95

$10.95 per portion

Breakfast, Lunch, & Dinner
(Fit)

3 days/week (9 meals): $114.95
5 days/week (15 meals): $179.95
7 days/week(21 meals): $229.95

$19.95

$14.76 per portion

Breakfast, Lunch, & Dinner
(Performance)

3 days/week (9 meals): $154.95
5 days/week (15 meals): $254.95
7 days/week(21 meals): $309.95

$19.95
Breakfasts start at $10.99, and main entrees start at $12.99 per serving on the à la carte plan. If you go with the "Extra Protein" option, you can expect a $4 upcharge on breakfast items and a $4.50 upcharge on main entrees. There are no discounts for larger orders.
Metabolic Meals also charges a hefty $19.95 for shipping.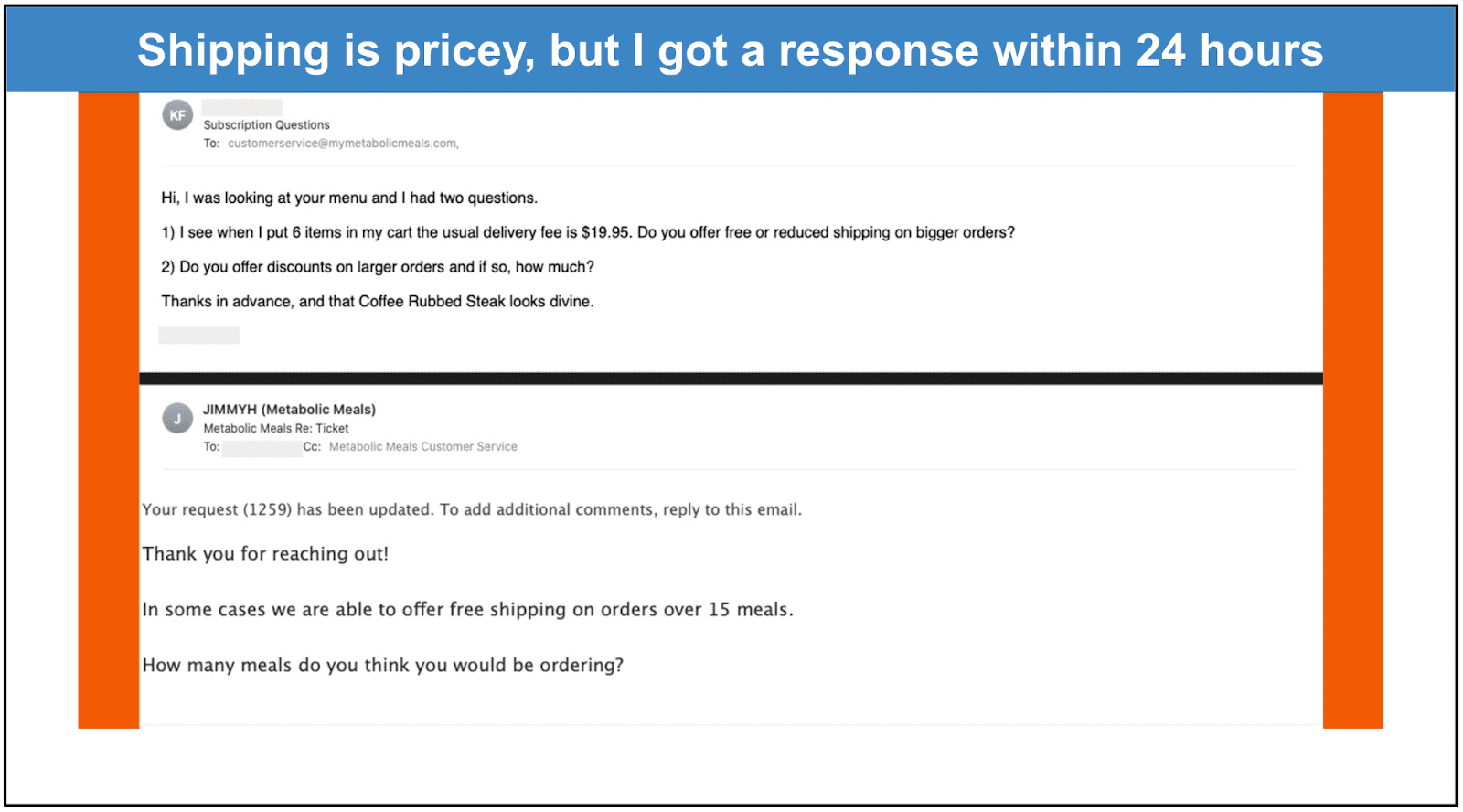 I reached out to Metabolic Meals to ask about the shipping fees. Within 24 hours, I received a vague note explaining that the service is only able to offer free shipping "in some cases." While I appreciate the quick response, $19.95 is a kick in the wallet.
Metabolic Meals isn't cheap, but fitness-focused prepared meal delivery services typically charge a premium price. Metabolic Meals' price per entree is comparable to other diet-conscious services.
Shipping & Delivery
Metabolic Meals ships to the continental United States and to Hawaii. Extra shipping charges apply to Hawaiian orders, and Alaska is still out in the cold.
Metabolic Meals ships via UPS. You can choose between multiple delivery days when you sign up. The delivery day you choose will be your delivery day going forward. You can track your order on its journey through the MyUPS app.
You can reschedule a delivery by logging into your Metabolic Meals account, by calling 855-355-MEAL (6325) Monday-Friday, 9 AM to 5 PM CST, or by email at customerservice@mymetabolicmeals.com.
How Metabolic Meals Works
Metabolic Meals has a simple and flexible subscription process. You select your desired meal plan, customize your menu preferences, and wait for your pre-portioned, nutritionally balanced meals to arrive.
How to Sign Up
When you subscribe, you choose between My Choice and Chef's Choice. Chef's Choice offers you a selection of 2-meal and 3-meal plans for 3, 5, or 7 days a week. You choose between the "Fit" (1,200 calories/day) and the "Performance" (1,700 calories) menus.
My Choice allows you to select between 6 and 22 meals a week from the rotating menu. You have more freedom to choose, which can be a good or a bad thing if you're trying to stick to a particular plan.
Every week, Metabolic Meals' algorithms learn more about your tastes, nutritional preferences, and order size. If you don't pick your meals or skip the delivery, Metabolic Meals will choose your meals for you. Around 20% of customers let Metabolic Meals pick for them.
Managing Your Subscription
Make changes through your online account. You can pause or cancel deliveries, manage payment methods, cancel your subscriptions, and change delivery dates.
All Metabolic Plans are commitment-free. You can switch plans, pause your plan, or cancel anytime you want. Any changes or adjustments to your order or membership should be made before Wednesday 9:00 AM CST of the week before your meals ship.
Customer Service
If there are any problems, you can put in a ticket at the Metabolic Meals customer service help desk. Its customer service office is open from Monday to Friday 9 AM to 5 PM CST and can help you with problems ranging from damaged deliveries to billing issues.
It would be great if Metabolic Meals offered more customer service hours, but many smaller companies face staffing issues. When I asked a question via email, I found the customer support service to be friendly and helpful.

How Metabolic Meals Compares to Other Meal Delivery Services
The Bottom Line: Is Metabolic Meals Worth It?
Metabolic Meals Chef's Choice plan brings a tasty and nutritious selection of weekly meals to your door. This plan is great if you're looking for a complete meal plan as part of a fitness regimen or for a medical issue,
Metabolic Meals My Choice plan makes healthy eating as easy as using a microwave, making it perfect if you want to eat better but don't have a lot of kitchen skills. While it's expensive, Metabolic Meals' costs per serving are comparable to other healthy prepared meal services, however, I still prefer Factor's prepared meals for taste and value.
Vegetarians will do better by checking out our list of the best vegetarian meal delivery services. But if you're an omnivore looking for a convenient and delicious way to improve your diet, Metabolic Meals could be worth a try.
FAQ
Does Metabolic Meals have a diabetic-friendly plan?
Metabolic Meals offers dedicated plans for people with diabetes and pre-diabetes through its Chef's Choice program. Even if you sign up for the My Choice plan, most Metabolic Meals entrees contain between 15-35 grams of carbs and have no added sugar. Check with your physician before making any changes to your diabetes care plan.
Does Metabolic Meals offer low-sodium meals?
Metabolic Meals Low Sodium dishes have between 400 and 600 mg of sodium per serving and can be part of a heart-healthy diet for lowering high blood pressure and cholesterol. Almost all Metabolic Meals contain under 800 mg of sodium.
Can you freeze Metabolic Meals?
Metabolic Meals arrive fresh and can be kept in your refrigerator for 4-5 days. While Metabolic Meals recommends against freezing meals with eggs or leafy greens, other Metabolic Meals can be frozen for an even longer shelf life.