Pros

Cons

All meals are low-sodium

Small portions

All meals are gluten-free

Foods tend to be bland from lack of salt

Breakfast options for certain plans


No add-ons for the Mediterranean plan


Current deal – $60 off your first 3 orders with code: Rank60
What's on the ModifyHealth Menu
ModifyHealth sends single-serving prepared meals. While these meals are great for individuals with medical needs, ModifyHealth isn't really designed for feeding families. For that I would recommend Green Chef, which has a large selection of GIG-certified gluten-free meal kits that offer up to 6 servings.
ModifyHealth has 2 main menus, which are each subdivided again into 2 submenus. There's a Low-FODMAP Program Menu, a Low-FODMAP Menu, a Mediterranean Get Well Program, and a Mediterranean Meals menu.
There are 24+ Low-FODMAP options and 35+ options on the Mediterranean menus. That should provide sufficient variety for you to order a meal for lunch and dinner (and even breakfast, if you wish) 7 days a week without getting bored.
All the meals are prepared by the ModifyHealth chefs, and there are no add-ons – unless you count the breakfast options in its 2 Low-FODMAP menus.
There's a decent variety of proteins and vegetables in the meals – mostly what you find in a Mediterranean diet: fish, poultry, a host of vegetables, legumes, nuts, seeds, and more. Of course, the Low-FODMAP selections are more restrictive, but that's to be expected.
In addition to meals, ModifyHealth offers an optional 6-week FIT Quickstart Program that includes virtual consultations with a personal dietitian as well as downloadable tools and resources and access to virtual cooking demonstrations. When you sign up for FIT Quickstart, you get 50% off your first order and a ModifyHealth starter pack.
| Diet | Is ModifyHealth Good For This Diet? |
| --- | --- |
| FODMAP | ModifyHealth is excellent for this diet |
| Mediterranean | ModifyHealth is excellent for this diet |
| Gluten-free | ModifyHealth is excellent for this diet |
| Low-sodium | ModifyHealth is excellent for this diet |
| Vegetarian | ModifyHealth has some vegetarian meals |
| Vegan | ModifyHealth has some vegan meals |
| Pescatarian | ModifyHealth has some pescatarian meals |
| Dairy-free | ModifyHealth has some dairy-free meals |
| Keto | ModifyHealth is not suited for this diet |
ModifyHealth fills a very particular niche in the meal delivery service industry: Low FODMAP and Mediterranean meals. As a result, its focus is on overall health, not just weight control or some epicurean interest. Likewise, it doesn't offer kid-friendly meals.
Low-FODMAP meals cater to people with IBS, as well as several IBDs (Inflammatory Bowel Diseases) like Ulcerative Colitis and Crohn's Disease. FODMAPs (fermentable oligosaccharides, disaccharides, monosaccharides, and polyols) are short-chain carbohydrates (sugars) that cause some people gastrointestinal distress.
ModifyHealth has received Low FODMAP Certification by Monash University, the institution that originally developed the diet. Of course, if you're adopting a new diet for health reasons, you should consult a medical professional. Many doctors aren't only referring patients to a Low FODMAP diet, but they're referring many patients to ModifyHealth itself.
ModifyHealth's Low-FODMAP Program works over a period of 8 weeks with assistance from 1 of ModifyHealth's dietitians. The first 2 weeks consist of eliminating all FODMAP foods from your diet. The next 6 weeks consist of slowly reintroducing certain FODMAP foods to determine which ones trigger your symptoms and which don't.
Mediterranean meals have a number of general health benefits, like improving cardiac health, managing cholesterol levels, preventing stroke, and more. ModifyHealth's Mediterranean meals feature whole grains, vegetables, legumes, fruits, nuts, seeds, and lean proteins.
There's also a filter for ingredients such as certain allergens. Although you can't filter out individual ingredients from meals, you can filter out meals containing bell peppers, pork, soy, chicken, red meat, tofu, dairy, salmon, white fish, eggs, and/or shellfish.
There is also a list of ingredients for every meal, so you can search for whatever allergens might concern you. Because ModifyHealth's menus contain so many meals, the company can tailor meals to a modest selection of dietary preferences. These are identified with tags and include dairy-free, pescatarian, vegan, and vegetarian.
ModifyHealth's entire facility is gluten-free, meaning all its meals are gluten-free as well. Likewise, all its meals are low-sodium. For some people, low-sodium meals may take some getting used to, but the health benefits provided make it worth the effort.
Unboxing
Everything you order comes in insulated cardboard boxes packed with ice packs to keep the meals cool and fresh. The meals are vacuum-sealed in BPA-free recyclable trays. Because of the vacuum-sealing process, the meals will stay fresh in the fridge for as long as 7-10 days and up to 6-8 weeks in the freezer.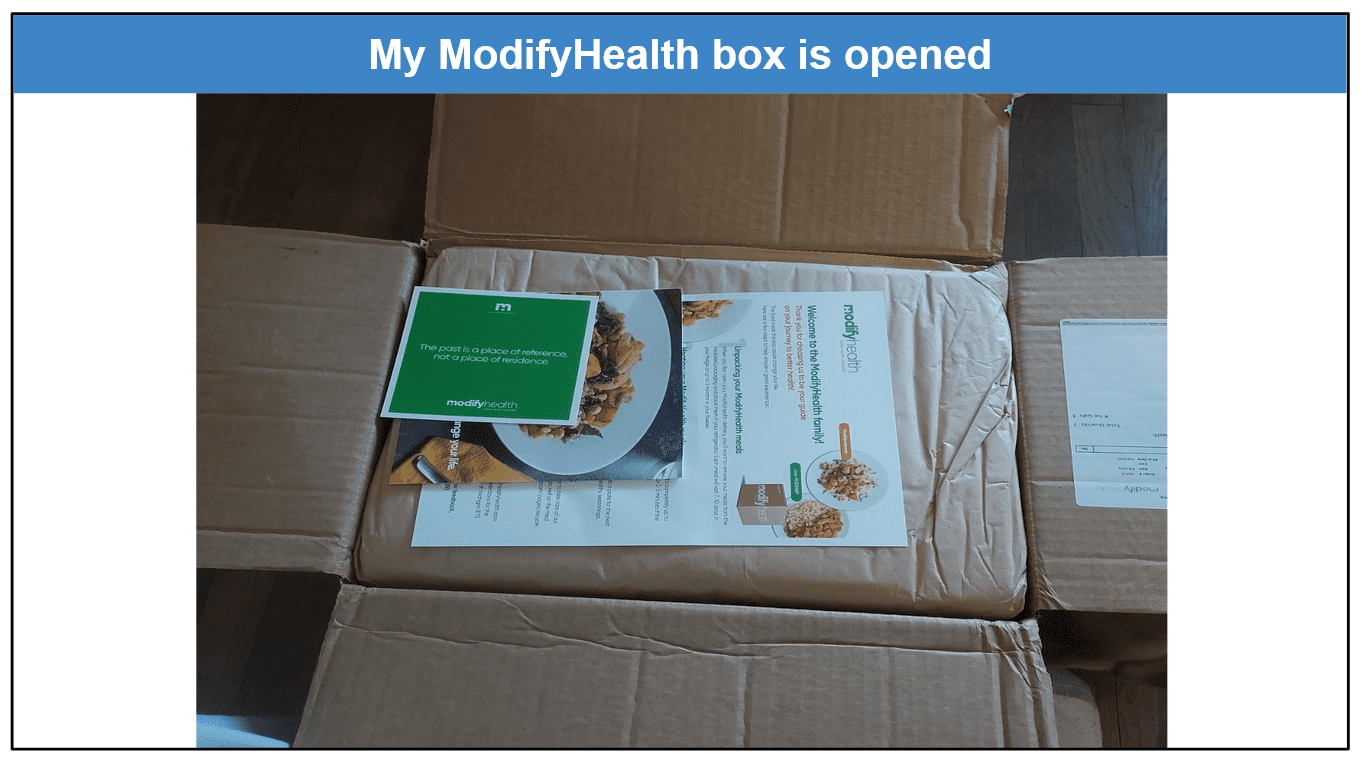 All boxes, plastic trays and seals, insulation, and ice packs can be reused or recycled. ModifyHealth provides more details in the recycling section on the website. Boxes come with your meals packed together with ice packs and insulation to keep them cool.
The boxes also contain several inserts that describe the ingredients ModifyHealth uses as well as other useful information such as storage info. Finally, every meal container has a label with heating instructions and nutrition information.
Cooking (and Eating) with ModifyHealth
ModifyHealth's meals are pre-cooked and arrive requiring only sufficient cooking to heat the meal up. Meals can be heated in the microwave, oven, or on a stovetop. Directions are given in the FAQ on the website and with the meal kit itself.
ModifyHealth meals arrive in microwave-safe plastic trays. If thawed, it only takes 1-2 minutes in the microwave to prepare for eating. If frozen, it takes a little longer – about 3-5 minutes. This makes prep and clean-up a snap.
It's only a little more complicated if you use the oven or stovetop. In such instances, preparation requires transferring the meal to an appropriate pot or dish before heating. Of course, once you eat, you'll have to clean up those extra dishes.
I received 8 meals from ModifyHealth to review, 4 Mediterranean and 4 Low-FODMAP. After eating each of these meals, I'm happy to report that I really liked 6 of the 8. Although portion sizes were small, most of the food was really quite good.
I was a little disappointed with the Salsa Verde Chicken and the Black Bean Burger. I thought the Roasted Kabocha Squash in the Salsa Verde Chicken recipe was a bit bland. As for the Black Bean Burger, it just didn't appeal to me at all. When I think burgers, I think meat, not black beans. But let's take a quick look at the meals I liked.
Shortlist of My Favorite Meals
I liked 6 of the 8 meals I received. That's not a bad percentage. Not perfect, of course, but pretty good. Especially when you consider that low-salt meals usually tend to be a little bland. Anyway, the meals I liked included:
BBQ Pulled Chicken with Broccoli and Roasted Potatoes – all the ingredients worked well together. The chicken was moist and the roasted potatoes were cooked to perfection. The broccoli was a little limp but still tasty.

Pasta with Meat Sauce and Green Beans – this was another excellent meal. The pasta was good. The meat sauce was excellent. And the green beans were firm and flavorful.

Savory Pot Rost with Thyme & Rosemary from ModifyHealth, 17g of dietary fiber

Savory Pot Roast with Thyme and Rosemary – this was my favorite meal. The pot roast was excellent. The potatoes were great. And the thyme and rosemary added just the right amount of accent.

Greek Chicken and Rice – this meal was only okay. Although the ingredients worked well together, the chicken was a little bland. However, the rice and the chickpeas were decent.

Herb Chicken with Wild Rice & Green Beans, allergens of Soy and Tree Nuts

Herb Chicken with Wild Rice and Green Beans – again, the ingredients worked well together, and the chicken was moist. The green beans were particularly flavorful and the rice was good, too. The herbs accentuated the various flavors in a pleasing manner.

Shrimp Chimichurri with Black Beans and Rice – the ingredients worked particularly well together in this meal. The shrimp was great. And the beans and rice were delectable.
All these meals were low-salt. Although I found them quite good, I also grew up with a mother who had high blood pressure and only served my family low-salt meals. So, I'm kind of used to the flavor of such meals. Other people may not be.
Prices
Starting From

Order Size and Price (Before Shipping)

Shipping Fee

$9.95 per portion

Breakfast entrees
(FODMAP only)

Free

$12.95 per portion

Lunch/Dinner Entrees

Free
I really liked ModifyHealth's consistent pricing. Basically, it costs $11.75 per portion for the Low FODMAP Meals, the Low FODMAP Program, and the Mediterranean Get Well Program. And the price remained at that level regardless of the number of servings you got.
Other Meal Delivery Services offer a bulk discount if you order a large number of meals. But the trade-off is that, because ModifyHealth prices all its servings the same, you don't feel pressured to make a large order.
Of course, ModifyHealth tends to require you to order larger starting numbers, at least for several of its plans (14 for the Low FODMAP Program and 10 for the Mediterranean Get Well Program). But I still think the consistent pricing remains an overall plus for the service.
ModifyHealth also offers Breakfast portions for its Low FODMAP Program and Low FODMAP Meals. The Low FODMAP Program requires you to buy 7 breakfasts at a time, while the Low FODMAP Meals menu allows you to purchase as few as 6 breakfasts.
ModifyHealth delivers to the entire Continental U.S. However, it doesn't deliver to P.O. boxes. Also, at this time, its meals are scheduled to arrive only on Fridays, and there's no way to choose a different day.
However, you can easily skip weeks or change the delivery, provided you make the appropriate changes to your account online (or by phone) by 11:59 PM ET the Sunday preceding the delivery.
To assist you, ModifyHealth will email a tracking number to you ahead of time so you can keep tabs on its progress while it is being shipped.
How ModifyHealth Works
ModifyHealth is a little different from your typical meal delivery service. Although it competes with the big guys in the industry, it tailors itself to the health needs of its customers. ModifyHealth offers food as medicine for people with a number of health issues.
ModifyHealth is America's #1 doctor and dietitian-recommended meal delivery service. And it was voted the #1 Low FODMAP delivery service by Healthline.
How to Sign Up
It's fairly easy to sign up for the service by following these steps when you place your first order on the site:
Select either the Low-FODMAP or Mediterranean plan.

ModifyHealth offers Low FODMAP or Mediterranean meal plans

Once you have chosen a plan, decide if you want to sign up for the FIT Quickstart Program as well.

You can sign up for ModifyHealth's FIT Quickstart Program here.
Customize for Preferences (No Animal Proteins, No Dairy, No Shellfish, etc…).

ModifyHealth makes it easy to avoid meals with ingredients you can't eat.

Select your meals.

You can choose between 6 and 21 ModifyHealth meals

Checkout (Provide Name, email, address, etc…).

Enter your address, provide your card number, and you're now a ModifyHealth subscriber!

From there, you set your password and get access to your account.
Managing Your Subscription
Managing your subscription isn't too difficult either. You just go to your Account Page. It provides all the options and features involved. Most of them are pretty self-explanatory. You can edit your delivery dates (remember: Fridays only!), pause/cancel your subscription, etc…
You can call ModifyHealth toll-free at 888-7MODIFY (888-766-3439) if you can't find a solution to your problem in the FAQ section. Customer support is open 24 hours every day, which is a degree of coverage you rarely see in meal delivery services.
Customer Service
Contacting ModifyHealth can be done from the "Contact Us" page. They have a 24-hour telephone number and 3 different emails depending upon what you're interested in, as well as an email form. Two of the email addresses are really for business-related inquiries, so it's the first one that you'll most likely be interested in as a customer.
Unfortunately, there's no chatbot. I'm a fan of using chatbots to talk to companies, so I was kind of let down that ModifyHealth doesn't offer one. Chatbots driven by AI are great—they can quickly get you to an FAQ or even connect you to a real person if you need more help.

I sent the company an email inquiring about peanuts, a common allergen. Naturally, I directed my inquiry to the Customer Care Department via the email form on the Contact Us page. Here's the note I sent:
The company replied to my inquiry in 24 minutes
– which is really quite speedy. It gave me a thorough answer explaining that ModifyHealth doesn't use peanuts in its facility at this time. So, basically, there's no need for concern.
I found that ModifyHealth's cancellation policies were relatively easy.
Cancellation, as well as many other Account issues, can be handled from your ModifyHealth Account Page. If you run into any problems, the Customer Care team is more than willing to help.
How ModifyHealth Compares to Other Meal Delivery Services
ModifyHealth vs Factor:
Factor also sends
healthy prepared meals.
But while many of its meals contain no added gluten, Factor doesn't guarantee that its meals are gluten-free, so it may not be suited for those with serious gluten sensitivities.
ModifyHealth vs Green Chef: Green Chef has many gluten-free meal kits (including some in its entire Keto menu) and an excellent selection of Mediterranean recipes, but it doesn't offer a Low FODMAP plan.
ModifyHealth vs Fresh N Lean: Fresh N Lean offers fitness-focused, organically sourced, gluten-free meals, but its menu plans offer fewer meal choices than ModifyHealth.
The Bottom Line: Is ModifyHealth Worth It?
After doing the research and testing the product, I think ModifyHealth is worth it. My biggest concern is the low salt. ModifyHealth offers low-salt meals because of the health benefits, but people may find these meals bland at first.
I'd recommend going all in and relying on ModifyHealth for all your meals if you choose to subscribe. Otherwise, your tastebuds might seesaw between low-salt meals and high-salt meals, and the low-salt meals will remain bland.
FAQ
Are the ModifyHealth Mediterranean meals healthy?
ModifyHealth Mediterranean meals are definitely healthy. The Mediterranean diet is rich in healthy fats that improve heart and brain health and can even combat obesity. Additionally, Mediterranean meals also help fight Non-alcoholic Fatty Liver Disease, Type II Diabetes, and Hypertension.
How long do ModifyHealth meals last?
ModifyHealth meals will stay fresh in your refrigerator for 7-10 days after delivery, thanks to its vacuum-sealed trays. You can also store ModifyHealth meals in the freezer, which will extend their shelf life to 6-8 weeks.
Are ModifyHealth's low FODMAP meals certified?
ModifyHealth has received a Low FODMAP Certification from Monash University, the institution that originally developed the low FODMAP diet. And if you have celiac disease or gluten sensitivity, you'll be pleased to know that all ModifyHealth meals are prepared and packed in a gluten-free environment.
Are the ModifyHealth low FODMAP meals good for your health?
ModifyHealth's Low FODMAP diet is intended to combat specific health issues like IBS, inflammatory bowel disease, and small intestinal bacterial overgrowth. You should only be on the Low FODMAP diet for around 8 weeks until you identify sensitivities and adjust your diet accordingly, though some people may need a lower FODMAP diet long-term.