Overview
Raddish Kids is a subscription service sending out recipe kits for younger cooks. It's primarily geared toward future chefs aged between 4 and 14. This company ships its cooking, baking, and other kits across the world, so your kids can learn to cook, help you in the kitchen, and be creative with food.
Although I'm not the target audience for this service, I've researched dozens like it. I'm here to bring you my honest thoughts about Raddish Kids and its pros and cons. While it's a fun idea for a subscription, Raddish Kids isn't going to replace your favorite meal kit delivery service.
Overall, I think Raddish Kids is an exciting service with a lot of potential. It promises to provide an educational culinary journey to the child in your life, but it has its share of cons as well. Read on for my complete expert opinion about this unique delivery service.
| | |
| --- | --- |
| Pros | Cons |
| You choose between 3 cooking clubs | Recipe kits come without ingredients |
| The company has many educational games | Price of subscription tends to be on the high side |
| There are various on-site cooking videos | Some links from online materials are inactive |
What Raddish Kids Has on Offer
If you landed here to see what food Raddish Kids offers, let me stop you right there. The company doesn't serve up any actual food. If you're after meal kits or prepared meals, check out our selection of the best meal delivery services in the USA. There, you'll find companies supporting various diets and offering diverse customization options.
You can only buy recipe kits and kitchen accessories from this service. As for ingredients, you'll have to visit a grocery store.
Recipe Kits and Other Products
Your little sous-chefs can choose whether to become cooks or bakers with Raddish Kids. In fact, they have 3 clubs to choose from based on their interests – the Cooking Club, the Baking Club, and the Global Eats Club. Every club provides recipes, a handy kitchen tool, and more surprises. And each club features a fresh theme every month.
Taste of Jamaica was the Cooking Club's theme at the time of my review. This package comes with Jamaican recipes like Coco Bread and some fun collectibles like a Jamaican flag patch.
The Cooking Club isn't always internationally-themed. For example, the following month's Cooking Club theme is Breakfast Bites. If you like the idea of learning recipes from different cultures, check out the Global Eats box instead.
This month's Global Eats theme was Argentinian cuisine. The kit contains recipes for things like Patagonian Potato Salad and Dulce de Leche Cookies. There's also a nifty cookie scoop included, as well as – of course – a patch with the Argentinian flag.
Baking Club had a different theme during my research. The contents of the box is similar, with a patch and items like "Table Talk Cards" included alongside some recipes like Lemon Bars or Ice Cream Sundae Cake.
Raddish Kids also has individual recipe kits on offer. These should prove useful if you wish to test how eager your kids will be to cook or bake. Head over to Store and hit Single Kits in the drop-down menu. You'll also find the Accessories sub-category there. Click on Shop All to research both sections at once.
The service has free products on offer, too. And you'll find various suggested activities, dietary modifications, recipes, and cooking videos among them. To browse those, head over to Bonus Bites in the website header. Of these, I like Activities and Skills and Dietary Modifications the most.
Your children can learn various foods while playing Activities and Skills games. At the time of my research, some particularly interesting to me were Grocery Games, Moroccan Ingredients, and New Year's Foodie Traditions.
Dietary Modifications let kids find ingredient substitutes for their favorite meals, especially if they're sensitive to certain foods. The original Shawarma Wraps recipe calls for beef, for example. But you and your kids can swap it out for portobello mushrooms, lentils, soy curls, or seitan.
Lesson Plans and Cooking Videos are a few other Bonus Bites you should check out. Lesson Plans for Middle East Feast and Swedish Bites are some examples of teacher's guides. Step-by-step videos assist little cooks wrap up Blueberry Pancakes, Cheesy Spinach Dip & Pita Chips, and many other treats.
Customization
Raddish Kids has a few personalization options. They're about choosing the right club, determining the duration of your subscription, and incorporating some extras into your plan.
To get monthly kits, you have to select a club first. And you can check brief overviews of each club from 1 place instead of jumping from 1 to another. Choose Cooking Club in Our Clubs, for example, and navigate down the page until you reach the Join the Cooking Club! section. There, take a look at all 3 clubs, each with a View Details button for more information.
You also have to choose the term after selecting the club. You can opt for a monthly, 6 months, or 12 month subscription. I'll elaborate on the prices shortly. For now, know that the longer the duration, the cheaper the monthly price is.

When you select your plan, it's time to customize your kit. You can add Sibling Bundle and Youth Apron only at this step. Create-a-Cookbook is available in the Store, too, if you skip it and change your mind later.
You can filter Store goods to focus on particular products. Search by All Products, Single Kits, or Accessories.
Unboxing
You'll get your recipe kits, tools, and other content in a cardboard box. I like that the company doesn't use plastic bags except for a kitchen tool accompanying the kits. Except for recipes, you may get a cube with fruit and veggie images, possibly for entertainment purposes. And the recipes and other content are printed on high-quality paper.
Cooking and Eating With Raddish Kids
You can cook with Raddish Kids, but you cannot eat with it. Joke aside, this means that the service sends you printed guidelines and a tool but not ingredients. So, visit your local grocery store to buy the necessary ingredients for meal prep.
The company sends out different recipes to its subscribers each month. And while you get a sneak peek of what recipes you'll get, the how-to-cook part remains a surprise until your kit arrives. But you can find various recipes in the Bonus Bites section. And the Raddish Kids website is a treasure trove of educational games and activities. And these are my favorites:
Shortlist of My Favorite Lessons and Activities
Your little chefs will enjoy preparing and eating Greek Salad Bites. They're simple to prepare, making them perfect for those young chefs whose attention might occasionally wander. The ingredient list isn't daunting, and the prep work is minimal. And the result is tasty little bites that make fantastic appetizers or snacks for people of all ages.
Grocery Games – Moroccan Ingredients activity is also my favorite, especially because I'm fond of exotic foods. It encourages young chefs to dabble with fresh and dried ingredients, exploring how drying can shift the taste profile. And the fact that adults can pick up a thing or 2 while joining the game makes it even better.
Lesson Plans by Raddish Kids enrich homeschooling curriculums. Some standout examples are Korean Kitchen and Middle East Feast lesson plans, which introduce kids to the geography, culture, and other aspects of different nations or regions. They contain links to relevant videos, books, and articles for an immersive learning experience.
Cooking, Baking, and Global Eats clubs have 3 subscription terms. They are Monthly, 6 Month, and 12 Month terms. Check the following table for the price breakdown:
| | | | | |
| --- | --- | --- | --- | --- |
| | Cooking Club | Baking Club | Global Eats Club | Shipping |
| Monthly | $27.95 | $27.95 | $27.95 | Free |
| 6 Month | $155.70 | $155.70 | $155.70 | Free |
| 12 Month | $287.40 | $287.40 | $287.40 | Free |
If you sign up for 6 or 12 months, you'll make some savings. The 6-month plan is billed every 6 months but works out at $25.95/month. The 12-month plan works out to be $23.95/month, but the full amount for the year is payable in 1 go.

You can also add a few extras to your plan for a surcharge. These are Sibling Bundle, Create-a-Cookbook, and Youth Apron. You can buy any number of each.
You can buy single recipes and accessories from the Store without being a member. Single kits cost either $15 or $27.95.
The Accessories encompass various extras, including T-shirts, Bonus Bites Packs, and tool sets. Their prices vary but fall in the $10 to $30 price range.
Shipping is free for recipe kit delivery. But you may pay a delivery fee for Store items worth less than $40. The delivery fee is $7 for all individual accessories, kits, and other products falling below this amount. Purchases exceeding $40 qualify for free shipping in the USA.
Note that most Raddish Kids purchases are final. The company may only approve returns for store credit.
Shipping & Delivery
If you place an order by the 18th of the current month, you'll get that month's club kits. Any orders made after this cutoff will simply roll over to receive the following month's kits. You'll get your first box in 1 to 3 business days following the purchase. Recurring deliveries typically fall between the 5th and 10th of the month.
USPS ships your initial order. You'll get an email with tracking details to keep you in the loop. Reach out to Raddish Kids customer support if you don't get your shipment within 3 to 5 business days of getting the email.
Raddish Kids sends out recipe kits to subscribers on a monthly basis throughout the subscription period. But you can also buy items from the service's Store as a guest. But to get monthly recipes you cannot find in the on-site store, you have to register an account.
How to Sign Up
First, choose your favorite club. If unsure, click on View Details to see images and, beneath, a brief bullet-list introduction.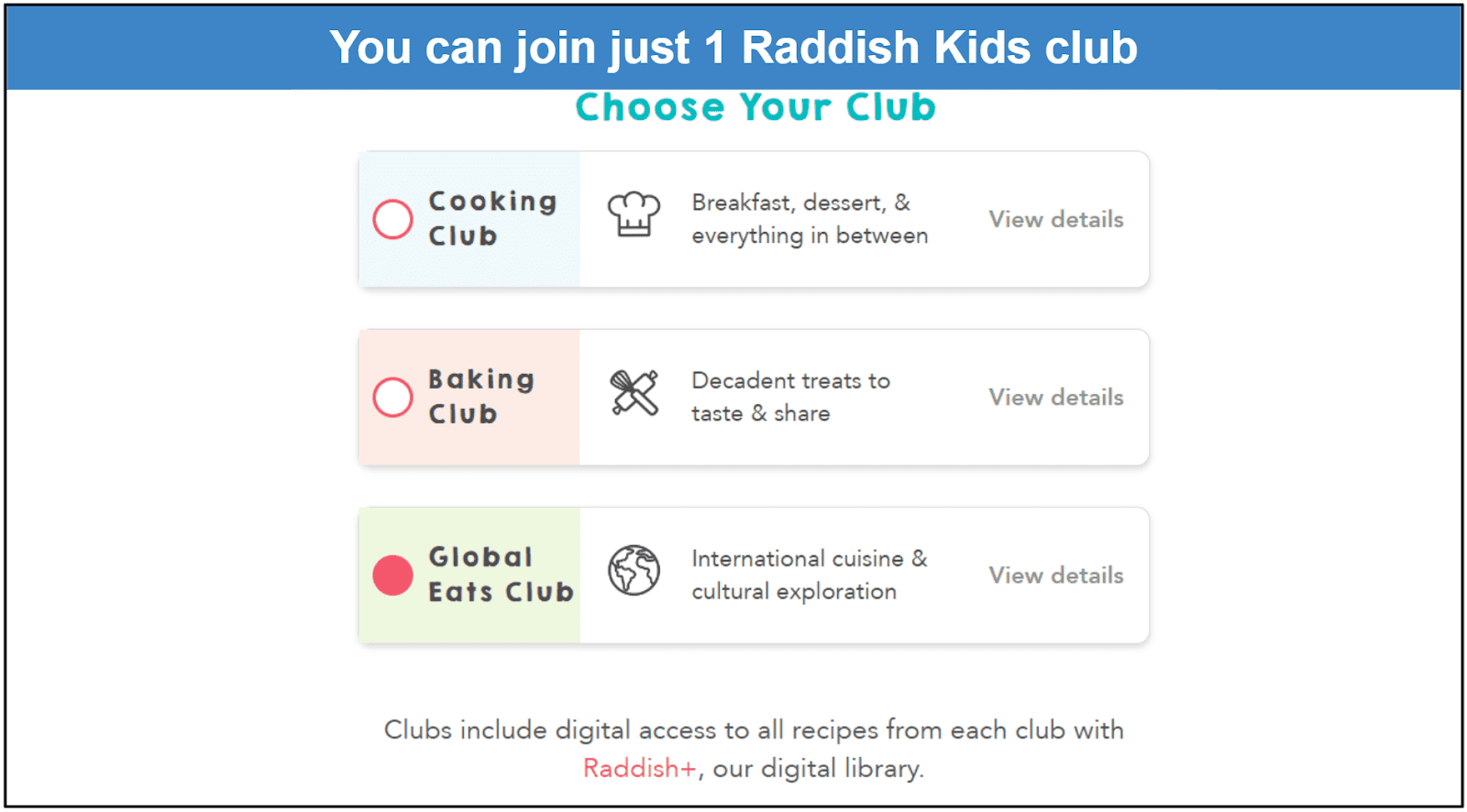 Then, select your subscription plan. The longer you commit, the lower your monthly subscription is.
Add optional extras to your shopping cart. Hit the Review Your Order button to get to the next step.
Review your order and hit Checkout to conclude your purchase

Enter shipping and payment details to finish your order.
Managing Your Subscription
You can open an account without purchasing, too. To do so, head over to My Account in the header. All you need to do is state your name and email address and come up with a strong password.
But only once you buy will you get an active membership, which you can review by selecting the Memberships feature. The same applies to Store Orders. You can also review your account details from My Account.
My experience with Raddish Kids' customer service was fairly decent. Sure, I had to wait a few hours for a response, but I've endured far longer waits with other delivery services. So, all in all, not shabby, but not spectacular either.
I was curious if the service has any plans to introduce a new club in the future. And I was wondering if it includes fruit cups or beverages in general, in their kits. I received a response about 5 hours later, and it was concise and straight to the point.
You can contact Raddish Kids customer support via email or phone. To send an email, hit the Leave a Message bubble in the lower-right corner of the screen. Once it opens, specify your email address and type the message. The customer service phone number is 310.450.3462. The hours of operation are from 9:30 am to 4:30 pm PST Monday to Friday.
You can unsubscribe before the next billing period at any time via your account. Once you log in, go to Memberships and click on Cancel My Renewals. Once you specify the reason for cancelation, hit Continue. Note that you'll keep getting recipe kits until the end of the current billing cycle.
You'll find a comprehensive on-site Help Center. It boasts dozens of answers related to the company's products and shipping. And there's a decent FAQ section covering various topics, including referral programs, dietary restrictions, and more.
How Raddish Kids Compares to Other Delivery Services
Raddish Kids vs. HelloFresh: Raddish Kids focuses on recipes and goodies, while HelloFresh goes a step further by including pre-measured ingredients. It has a Family Friendly plan with many meals that are quick and easy to prepare, perfect for cooking with the kids.
Raddish Kids vs. Factor: As a Raddish Kids subscriber, you'd have to wait to get recipe kits and buy groceries to get the meal done. With Factor, you just choose meals and get them heat-and-eat ready. And the service caters to omnivores, vegetarians, vegans, and people seeking to lose weight, among others.
Raddish Kids vs. Nurture Life: Unlike Raddish Kids, Nurture Life prepares and ships kid-friendly meals. It has finger foods, meal kits, snacks, and smoothies for children of different ages. And you can customize your child's meal plan thanks to various filters. Also, Nurture Life has 4 pricing plans catering to parents with varying numbers of children.

The Bottom Line: Is Raddish Kids Worth It?
Raddish Kids sparks creativity and even teaches life skills to younger cooks. Thus, subscribing to this recipe kit delivery service is well worth consideration. It's an even sweeter deal if you have some time to supervise your child's culinary adventures. Also, your kids get a chance to explore global cuisines, discover unique ingredients, and learn about diverse cultures.
The experience would be better if the service shipped ingredients with its kits. You'd agree that hunting down the necessary foods can be a bit of a chore. Also, the pricing seems to me a tad steep, especially for people living on a budget. Another of my complaints relates to Raddish Kids' reviews of its lesson plans because some links are outdated or broken.
FAQ
What age is Raddish Kids good for?
Raddish Kids is best for children aged between 4 and 14. While younger kids need adult supervision, older ones should be more independent in preparing the service's meals in the kitchen.
How does Raddish Kids work?
Raddish Kids sends 3 recipe kits to subscribers each month. If you don't open an account, you can buy kits, accessories, and other products in the on-site Store as a guest.
How much is Raddish Kids?
Raddish Kids has 3 subscription plans – Monthly, 6 Month, and 12 Month. The price per month ranges from $23.95 to $27.95, depending on the plan. You can also buy individual kits and other products in the on-site Store that currently cost between 10 and 30 bucks.
How do I cancel Raddish Kids?
Cancel the Raddish Kids subscription by navigating to My Account. Once you log in, head to Memberships and select Cancel My Renewals. Contact customer support if you need assistance.