Meal Options
In terms of beef, there are steaks, roasts, briskets, and much more. Some examples of steaks include filet (tenderloin), ribeye, sirloin, strip (NY), flat iron, flank, porterhouse, and Wagyu skirt, and roasts include tenderloin, prime rib, Wagyu tri-tip, and striploin. Also, you could get American Wagyu Gold steaks, briskets, and roasts, too (more on that soon).
There's also King salmon, Northwest Pacific halibut, scallops, shrimp, Pacific black cod, and even lobster. The salmon is wild-caught using the hook-and-line technique, which ensures the best quality and sustainability. It comes from 100% wild sources in the US ranging from Alaska to the coast of Santa Barbara.
You'll also find an eclectic collection of pork items like ribs, roasts, bacon, pork chops, and even salami. The pork is 100% Berkshire (Kurobuta). Though these pigs come from Berkshire, UK, they're actually a Japanese variety imported from the UK in the 1930s. Kurobuta means "black pig" (in Japenese: 黒豚).
Finally, I should mention the Southside BBQ. This is a collection of pre-cooked, smoked items like sausages, short ribs, steaks, and briskets. Options include Wagyu beef, Kurobuta pork, smoked beef sausages, smoked jalapeño cheddar sausages, and a spread that includes a combination of all of those.
Overall, as you can see, it's a great choice if you prioritize quality and flavor in your meat products. Its commitment to ethical and sustainable farming practices means that its products aren't just delicious but also responsibly sourced. To me, responsible sourcing means a lot since the beef industry (in particular) is known to be hard on our planet.
| Diet | Is Snake River Farms Good For This Diet? |
| --- | --- |
| Low-carb | Yes, there are very few (if any) carbs |
| Low-calorie | It depends on what you consider low-calorie |
| Veggie | Not suitable for vegetarians as it's meat-only |
| Ketogenic | Yes, meat supports the keto diet |
| Paleo | Yes, meat supports the paleo diet |
| Gluten-free | Absolutely – meat contains no gluten |
| Dairy-free | Yes, there are no dairy products in meat |
| Pescatarian | Yes, there are several seafood options |
But by far, one of the most popular items on the site is the American Wagyu beef, which is a cross between Japanese Wagyu and American Black Angus beef. This type of beef is known for its marbling and tender texture.
You can find American Wagyu beef in various cuts, including ribeye, striploin, and filet. It also offers a range of other beef products, such as grass-fed beef, dry-aged beef, and Kobe-style beef.
There are 2 distinct types of Wagyu available – black and gold. You should be aware of the differences between both so you can make a more informed decision. The 2 primary differences are the quality and pricing of each.
Here's what the differences are between these 2 types of Wagyu. In Japan, a score is given to Wagyu beef to represent the level of marbling. The scale goes from 0 to 9+. This is known as the Japanese Beef Marbling Score (BMS).
The Snake River Farms black Wagyu beef scores a 6-8, and the gold Wagyu beef scores a 9+. The gold is the most sought-after type of Wagyu, and, naturally, the most expensive. Of course, the Wagyu is the top-tier item overall. But this wouldn't be a complete review unless I talked about its extensive collection of other stuff.
There's a bunch of stuff you can add to your order like gear, add-ons, tools, utensils, salts, seasonings, and even apparel and hats. It's a very impressive assortment.
For example, get things like hats, aprons, meat thermometers, specialty seasonings, and even butcher's paper and toques. I know what you're thinking – is this really necessary? – but at least you can say that not many other competitors have these items.
Okay, so we've discovered that there are hundreds of options – but what if you want a combination? You'll be pleased to know that there's a really easy way to customize your order.
You can get boxes that feature different combinations of beef, pork, smoked items, and seafood. These seem to be really popular, and I can totally understand why.
But before I dive into specifics, here are some of the main boxes available:
Meat & seafood combination boxes

Steak boxes

Charcuterie boards including cheese

Grilling boxes with steaks and burger patties

Kurobuta boxes with bacon and steaks

Hot dog boxes

Ground beef boxes

Salami boxes

And tons more
There are so many options that I couldn't possibly list them all here. This is meant to be a quick birds-eye view of what you can expect. But here are at least some specific examples:
West Coast Catch Fresh Seafood Box: Here, you'll get 2 Pacific black cod, 2 northwest Pacific halibut, and 2 king salmon filets. Get 30 ounces of fish, in total (6 x 5-oz packets).

Meat & Seafood Stock Up: Get 2 Kurobuta pork chops, 2 American Wagyu black grade new york strip steaks, 2 American Wagyu black grade top sirloin steaks, 2 northwest pacific halibut filets, 1 Pacific black cod filet, and 1 king salmon filet.

Steak & Scallops: This comes with 8 large premium-quality Atlantic scallops and 4 filet mignon (tenderloin) steaks.
In addition, it also offers a range of other items, including sausages, burger patties, roasts, hot dogs, salamis, ground beef, and charcuterie boards. These products are perfect for a variety of occasions, from casual BBQs to more formal events.
They come in a variety of formats like the Spare Ribs Kit, Summer Sizzler, Just a Taste Weeknight Dinner Box, Meat & Seafood Stock Up, and much more.
Here are a few examples with a brief breakdown of what you can expect:
Spare Rib Kit: Comes with 1 Kurobuta Spare Ribs and an SRF Perfect Pork Rub spice blend.

Summer Sizzler: Comes with Pioneer Sliders (4 2-oz sliders per pack), Pioneer Burgers (2 8-oz patties per pack), 2 hot dogs, 1 Smoked Beef Sausage, and 1 Smoked Jalapeño Cheddar Sausage.

Just a Taste Weeknight Dinner Box: 1 American Wagyu Black Grade Tri-Tip, 1 lb of American Wagyu Ground Beef, 1 piece of American Wagyu Black Grade Tenderloin, 1 Kurobuta Pork Tenderloin, and 1 Crafted Seasoning Pack.
You should know that there are tons of smoked meats, too. For example, the smoked items don't need to be cooked and can be served as-is. These include Smoked Beef Short Ribs, Smoked Pork Steaks, Smoked Brisket, Beef Sausages, and even a BBQ spread.
As you can see, there are tons of meat and seafood items to please various preferences and party occasions.
Unboxing
All orders are shipped inside a cooler which is placed inside a black box along with ice. Each product is individually packaged and sealed, and clearly labeled for easy identification. Everything is flash-frozen prior to shipping.
The company uses reusable, thermal bags in a recyclable box lined with biodegradable insulated foam. Your meat should be frozen, or at least cold because of the dry ice. However, if you experience any issues, here's a helpful infographic to help you out.
Everything comes frozen, or at least partially frozen. In terms of storage, once you receive your box, you can check out another helpful infographic to help you keep your food in good shape.
And that's it! If you have any specific questions about any of that, I highly recommend reaching out to customer service. There are hundreds of different products, so it's impossible for me to list them all.
Cooking (and Eating) with Snake River Farms
Ah yes, my favorite section! As someone with tons of years of professional cooking experience, I can let you know exactly what you can expect here. If you're going to be investing a fair amount of money in high-quality meats, it'd be great to know exactly how each item is best prepared.
So – while most of the items come raw and need to be cooked, you can get tons of stuff that's ready to heat and eat, too. There's everything from smoked pork steaks, smoked beef short ribs, smoked beef brisket, smoked sausages, and more. These items are fully cooked and ready to simply heat and serve.

Here Are Some Recipes You May Like
Bone-In Ny Strip With Wild Mushroom Cream Steak Sauce

Braised Beef Ragu with Tagliatelle

Braised Sirloin + Beer Cheese Fondue Nachos

Japanese Gyodon (Beef Rice Bowl)
If you want to get an idea of how to prepare some recipes, head on over to the official recipes page.
Prices
Starting From

Order Size

Shipping Fee

Wagyu Beef: $18.00

6 oz of top sirloin

All orders:

48 contiguous states:

$9.99 for standard shipping, $24.99 for express, $49.99 for overnight delivery

AK + HI:

Express shipping only – $24.99

Kurobuta Pork: $12

4 2-oz Hot Sausage Links

Same as above

Boxes: $85.00

Charcuterie and Cheese Box

Same as above

Seasonings & Salts: $15.00

6 oz of Santa Maria-Style Seasoning

Same as above

Southside BBQ: $16.00

4 links (roughly 13 oz) of Smoked Jalapeño Cheddar Sausages

Same as above

Surf & Turf: $25.00

Gulf Coast Shrimp

Same as above
Prices for Wagyu vary wildly depending on what you order. For example, the cheapest item from the Wagyu selection is the top sirloin since this is a much cheaper cut of meat than, say, filets. A 14-lb American Wagyu Gold Grade striploin roast, on the other hand, will run you around $575. So, expect prices for Wagyu beef to fall somewhere between $18 and $575.
Kurobuta pork is the same thing, essentially. The cheapest item is the hot sausage links, and the most expensive is the Whole Bone-In Ham which starts at $175. You can also get a Medium and Large ham that cost $189 and $199, respectively.
In terms of Boxes, these range from around $85 for the Charcuterie and Cheese Box to around $486 for The Great Gift. The Great Gift includes 2 USDA Choice cowboy steaks, 4 8-oz American Wagyu Gold Grade ribeye steaks, and 4 8-oz USDA Prime top sirloin steaks.
Moving on, the gear such as hats, cooking tools, salts, and seasonings range in price from around $15 for the Santa Maria-Style Seasoning to around $85 for a Hedley & Bennett apron.
Pricing for Southside BBQ ranges from roughly $16 for 4 links of Smoked Sausages (roughly 13 oz) to around $299 for 8 lbs of Smoked Brisket.
Lastly, Surf & Turf will run you about $25 for around 10 oz of Gulf Coast Shrimp to roughly $396 for the Griller's Surf & Turf. This includes an "assortment of American Wagyu beef and wild-caught seafood", according to the website.
There are way too many items to list each individual item – so, I highly recommend checking the website for yourself to see if there's something that fits your taste and budget.
Everything is shipped via USPS, and delivery times are approximately 2 to 5 days – however, this can and will usually vary depending on your location.
Shipping & Delivery
You can select from Standard, Express, and Overnight shipping, depending on your location and the shipping option you choose. Standard shipping is available for customers within the continental United States, typically takes 2-5 business days to arrive, and is the cheapest option.
Express shipping is also available and takes 1-3 business days to arrive but is slightly more expensive. Overnight shipping is the fastest option (and the most expensive), and is available for customers within the continental United States, with delivery the next business day.
Keep in mind that you can choose your delivery day, too. This will, of course, be different for each customer and will depend on your exact location and the time at which you place your order.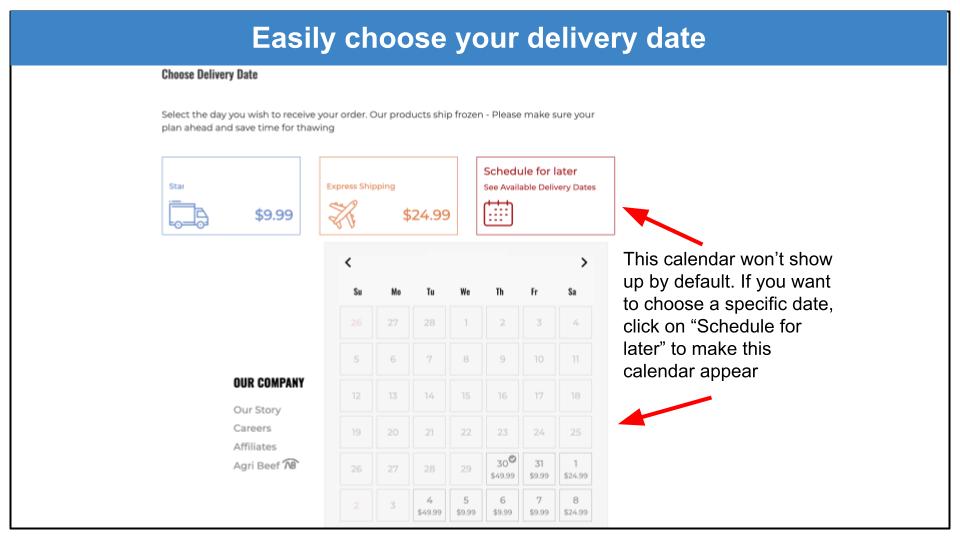 The cost of shipping is always the same, no matter how much you order. And, for your convenience and security, a signature is required upon delivery of your package.
Snake River Farms also uses temperature-controlled packaging to ensure your products remain fresh during shipping, and you'll receive a delivery notification via email once your package has been shipped. If you won't be available to receive the package at your home address, you can request delivery to an alternate address.
Lastly, you can make changes to your order up to 2 business days before the scheduled ship date. Please also note that shipping to some areas of Alaska may not be possible due to dry ice restrictions. It's always best to double-check with customer service before placing your order if you live in Alaska.
How Snake River Farms Works
Shopping at Snake River Farms is like shopping at Amazon, or any other online retailer. Simply choose your desired items, add them to your cart, and checkout. There's no subscription required.
How to Order
Browse the menu: To place an order, browse through the website and select the items that you would like to purchase. The process of placing an order is the same as you would encounter on any other online retailer, such as Amazon, or a Shopify store.
Add items to your cart: Add anything you want to order to your cart.
Start the checkout process: Once you have all the items you want in your cart, it's time to checkout.
Complete the checkout process: From here, enter all your information like your name, address, etc., and finish off the checkout process.
Managing Your Subscription
There isn't a subscription to manage, but if you need to make changes to your account like your delivery address or date(s), you can do that from within your account dashboard.
And, again, if you need any assistance with this, contact the customer support team for help. Speaking of which, let's talk about customer service, and what to expect.
Customer Service
Should you need to get in touch, there are a few ways to do that. You can contact the company by phone, chat, text, or email. Check out the Customer Support area at the bottom of any page to contact someone.
For instance, on any given page, there's a Chat bubble on the bottom right-hand side of the screen. Someone will be happy to help answer your questions before you place an order.
The hours of operation for texting, calls, and chat are as follows:
Monday to Thursday: 8 am to 5 pm MST

Fridays: 8 am to 4 pm MST

Saturdays: 8 am to 12 pm MST

Sundays: Closed
I took it upon myself to test out the live chat feature to see what it would be like. All around, I had a great experience. The representative was friendly, courteous, and professional, and knew the answers to my questions.
If you don't want to talk to someone directly, you can search the database for your question. Just press the Help Center button at the bottom of any page to start.
If you want to change or cancel your order, it's no problem. For any changes, you'll need to do them up to 2 business days before the scheduled ship date.
How Snake River Farms Compares to Other Meal Delivery Services
Snake River Farms vs. Green Chef: You also may want to consider Green Chef. It's a great choice for people who want to eat healthier, organic, and sustainable meals without sacrificing convenience. It offers a variety of meal plans to fit different dietary needs and preferences, including vegan, vegetarian, keto, and gluten-free options. Green Chef also sources its ingredients from responsible farmers and producers, and it offers additional meat packs if you're someone who likes more protein in your diet.
Snake River Farms vs. Blue Apron: You may want to consider Blue Apron instead of Snake River Farms if you're looking for more items other than just meats. If you're looking for a more convenient option that provides pre-portioned ingredients and recipe instructions to cook meals at home, Blue Apron provides some of the most gourmet meal kits and prepared meals. This makes it an attractive option for busy individuals or families who value convenience and variety in their meal choices. Plus, it offers protein add-ons like chicken breast pieces, shrimp, sea scallops, chorizo, and even apple-smoked bacon.
The Bottom Line: Is Snake River Farms Worth It?
Overall, Snake River Farms is an excellent option if you value high-quality meats and want a convenient and reliable way to purchase them. Its premium Wagyu beef and Kurobuta pork products are hand-selected and raised with the highest standards of animal welfare and sustainable farming practices. Besides, this type of meat is rare, and incredibly difficult to find, unless you live in Japan.
I really like that the products arrive fresh and in excellent condition thanks to overnight and express shipping options and temperature-controlled packaging. Plus, its commitment to sustainability and ethical farming practices is another advantage. The animals are raised on family farms and are never given antibiotics or hormones.
So, if you prioritize quality and sustainability, it could be worth considering, even though it's pricier than other meats out there. But cheaper meat options as can be found at Costco, Walmart, or even Whole Foods Market can't come anywhere close to the quality you'll find here.
FAQ
What grade is Snake River Farms?
It offers a range of beef products that are graded either USDA Prime or American Wagyu. You can also choose from its Gold line of Wagyu beef, which includes steaks, roasts, and briskets.
What is the best meat from Snake River?
The best meat from Snake River Farms depends on personal preference, but its American Wagyu beef is highly regarded for its exceptional flavor, tenderness, and marbling.
What is the difference between gold and black brisket at Snake River Farms?
Both types of meat score differently on the Japanese Beef Marbling Score. For instance, the gold scores a 9+ (out of a possible 10), while the black scores a 6 to 8.