Update May 2023: Unfortunately, StayLabs is no longer accepting new orders. For an alternative, you can try The Farmer's Dog. It offers vet-approved recipes and human-grade ingredients. Plus, you can save money with our exclusive discount: Get 60% off on your first order!
Overview
StayLabs human-grade recipes are a solid choice if you're looking for high-quality dog food. If you want a little more info, you've come to the right place. I've done the research and analysis on StayLabs so you don't have to.
Located in Brooklyn, NY, the company crafts natural human-grade food for your dog. The company creates a personalized feeding plan for every dog it serves according to the characteristics of each animal.
StayLabs offers human-grade dog food that's healthy, natural, and well-balanced for nutrition. StayLabs also helps you stay on track with your dog's health by periodically sending you a poop sample kit, so the company can analyze your fur buddy's gut health.
At this time, StayLabs is no longer accepting new customers. My top choice for an alternative is human-grade dog food producer, The Farmer's Dog, but they're not the only alternative, so keep reading to find out more.
| | |
| --- | --- |
| Pros | Cons |
| Human-grade ingredients | The chatbot doesn't function properly |
| An app to manage your account | You can't cancel via your account |
| Free shipping | Limited recipes |
Plans and Recipes
StayLabs currently offers 3 recipes for your dog – chicken, beef, and turkey. A fourth recipe is on the horizon. The meals are designed to support a healthier gut.
The meal plans are customized on the basis of portion size for the purpose of controlling caloric intake. The customization takes into account such things as weight loss goals and better poops to make its determination. It also figures out which recipe is best suited to reach these goals.
The recipes are created and developed by an expert team of board-certified veterinarians and nutritionists and then brought to life by the resident head chef. These experts include Dr. Joe Bielitzki, the Chief Science Advisor and former NASA Chief Veterinary Officer; Dr. Shirley Furmanski, the lead veterinarian with over 30 years of experience who earned her DVM from the University of Wisconsin-Madison; and Dr. Sara Fernandez, the Head of Nutrition and Formulation, who holds an MSc. in Nutrition and Functional Foods.
StayLabs only uses human-grade ingredients for its recipes. Each recipe is carefully crafted to make sure it adheres to AAFCO guidelines. The nutrient profile of your dog is tracked and monitored on an ongoing basis to allow for modification of the portion size, switching out the recipe, or both.
The specific ingredients for each recipe are listed in detail on the StayLabs site. I took a look at the chicken recipe to get a feel for the quality of the food. It includes: chicken, butternut squash, chicken gizzards, chicken liver, green peas, chicken hearts, dehydrated egg, parsnips, sprouted lentils, carrots, kale, anchovy oil, whole ground oats, flaxseeds, blueberries, psyllium seed husk, calcium carbonate, wheat germ oil, dicalcium phosphate, sea salt, dried brown algae (kelp), zinc gluconate, dried ginger, dried turmeric.
All of these ingredients are included for very particular health benefits. Just by scanning the recipe list, you see that most of the ingredients in it are fairly common everyday foods. These include chicken meat and a few chicken organs, as well as several common vegetables.
Butternut squash is great for boosting your dog's energy and increasing his/her red blood cell formation. It's also an excellent source of vitamins A and C, potassium, and fiber.
Carrots support eye health, boost the immune system, and make the skin and coat healthier. They also make an excellent source of vitamin A, fiber, and antioxidants.
The StayLabs website also lists the nutrition details of each recipe in its corresponding Guaranteed Analysis label. For the chicken recipe I mentioned above, the Guaranteed Analysis listed was:
Min crude protein 10.5%
Min crude fat 6.5%
Max crude fiber 1.8%
Max moisture 73%
The recipes themselves are made in Brooklyn, New York by Head Chef Jared Hargreaves. He uses the freshest ingredients available and cooks the food in small batches using low temperatures. Then, the meals are immediately frozen. This serves to preserve as many of the nutrients as possible.
The Farmer's Dog also offers human-grade recipes and is a great alternative to StayLabs if you're looking for fresh food plans tailored to your dog's activity level, weight, and health needs.
What Makes It Different
StayLabs takes a scientific approach when formulating its fresh human-grade dog food. Its veterinarians and nutritionists work together to create meals that help strengthen your pet's gut microbiome. Like humans, dogs need good bacteria in their digestive system to help them absorb nutrients and to take care of bad bacteria that can make your pup sick.
When you sign up for StayLabs, your dog gets a free gut health test. As you continue your StayLabs subscription, you can also continue sending regular samples. StayLabs' experts keep track of your dog's gut bacteria to determine how its food is affecting its gut microbiome. With that information, they can improve their current formulas to foster good gut health in dogs at every life stage.
StayLabs recipes use high-fiber psyllium seed husks to keep your pet's digestive system running smoothly. Sprouted lentils provide still more fiber, as well as polyphenols that promote good health for your pet and their gut microbiome. Nom Nom also offers microbiome gut health tests and human-grade ingredients for your dog, so it would be a great alternative to StayLabs.
Unboxing
StayLabs sends the meals for your pet in an insulated box that keeps the meals frozen while in transit. For the first delivery, in addition to your order of dog food, you'll also get a free Gut Health (Microbiome) Test and a free Digital Scale.
The meals sent are NOT pre-portioned. That's why the company gives you the free scale. It allows you to measure the appropriate amount of dog food for every serving. Handy, eh?
The amount of dog food you receive is predetermined by StayLabs according to the information you provide about your dog when you sign up. For example, in my case, when I filled out the questionnaire for my dog, Cicero, StayLabs recommended 11 containers (16 oz. apiece) of the Chicken recipe for a 2-week trial.
The meals will last several months if stored in the freezer and 4 days if thawed and stored in the refrigerator. The company recommends thawing the food in the refrigerator and then serving it directly to your pet. There's no need to reheat it.
StayLabs is committed to preserving the environment and limiting its own impact on it. Not only is its cardboard recyclable, but the insulation it uses is completely compostable. Further, the company only uses sustainably-sourced paper food cartons and always stays on the lookout to find more sustainable solutions and decrease its environmental impact.
The Farmer's Dog uses dissolvable cornstarch insulation, recyclable boxes, and food storage containers. All TFD packaging materials and containers are free of BPA and other toxins that might harm your pet. You'll find The Farmer's Dog on our list of the best fresh dog food delivery services.
Prices
| | | |
| --- | --- | --- |
| Starting from | Dog size | Shipping Fee |
| $15.48 per week | 3 lbs | Free |
| $22.60 per week | 15 lbs | Free |
| $29.27 per week | 25 lbs | Free |
| $45.74 per week | 50 lbs | Free |
| $53.90 per week | 75 lbs. | Free |
| $87.60 per week | 125 lbs | Free |
One of the most influential factors on the cost of dog food is your dog's size and weight. StayLabs' dog food is no different. I ran the numbers a couple of times and found out that a 2-week supply of food for a 3 lb dog costs $15.48 a week. A 2-week supply for a 125 lb dog costs $87.60. Quite a difference!
At the present time, StayLabs doesn't offer treats or extras other than the free gut-health test and the free digital scale that comes with your first order. It also has a service for periodic poop tests to track the health of your animal.
Shipping is free – which is always a plus – and StayLabs offers a 100% money-back guarantee on its first shipment for any reason as long as it's within 30 days of the shipment. And, finally, should you choose to cancel, it never charges cancellation fees.
A good alternative to StayLabs is Ollie. Ollie also offers fresh dog food made with human-grade ingredients. Ollie's shipping is free, and it has a 2-week trial "starter box" that comes with a money-back guarantee.
Shipping & Delivery
StayLabs meals are delivered as often as your pet needs. The frequency usually occurs in increments of 1 week. As large dogs eat more than smaller dogs, shipments to large dogs are more frequent.
A 125 lb. dog, for example, would receive its meal package every 2 weeks. A much smaller 3 lb. dog would receive its meal package every 6 weeks. As you can see, size makes a big difference. The board-certified veterinarians on staff know how much the dogs should eat and schedule deliveries accordingly.
It's not particularly difficult to reschedule a delivery. You just have to reach out to the StayLabs customer care team by emailing support@staylabs.com or texting (856) 517-8604 and they'll take care of it.
Note that the weekly cutoff is Tuesday 11 AM Eastern time to order a delivery or make changes. Orders are shipped on Wednesdays. To help make the delivery process smoother, StayLabs will send you an email with the precise shipping information as well as tracking information.
How StayLabs Works
Signing up and managing your subscription for most pet food delivery companies is usually fairly easy. StayLabs is no different.
How to Sign Up
Click the Get Started button on the StayLabs Home Page
Fill out the questionnaire. StayLabs asks about your dog's name, gender, age, spay/neuter status, weight, body type, activity level, current diet, and health issues.
Enter your email address.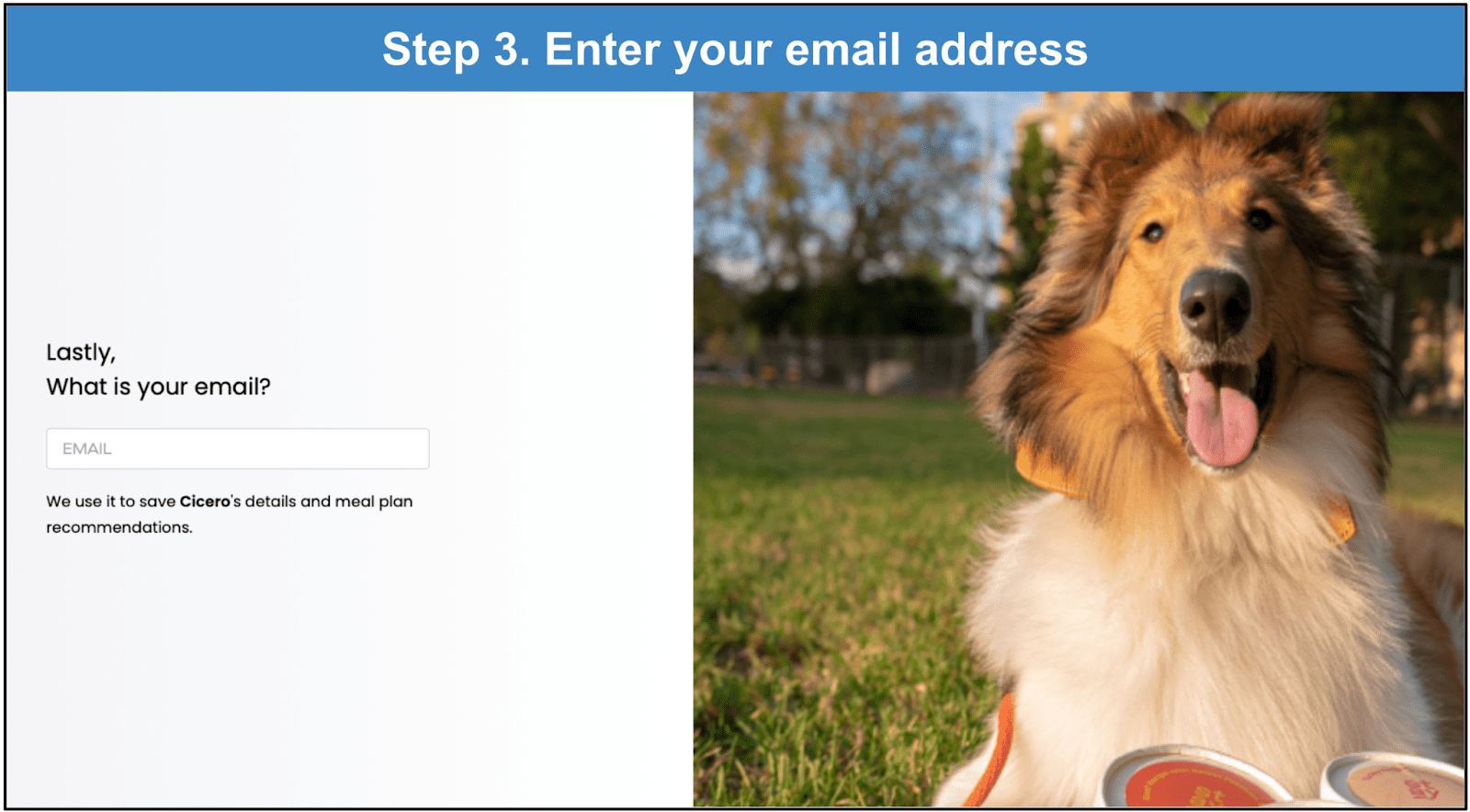 StayLabs provides you with meal recommendations based on the information you have provided.
Enter shipping and billing information.
Managing Your Subscription
Managing your subscription is also relatively simple. It's largely handled by StayLabs' customer support team.
You can cancel at any time or make changes to your order. Although the company doesn't give directions in the FAQ, it provides contact information should you have an issue you want to be addressed. For help, you can contact StayLabs via email (support@staylabs.com) or text (856-517-8604).
Customer Service
It's not difficult to contact the StayLabs Customer Care Team. At the current time, if you have an issue you need to deal with, you can email the team at support@staylabs.com or text or call them at (856) 517-8604.
The company provides an email form that's currently accessible by selecting the help icon at the bottom of the screen. I tried it out. I had a question about the dog recipes and sent the following email:
I sent the email and got a response the same day from the Customer Care team, which was great. Unfortunately, though, due to the nature of my inquiry, the team had to refer my inquiry up the corporate hierarchy to get a full response, and a full response I got:
StayLabs will fully refund the first shipment for any reason, and it doesn't charge cancelation fees. The FAQ mentions that cancelation isn't a problem, but it gives no details on how to cancel. However, as noted above, you can use the contact information of the Customer Care team: support@staylabs.com or call/text at (856) 517-8604.
StayLabs Recalls
StayLabs hasn't had any recalls for its dog food.
How StayLabs Compares to Other Pet Food Delivery Services
The Bottom Line: Is StayLabs Worth It?
I definitely think StayLabs is worth a serious look. It has a line of serious talent behind its recipes, its product is more reasonably priced than many other high-quality dog food companies, and it does an excellent job of tracking your dog's health.
It currently offers 3 varieties of dog food, and more may be coming in the near future. The only real drawback I found with this company was the limitations in its Customer Service (no chat bot), but that's hardly a large issue. In fact, it's really just a personal preference of mine.
The Farmer's Dog would be my top choice as an alternative since StayLabs isn't accepting new customers. It delivers human-grade dog food made with ingredients of the highest quality and always performs highly on our list of the best human-grade dog food delivery services.
Overall, I give StayLabs 2 thumbs up and wish its founders the best of luck on their next dog food venture.
FAQ
Is Stay Labs dog food raw?
StayLabs dog food is NOT raw. Although it's made from natural, human-grade ingredients, it's gently cooked when prepared. This helps seal in the nutrients and kill harmful pathogens to guarantee that your dog only eats the best, healthiest food StayLabs can provide.
Is Stay Labs dog food good for dogs?
StayLabs dog food is definitely good for dogs. It's made from natural, human-grade ingredients, and the recipes used are developed by highly-skilled veterinarians and veterinary nutritionists. StayLabs also tracks your dog's gut health, so that you and they can stay on top of your fur buddy's changing needs.
Is Stay Labs dog food good for puppies?
Stay Labs produces 3 types of dog food – chicken, beef, and turkey. Neither the chicken nor the beef recipes are specifically formulated for puppies. However, the turkey recipe is made with puppies in mind. So, if you have a puppy, you can order the turkey recipe and that should suit his/her needs nicely.