Overview
Kibble isn't exactly the healthiest choice for our dogs – yet it's convenient, easy to store, and most pooches love the tasty ones. So why not make a healthier version that boasts all of the same qualities?
That's exactly what the duo behind Sundays For Dogs did. Tory, a practicing small-animal veterinarian, and Michael, a software engineer, decided to create a dog food that was healthier than kibble but easier than home-cooked food, all made from natural, human-grade ingredients and zero synthetics.
Since every pet parent on the planet is likely dreaming of a product like this, I immediately set out to find out more. Alongside my own experience of trying Sundays, I also considered other users' reviews to get a broader view of just how much dogs love this food.
Overall, I was impressed. And, most importantly, Jamie – my Akita – loves it! Read on to find out more…
Pros
Cons
Only one recipe (for now)

Doesn't make it clear that you can order one-off purchases
Sundays For Dogs Is Best For
Sundays For Dogs May Not Be Great For
Those on a tight budget

Dogs who don't like kibble

Pooches on a weight loss diet
Sundays For Dogs Meals
Plans and Recipes
For now, Sundays' menu only has one item – the USDA Beef Recipe. It's available in three sizes: Regular (40 oz), Medium (72 oz), and Large (144 oz), and you can subscribe for recurrent deliveries.
The recipe was created by the co-founder, Dr Tory Waxman, and further developed by a team of world-leading veterinary nutritionists and food scientists with the goal to provide dogs with a healthy and tasty balanced meal.
There's no option to customize the recipe but the company does provide guidance on how much to feed your particular pet.
And it's important to pay attention to quantity, since Sundays' food is twice as dense as regular kibble. Simply click on How Much Will My Dog Eat? and fill in the questionnaire to get an approximate of your furry friend's daily requirements.
You'll notice a long list of ingredients – but absolutely no additives or fillers. Plus, all the ingredients are sourced from nearby farms and grocers in the Midwest. True to its all-natural promise, the beef recipe is made with USDA beef, beef heart, beef liver, and beef bone.
The other ingredients include wild salmon oil (for heart health and joint pain relief), sunflower oil (great for a dog's skin and coat), and a combination of zucchini, kale, turmeric, selenium yeast, and even more veggies and fruits to help with your pet's energy levels and boost the overall taste.
All the ingredients are 100% human-grade and the food is prepared in a USDA-monitored kitchen. The food is gently air-dried in order to slowly dehydrate the ingredients and preserve all the nutrients and flavor.
The resulting product is ready to eat and has a jerky-like texture and taste, which is why even the pickiest of dogs usually go nuts for it. Plus, the food is shelf-stable and doesn't require any preparation – just pour into your pup's bowl and watch them enjoy it!
According to the Guaranteed Analysis, Sundays' beef recipe contains a minimum of 35% crude protein and minimum 20% crude fat, a maximum of 2% crude fiber, and the moisture level is 15% maximum.
This means the food meets the nutritional needs of dogs in all life stages, including large breeds (as established by the AAFCO dog food nutrient profiles).
Also, because there are no allergy-inducing ingredients or ingredients that could hinder nutrition (such as gluten, wheat, soy, or potatoes), the food is also good for puppies and dogs with sensitive stomachs.
Unboxing
The food comes in a rather nice, bright-yellow cardboard box that contains another yellow box within it. Inside that is a sealed plastic bag that contains the food. If you ask me, that's a bit overkill in terms of cardboard, but it does make for a premium unboxing experience.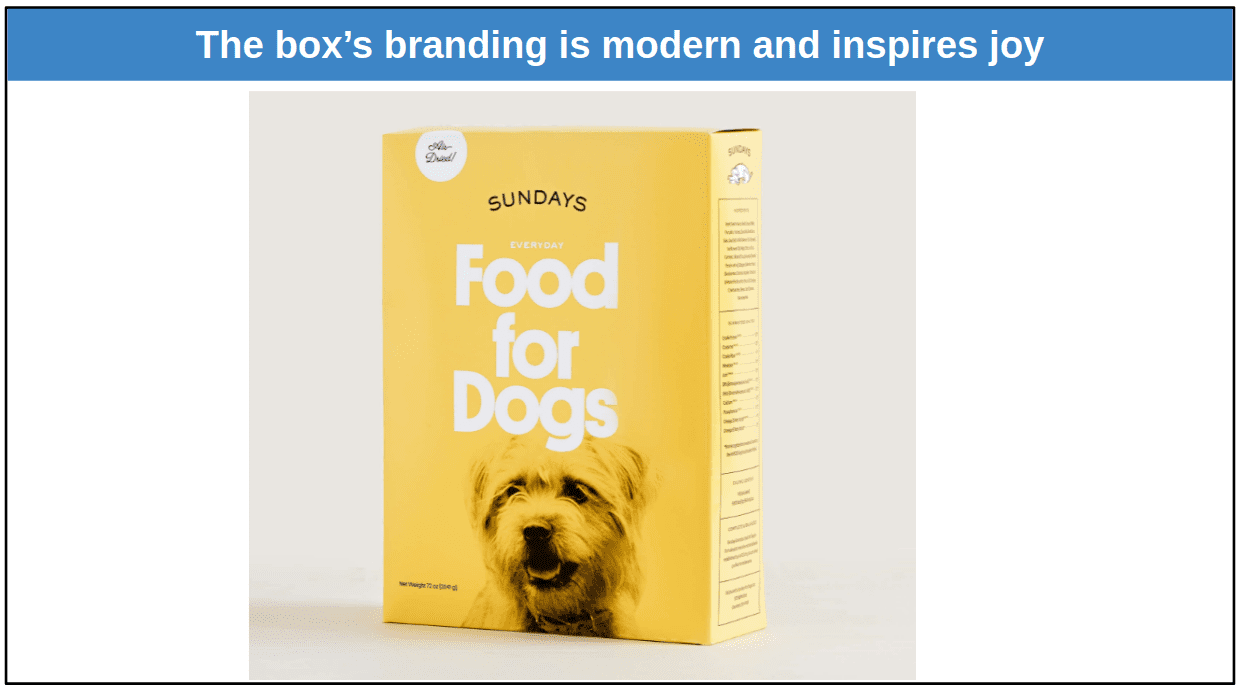 In the box, you should also find a few extra materials, including the food transitioning calendar that helps you to help your pooch make the transition from regular kibble to Sundays, plus personalized feedings details.
Once you open the bag of food, make sure to store it in a cool, dry place. I like to put everything in an air-tight container to make sure it stays fresh.
If you're wondering about the packaging materials, both boxes are curbside recyclable but it's best to check your local trash-collecting company's rules first. You should also be able to dispose of the plastic bag with your usual plastic recycling, but again, check first.
Shipping & Delivery
Shipping is free and the company ships throughout the US – there's no international shipping though. It takes around two to five business days to receive your order, and you can check the status of your package using the tracking number provided via email. The company uses USPS, UPS, and FedEx.
If you need speedier delivery, you can reach out to the company via live chat or email. If it's possible, the team at Sundays will work hard to deliver your package via a faster route. However, it's not a guarantee, so it's best to be organized if you can!
If you opt for a subscription, you can choose the delivery frequency – anything from weekly to every eight weeks – after placing your initial order. Because the bags are only available in three sizes (Regular, Medium, and Large), Sundays will adjust the delivery schedule for each of your fur baby's needs.
For instance, my order for two very different dogs (a 70lb Akita and a 4lb Chihuahua) had different delivery schedules. My Chihuahua, Sunny, received a regular bag estimated to last four to five weeks, while Jamie, my Akita, received a large bag estimated to last around two.
Ordering from Sundays For Dogs
Sundays accepts both subscriptions and one-time purchases but the ordering process is designed in such a way that it promotes the former – all the links on the site will guide you towards signing up for regular deliveries. I found this a bit frustrating.
If you just want to get a feel for the company and place a one-time order, you have to go to the footer of the website and click on Our Food. Once you've found it, the process is smooth and swift – you don't even need an account!
How to Sign Up
To start a subscription, you first need to create an account. For this, click on any of the Get Started or Learn More buttons at the top of the site. You'll be directed through the process, which starts with a quick form about your pooch.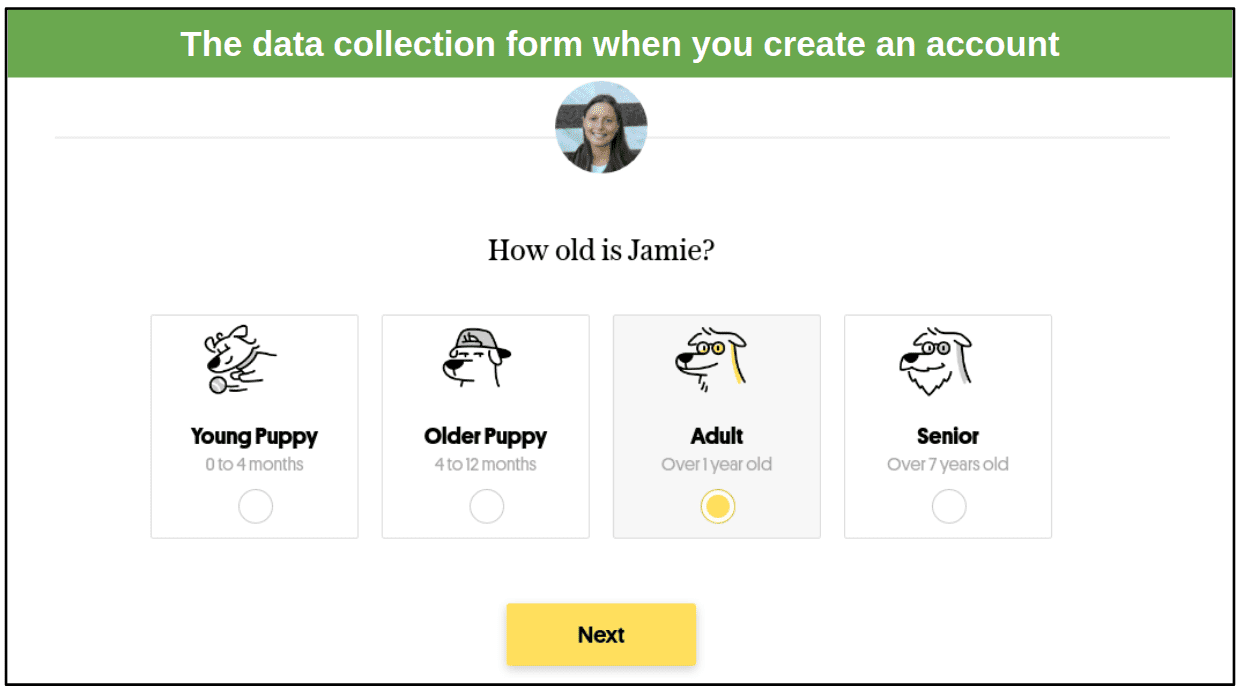 Sundays will ask your dog's name, gender, age, health state, activity level, weight, current diet, and a few other details. Once you're done, the website will generate an estimate for your pup and the recommended delivery schedule.
If you have more than one dog, I like that each of them has an individual profile and you can place orders specifically tailored to their needs.
Managing Your Subscription
If you're not comfortable with the delivery schedule, you can always make changes by logging into your account. Also, if something changes in your dog's behavior or health, you can easily update their profile.
Plus, if you ever lose your feeding guidelines (delivered with each box), you have all the details on your dog's profile. Orders are easy to track and edit, and if you ever need to pause or cancel, it only takes two clicks.
Customer Service
The team is available via live chat, email, phone, SMS, and there's also a comprehensive FAQ section where you can find answers. If you have a problem or a question, you can reach Sundays during the week, between 9 am and 5 pm ET.
Unless the system is very busy, the customer service team is responsive, friendly, and always looking to help. Keep in mind though, that it's still a fairly small and growing company, so there may be times when it's difficult to reach them.
Sundays For Dogs Recalls
Up until the date of this review, Sundays didn't have any recalls.
| | | |
| --- | --- | --- |
| Starting from | Minimum Order | Shipping Fee |
| $6.63 per portion | 1 Regular box ($59 as part of a subscription or $75 as a one-time purchase) | Free |
Since the product is only available in three sizes, the list of prices is straightforward:
$75 for a Regular box (40 oz)

$111 for a Medium box (72 oz)

$199 for a Large box (144 oz)
These prices are valid for one-time purchases – if you subscribe for recurrent orders, you'll get 20% off. Your first order will be calculated for two weeks' worth of food or more, and each dog will have their own estimate if you have more than one pet.
In my case, I opted for a subscription and so I paid $59 for a Regular box for Sunny, and $159 for a Large box for Jamie. If for any reason you want to order more than one bag at a time, in varying sizes, you'll need to make a one-time purchase.
Sundays also has a money-back guarantee, but only for the two-week trial – your first order. So if you or your dog aren't happy with the food, you can cancel your subscription and ask for a refund within 14 days of delivery.
You won't be asked any intimidating questions and you don't have to return the food.
The Bottom Line: Is Sundays For Dogs Worth It?
If you're looking for a healthy alternative to kibble and dry food, Sundays is a fantastic option. Plus, you can use it as a treat since most dogs will go crazy over these tasty, chewy bits!
Of course, for those dogs who enjoy the taste and texture of wet or fresh food, Sundays might not completely work for them. The food is balanced and nutritious, and many dogs are happy to make the switch, but it may be that you alternate between the two food types if that's what your pup prefers.
Plus, it's always best to have a chat with your vet before making the switch.
FAQ
Is Sundays For Dogs the best dry food for dogs?
The all-natural ingredients and the air-drying method that allows these ingredients to retain all their nutritional value make Sundays one of the best dry food options on the market right now.
What is Sundays For Dogs' return policy?
Sundays has a money-back guarantee that covers the two-week trial box. According to the company, you can cancel your subscription and ask for a refund any time within 14 days of the delivery of your first order.
Can puppies eat Sundays dog food?
Yes! The beef recipe is highly nutritious and safe even for puppies because it's made with all-natural ingredients and zero synthetic vitamins or minerals and nothing artificial. As long as you adjust the quantity to fit a puppy's needs, you're good to go.