Overview
Update September 2023: Unfortunately, Tailored Pet is closed for business and is no longer accepting new orders. If your order was processed, you'll be given a refund over the next few days. For an alternative, you can try The Farmer's Dog. It offers vet-approved recipes and human-grade ingredients. Plus, you can Get 60% off on your first order!.
Tailored is a meal delivery service for dogs that's, well, specially tailored for each and every dog and its unique needs.
This means that no two plans are the same, so you'll only get your exact kibble recipe after you provide all the details about your furry friend. It also means that the food provides a personalized solution to any health problems your dog may have.
After thoroughly researching this brand, I was really impressed with how it operates. Personalizing the recipe to get it right for your dog takes only a few minutes from you, but the personalization process takes into account a lot of important things about your dog, from breed and size to lifestyle and health or food sensitivities.

For me, the best part about Tailored is how affordable it is considering the high-quality ingredients and the level of expertise of all the people involved, from the veterinary advisory board to the customer support team.
| | |
| --- | --- |
| Pros | Cons |
| Customized for your dog's unique needs | No guide price since it's all customized |
| Grain-free recipes | Tricky to add a second dog |
| Premium ingredients, including bison | Dry food only |
Tailored Is Best For
Tailored May Not Be Great For
Dogs on prescription diets

Dogs who prefer wet/canned food
Tailored Meals
Since Tailored works by customizing kibble recipes for each individual doggo, you won't find any premade plans or dietary options. To see what your dog's meal plan would look like, simply take the quiz and fill in the info. If you're not sure about some of the answers, you can come back and change them later, thus updating the recipe as well.
Each plan takes into account the size of the breed and the age of your dog, so the kibble size changes to reflect that. This means tiny kibble that's comfortable to eat for miniature dogs and puppies, big kibble to satisfy large doggos.
And, as smaller breeds tend to be more energetic, the small kibble ensures they eat more slowly, which is a great win for their digestive systems.
Some people who own toy breeds have noticed that the small kibble may still be a bit too big for their dog, but most reviews are positive in this regard. So if you have a super tiny dog, it's best to order a small batch to test it first and see if it's a good fit.
With Tailored you can either subscribe to a meal plan or simply place one-off orders. If you opt for the second option, it won't affect the recipe in any way, as you can re-order the same kibble each time if you prefer – but you won't benefit from any subscriber discounts.
If you have a growing puppy, you can opt for more frequent deliveries to take into account its changing needs. Simply update your pup's age and some other profile details, so you can get an accurate recipe each time. Note that no details update automatically, so make sure to retake the quiz each time.
The personalized plans also accommodate special needs, such as food allergies and intolerances. The list includes gluten, grains, potatoes, flax, eggs, chicken, and red meat.
The kibble recipes from Tailored also take into account health concerns. If your dog's overweight or has digestive or dental problems, make sure to check those boxes into the quiz so the recipe can be tailored accordingly. Same goes for mobility, coat shine, skin, and energy levels.
This is all thanks to doctors of veterinary medicine Dr. Emily Luisana and Dr. Katalin Grant, as well as pet nutrition expert Rudy Leschke. They all work for Tailored to ensure that the recipes match your dog's profile and all its dietary requirements.
Tailored sources all ingredients from trusted suppliers, ensuring that quality and food safety standards are always met. The kitchens where the kibble is prepared are all situated here in the USA.
Each Tailored recipe meets or exceeds the strict standards of the Association of American Feed Control Officials (AAFCO) and contains only natural ingredients, plus certain added vitamins and minerals.
Most of the ingredients come from the USA, but not all. Tailored imports lamb from New Zealand, seafood from Canada, and duck from France. Apart from that, some minerals and vitamins that are added to the meal plans come from China.
This shouldn't concern you, as Tailored promises it tests every ingredient for safety and quality. On the contrary, I appreciate that the company is being honest about the sourcing in this context.
If you're concerned about food miles, you'll be happy to hear that even though a portion of the ingredients come from afar, Tailored's delivery is carbon neutral. This is thanks to its commitment to supporting verified urban forestry projects in Pennsylvania and sustainable forest management practices in California.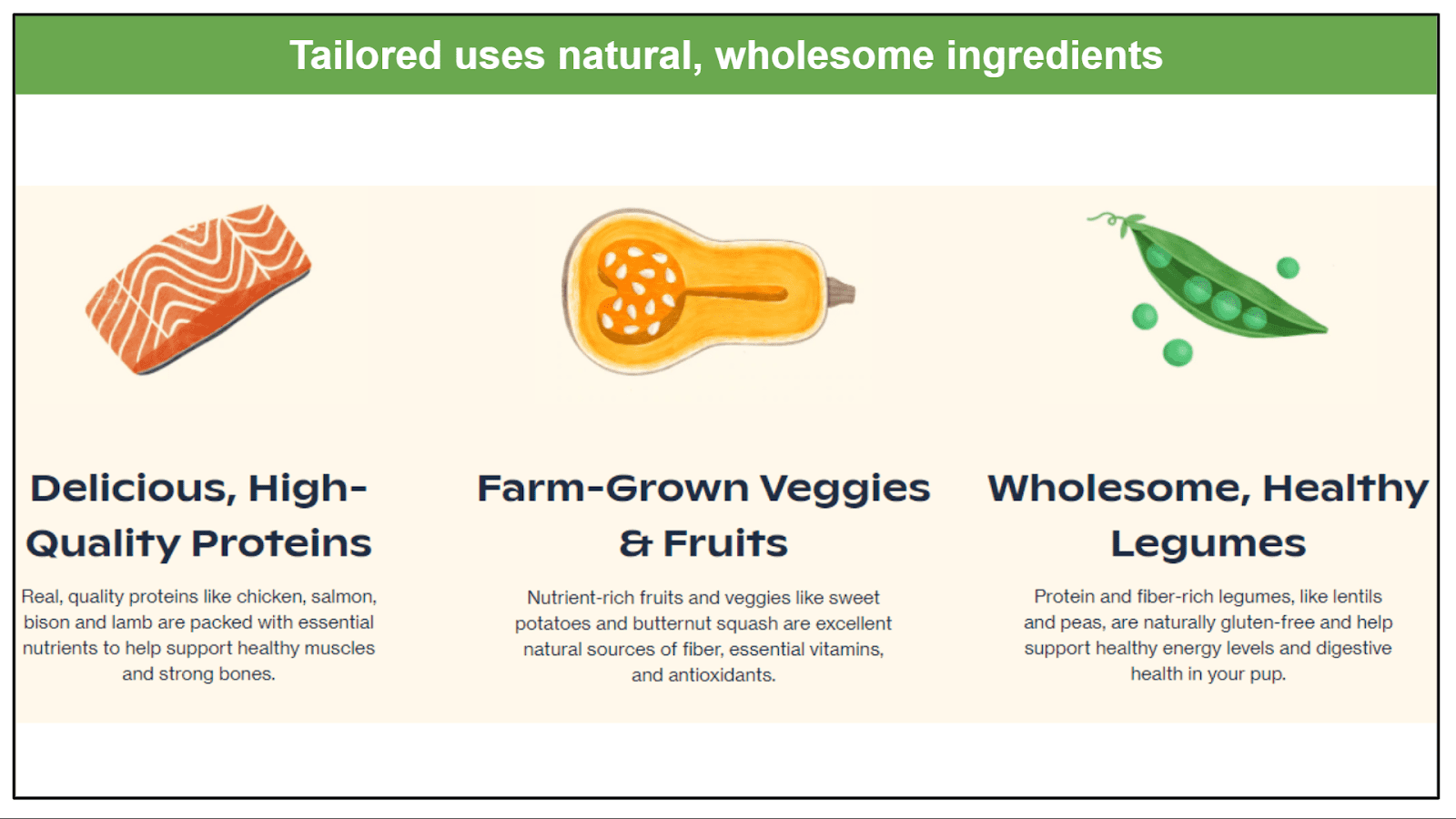 Now, let's take an individual recipe and see exactly what it contains.
I crafted a meal plan for Anna, a 10-month-old Chihuahua who's very active and has no sensitivities. To see how plans differ between different breeds and sizes, I also made one for Johnny, an active 120 lb Irish Wolfhound in perfect shape and with no sensitivities.
In Anna's case, I was asked to choose between chicken and salmon at the end of the quiz, and I chose chicken. The resulting meal plan was a Chicken, Menhaden Fish Meal, Lentil & Whole Egg Blend.
Here's the full recipe:
The key ingredients are chicken, menhaden fish meal, lentils, peas, potatoes, dried whole egg, chicken fat, flaxseed, sun-cured alfalfa, plus natural flavor, vitamins, minerals, and probiotics.
The added DHA is naturally-sourced and helps support brain and vision development. This is essential for puppies' development. The added calcium helps support growing bones.
Chicken and eggs are both high-quality sources of protein that support the growth and development of muscles thanks to the antioxidants and amino acids they contain. Since Anna is a toy breed and very active, the higher protein intake is also a plus, as it suits more active dogs.
The lentils are a great help for a puppy's digestion, as they're high in fiber and low in fat, besides being a natural source of protein and essential minerals. Live probiotics are also added after cooking to support healthy digestion.
The Omega 3 & 6 fatty acids are there to help maintain healthy skin and a shiny coat.
Tailored also mentions that the recipes don't contain corn, wheat, or soy ingredients, meat by-product meals or fillers, artificial flavors, colors, or preservatives.
For senior dogs, the recipes have added glucosamine and chondroitin to help increase mobility. They also support joints and mobility for larger breeds, as the extra weight can put a bit more pressure on the dog's joints.
Apart from the meal plans, you can also order natural treats. There are special treats for growing puppies, adult dogs, and seniors, but you can't customize them for your individual dog.
Treats for puppies, for example, are made with real beef, and contain DHA and Omega-6 and no grains.
Speaking of grains, you can choose if you want grains in your dog's kibble or not. You can also let Tailored recommend it if you're not sure. I got a prompt at the end of the quiz for Johnny, but not for Anna, so I guess this option is available only for adult pups.
Nutrition
Let's look at the Guaranteed Analysis of Anna's recipe above:
CRUDE PROTEIN (MIN.): 30.00%
CRUDE FAT (MIN.): 12.00%
CRUDE FIBER (MAX.): 4.00%
The minimum values for crude protein and fat are already pretty high for a non-premium kibble, so this means, realistically, that the actual recipe will exceed them. This is great, considering how important protein is for a growing puppy.
The kibble is made by gently cooking the ingredients with steam, thus ensuring two things: the amino acids and nutrients remain fairly intact AND any harmful microorganisms are killed in the process. Plus, the excess moisture is removed by pasteurizing the food.
Some formulations are coated with freeze-dried meat. This doesn't affect the food nutritionally, but hopefully adds more flavor for your pup to enjoy.
If your dog has a special diet, there are limited-ingredient formulations available for allergies and intolerances (seven to ten ingredients, plus supplements). These can also prevent problems like itchy skin or stomach upsets for more sensitive pups.
Unboxing
Each bag has a convenient zipper seal that helps keep the kibble fresh. It can dry out if left open too long, so you need to be careful to only open it at feeding time. That said, you'll sometimes get several smaller bags with one order, so that the food will keep fresh for longer.
When it comes to packaging, Tailored has partnered with TerraCycle. This means that every bag can be recycled through its program, which only takes a few steps. Simply download a label from TerraCycle's website, place it on the box, and mail it for recycling.
The corrugated boxes and inserts are made out of recycled material (yay!) and can be recycled with your standard household waste.
Apart from the dry food bags, you'll receive a complete transition guide and a dishwasher-safe, biodegradable bamboo scooper with your first order. This will help you measure and portion the kibble based on the feeding guidelines located on the back of each bag.
Then, if you subscribe, you'll get a special something for your doggo with your subsequent orders, from fun dog toys to bandanas.
Since the food is dry, it'll arrive at room temperature, with no need for refrigeration. Each bag has a Best By date that you'll need to keep in mind, and it stays the same no matter when you open the package.
Shipping & Delivery
The great thing about Tailored is that delivery is extremely flexible. You can choose to receive your box every two to 12 weeks, with bags ranging from 7.5 to 40 lbs. it's nice to have the flexibility to find something that works for you.
Frequent deliveries come in handy, especially if you have a large breed that eats a lot, or if you have a growing puppy whose nutritional needs change quickly in a short space of time.
You can leave the auto-shipping on if you want to get deliveries automatically, or change the frequency as you wish.
Tailored delivers to all 48 contiguous states within the U.S., but not to Hawaii and Alaska.
For one-time orders, as well as for your first order on a subscription, your box will arrive within two to five business days after you place your order. This depends on your location in the US.
Subsequent orders of your subscription will arrive based on the frequency you selected when placing your first order.
All orders are shipped through FedEx, so you can track your order with the link provided by email or in the Order History section of your account. If the pandemic is affecting delivery in your area, you can always modify the frequency to compensate for any potential delay.
There's no app to help you track your order, so you'll have to rely solely on FedEx for that.
Ordering from Tailored
It's super easy to sign up to Tailored.
First, you need to take the quiz about your four-legged friend so that you can get your personalized meal plan. Then you can see the price and select your desired quantity and delivery frequency. You can set up an account first if you want more than a one-time order or to add more than one dog.
How to Sign Up
I recommend creating a free account first, even though it's not technically necessary. You only need an email address and to set a password.

If you only want to place a one-time order, you can skip the account setup and simply sign up at checkout to receive text updates on your phone.

Take the quiz! This is a quick, but super detailed survey about your dog's age, breed, size, spay/neuter status, sensitivities, health and wellbeing, and current diet. You can always go back to the previous step and change your answers.

At the end of the quiz, you need to select which protein type you would prefer for your dog from a list. This can include chicken, salmon, lamb, duck, bison, beef, wild boar, and turkey. They all have different price tags.

You'll get your dog's Tailored recipe with all of its ingredients and nutritional info.

Select your desired quantity of kibble from the bag sizes available.

Select your desired frequency (every two to 12 weeks, or a one-time order).
Add the recipe to your cart.

If you have a second dog, select Add another pet and repeat the quiz*. Same for your third and so on.

Go to checkout and fill in your address and payment information.

You're done! You'll receive your package in two to five business days.
*Note: If this doesn't work, log out of your account. Then, using the same email address, take the quiz again for your second dog. This should ensure that both dogs will be linked to your account.
Managing Your Subscription
It's easy to manage your subscription. You can pause your plan whenever you're away, change the delivery date or location, or cancel your subscription easily.
If you want to change your next delivery date, you can do that online from the Manage Account section up to two business days prior to your next order's processing date. Don't worry, you'll get an email notification three days before the processing date.
In the same section, you can also pause or skip a week or month of your subscription by updating the Next Charged Date to the date you want to receive your next shipment.
You can also do all this by contacting Customer Care by email, phone, or live chat.
If you're traveling and want your next shipment to arrive at a different place, you can also call Customer Care to inform the company of your whereabouts. Just make sure to do this well in advance to ensure the package hasn't left the fulfillment center.
Customer Service
Tailored offers support in a variety of forms: email, phone, and live chat. The Pup Success Team, aka the customer support team, is available Monday to Friday from 9 AM to 4 PM EST.
Ashley and Michael, the two Pup Success Specialists, have tons of experience in the pet nutrition field and should be able to help you with any inquiries, both before and after you buy. For example, you can ask to exclude certain ingredients from your pup's blend, apart from the ones mentioned in the quiz.
When I sent a note through the website asking more about the cooking process of the kibble, I got a quick email from Michael that was very informative and polite. Five starts here, from my experience.
It's straightforward to cancel your subscription. You can do so from the Manage Account section on the website. Although you can call, email, or live chat with the customer service team for assistance, you should be able to handle it yourself without any complications.

Tailored Recalls
Tailored doesn't have any history of recalls. Yay!
| | | |
| --- | --- | --- |
| Starting from | Minimum Order | Shipping Fee |
| Around $3.85/week per week | Around $27 (7.5 lb bag = 7-week supply for small pup) | Free |
Since Tailored offers 100% customized meal plans for each dog, the price will vary accordingly. A small breed will need less food in a week, so the price will be lower. The same goes for a puppy vs. an adult dog.
The lowest price I could get by tinkering with the quiz answers was $27 for a 7.5 lb bag that could feed a small Chihuahua puppy for seven weeks. This translates to just $3.85 per week.
This is by choosing chicken instead of salmon as the primary ingredient. For salmon, the same bag would cost $52, so different protein sources affect the price as well.
These are all prices for one-time orders, without any discount. If you choose to subscribe, you'll benefit from an extra 10% off on all orders, so $24.30 instead of $27 in the first case.
And you can bring the costs down even further by using our special discount code to enjoy Tailored's current deal.
Now, let's see what an adult, large breed dog would need. For Johnny, I chose chicken as well. This got me a meal plan that costs $88 per 40 lb bag, which would last for four weeks. So $22 per week, or $19.80 on a subscription.
If I switch to bison for Johnny, this price significantly rises to $114 for a 40 lb bag that would last for four weeks, so $28.50 per week (or $25.65 on a subscription). This is the extra price you pay for more premium ingredients.
I think this is all surprisingly affordable for a health-focused, nutritionist-approved personalized meal plan.
Shipping is free as well, no matter whether you're just testing the product with a one-time purchase or you choose to subscribe.
There are no free trials, but there's a money-back guarantee if the kibble you receive is not to your pup's liking. This means you can contact the customer service team, return the product and get a refund, and try again with a different type of recipe. Note that it can take a few weeks for your money to return to your balance after you return the food.
Besides the kibble, there are other products available to order. You'll find a Tailored 20 oz. Stainless Steel Favorite Tumbler on the Merchandise section for $26.
The soft and chewy treats are divided into puppy, adult, and senior, and cost $14 per bag. You can also subscribe to receive treats regularly, and the 10% discount for subscribers applies here too.
Sometimes, Limited Edition Treat Boxes (with toys) are available as well. The Winter Box, for example, is $30 and includes treats, an interactive treat ball, a plush mitten, and a nicely decorated box. So cute!
The Bottom Line: Is Tailored Worth It?
Tailored is definitely worth it if you're looking to provide your dog with healthy, nutritious kibble that's perfectly customized for its individual dietary needs and preferences.
Tailored is also a very affordable option, even for larger breeds with voracious appetites.
And let's not forget about convenience – the flexible deliveries ensure that you don't have to carry heavy bags of food to your home, they just appear on your doorstep however often you need!
If your dog doesn't like dry food, you can try other meal plans, like the ones from Ollie. But if kibble satisfies your pooch's tastes, it helps reduce tartar as well, so I think it's a double win.
FAQ
Is Tailored pet food healthy?
Yes! The kibble from Tailored was designed with the help of veterinary doctors and nutrition experts. Each meal plan is personalized to your dog's specific dietary needs to ensure a perfect match.
Plus, all ingredients used in the recipes are natural, with added minerals and vitamins for extra benefits. You can easily opt for no-grain recipes, and all recipes are gluten-free by default.
Is Tailored dog food good?
Yes, Tailored's kibble is a very good solution to your dog's nutrition. You can read all about the benefits of the recipes in my nutritional analysis above, and see all the added vitamins and minerals.
From puppies, who need calcium for their growing bones and extra protein for muscle development, to senior dogs that need special ingredients to help with mobility, personalized meal plans take into account each dog's special dietary needs.
How much is Tailored dog food?
Tailored has very competitive prices for such quality, personalized dog meal plans. The price for each dog's plan will differ based on the details provided, but feeding a small breed puppy can cost as little as $3.85/week per week, while a 120 lbs large doggo can be fed from just $22 per week.
This is all for one-time orders. If you choose to subscribe, you get an additional 10% off each order, plus some fun toys for your pooch in each box. Did I mention shipping is always free?