Overview
With a reasonably varied menu that contains delicious heat-and-eat meals for different diets, The Good Kitchen (TGK) is a fantastic meal delivery option. The company puts a lot of care into choosing organic, fresh, and responsibly-sourced farm ingredients.
TGK works with thoroughly vetted local farmers to create nutritious meals that only need three to five minutes in the microwave. You can tell this is true because the menu rotates seasonally (the chefs only use in-season ingredients).
Given all the praise, I got curious and set out to do my own review of The Good Kitchen. Together with our specialists, I took a closer look at the taste of the food and the overall experience with the company. I have to admit; I was truly impressed!
Of course, not all things are perfect, but the company does follow through in terms of attention to detail when it comes to ingredients and cooking. As for the not-so-good things, I think there's room for improvement. So if you want to know more about TGK, make sure to keep reading!
Pros
Mostly organic produce

Farm to table meals in three to five minutes

Season-appropriate ingredients

A wide range of diets (keto, paleo, gluten-free, clean eating, and more)

Flexible plans

Special discount: Get 20% Off Your First Order With Code: FirstWeek
Cons
The price is a bit steep

Only two ways to contact customer support

Out of stock ingredients are replaced without prior notification
The Good Kitchen Is Best For
Busy people who want to eat healthily

Singles and couples who don't want to/can't cook

People who follow a specific diet
The Good Kitchen May Not Be Great For
What's on The Good Kitchen Menu
The menu offers a selection of American and Mediterranean cuisine with some splashes of Mexican and Asian. You'll notice new dishes each week, but the real change happens with the seasons since TGK only uses ingredients that can be grown and harvested seasonally.
All the meals are gluten-free, peanut-free, and soy-free, but you'll also find good options for the keto and paleo diets, Whole30 Approved, and low fat. In total, the menu has around 30 single-serving meals to choose from.
Most meals are well-balanced and contain clean proteins (grass-fed beef, pastured pork, lamb, turkey, and antibiotic- and hormone-free poultry and eggs) with veggies or starch on the side. Most produce is organic, GMO-free, and all seafood items are Seafood Watch compliant.
The company also wants to make vegetarians feel included, but there's not much to be excited about (only three options available when I checked). The other dietary options have a bit more diversity so you can choose a weekly menu without repeating the meals.
Each dish has a detailed list of ingredients and nutrients with easy-to-spot details on calorie content, proteins, and carbs. This is extremely helpful if you're on a strict diet like keto or paleo, but also if you're counting calories and want low-fat dishes.
However, there isn't much room for customization. You can remove some ingredients (based on allergies and preferences) when placing the first order. This selection will be used by the TGK system to generate a menu that suits your needs (if you choose a subscription). If you don't like the auto-generated options, you can add different meals to the menu.
If you want to have full control over your meals, you can order from the A la Carte menu and use the Family Style option to increase the amount of protein. However, the selection of bulk-size portions (Family Style section) is quite limited and the A la Carte menu has slightly fewer options than the subscription one.
Overall, the menu is exactly what you would expect from a meal delivery service looking to cater to a wider audience with specific needs. There's some level of diversity, but there are no add-ons or snacks to sweeten the deal.
Unboxing
Meals from The Good Kitchen are cooked fresh and then frozen so they'll reach your doorstep in optimal condition. For this, the cardboard box is insulated with recyclable gel packs, and the food is wrapped in a plastic sheet to prevent it from getting wet.
All the materials used for packaging including the vacuum-sealed microwave-safe plastic trays that store the food are recyclable. Make sure to read the instructions that come with the box for how to safely dispose of everything.
Once you open the box, place all the trays you don't want to open right away in the freezer. You can safely keep the meals frozen for six months after delivery (check the packaged on date on each meal). If you thaw the meals, you should eat them within 72 hours.
Cooking (and Eating) with The Good Kitchen
When you're hungry, just grab your meal out of the freezer, take off the label, place the tray in the microwave (no need to poke or peel off the plastic), and set the recommended temperature for three minutes.
The plastic will balloon up in the microwave and keep the steam contained so the food won't dry out from the heat. Once the time is up, let it cool down for a couple of minutes and enjoy! With The Good Kitchen, it takes five minutes to have your meal ready to eat.
Shortlist of My Favorite Meals
The selection of meals is suitable for lunch and dinner and you can easily find delicious foods that stay under 600 calories or have a high protein content (depending on your dietary needs). Honestly, it was rather difficult to make a shortlist, but I managed to bring it down to just three.
My first choice is Beef Bolognese with Spaghetti Squash, a dish that's only 340 calories but feels like an exotic dish! The bolognese sauce contains premium ground beef and is slow-cooked so it captures all the flavors. Plus, it pairs well with the light spaghetti squash that looks amazing.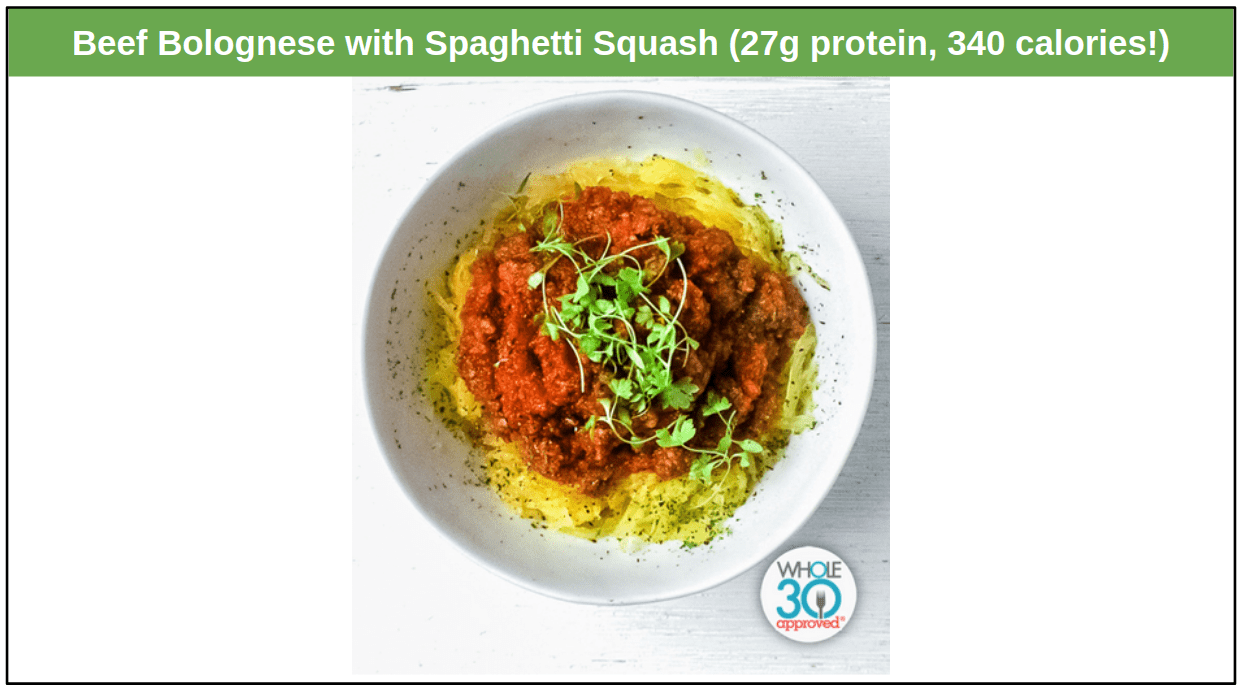 The second choice in my top three best The Good Kitchen dishes is Pork Loin with Sweet Potato Mash and Green Beans. The pork loin is rubbed with a concoction of mustard, cayenne, chili, and paprika to make it so tender that it melts in your mouth. And on the side, you have green beans and a sweet potato mash.
Last but not least, the Chimichurri Chicken Thighs with Fingerling Potato Hash comes in third place. I love this one because the chicken combines amazingly well with the fresh herbs and the fingerling potato hash.
Shipping & Delivery
TGK delivers all over the US and shipping is free on orders of 10+ meals. For anything that goes under $150, you'll pay a flat fee of $6.99 (this may be different for Alaska and Hawaii, so check with the company first). Also, you can choose the delivery frequency, which can be weekly, bi-weekly, or monthly.
I like this level of flexibility but I'm not that happy about different cutoff days for first and subsequent orders. For first orders, the cutoff day for making changes to your order is Sunday, 8 pm EST, and the food is delivered by the coming Wednesday. However, for subsequent orders, the cutoff day is Thursdays at 5 pm EST, and the food is delivered by the following Friday.
The email notification action is strong with this brand. For instance, if you choose a weekly subscription, TGK will send you a reminder every Monday about your meal selection for the week. If you don't take any action by the cutoff day, the TGK team will generate a menu based on your Meal Preferences profile.
I also like that, as your order starts its journey to your door, you get a couple of emails – one with the tracking number and one with instructions about your food and recycling the packaging materials.
Subscription
The Good Kitchen's subscription allows you to choose between three main plans: 5 Meals, 10 Meals, and Custom. The subscription system isn't rigid and you won't feel pressured into keeping the same meal plan. Overall, it's easy to make changes, skip a meal, or cancel without being guilted into staying.
How to Sign Up
If you want a subscription, click on the Get Started button (in the upper-right page corner) and follow the instructions. You'll see a five-step questionnaire where you have to fill in some information about your meal preferences (diet type, ingredients you don't like, and allergens).
Once the meal selection is complete and you're happy with the menu, you'll be prompted to create your account (add contact info and address) and you'll move on to the checkout. And that's it!
If you're interested in a one-time order, you don't need an account. Go to the menu, choose Shop, click on Order A la Carte and place your order. Next, check out and wait for your order to arrive.
Managing Your Subscription
To change an order's content or delivery options, just log in to your TGK account, click Subscription Plan, and then choose what you want to edit.
Keep in mind that changes to your meals, address, delivery frequency, or cancellations must be submitted by your respective cutoff date to come into effect for the following order. If the next shipment is already processed, the system won't apply any changes.
Customer Service
I have mixed feelings about The Good Kitchen's customer service system. I like that customers are encouraged to reach out, but you're not guaranteed to get a reply from your first try. Also, there's no live chat option; only email and phone.
I do like the FAQ section since you can find plenty of answers there. But if you have a problem with the order, make sure to take pictures and send a detailed email. The company will try to make it right and give you store credit or a full refund, depending on the situation.
Prices
Starting from

Minimum Order

Shipping Fee

$11.86 per portion

5 meals/order: $74.90

$6.99 for orders under $150

Free for 10+ meals orders
The Good Kitchen is a service where you can't complain about the lack of options. However, at $14.98 per serving for a five-meals order, it's also one of the pricier meal delivery services on the market.
Still, the quality of food, the attention to detail, and the level of flexibility make it worth the cost (if you can afford it). I decided to try an A la Carte order because it's the option that offers the most flexibility (no upper limit). In this case, the minimum order is six meals per box or $115, plus the shipping flat fee.
If you want some level of customization, you can combine the A La Carte menu with the Family Style one (where you can order extra protein in bulk). In this case, the prices range from $12.99 to $15.99 per serving.
If you choose a subscription you can order between five and 35 meals per box. In short, the more meals you order, the price per serving will get lower (down to $11.86 per serving).
If you want to test it out and aren't sure about placing a large order, The Good Kitchen has a Sample Pack that contains five meals selected by a chef. This is a nice way to get a taste of the food and experience with the company without submitting for a subscription. There's also the One Time option – no subscription, 20 meals per box, and the food is selected by a chef.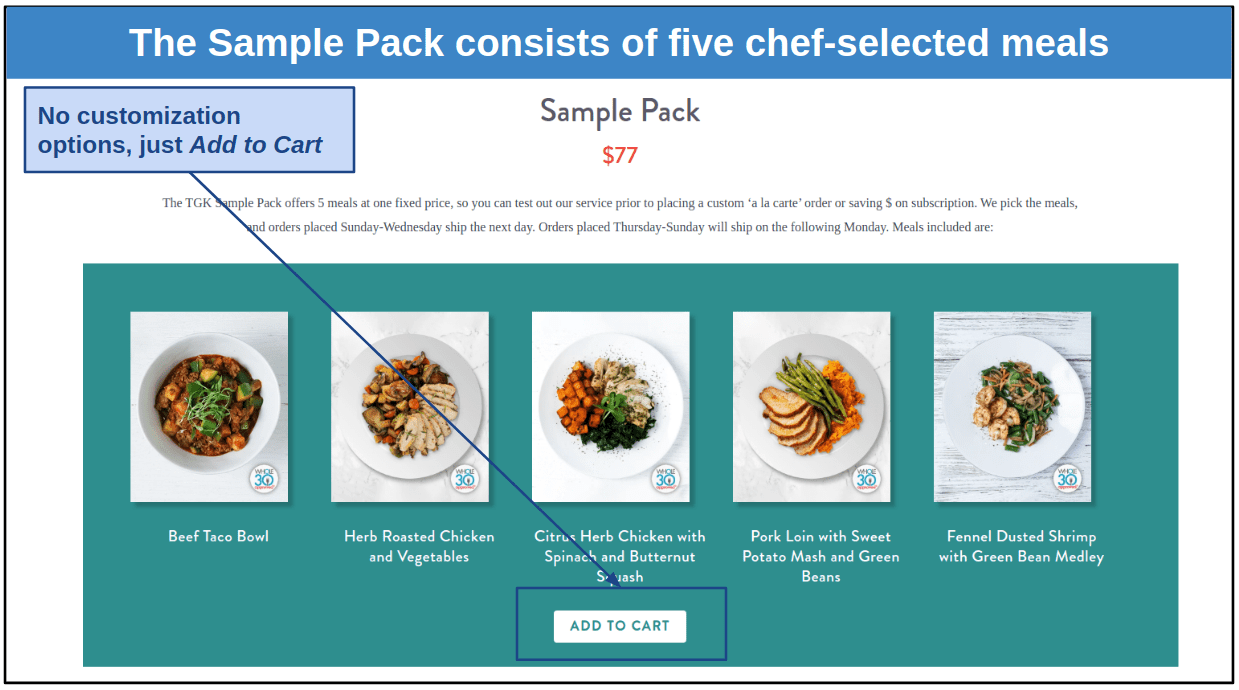 Overall, for the price tag, The Good Kitchen manages to offer healthy, tasty meals and flexible options. I like the freedom of switching plans, combining menus, and canceling/pausing any time I want.
The Bottom Line: Is The Good Kitchen Worth It?
TGK is a great option for anyone looking to eat healthy meals while following a specific diet (like keto or paleo) or trying to lose weight. I especially like the care and attention to detail that goes into selecting premium ingredients and making the meals.
Even though it seems a bit pricey at first, the wide range of options when it comes to how you order and shipping flexibility make it worth it.
FAQs
1. Does The Good Kitchen support weight loss?
The Good Kitchen's menu is built around several diets such as keto, paleo, low-fat, Whole30 Approved, and more. So, while the company doesn't state it directly, most meals support a healthy lifestyle, with a focus on fewer calories and the right amount of protein, carbs, and fats.
2. Are the good kitchen meals frozen?
Yes. The meals are made fresh each week and shipped frozen to make sure they reach your door in optimal conditions. However, this doesn't damage the texture or aspect of the food. Plus, all the nutrients stay in the food, sealed in right after cooking.
3. How do you cancel The Good Kitchen?
With The Good Kitchen, it's easy to manage your subscription. Just log in to your account, go to Subscription Plan and choose the cancel option. The company is happy to provide its customers with flexible plans so you won't be guilted into staying.