Overview
Yumble closed shop at the end of 2022 and was purchased by Dibz Kidz, which features a different concept of lunches for kids.
Yumble promises to bring healthy, kid-friendly lunches and snacks to your door that will end the eternal plea to "please, just try 1 bite."
As a parent, I know your struggle. As a professional meal delivery service reviewer, I spend my work day scanning ingredient lists, weighing nutritional information, consulting colleagues, and otherwise ensuring that your family gets the best meal kits and prepared meals available. And I can say in my professional capacity that Yumble is a great choice for many parents.
Yumble lets you order from several options of nutritious and shelf-stable lunches that kids will love. However, the offer only includes snacks and lunches; there are no fully home-cooked meals or fresh produce like you can find on HelloFresh's kid-friendly menu.
If you're a parent pressed for time (and what parent isn't?), read on and learn more about how to make your kid(s)' lunches healthier for them and less stressful for you.
Pros
Free shipping on every order

Flexible lunch options

Lunches designed for picky eaters
Cons
Yumble's menu consists of Lunchbags that include an entree, veggie, fruit, and snack. Each of these items is individually packed, and the veggies, fruits, and snacks come in a cute bag. This way, it's easier for kids to eat their entree and leave the snacks for later.
Overall, the menu includes around 15 Lunchbags (pre-made and build your own). Yumble markets these Lunchbags for school kids, and I think the size of the portions and content of each bag fit this target audience really well.
Meal Options
Yumble entrees are pre-packaged, shelf-stable meals that are easy to enjoy at lunchtime. Unlike other ready-made meals, like the ones provided by Factor, Yumble's lunches don't need any heating or preparation – just open the package and enjoy.
The menu doesn't account for restrictive diets, but there are a few options that fit vegetarian and vegan diets. However, these aren't clearly marked, so you have to read the list of ingredients and nutrient content.
I wasn't too pleased to discover that the nutrition facts are listed separately in a long document. I was expecting to find out this information with the contents of the Lunchbag. You have to search for each item by name, which can be a hassle when you're in a hurry. So you may be better off with a service like HelloFresh that offers plenty of home-cooked kid-friendly meals and immediate access to everything you need to know.
All Yumble lunches follow the same formula (1 entree, 1 fruit, 1 vegetable, and 1 snack), with the exception of those entrees that need a dipper, which is included as an extra item.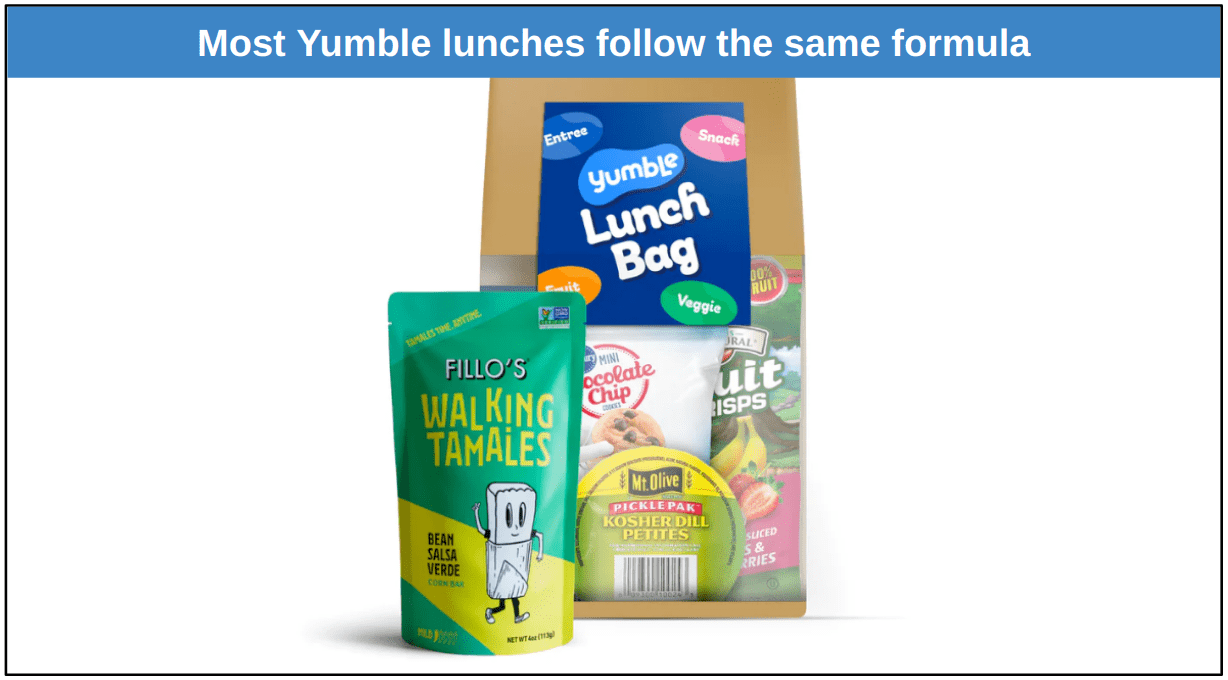 The menu offers a variety of entrees, such as tuna and chicken salad, turkey jerky, beef stick, chicken bites, cereals, pizza, Oat Bites, hummus, black bean dip, and more. On the side, there are fruits and veggies, but not in their fresh format.
The fruits are usually available freeze-dried or as chips, apple sauce, or fruit bars. The veggie options are usually veggie chips, diced carrots, snap green peas, pickles, or cut green beans. Lastly, the snacks come in 3 varieties: organic fruit, chocolate bars, and organic crackers.
| | |
| --- | --- |
| Diet | Is Yumble Good For This Diet? |
| Omnivorous | Yes, most lunch bags include a bit of everything |
| Vegetarian | So-so. There are a few vegetarian options |
| Vegan | Not really. There may be a few options, but they're difficult to find |
| Nut-free | So-so. There are food items that don't include nuts |
| Dairy-free | Pretty good. There are several dairy-free entrees |
As well as the Lunchbags, there are also Lunch Stuffers, which are 5-packs of some kid-favorites such as crackers, fruit snacks, and snack bars. You can add these to your order if your child needs an additional snack during the day.
Yumble offers pre-made Lunchbags, but you can also design your own. For this, you have to choose 1 of the available entrees and then choose options for fruits, veggies, dippers (if needed), and snacks. This way, you can add variety to your kid's meals and keep things interesting. This is also great if you have a picky eater and they can be involved in choosing the items that go in the bag.
The only way to find out about allergens is by reading the Nutrition Facts document. As well as a detailed ingredients list, there's allergen information, too. With each item individually listed, it could take you a while to find what you're looking for. The majority of the foods wouldn't be classed as suitable for those with severe allergies due to the possibility of cross-contamination.
Yumble's Lunchbags are shipped in a cardboard box, which can be recycled, but you'll find a lot of plastic inside. Each item is individually wrapped or packed and then placed in the Lunchbag, which is also plastic.
This is easy for kids to handle, which is probably why all the plastic is there, but I would love to see more care for the environment. If you're thinking the same, you may be happier with Green Chef, which only uses packaging made from recyclable, reusable, and/or compostable materials.
All of Yumble's meals are shelf-stable, so you don't have to place them in the fridge or freezer. Also, all the items in the Lunchbag have expiration dates on their packaging, so it's easy to check that everything is safe to consume.
Cooking with Yumble
With Yumble, there's no cooking involved. All you have to do is get the Lunchbags out of the box when they arrive and store them for safekeeping in a humid-free place. You can even let the kids choose their bags each morning based on their preferences for the day.
Shortlist of My Favorite Meals
While the Lunchbags follow the same formula, I like that you can play with the contents. This creates variety, and even the picky eaters in your home will appreciate it. As such, I selected 3 of the most interesting combinations I found on the Yumble menu.
This Lunchbag is 100% vegetarian and has a 7days Peanut Butter & Jelly Croissant as the entree. To complete the meal, you have Sea Salt Garden Veggie Chips, Freeze Dried Fuji Apples, and an organic snack bar.
This lunch is part of the Ready to Go Lunchbags section of the menu, so you can't customize its content. However, you can design your own lunch around the same entree (the Peanut Butter & Jelly Croissant) if you go to the Build Your Own Lunchbags section.
For something less sweet, you can design a Lunchbag around sauce and dip entrees, like Marinara Sauce and Pita Chips. Of course, this type of lunch is best suited for older children who can handle their sauce.
This Lunchbag has the potential to become an all-time favorite in your household. Most kids love salad chicken with crackers and the sides are healthy and tasty. It also comes with a spoon, so you don't have to add anything to it.
Prices
| | | |
| --- | --- | --- |
| Starting from | Order Size and Price (Before Shipping) | Shipping Fee |
| $5.99 per Lunchbag | 1 entree, 1 fruit, 1 veggie, and 1 snack | Free |
| $2.99 per 5-pack of snacks | 5 snacks | Free |
All Yumble's Lunchbags have the same price ($5.99 per Lunchbag), whether you choose a pre-defined combination or make your own. While things may change if the brand decides to add more options, I like this approach.
You can also buy snacks in bundles of 5 (separated from the Lunchbags), and here the price per bundle varies depending on the snacks. For instance, the Organic Snack Crackers are $2.99 per bundle (the cheapest), but you can also get Organic Berry Fruit Snacks at $4.49 per bundle and Organic Original Crispy Snack Bars at $3.99 per bundle.
Shipping is free regardless of the size of your order, which is a nice touch.
Shipping & Delivery
Yumble ships within the contiguous 48 states of the United States, and your order may take between 3 to 4 business days to reach your door. Once you place the order, you'll receive a confirmation email containing the estimated date of the box's arrival and tracking information.
How Yumble Works
Yumble isn't a subscription-based service, and it doesn't offer the option to create an account. Overall, the service works like an online store, but it won't store your address or order history.
How to Sign Up for Yumble
Add the items you want to buy to the cart.

Check the content of your Shopping Cart and add special instructions for the seller (if you have any).
Click on the Check Out button and add your contact details and address.

Click Continue to Shipping, where Yumble will calculate your shipping fee (for now, it's free).
Click Continue to Payment, introduce payment details, and place the order.
Managing Your Subscription
Since there isn't a way to create an account, there's nothing to manage. As such, if you want to change an order or cancel it, you have to talk to Yumble's representatives directly. However, this may be a bit difficult since the only communication channel is via email.
Customer Service
Yumble only offers 1 way to contact them – via email at hello@yumblefoods.com. This makes contact with customer service a bit frustrating, and it's something many customers have complained about.
It can take days to get an answer, which makes solving urgent issues (like canceling or changing an order) quite difficult. You can also reach out to the company via old Yumble's Facebook page (which is under the new owner's management), but again, there's no promise of a speedy reply.

How Yumble Compares to Other Meal Delivery Services
Yumble vs. Factor: Factor offers a varied menu of ready-made meals that reach your door fresh (chilled) and ready to be stored in the fridge. All the meals are cooked by chefs, using high-quality ingredients, so they're well-balanced and rich in nutrients. Compared to that, Yumble's offer is quite limited as it only delivers packed brand foods for school children's lunches.
Yumble vs. Green Chef: Green Chef is a certified organic meal kit delivery service that offers nutritionist-approved recipes made with organic produce and eggs. The menu is varied and includes options for lunch and dinner that can be prepared at home. Unlike Yumble's Lunchbags, Green Chef's menu includes home-cooked meals, which can be prepared in under 20 minutes.
Yumble vs. HelloFresh: Both services promise meals that picky eaters will enjoy, but HelloFresh's menu includes home-cooked, kid-friendly recipes that are easy to prepare and enjoy at school or at home.
The Bottom Line: Is Yumble Worth It?
Feeding children can be difficult. Yumble makes it easier by creating packed lunches that most school kids will enjoy. For stressed parents juggling careers with childcare, that extra convenience may be invaluable.
However, the lunches offered by Yumble are mostly a combination of packaged brand foods that anyone can find in a regular store. So the only element of novelty is the way the items are organized and packed.
If you want to feed your kids healthy home-cooked meals, you may want to consider Green Chef. On the other hand, if you don't have the time to cook lunch and dinner at home, Factor offers ready-made meals and healthier lunch options such as smoothies, juices, and other types of snacks.
FAQ
Is Yumble healthy for kids?
Yumble's Lunchbags include packed brand foods and sugary snacks, so it's not the healthiest option to feed your child on an everyday basis. However, the menu is diverse and offers foods that school kids love, so it can be a great help when used in moderation.
Is Yumble nut-free?
Yumble doesn't offer diet-specific meals, but some of the food items don't include nuts. However, you have to check each item's ingredient list to know for sure. Also, you can choose what items to include in each Lunchbag.
Do Yumble meals come frozen?
All Yumble meals are shelf-stable and don't need to be stored in the refrigerator. Each food item has all the information regarding validity and ingredients printed on the packaging.