What's on the Yumble Menu
The Yumble menu has a few strengths: it features around 45 different meals and is diverse enough to find something for almost every child. The menu changes weekly, but it has some core items that are always available.
It also features meals that are suitable for breakfast, lunch, or dinner, so your child's daily diet is pretty much covered. And I really like that many of the meals feel like more than one course, in the sense that they include a main and a side, plus dessert.
What I didn't like so much is that there are lots of sandwich-style lunch meals, which is something you could just make quickly and easily from scratch. If I'm paying for prepared meals, I'd expect something a little more complex that I couldn't necessarily whip up quickly at home.
All the meals are nutritionist-designed to ensure a balance of macronutrients and include all sorts of local and seasonal veggies. This all sounds great – but when I checked the ingredient lists, I thought it seemed unnecessarily long.
I know that not all preservatives are bad – and some are required to achieve a certain texture or to extend the shelf-life of a product – but as Yumble insists all meals are consumed within a week of receipt, I was expecting a cleaner list of ingredients.
In this regard, Nurture Life does a better job, with fewer ingredients. The number of items on Nurture Life's menu is also comparable, so it's not like you have fewer options.
I liked that you can sort Yumble's meals by allergen – gluten, eggs, soy, milk, and meat can all be excluded with a click. It's not an extensive list, but still useful if your child prefers a vegetarian diet, for example.
The allergens are also shown next to each item on the menu.
All the meals are nut-free (excluding coconut) by default, but the Yumble kitchen is not completely nut-free, so keep that in mind if your child has extreme allergies.
If your family follows a specific diet, such as gluten-free, vegan, or diabetes-friendly, you may want to check out Sunbasket's meals, which are made with organic ingredients and cater to several different dietary needs.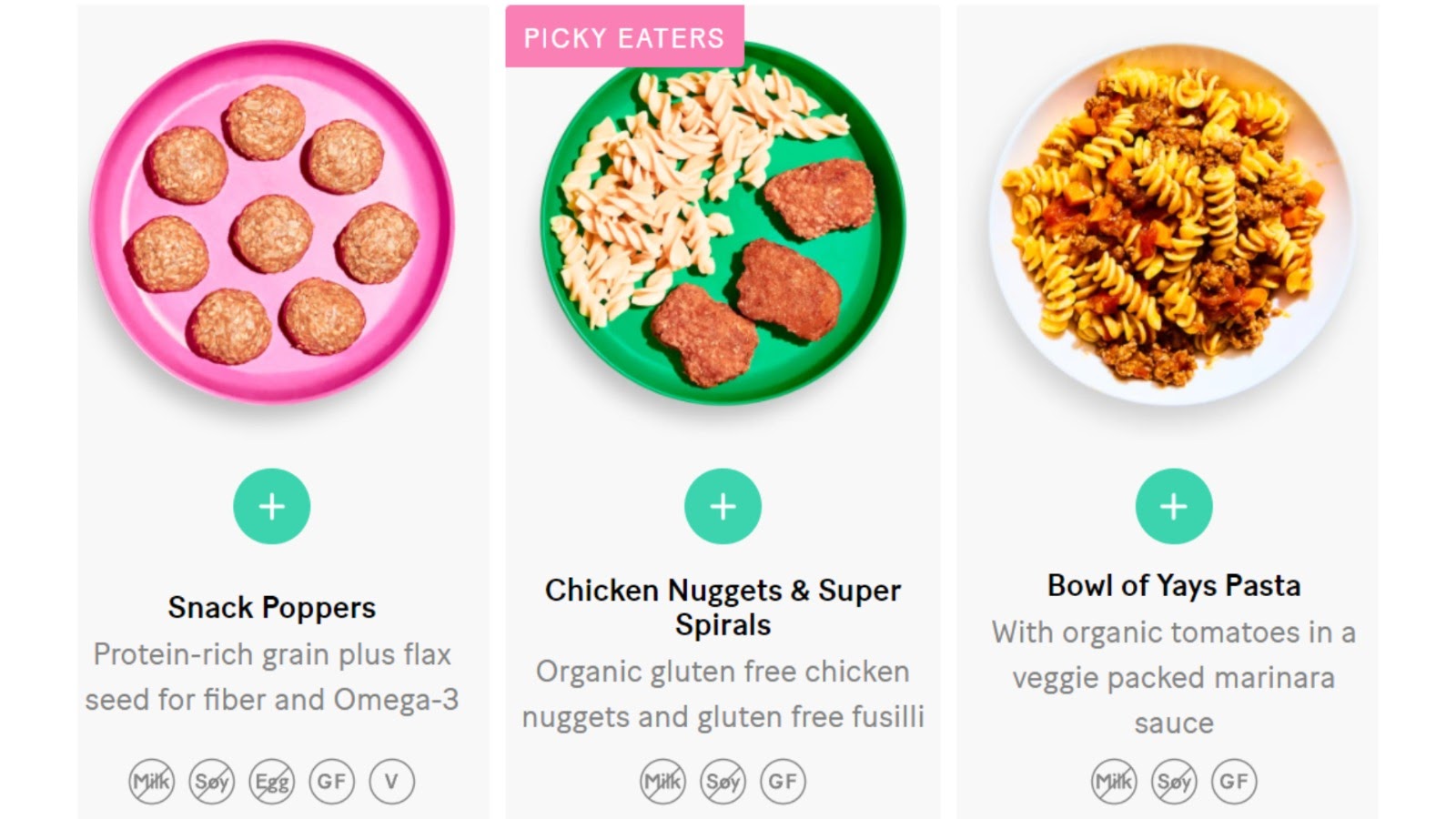 The next filter lets you choose between three age groups – but when I tried it, it didn't actually do anything, suggesting that all meals are suitable for all age categories.
The truth is, some meals may be better for toddlers, for example, but you have to scroll through the menu yourself to find them.
Nurture Life, on the other hand, has an entire category called Finger Foods designed especially for toddlers and the company as a whole is a bit more transparent about what ages the meals are targeted at.
Yumble does, however, acknowledge that the "sweet spot" for its meals is between three to six years old. If your child is older than this and eats larger portions or craves more adult recipes, you might want to try Veestro's kid-friendly vegan meals.
Favorite Yumble Meals
I really loved the look of Yumble's energy-boosting breakfasts, like the nutritious Egg N' Cheese Pocket & Potatoes. It can be difficult to get kids to eat breakfast at the best of times, so Yumble's speedy and exciting dishes could be just the thing.
For lunch, I liked the sound of the Italian Style Chicken Mozzarella Wrap. It's perfectly balanced with protein from the chicken, fat from the mozzarella, complex carbs from the wrap, and a flavor punch from the pesto – plus it has the addition of a healthy dessert in the form of dried fruit and a snack popper. It's almost like a two-course meal!
And for dinner, I liked the Bowl of Yays Gluten-Free Pasta, which contains ground beef, organic tomatoes, and a veggie-packed marinara sauce. I'm a big fan of the age-old technique of hiding vegetables in sauces and dips!
Here's a quick recap of Yumble's pricing and the meals s it offers:
| | |
| --- | --- |
| Pricing | From $5.99 per serving |
| Meal types | Kids meals, toddler meals, snacks |
| Shipping cost | Free |
| Special deals | |
Yumble Unboxing
Yumble's meals are prepared fresh, and can be eaten cold, at room temperature, or heated up. You can pop them in the microwave for one to two minutes in their BPA-free plastic trays – or transfer the food to an oven-proof dish to heat in the oven.
There's a use-by date label inside each box, and you should make sure to enjoy the meals within seven days of receipt. Unlike Nurture Life, Yumble recommends you don't freeze the meals, simply because some will not reheat as well as others, so it's better to order only what you will consume in a week.
Inside your first box, there will also be a welcome pack with details about your subscription. As well as your meals, you'll also find fun activities such as coloring pages and sheet stickers to keep little ones entertained. Kids can even offer direct feedback on the meals by giving them star ratings, which I thought was pretty smart.
When it comes to the packaging, the meals are shipped in an insulated box made of recycled paper fibers. The frozen gel packs inside keep the meals cool.
The PP #5 plastic trays and paper sleeves on each meal can be recycled with standard curbside recycling, as can the gel packs after you've cleaned them and removed the non-toxic gel.
I would have liked Yumble to have less plastic in its packaging. It's not as eco-friendly as Sunbasket – but I hope it will improve in time.
Shipping & Delivery
Yumble delivers to most of the East Coast, parts of the West Coast and Midwest, and Texas. To see if your location is in the delivery area, just enter your email address and zip code on the website.
The company plans to expand to all US states, so if it doesn't deliver to you just yet, you can pre-order your first box to secure a spot. This ensures you get a box on the first week Yumble becomes available in your area.
In the meantime, if Yumble doesn't deliver to your area and you'd like to try a meal delivery subscription, Nurture Life is available all over the contiguous US.
When you order directly from Yumble, you'll receive all the tracking information by email every Tuesday. Your order will arrive by 9 pm on your scheduled delivery day – and shipping is always free.
If you want to skip, pause, or cancel your subscription, it's super easy to do so from your account. You just need to do it before 11:50 pm EST on your weekly cutoff date.
Customer Service
Yumble's customer support is super easy to contact. You can call, text, email, or chat directly on the website.
You can even reach out to the nutritionists and chefs, or leave a note to the founder. In any case, Yumble promises that an actual human being will respond and try their best to help with your inquiry.
The customer service team is available during standard business hours on weekdays. If you would like a callback, you can leave a voicemail and you'll be contacted as soon as possible.
Yumble Prices
Yumble's prices start from $5.99 per serving when you order the 16-meal box. For eight meals, you'll pay $6.99 per serving, $7.99 for six meals, and finally $9.99 per serving if you order just four meals per week.
A nice thing about Yumble is that no matter which box you choose, shipping is always free.
Nurture Life offers meals in a similar price range, while meal delivery services targeted at adults are naturally more expensive per serving because of the portion sizes. For example, Sunbasket prices start from around $8.99 per serving.
That said, with a meal delivery service that isn't designed just for children, you can feed the whole family – so it may be that it evens itself out in the end.
Yumble Subscription
How to Sign Up
Yumble works in a pretty standard way for a meal delivery service. Similar to Nurture Life, you can choose between a number of plans – called boxes – which are delivered to your home weekly.
The only difference between these plans is the number of meals you receive: four, six, eight, or 16. Shipping is free no matter which one you choose, and the price per meal decreases the more meals you order.
For example, the four-meal box comes in at $9.99 per meal, but the price drops to $5.99 per meal when you order a box of 16. It means you'll get more bang for your buck if you order a week's worth of food, rather than supplementing the odd meal.
The sign-up process is straightforward and quick. After entering your email address and zip code, you'll find out whether Yumble ships to your location. If it does, the next step is to choose your desired plan.
Then you can see the menu and select the meals you want based on your child's personal preferences and/or dietary restrictions. You also have the option to auto-populate the box with top-rated meals or "picky-eater favorites".
When I did that, my 16-meal box was filled with a number of portions of the same few dishes, so if you want variety, it's better to choose from the menu yourself.
Then it's time to hit checkout, where you'll fill in your payment info and select your first delivery date.
Managing Your Subscription
To skip an order, you just need to log into your account, click on the upcoming order, and choose skip. If you want to cancel your subscription, simply go to the My Plan page on your account. You can also do it by email or text.
Cancellations
Orders will be processed at 11:59 pm EST on your weekly cutoff day, which you can check on the Upcoming Orders page. This is important because after this time, you won't be able to modify, skip, or cancel your delivery.
Yumble vs. Other Meal Delivery Services
How Yumble compares to other kid-friendly, prepared meal delivery services:
| | | | | |
| --- | --- | --- | --- | --- |
| Alternatives to Yumble | | | | |
| Starting Price | $5.99 per serving | $6.89 per serving | $8.99 per serving | $11.03 per serving |
| Servings Available | Up to 16 meals per week | Up to 15 meals per week | Up to 10 meals per week | Up to 30 meals per week |
| Meal Types | Prepared meals | Prepared meals | Prepared meals, meal kits | Prepared meals |
| Diets Available | Kids Meals, Toddler-Friendly Meals | Finger Foods, Kids Meals, Snacks | Vegetarian, Paleo, Mediterranean, Diabetes-Friendly, Gluten-Free, and more | Vegan |
| Meal suitable for toddlers | ✔ | ✔ | ✘ | ✘ |
| Meals suitable for kids | ✔ | ✔ | ✔ | ✔ |
| Meals suitable for adults | ✘ | ✘ | ✔ | ✔ |
| Special Discount | - | | | |
If your child is younger than three, Nurture Life may be a better choice, as its Finger Foods are perfect for babies and toddlers.
If your child has a food allergy or health condition, Sunbasket could be a welcome alternative, with its diet-based meal plans.
If you want to feed your little one plant-based foods, Veestro's kid-friendly vegan meals, such as its Chick'n Nuggets, may be of help.
Plus, both Sunbasket and Veestro offer food for grown-ups as well, so you can feed the whole family with an order.
The Bottom Line
Yumble is a simple yet efficient solution to one of the biggest struggles when it comes to parenting – feeding healthy, balanced meals to your children.
With a weekly order, you can say goodbye to the stress of planning, grocery shopping, and cooking for your little one. Instead, you can spend that time playing together or helping them with homework.
Of course, Yumble is by no means a perfect service. It may not be available in your area just yet, or perhaps the menu isn't quite right for your child. But I think it's worth a shot, especially if you have a picky eater at home.