Overview
Even though it's in its early stages, I found Yumwoof to be a really impressive company. Right now, it stands out in the dog food industry for two reasons.
Firstly, it was founded by a small group of dog lovers with a passion for pet nutrition, one of whom is a New York chef who trained at the The French Culinary Institute (yep, you read that right!).
With the help of a local veterinarian and pet nutritionist, he started cooking food for his pup when it got sick – and as he saw his dog's health transform, he realized just how malnourishing his pet's traditional kibble had been.
Secondly, the main product itself is an innovation – it's like kibble in the sense that it's shelf-stable and doesn't require any prep, but it's soft, chewy, and full of only-natural, healthy ingredients. The best of both worlds, right?
I researched the brand further to find out if it's really too good to be true. Read my thoughts to see if Yumwoof is a good choice for you and your pet.
Pros
Recipes devised by a professional chef

No artificial preservatives, flavors, or fillers

Shelf-stable and easy to store

No subscription needed to order

Special discount: Save 40% on orders of 6+ bags
Cons
Yumwoof Is Best For
Busy dog owners

Dogs with sensitivities and allergies

Dog owners looking for healthy treats

Dog owners who want to have a go at cooking their own dog food at home
Yumwoof May Not Be Great For
Yumwoof Meals
Yumwoof tests and adds new products regularly. Right now, the main products are the Perfect Kibble and the Perfect Dog Food Mix.
The slow-cooked Perfect Kibble is soft, chewy, and will stay shelf-stable for up to a year, making it a very practical choice. It doesn't need to be refrigerated, freeing up more space for your own food.
It comes in two varieties: chicken and beef. Both are suitable for dogs of all ages, but could especially benefit elderly dogs because of the high levels of antioxidants and MTCs, which are said to help brain function and reduce the risk of dementia.
The recipes are low-carb, with zero fillers like wheat or rice, making them super nutritious. Fresh meat is always the number-one ingredient, in line with your dog's carnivorous needs.
Unfortunately, you can't customize the kibble recipes, but they should be beneficial for most dogs, including those with food allergies or sensitivities, since they don't contain any artificial additives, and only have 14 ingredients each.
They've been designed with the help of a veterinary nutritionist and a culinary chef to be both balanced and yummy for your dog. Everything – from the choice of ingredients to the macronutrients – is backed by scientific evidence to be the best for your pet.
Some customers describe the smell of Yumwoof's kibble as sweet and cookie-like, almost like a treat. You can use it as such, especially if you're on a budget and want to feed it to your dog sparingly. But believe me, it's appropriate for daily feeding!
Now, let's talk about Yumwoof's second product, which allows you to cook your dog's food at home: Yumwoof's Perfect Dog Food Mix has been labeled "Betty Crocker for dogs".
By following the recipes on the website and adding your own protein to the DIY mix, you can serve up a nutritionally-balanced, homemade meal for your pup.
This involves buying the ingredients yourself, so you can choose budget-friendly options, as well as organic produce, depending on what you want. Just make sure to use the correct proportions according to the recipes.
In addition to these two main products, Yumwoof also offers a pre- and probiotic food topper, with other products in the pipeline available for pre-order – including dehydrated dog food and sustainably sourced salmon oil.
The ingredients used in the Perfect Kibble are fresh, USDA-approved meat and sustainably-sourced produce that are all safe enough for human consumption. The recipes meet or exceed AAFCO's Dog Food Nutrient Profiles for all life stages.
All the ingredients are sourced in the US and the food is processed locally, too. It all started as artisanal homemade dog food, after all.
Every ingredient has been selected for its specific nutritional benefits – the recipes are free from inflammatory vegetable oils, gluten, soy, meat by-products, and shady "meat meals".
The Perfect Kibble combines only 14 quality ingredients and is packed with antioxidants and MCTs. This is what you'll find in the chicken recipe, for example: fresh chicken, eggs, organic coconut oil, organic coconut glycerin, organic flaxseed, carrots, gluten-free oats, blueberries, cranberries, chia seeds, seaweed, beef liver, pumpkin, and added vitamins and minerals.
Coconut oil is a superfood that particularly benefits senior dogs because it helps prevent the signs of aging and could extend your dog's lifespan. The chia seeds and berries have high levels of antioxidants, helping with aging as well as disease prevention.
The addition of eggs as a secondary protein source ups the protein intake, but also the fatty acids and vitamins present to make that coat shine.
Yumwoof actually recommends rotating between the chicken and the beef recipe, as each one has its perks. Beef has higher levels of vitamin B9 and B12, as well as calcium, zinc, iron, choline, and monounsaturated fat, while chicken is richer in vitamin B3, B6, potassium, and magnesium.
When it comes to the Perfect Dog Food Mix, Yumwoof recommends using wholefood ingredients. It has recipes for picky eaters, as well as a vegan option if you want to give your dog a detox from time to time.
The mix contains gluten-free oats, carrots, inulin, pumpkin, sea salt, flaxseed, chia seeds, taurine, beef liver, blueberries, cranberries, and vitamins and minerals. The addition of inulin is great because of its digestive benefits (it feeds the good bacteria in your pup's gut).
Nutrition
Let's take a look at the Guaranteed Analysis of the Perfect Kibble:
| | | |
| --- | --- | --- |
| | dry matter | packaged |
| crude protein (min.) | 28% | 23% |
| crude fat (min.) | 28% | 23% |
| net carbs (max.)† | 16% | 13% |
| crude fiber (max.) | 5% | 4% |
| moisture (max.) | - | 16% |
| taurine (min.) | 0.2% | 0.2% |
These are excellent numbers. Yumwoof's minimum crude protein percentage is comparable to other premium healthy kibble brands, such as Tailored, but the moisture levels are higher (16% compared to 10%).
This means your dog is getting higher amounts of essential nutrients with Yumwoof. And since the recipes are free from high-carb fillers, your dog will benefit from a diet that's specially made for its needs as a primarily carnivorous animal.
The Perfect Kibble is made by gently cold-pressing then slow-cooking the ingredients by baking them at low temperatures (170°F, to be precise). By using this proprietary method, the food is minimally processed to retain as much nutrient quality as possible.
Shipping & Delivery
Yumwoof ships… well, everywhere. The whole of the US, yes, but also internationally. So if you happen to be traveling or even move to a different country, you can still feed your pup the same healthy food.
You can make one-time purchases from Yumwoof, but you can also subscribe and get a discount.
You can set deliveries to one, two, or three months apart, depending on how much food you need for your pup. If you change your mind later, it's easy to cancel or amend your subscription when you log into your account.
If you want to test the products first, you might want to start with the Picky Eater Starter Pack, which contains a bag of each type of kibble, plus a bag of the dog food mix.
Your order will arrive within four to seven days of purchashing if you live in the US, but you can also request expedited shipping to get it faster.
Ordering from Yumwoof
Ordering is super easy and intuitive. You can create an account first, or do it at checkout.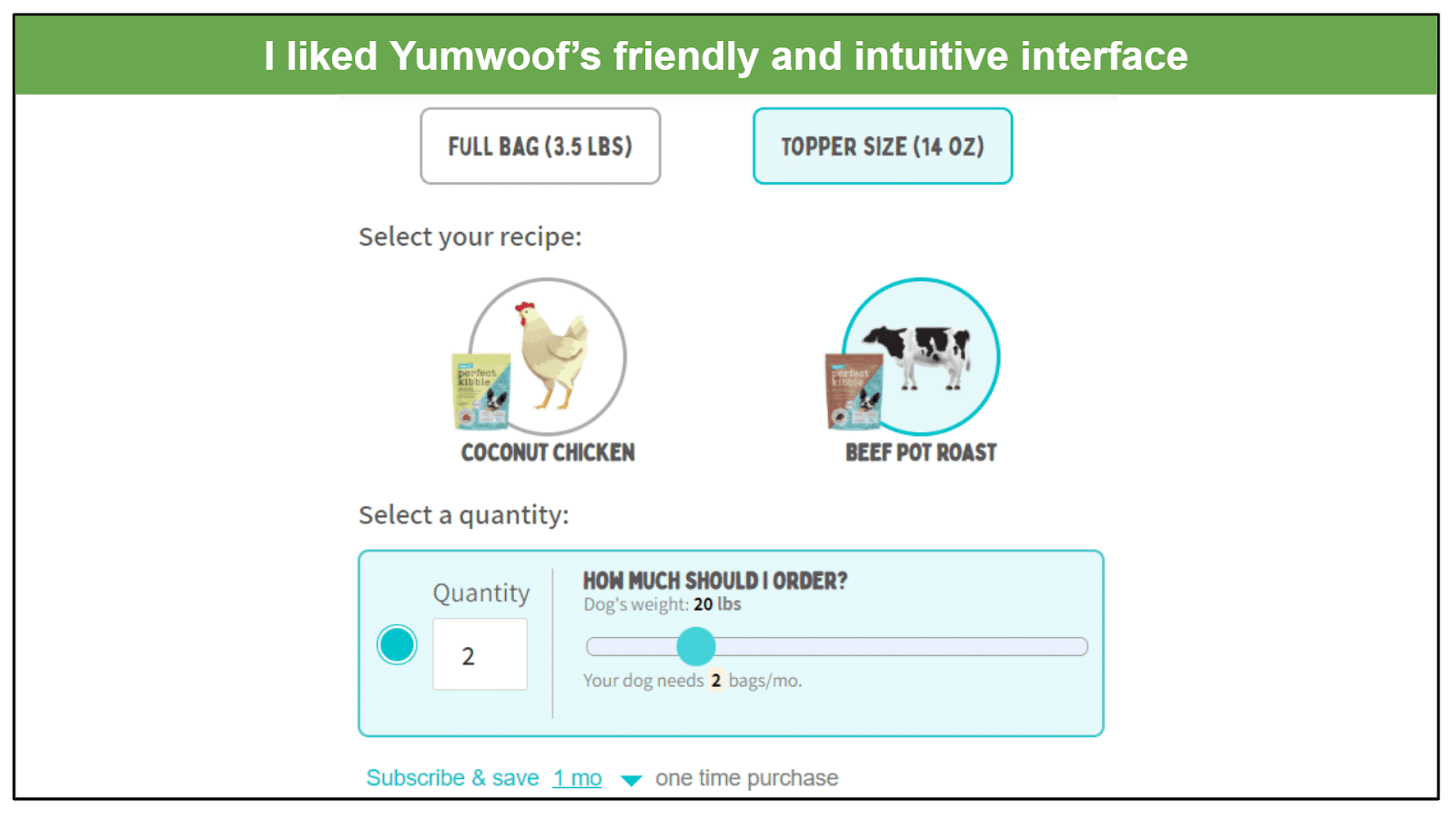 How to Sign Up
Select the products you want and add them to your cart

If you're purchasing the dox food mix, take a quiz first to get a personalized plan

Go to checkout

Fill in your address and personal information – this will create an account if you don't already have one

Choose a payment method (there's plenty, including PayPal and Venmo) and complete the transaction
Managing Your Subscription
You can easily pause or cancel your subscription, or rush or delay deliveries from your account. In case you need assistance, you can contact customer service, but there shouldn't be any problems as the website is super easy to navigate.
Customer Service
In case you have a question that you can't find the answer to on the website or in the FAQ section, you can contact Yumwoof's customer support team by phone or email.
The team is available Monday to Friday, from 9 am to 5 pm (PT). You can also shoot questions even if you're not a customer just yet.
The website makes it easy to cancel your subscription in just a few clicks, but for further inquiries, you can contact the team during office hours.
I really like that your opinion holds value, not just as feedback for existing products. As a fast-growing company, the founders are keenly interested in their customers' pain points, allowing you to propose suggestions for future products. If a large enough group demands the same thing, Yumwoof will begin its development!

Yumwoof Recalls
To date, Yumwoof hasn't had any recalls. It's a young company, but it's been doing a great job so far.
| | | |
| --- | --- | --- |
| Starting from | Minimum Order | Shipping Fee |
| $0.41 per meal | 14oz Perfect Kibble: $19.99 | Free over $49 |
For Yumwoof's Perfect Kibble, the price of a 14oz bag is $19.99, while a full-size bag (3.5lb) costs $43.24. A small, 6lb pup would need a single full-size bag per month, while a larger 40lb dog would need around five, and an even bigger 100lb dog would require around 11 bags, which would cost you a whopping $475.64 a month. So it's not cheap!
But the good news is, you can get discounts on your orders.
Opt for a bundle, and you'll save 30% when you buy three bags, and 40% when you buy six. If you choose to subscribe, you'll still get a 15% discount on the three-bag bundle on all future orders, and 30% for the six-bag one.
The Picky Eater Starter Pack costs $61.98 (though you might save on your first order), while the Perfect Dog Food Mix is $28.99 per bag – but again, you can save when you buy a bundle. To give you an idea, a 40lb dog would need three bags per month, totalling $86.97.
Elsewhere, the Perfect Probiotic Food Topper costs $31.99 and should cover around 90 servings.
There's a 15-day money-back guarantee for new customers. So in case your pup doesn't seem to be pleased with the food, you can contact customer support and get a full refund.
Shipping is calculated at checkout depending on your location. But if your order exceeds $49, you'll get free shipping.
The Bottom Line: Is Yumwoof Worth It?
Short answer: yes. Yumwoof is a balanced, scientifically-backed, vet-approved meal for your pup, not to mention devised by a pro chef! All the ingredients are natural and human-grade, plus it's super convenient and doesn't take up space in the fridge.
But if you want more variation, prefer fresh food for your dog, or simply want a more affordable alternative, there are other options out there. The Farmer's Dog, for example, offers four different fresh food recipes, plus a similar DIY mix for home-cooked meals.
FAQ
What is Yumwoof Perfect Kibble?
Yumwoof's Perfect Kibble is a soft, chewy, shelf-stable food for dogs. It combines the benefits of a fresh, high-protein diet with the convenience of kibble. The 14 ingredients are cold-pressed and slowly cooked at low temperatures to retain all the nutrients.
How long does Yumwoof last?
You can keep Yumwoof in your cupboard for up to a year. Thanks to its innovative formula, you can store it in a cool, dry place without any fear of spoilage – just be sure to keep the bag closed to prevent it drying out!
How much does Yumwoof cost?
Yumwoof's prices start at $19.99 for a 14oz bag of Perfect Kibble. You can consult this list of different Yumwoof products to see how the price changes according to the size of your dog and the products you choose.
Don't forget, the price will also change depending on the appetite, activity levels, and dietary needs of your dog. As a general rule, a 40lb dog will need around five bags of the Perfect Kibble each month, while a small pup will only need one.