5 Best Daily Harvest Meals 2023: Healthy, No-Fuss Recipes
With a diverse menu of smoothies, harvest bowls, baked goods, soups, fruit bowls, lattes, and snacks, Daily Harvest is committed to providing users with healthy and easy-to-prepare meals. Plus, all the meals are created using fresh, sustainably-sourced, primarily organic ingredients.
Daily Harvest's recipes are dairy- and gluten-free, and there are no artificial preservatives. The meals are delivered frozen and only need a bit of heating/preparing before they're ready to eat.
So, is it worth it? Can these meals support a healthy lifestyle? I think the menu is diverse enough (80+ options for breakfast, lunch, dinner, snacks, and desserts), and you can mix and match to create a meal plan that works for you.
And, to show you what type of meals you can expect to enjoy, I selected my favorite out of each main category. So keep reading if you want to know more!
Short on Time? Here Are the Best Daily Harvest Meals
The Best Daily Harvest Meals Reviewed
Key Features
Delicious, veggie-forward, and low-calorie (220 cal/bowl) recipe

Cook 3-5 minutes on the stove or microwave

Tastes like Tomato Lentil Stew
If you're a fan of Ratatouille, this is the perfect dish for those times when you crave some comfort food. The meal is packed with protein and fiber from lentils and carrots, but it also has a healthy dose of antioxidants from the cremini mushrooms and tomato sauce.
This recipe is part of the Daily Harvest's Harvest Bowls selection, where you can find other similar meals. All of them include fresh and mostly organic ingredients, which is why I found them extremely tasty.
Plus, you can add your own take on it. For instance, the Lentils and Tomato Bolognese work well with a bit of vegan parm (as a topper) and some crusty Italian bread!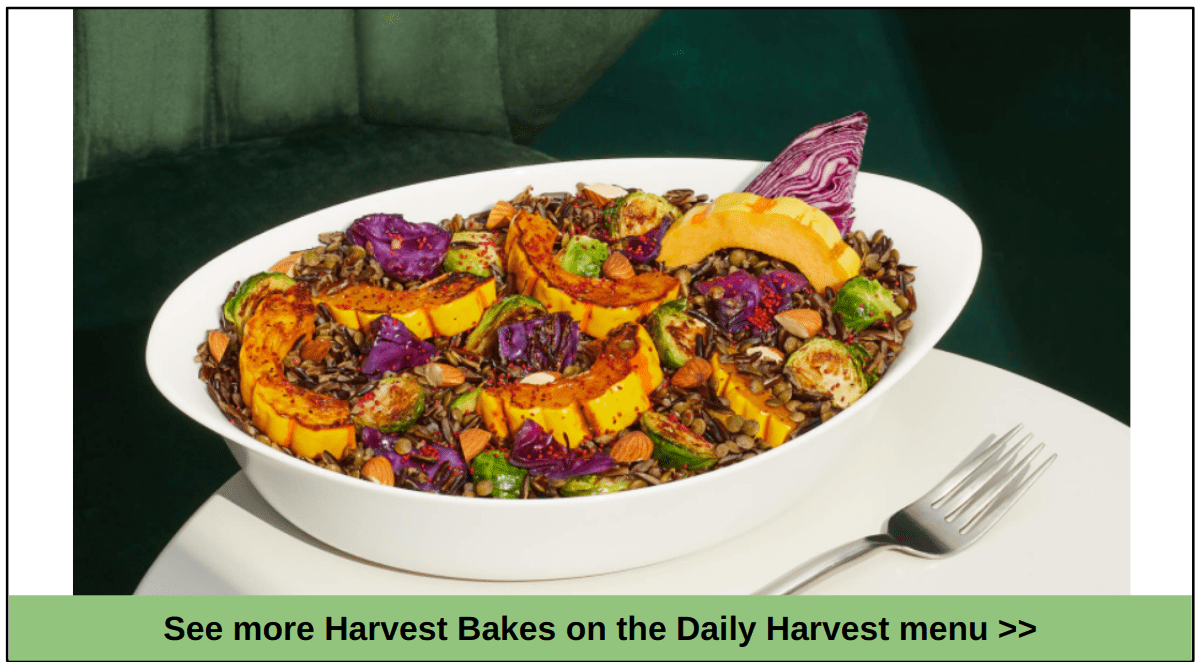 Key Features
A generous size of veggie goodness paired with real wild rice

Bake for 22 to 27 minutes in the oven

Tastes like autumnal squash and wild rice roast
This dish is part of the Harvest Bakes category, where you'll find a nice selection of generous ready-to-bake veggie-forward dishes. The Squash and Wild Rice Gratin is an inviting combination of red cabbage, Brussel sprouts, celery root, parsnip, and delicata squash, so it's easy to see why I couldn't resist it.
Plus, the veggies are nicely complimented by a bed of nutty wild rice and French lentils. The great news is that you can have it as the main dish or as a side dish, depending on your preferences. Just make sure you have some help around, as the size is pretty big (480+ g).
Key Features
A delicious Japanese-inspired recipe packed with umami flavor

Cook 4-6 minutes on the stovetop or microwave

Tastes like savory Butternut Squash and Mushroom Broth
If you like Asian cuisine, you can't miss this delicious soup! It combines some of the healthiest and most flavorful ingredients such as shiitake and cremini mushrooms (known for their immunity-boosting properties), butternut squash, spinach, white miso (which is a complete protein), and reishi.
Most of these ingredients are organic, and the resulting soup has a hearty flavor that soothes the soul and energizes the body.
Key Features
An energy-packed smoothie for whenever you feel down

Blend with your preferred liquid

Tastes like dark chocolate-covered blueberries
Daily Harvest's smoothies are the perfect way to get your daily intake of leafy greens, fresh fruits, and healthy nutrients. Everything is pre-portioned in a cup and all you have to do is add water (or other liquid) and blend.
The Chocolate and Blueberry Smoothie is filled with antioxidants (the blueberries and organic cacao are an amazing source), has plenty of leafy greens, and its creamy and sweet taste makes you think of those forbidden, decadent sweets we all crave from time to time.
Key Features
A delicious recipe that's easy to eat on the go

Cook 2 to 3 minutes on the stovetop or microwave

Tastes like mixed berry compote
How do you like your oatmeal? If you're like me and want a bit of extra taste, you should try Daily Harvest's Forager Bowls. These are perfectly-sized bowls to enjoy in one sitting for breakfast, lunch, or anytime you feel like it.
I loved all the bowls I tried, but the Mulberry and Dragon Fruit is my favorite. I love the taste of Dragon Fruit, but I'm also a huge fan of berries, and this recipe hit all the right spots! I also like that the main ingredients, including the oats, are organic.
Plus, even though it's packed with energy and nutrients, one serving is only 230 calories. This makes it the perfect snack before my workout – it's light, easy to digest, and doesn't require much prep.
Quick Comparison Table



Prep/Cook time

Calories

Suitable For

Difficulty Level

3-5 minutes

220 calories

Dairy-free, gluten-free,

vegetarian

Easy

22-27 minutes

590 calories

Dairy-free, gluten-free,

vegetarian

Medium

4-6 minutes

140 calories

Dairy-free, gluten-free,

vegetarian

Easy

1-2 minutes

280 calories

Dairy-free, gluten-free,

vegetarian

Easy

2-3 minutes

230 calories

Dairy-free, gluten-free,

vegetarian

Medium
Bottom Line: Is Daily Harvest a Good Option for Healthy Meals?
Yes! If you're trying to switch to a healthier diet or if you're vegetarian, Daily Harvest is a great option. Besides the fact that all the meals include fresh and sustainably-sourced ingredients, the menu is well-stocked and you have choices for breakfast, lunch, dinner, and snacks.
Plus, all Daily Harvest's recipes are easy to prepare and a pleasure to enjoy. For more about this company and its practices, check out my colleague's Daily Harvest detailed review.
FAQ
Is Daily Harvest a subscription?
Yes. You can order pre-portioned smoothies (like the Chocolate and Blueberry Smoothie), oats, lattes, grain bowls, soups, veggie casseroles, snacks, and baked goods right at your doorstep. The plans are based on how much you want to order (9, 14, or 24 items) or how often you want the meals delivered (weekly or monthly).
Can you microwave Daily Harvest cups?
Most Daily Harvest recipes that come in a cup or a bowl can be microwaved. For instance, the Mushroom and Miso Soup can be prepared using a microwave or by placing it on the stovetop. Just follow the heating instructions on each food item and everything will go smoothly.
How much does Daily Harvest cost for a month?
Daily Harvest's plans include 9-, 12-, and 24-cup boxes. So, you can order a week worth of oats (like the Mulberry and Dragon Fruit Bowl) or you can mix and match and have soups, oats, and casseroles in the same box.
Overall, the price changes depending on what and how much you order (the company practices volume-based discounts). So, if you want to try things out, you may want to order a box of 24 items and see if the overall value makes sense to you.