HelloFresh vs. Fresh N Lean 2023: Which Is Better?
HelloFresh and Fresh N Lean both offer healthy and convenient meals, but they're aimed at very different markets. HelloFresh offers meal kits geared towards a wide range of customers – from busy families to couples. On the other hand, Fresh N Lean delivers single-serving prepared meals aimed at fitness-conscious individuals.
Having tested and reviewed many meal delivery services, rarely have I seen a card between 2 contenders who had so little in common. Still, after examining menus, scanning ingredient lists, checking nutritional information, and weighing up prices, I feel comfortable declaring an all-round winner.
Most will find HelloFresh is the better choice, thanks to its broader menu and more family-friendly offerings. But if you're looking for post-workout meals or are trying to stick to a specialized diet, you may find Fresh N Lean better suits your needs.
At a Glance: Who Won Each Category?
| | |
| --- | --- |
| 💲 Price: | It's a tie |
| 🍔 Menu Variety: | HelloFresh (50+ choices per week) |
| ⏰ Prep Time: | Fresh N Lean (3 minutes) |
| 🍴 Customization: | |
| 👍 Ordering and Delivery: | |
| 🙋 Customer Support: | |
Winner: HelloFresh
HelloFresh wins this round thanks to its variety and flexibility. While Fresh N Lean has a larger selection of meals overall, once you're locked into one of its plans your options become more restricted.
HelloFresh offers 6 plan preferences, with a menu that has more than 50 options each week. The HelloFresh homepage promises 30+ meal kits weekly, but typically gives you a lot more choice than that.
When you sign up, you can choose from:
Meat & Veggies – omnivorous meals

Veggie – vegetarian and vegan meals

Family Friendly – kid-approved recipes

Fit & Wholesome – healthy meals with around 600 calories per serving

Quick and Easy – easy prep meals ready in less than 30 minutes

Pescatarian – meals with seafood
Whatever preference you choose, you can always order from the wider menu. HelloFresh simply uses your preferences to suggest meals you might like, but you're not locked into its choices.
On the menu, you'll find American favorites alongside some international dishes. Look out for comfort foods like the Steakhouse Pork Chops with Creamy Shallot Pan Sauce and Lemony Green Beans, as well as flavors you might not have tried before, such as the Thai Ginger Chicken Curry and the Apricot, Almond and Chickpea Tagine.
It's well-known that HelloFresh's recipes are rigorously tried and tested, and customer favorites – such as the Meatloaf à la Mom with Potatoes, Green Beans, and Thyme Gravy – often come back to the menu under the Hall of Fame category.
You can also make customizations on some dishes – widening your options even further – but more on that later.
HelloFresh lets you choose between 2 and 6 recipes each week, serving either 2 or 4. You can also add additional items, including fresh produce, proteins, snacks, and breakfast or lunch entrees, from the HelloFresh Market. It doesn't offer single-serving meals, but for individuals who don't mind leftovers, one meal kit could certainly cover supper and lunch.
Fresh N Lean focuses on prepared meals, rather than meal kits, and offers 8 different plans. These include:
Keto – low-carb meals with healthy fats and premium proteins

Paleo – meals balanced in protein, fat, and carbs, with zero processed ingredients

Mediterranean – heart-healthy dishes packed with protein and clean fats

Protein+ – lean, high-protein meals for athletes and fitness buffs

Standard Vegan – plant-based meals made with seasonal, organic vegetables

Low Carb Vegan – vegan meals that are lower in carbs

Whole30 Approved – meals designed for the Whole30 elimination diet

Bulk – a la carte proteins, sides, and selected meals
Since Fresh N Lean is targeted at those who are looking to meet specific health goals or stick to a rigorous performance diet, it's able to offer plans that you won't find on more mass-market meal delivery services like HelloFresh. These include Low-Carb Vegan and Whole30-Approved.
Vegans have more choice with Fresh N Lean compared to HelloFresh. In fact, Fresh N Lean made our list of the best vegan meal delivery services, thanks to dishes like the Plant Based Chickn with Spanish Rice, which has just 370 calories and 23g of protein per serving.
You'll also find Asian, Caribbean, African, and other internationally inspired meals at Fresh N Lean, though this is probably a meal service that aims to please the fitness-conscious more than foodies. Everything is non-GMO and gluten-free as standard, too.
When you sign up to one of Fresh N Lean's plans, you're limited to the meals within that program. This makes sense if you're trying to stick to a strict diet, but those who aren't may feel cramped for choice.
You can sign up to 1, 2, or 3 meals per day, 5 or 7 days a week, or order meals a la carte – including breakfasts, snacks, and extra proteins and sides – when you spend a minimum of $85 per week.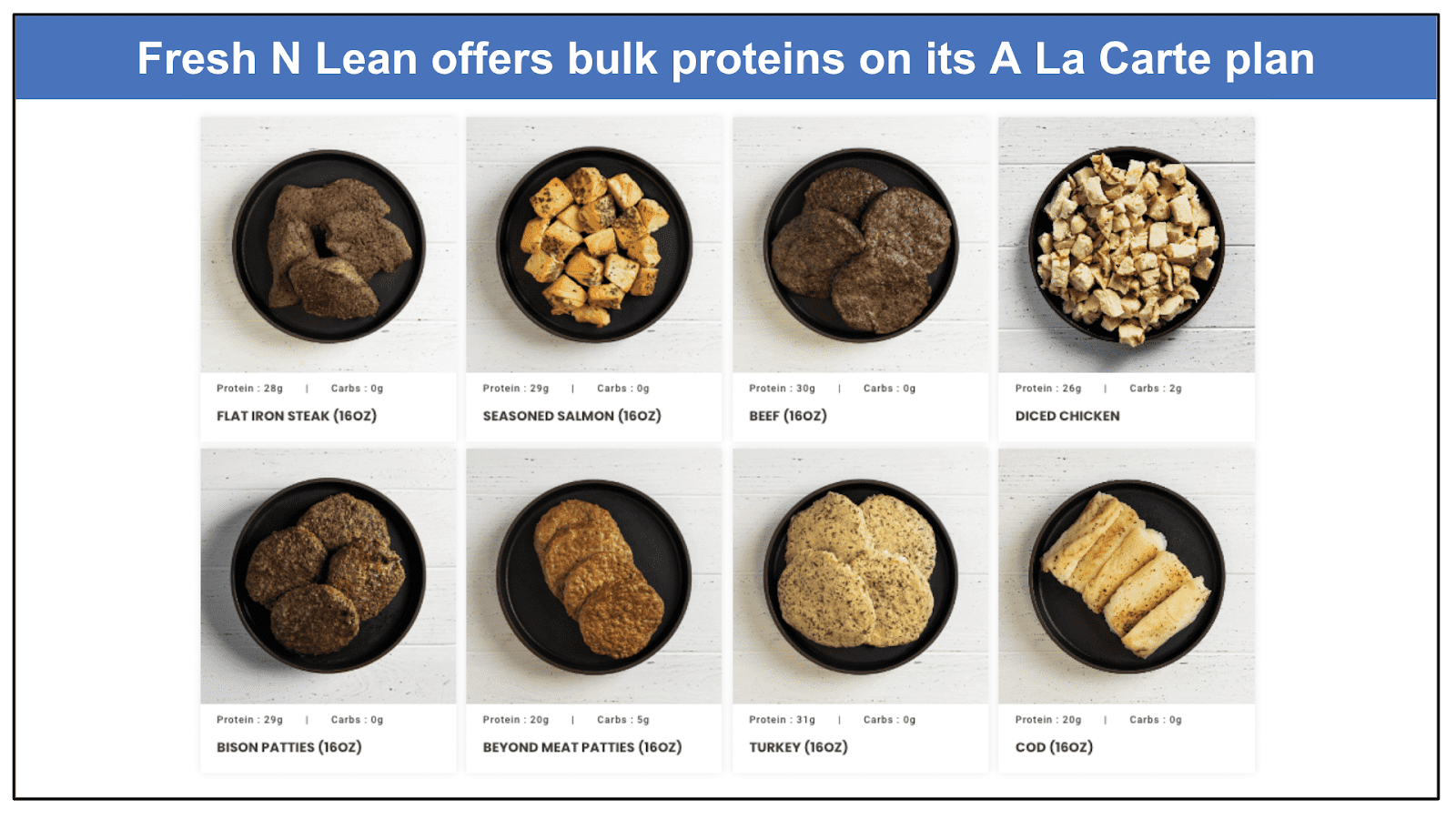 It's unfortunate that the a la carte plan doesn't give you access to all 100+ items on the menu. Instead, expect a limited number of ambiguously-named entrees like the Paleo Chicken Meal or Paleo Salmon Meal, plus items like brown rice, oatmeal, breakfast muffins, and almond buttercups.

Winner: HelloFresh
HelloFresh won this round because of its HelloCustom feature – but it was a close fight. If you're looking for prepared meals that are free from particular ingredients or allergens, Fresh N Lean is certainly a good option.
The HelloCustom feature lets you make swaps on 12+ recipes each week. You can switch the protein choice, add animal protein to an otherwise vegetarian meal, or swap one side dish for a different one. This adds flexibility to an already large menu.
HelloFresh also offers filters for several common allergens like milk, eggs, fish, shellfish, tree nuts, peanuts, soy, and wheat. When you select these filters in your account, HelloFresh will use them to streamline its recommendations. All meals containing any of these ingredients are tagged so you can avoid them.
HelloFresh may prepare or store its meal kits alongside others that contain allergens, however, so if you have serious sensitivities to gluten or other ingredients you may want to speak with your physician before signing up to a HelloFresh subscription.
Fresh N Lean allows you to exclude up to 3 ingredients from a much wider range, including foods like garbanzo beans and chia seeds. With these filters, you'll not see any meals containing those ingredients, but you also cannot exclude them from individual dishes, so your already limited selection may shrink even further.
All Fresh N Lean meals are gluten-free. The Vegan, Low Carb Vegan, Whole30, Paleo, and Protein+ plans are also naturally dairy-free. Everything on the menu is made with organic (where possible), non-GMO ingredients and free-range animal proteins.
Ordering, Delivery, Unboxing
Winner: HelloFresh
HelloFresh scored another victory, thanks to its streamlined ordering and delivery process. Fresh N Lean scores points for its refrigerator-friendly packaging and its service to selected zip codes in Alaska and Hawaii, but HelloFresh offers more options for delivery dates, plus an easy-to-use app.
All HelloFresh recipes provide detailed information about the meal, including a full list of ingredients, cooking time, and level of difficulty. You can even view customer ratings and reviews to get an idea of what other people thought of the dish.
Each meal from Fresh N Lean includes a list of ingredients and nutritional info. Because its customers are generally fitness-focused and nutrition-conscious, Fresh N Lean makes that information readily available. But there are no customer reviews or descriptions about the meal, so the ordering process feels more businesslike and less fun.
The HelloFresh app is easy to use. You can set your meal preferences, number of servings, and delivery date. Rescheduling or pausing orders on the app is a breeze, as is updating your payment info, changing your delivery address, or pausing or canceling your subscription. Though it doesn't have a dedicated app, Fresh N Lean's website is mobile- and tablet-friendly.
HelloFresh offers all its customers a choice of delivery on Wednesday, Thursday, or Friday. In some areas, you may be able to schedule deliveries on other days – including Sunday! All delivery days give you an 8 am to 8 pm delivery time frame.
Fresh N Lean, on the other hand, only offers Friday deliveries. If you need delivery on a different day, you can call customer service on (888) 420-4080, but you will pay more for shipping. Fresh N Lean also delivers to Alaska or Hawaii for an additional $40 shipping fee.
If you want a one-time delivery, again, you can contact Fresh N Lean by phone, email, or webform and the service will set up a one-time schedule. Fresh N Lean can also set up deliveries for every 2, 3, or even 4 weeks to suit your needs.
You must make any changes to your Fresh N Lean order before 12 pm PST on the Saturday before your next order is due. HelloFresh order changes must be made by 11.59 pm PST at least five days prior to your next delivery.
Both companies provide recycling instructions for the packaging. You'll also find a wealth of information about HelloFresh's dedication to sustainability on its website.
HelloFresh delivers all the ingredients needed for each recipe in clearly labeled paper bags. The proteins are neatly stacked next to the cooling packs to ensure they stay at a safe temperature – even if you aren't home when your order arrives. However, they can be easily missed, so check your box thoroughly when it arrives.
Fresh N Lean's meals arrive sealed, compact, and are easy to stack in the refrigerator. The entree name, diet plan, and the nutritional information can all be found on the label.
Winner: Fresh N Lean
Fresh N Lean scored a decisive victory in this round. When it comes to convenience, prepared meals are tough to beat. The meals not only feature detailed information on the macros (carbs, calories, and fat) in each dish, they also give you clear instructions on how to heat up your meal using a microwave, conventional oven, or stovetop.
Fresh N Lean meals take just 3 minutes in the microwave. If you're using a conventional oven, Fresh N Lean suggests popping the dish in for around 10 to 15 minutes. For stovetop cooking, just transfer your meal to a pot and heat it until it reaches the temperature you want.
While with Fresh N Lean, preparation involves nothing more than heating your meal to the desired temperature, with HelloFresh, whichever recipe you choose, you will have to do some prep work and cook your meal.
HelloFresh doesn't offer pre-chopped vegetables or prepared sauces, like some meal kit services do. If you follow the recipe cards, you should have no problem making even the most complicated HelloFresh meals. But it'll still require a good deal more effort than any prepared meal delivery service. Even the fastest dishes take 10 to 15 minutes.
That said, meal kits are a great way to learn new culinary skills and recipes for the future. Look out for labels like Easy Prep, Easy Cleanup, and Quick help you find less time-consuming options on the HelloFresh menu.
HelloFresh also recommends using all the kits within 5 days of delivery for maximum freshness, and to consume all seafood meals within 2 days. You can freeze the meats for up to 2 months, so long as they remain properly sealed.
The meals from Fresh N Lean will always arrive fresh – not frozen – in an insulated box. The vacuum-sealed trays will keep the food fresh in the refrigerator for around 7 to 10 days after delivery. If you're not going to finish the meals within that time frame, they will keep in the freezer for up to 8 weeks.
Be sure to defrost any frozen Fresh N Lean meals or HelloFresh ingredients in your refrigerator for 24 to 48 hours before using. Once they're thawed, do not refreeze.
Winner: HelloFresh
HelloFresh wins this one, thanks to its consistently excellent customer support and its easy-to-follow website.
HelloFresh also has a well-organized FAQ. You'll find answers here to most of your questions which not only helps to cut down on customer service calls, but also increase customer satisfaction, since most of us would much rather find information in one or two clicks than sit on hold!
In fact, the entire website is a sterling example of how to provide useful info online. From its recipes to its recycling guide, HelloFresh makes it easy for customers and prospective customers to find what they're looking for.
Fresh N Lean's FAQ isn't bad, but neither is it as useful as HelloFresh. It doesn't appear to be as detailed, and some important queries that should be featured more prominently on the main site are buried within Fresh N Lean's FAQ section.
For example, Fresh N Lean offers one-time orders and deliveries on a 2- to 4-week schedule. Not many meal delivery services offer that kind of scheduling, but you have to go to the FAQ section to discover that those options are available.
Customer support is there for issues the FAQ doesn't cover. HelloFresh offers customer support by phone or via the online chat. When my colleague reviewed HelloFresh at home and used the online chat to resolve a billing issue, they admitted, "I don't think I've ever had such a good customer service experience."
HelloFresh's chat button can be found in the lower right-hand corner of the Contact Us page. If you don't see the balloon, you may need to turn off your browser's ad blocker. Those who prefer to call can reach HelloFresh at (646) 846-FOOD (3663).
I asked Brie, HelloFresh's virtual assistant, 2 questions and got accurate, informative replies in seconds. It's certainly one of the best encounters I've ever had with a chatbot.
Fresh N Lean's chatbot didn't appear to offer the same level of service. After providing me with a list of FAQ entries that didn't answer my question, the bot suggested I "get in touch" with a live agent.
Unfortunately, there was no agent available, even though my query took place during Fresh N Lean's operating hours (7 am to 5 pm PST). This left me feeling frustrated – I can only imagine how annoyed I'd be if I were trying to address a more serious problem or a delivery issue.
Both HelloFresh and Fresh N Lean make cancelling your subscriptions easy. For more on this, check out my colleagues' step-by-step guides on How to Cancel Your HelloFresh Subscription and How to Cancel Your Fresh N Lean Subscription.
Pricing
Winner: It's a tie
This one was too close to call. Which service offers the better value for money very much depends on how many meals you order – and what Fresh N Lean plan you choose. But the services are so different that it's hard to compare them.
To start, HelloFresh and Fresh N Lean cater to different markets. HelloFresh sends out meal kits designed to feed couples and families. Fresh N Lean delivers prepared meals tailored to fitness-conscious individuals. HelloFresh also specializes in weeknight dinners, while Fresh N Lean's plans send up 3 meals a day, 5 or 7 days a week.
Let's compare Fresh N Lean's 15-meal plan to a 16-serving HelloFresh order to see what each service charges per serving: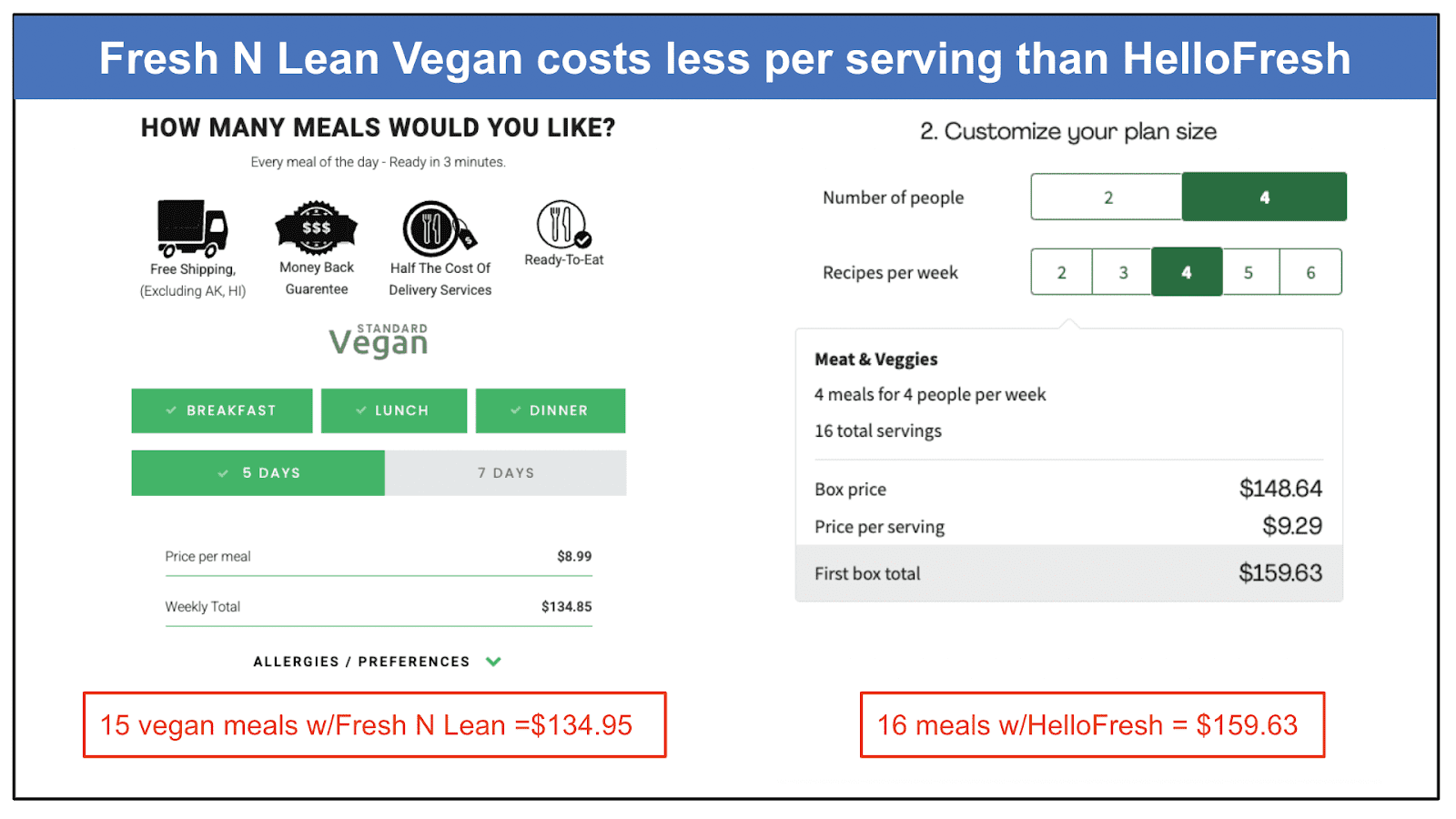 Fresh N Lean's Standard Vegan or Low Carb Vegan plan costs $8.99 per serving when you order 3 meals a day for 5 days a week. HelloFresh's 4-serving plan with an order of 4 recipes a week will cost you $9.29 per serving, so Fresh N Lean wins that round by a nose.
However, it's important to note that Fresh N Lean's vegan plans are its cheapest offerings. When we look at the other menus that contain premium meats, the prices are higher.
Fresh N Lean's Protein+ and Mediterranean plans start from $10.82 per serving. Its Keto, Paleo, and Whole30 menus are $11.16 per serving, and when you order a la carte entrees you'll be paying between $13.99 and $14.99 per serving.
To get HelloFresh's lowest possible price of $3.32 per serving, you'll need to order the maximum amount of meals per week – 6 recipes to feed 4 people.
Fresh N Lean also offers free shipping, while HelloFresh charges a $10.99 fee. That narrows the gap somewhat, but in the end, the price differences between the two services are minimal and the markets are so different that it's like comparing apples and oranges. I could flip a coin, but I think it's more honest to declare this one a draw!
HelloFresh vs. Fresh N Lean – Quick Overview
| | | |
| --- | --- | --- |
| | | |
| Best for | Couples and families | Athletes and individuals on special diets |
| Starting price | $3.32 per serving | $7.53 per serving |
| Shipping cost | $10.99 | Free |
| Minimum order | 2 meals for 2 people per week | 5 single-serving meals per week |
| Menu variety | 50+ recipes | 100+ meals on a rotating menu |
| Prep time | 10 to 45 minutes | 3 minutes |
| Low-prep options | Easy Prep, Easy Cleanup, Quick | All meals are microwave-ready |
| Allergies catered to | None | Egg, sesame, dairy, soy, gluten, tree nuts, shellfish |
| Special diets | Vegetarian, Pescatarian, Low Calorie, Carb Smart | Vegan, Low Carb Vegan, Keto, Paleo, Whole30, Mediterranean, High Protein, Gluten-Free |
| Customer support | Phone, live chat, FAQ | Webform, email, phone, FAQ |
| Promotions | 18 free meals + first box ships free + 3 surprise gifts with code DR18HF | |
Most people looking for a good all-round meal delivery service will find that HelloFresh suits their needs. Not only does HelloFresh have a wider, more flexible menu and is a much better choice if you're looking to feed a whole household, but its customer service is among the best in the business.
For individuals, fitness buffs, or those on specialized diets, Fresh N Lean may be a better option. This service also has a great range of diet plans that are hard to find elsewhere, including its Low Carb Vegan and Whole30 programs.
HelloFresh often ranks high on our lists and is a favorite over time. But if you're not ready to stick with just one yet, check out the other services that are as good as HelloFresh on our top 10 meal delivery services list.
FAQ
Which is more family-friendly, HelloFresh or Fresh N Lean?
HelloFresh is the best service for families. It has a dedicated family-friendly menu that's been tried and tested by kids and picky eaters across the US.
Since Fresh N Lean only offers single-serving prepared meals that cater to specialized diets, such as keto, it's not really designed for feeding families or larger households.
Which is healthier, Fresh N Lean or HelloFresh?
Both services offer healthy options, but Fresh N Lean's fitness-focused meals cater best to specialized diets. The meals are also made using organic ingredients where possible and are gluten-free.
HelloFresh promises seasonal, balanced dishes made using sustainably sourced proteins and produce, but they are geared towards a more generalized audience.
How long does it take to cook a Fresh N Lean meal?
Fresh N Lean meals arrive fully prepared and need just 3 minutes in the microwave. Fresh N Lean also provides instructions for preparing your meal on the stovetop or in a conventional oven if you don't have a microwave.
How do you contact HelloFresh?
You can reach HelloFresh through its 24/7 chat
or by phone at (646) 846-FOOD (3663) if you need to get in touch with a customer service agent.
I found that the chatbot provided accurate information in seconds
and that HelloFresh's FAQ was easy to follow and had answers to most questions you might have about its service.