Gobble's main selling point is its promise that you can have gourmet meals on the table in less than 15 minutes – I know that's how I got tempted. But is that really enough time to make a flavorful meal, let alone one that passes as gourmet?
I've researched a lot of services that claim to provide top-quality meals in minutes – and I haven't always been impressed with the results. But Gobble delivers meal kits with high-quality ingredients that really do only take about 15 minutes to prepare, providing you have some basic kitchen knowledge.
Each meal kit is designed to reduce the time spent preparing the ingredients and doing the actual cooking. Overall, Gobble is a convenient service that delivers on its promise.
However, that convenience comes at a cost so it may not be for everyone. I've put together a comprehensive review where you can read about the pros and cons, the ingredients included, the meals, shipping, and so on. Keep reading if you want to learn more!
Pros
Cons
Too few options for vegetarians

Not all ingredients are organic

Pricey – and shipping costs extra
Gobble Is Best For
Busy people with no time for shopping

People who like to cook but hate lengthy prep

Those on a low-calorie diet
Gobble May Not Be Great For
Gobble offers three plans, with a few options for soups, sides, and desserts in addition to the entrees.
The most popular meal plan is the Classic Dinner, where you can find a selection of home-cooked favorites such as burgers, pasta, salmon, roasted chicken, and more. Most meals on the Classic plan are around 700 to 900 calories.
The next meal plan is the Lean & Clean Dinner, with low-calorie and low-carb meals that can support a healthy diet for weight loss or maintenance. Each meal here is around 600 calories per serving and contains lean proteins, healthy fats, and veggies.
Plus, none of these meals contain filler grains, making them a great option for paleo dieters.
The third meal plan is for vegetarian meals, with healthy protein sources such as tofu, beans, eggs, and meat substitutes. However, there aren't that many options on the weekly menu to make it a sustainable plan for strict vegetarians who want choices. I counted five on the weekly menu at the time of writing, plus a few salads.
Overall, the menu has some global influences, including Vietnamese, Greek, Indian, and Morrocan-inspired dishes. Also, most meals offer options (between two and five) for protein customization, which is an amazing feature!
Even if you can play with the protein sources, you can't eliminate allergens from the meals. That means you'll have to check the menu carefully. Each recipe lists possible allergens such as milk, wheat, soy, tree nuts, dairy, or shellfish (the most common ones).
Since this is a meal kit delivery service though, you can choose to exclude certain ingredients yourself before preparing each meal. Each ingredient is prepped and packed separately, but Gobble doesn't guarantee there isn't any cross-contamination, so it's important to be careful in the case of severe allergies.
Unboxing
The Gobble box is easy to spot on your doorsteps since the colorful brand stands out from a distance. But you probably care a lot more about what's inside, right?
Once you open the box (which is cardboard, so it's recyclable), you'll find a few recyclable ice packs that keep the ingredients fresh for up to 72 hours in transit. Plus, Gobble often adjusts the insulation to fit your location and season. This means that, during summer, there may be more ice packs in your box than in winter. That's a nice touch.
Under the ice packs, you'll find all the ingredients neatly stacked and individually packed in small plastic bags.
All the ingredients, besides the meats, are grouped by the recipe in their own bag. Also, each bag comes with a paper sheet that contains cooking instructions, a list of ingredients, and nutritional content. Gobble recommends you place all the ingredients you're not using right away in the fridge, for safekeeping.
As I mentioned earlier, everything is already diced, chopped, and prepared by Gobble's pro sous chefs, so you only have to do some basic cooking.
Gobble promises you won't spend more than 15 minutes preparing these meals. It's not always accurate, sometimes cooking might run over by five minutes but that's pretty standard and I usually allow a five-minute buffer when it comes to testing meal kits.
All the sauces are premade so you only have to add them to the meal. Even more, some ingredients are partly cooked or pre-marinated and then vacuum-sealed to preserve their freshness. This ensures that meal prep will stay under 20 minutes and the meal will be packed with flavor.
For this review, I selected one meal from each plan to get a good idea of Gobble's overall offering.
Starting with the Classic Dinner plan, let's take a look at the Chicken Katsu Bento Bowl with Jasmine Rice & Sautéed Sugar Snap Peas.
The recipe includes boneless, skinless chicken breasts, but you have the option to choose the organic version. It's simple but classic, and the freshly sourced ingredients make it a customer favorite.
The bento bowl recipe already looked pretty healthy, so let's see how the Lean & Clean plan compares. As with all dishes on this plan, the Vietnamese-Style Chicken Lettuce Wraps with Peanut Sauce and Ground Chicken comes in at less than 600 calories. Plus, you can replace the ground chicken with sustainably raised ocean shrimp or shredded pork.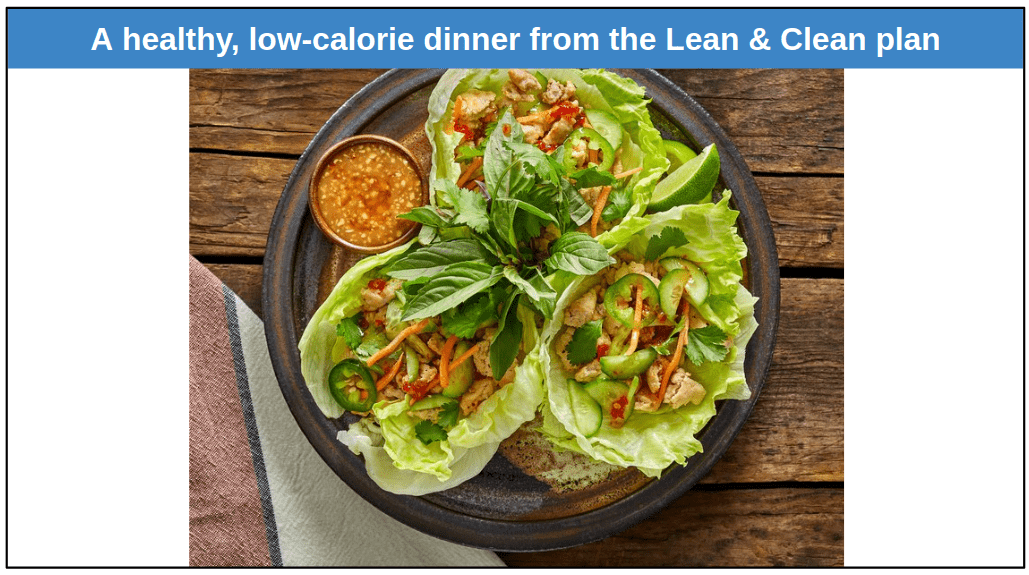 Lastly, the Vegetarian meal plan has a few delicious recipes like this Mediterranean Fattoush Salad with Green Harissa Dressing. The veggie plan has a nice mix of plant proteins on offer most weeks, including tofu and chickpeas.
If you want to turn it into a meat dish, you can add organic boneless, skinless chicken breasts, Mt. Cook king salmon fillet, top sirloin, or sustainably-sourced wild jumbo shrimp.
There are definitely way more options to add meat to the veggie dishes, but I found a few instances where you could swap the meat out for something veggie, like swapping shrimp for tofu – so it can work both ways!
Compared to many other kits, Gobble does a great job in allowing customers to choose the protein they want in their meals. This way, most recipes have two to five variations each, so it's perfect for fussy eaters or those who want to stay with the same service long-term.
Shipping & Delivery
Gobble delivers to most of the contiguous US, with the exception of Montana, and there is limited service in Nebraska, New Mexico, and Kansas. So before you think about considering the service, it is a good idea to check if it can reach your zip code.
If it does, shipping is rather smooth as you can choose the most convenient delivery day during the week (there's no weekend delivery). Once you place the order, you receive a tracking code so you can follow the status of the delivery.
If you want to edit your order, you can do so using your Gobble account. However, you need to make any changes before Wednesday, 11:59 pm the week before your meals are scheduled to arrive. Otherwise, the changes will apply to the following order.
The same is valid for skipping a delivery or canceling your subscription.
Subscription
Gobble is a weekly-recurring subscription service, so your first order will automatically renew. If you just want to give the service a try, you have the option to skip the weeks following the date of your first order (you can skip a delivery up to four weeks in advance) so you have a chance to tase the meals before ordering any more.
How to Sign Up
Your account will be created as you begin the process of making your first order. The process is straightforward and it only takes about five minutes to put in your details.
Most delivery services get you to sign up before allowing you to pick your meals, but I find it really annoying when companies put the details of their plans behind a sign-up wall. Why should you be forced to make an account to check out their plans and pricing options?
Managing Your Subscription
Your Gobble Dashboard (your account on the platform) has all the necessary features to skip or cancel a subscription. You can even plan ahead since the company always shows you the menu up to five weeks in advance.
Customer Service
The Gobble team is easily available for any inquiry you might have, but I first recommend browsing the comprehensive FAQ section (you'll find many well-detailed answers there). If you still want to get in contact, there are several methods.
First, try live chat – the bot is available 24/7 and can reply to lots of inquiries about the service, shipping, and more.
To get in touch with the customer service team, you have the contact form and two phone numbers available Monday to Friday 5 am to 8 pm PT, and Saturday to Sunday, 5 am to 1 pm PT.
Prices
Starting from

Minimum Order

Shipping Fee

$11.99 per portion

2 meals/week for 2 people:
$16.99 per serving

$8.99 (free shipping on your first order)
With Gobble, you can order meal kits for either two or four people, with slight price-per-serving variations. For instance, if you order the minimum amount, which is two recipes per week for two people (four servings), you'll pay $16.99 per serving.
In order to pay the lowest "starting from" price above, you'll need to order at least five meal kits per week for two people, or three meal kits for four. To this, you also have to add the shipping fee, which is $8.99 per week.
Compared to other meal kits delivery services, which average around $8.99-$10.99 per serving, Gobble is quite expensive. This is because you're paying for the convenience and the expertise of the chefs who help prep your meals for you.
I appreciate the extra effort that goes into making these meals as easy to cook at home as possible. Plus, the company runs all sorts of discounts, so there will be times when the cost will go down, if that's holding you back.
The Bottom Line: Is Gobble Worth It?
For people who want to cook but have very little time, I think it is. The service is all about ease, which turns cooking into a pleasurable experience even for the busiest of us. Plus, I enjoyed the menu diversity, the add-ons, and the customization possibilities.
Overall, I think Gobble is perfect for people who want to enjoy gourmet meals in the comfort of their home but don't have the time or disposition to cook them from start to finish.
But hey, if you feel it's a no-go, our expert reviewers have compiled a list of the top meal kit services out there – whatever your time constraints or skill, there's a service for you!
FAQ
How is Gobble different?
Gobble stands out from other meal kit delivery services thanks to the minimal prep time and effort it requires. The company promises gourmet dinners that only take around 15 minutes to cook and enjoy.
This means that most of the ingredients come chopped, sliced, or peeled, and sauces are premade, so you don't have to do anything but cook and assemble.
What kind of meals does Gobble have?
Gobble's menu is diverse, with everything from American fare to more global-inspired recipes. There are also a few soups, sides, and desserts, and you'll find options for vegetarians and people on a low-calorie, low-carb diet.
Does Gobble have vegan options?
For the time being, Gobble only has a vegetarian plan. So if you're strictly vegan (or planning on becoming so!) Gobble is not the best option.