Instacart is a grocery delivery service operating throughout the USA and Canada. It allows you to buy groceries, gadgets, and other products from your favorite local stores and regional and national retailers without stepping foot outside your door.
Instacart cooperates with many well-known retailers. You can find the store in a few clicks once you log into the website and see if it's available on Instacart. If not, the delivery service will come up with nearby alternatives.
You can occasionally find discount coupons and promotions on Instacart. The service may also have an attractive offer for new users. Instacart provides a convenient service, but some people don't consider it worthwhile. Read this Instacart Review to learn whether purchasing items through this provider works for you.
Pros
Choose from home delivery or store pickup

The convenience of ordering online

Over 900 participating trusted grocers and retailers in the US and Canada

Current deal: Free delivery on your first 3 orders
Cons
Prices tend to be higher than in the store

Instacart is unavailable in some rural areas

Navigating the website tends to be confusing
Instacart connects you to stores you wish to buy products from. Through it, you can buy from over 900 popular shops and retailers throughout the USA and Canada selling various types of goods, including groceries, drinks, and beauty products.
Costco, ALDI, Walmart, Sprouts, and CVS are some of the familiar names that Instacart connects you with. A personal shopper picks ordered items, notifies you if something's out of stock, and brings goods to the specified location.
Start purchasing by choosing specific stores, products, or recipes. Enter the name of the retailer or item in the search box. If the particular store isn't among participating venues, Instacart will let you know and will provide alternatives. Select a retailer to review its assortment and if you look to the right of the search box you'll see if the pickup option is available. You can order just about anything using Instacart.
You can browse different product categories upon selecting the retailer. If you choose Target, for example, these would be Snacks, Fresh Fruit, and Frozen Entrees, among others. Some J&R Discount Liquor Store categories are Wine, Beer, and Tequila.
You'll see the price, producer, quantity, and special offer (if available) next to the product. You can manage quantities when hitting the Add button.
Review your purchase by selecting the shopping cart symbol in the screen's upper-right corner. You can access pending purchases from different merchants from the https://www.instacart.com/store/ page, too. Check the minimum checkout price, the cost of the products, and potential discounts before going to checkout.
Before finalizing your purchase, you'll have to specify the delivery address and time. Enter your mobile number to coordinate with the assigned shopper. Check the final price breakdown with the service fee and potential long-distance service fee included. You can also add a tip for the shopper(s) at this stage.
If you shop for groceries in Kroger, check Home Chef. This fantastic meal delivery provider has products on offer in Kroger shops nationwide. If you're after a service delivering organic groceries, consider checking Green Chef, which is a USDA-certified organic meal kit delivery service.
How to Sign Up
You can sign up via a desktop computer, tablet, or smartphone on Instacart. If you like to shop on the go, consider downloading the Instacart app via Google Play or App Store.
1. Select the country (US or Canada) before signing up on the Instacart website.
2. Choose the sign-up option between your Google account, Facebook account, email, or phone.
3. Create a password.
4. Choose whether to accept an Instacart+ promo offer providing various benefits.
5. Enter your address to unlock nearby stores and start purchasing.
You can shop via Instacart by setting up a basic account, but subscribing to the Instacart+ plan brings various benefits. You can get more information about this membership option by clicking 3 horizontal lines next to the logo in the top-left corner of the website. You'll get the Instacart+ offer as the side menu expands and other options, such as Account Settings, Help Center, etc.
By selecting the offer, you get a quick overview of the benefits the members enjoy. Hit the 14-day free trial button to see how it works. If you're happy with Instacart+, choose a monthly or annual subscription under your Membership plan. If unsure, turn off the auto-renewal feature until you figure it out.
Set a payment method via your Instacart+ Membership. Evaluate later how much the plan saved you by selecting Your Savings. You can cancel your subscription here, too. To do so, click on Cancel Membership.
| | | |
| --- | --- | --- |
| Fee | Membership | Starting at |
| Delivery fee | Non- and Instacart+ members | $3.99 |
| Delivery fee for $35+ orders | Non-Instacart+ members | $3.99 |
| Delivery fee for $35+ orders | Instacart+ members | $0 |
| Annual fee (after trial) | Instacart+ members | $99 |
| Monthly fee (after trial) | Instacart+ members | $9.99 |
| Priority fee | Non- and Instacart+ members | $2 |
| Long-distance service fee | Non- and Instacart+ members | Depends on the radius and optional toll bridges |
I found that the item's cost on the website can be different from its in-store price. That's because retailers set those on the grocery delivery service's marketplace. Keep in mind that in-store promotions may bypass Instacart. But you may benefit from Instacart discounts not available in the physical store.
If you order loose produce, seafood, or other items that need to be weighed, you may get a different weight and, accordingly, price than listed on the website. Instacart's shoppers strive to buy the specified quantities, but it's not always possible.
Instacart's fees and the Instacart+ plan, if chosen, are other expenses affecting the final cost. Depending on your purchase and membership, you may pay delivery, heavy, high-priority, and service fees. The provider charges an alcohol service fee covering ID verification and compliant delivery. Only purchases over $10 are eligible for delivery.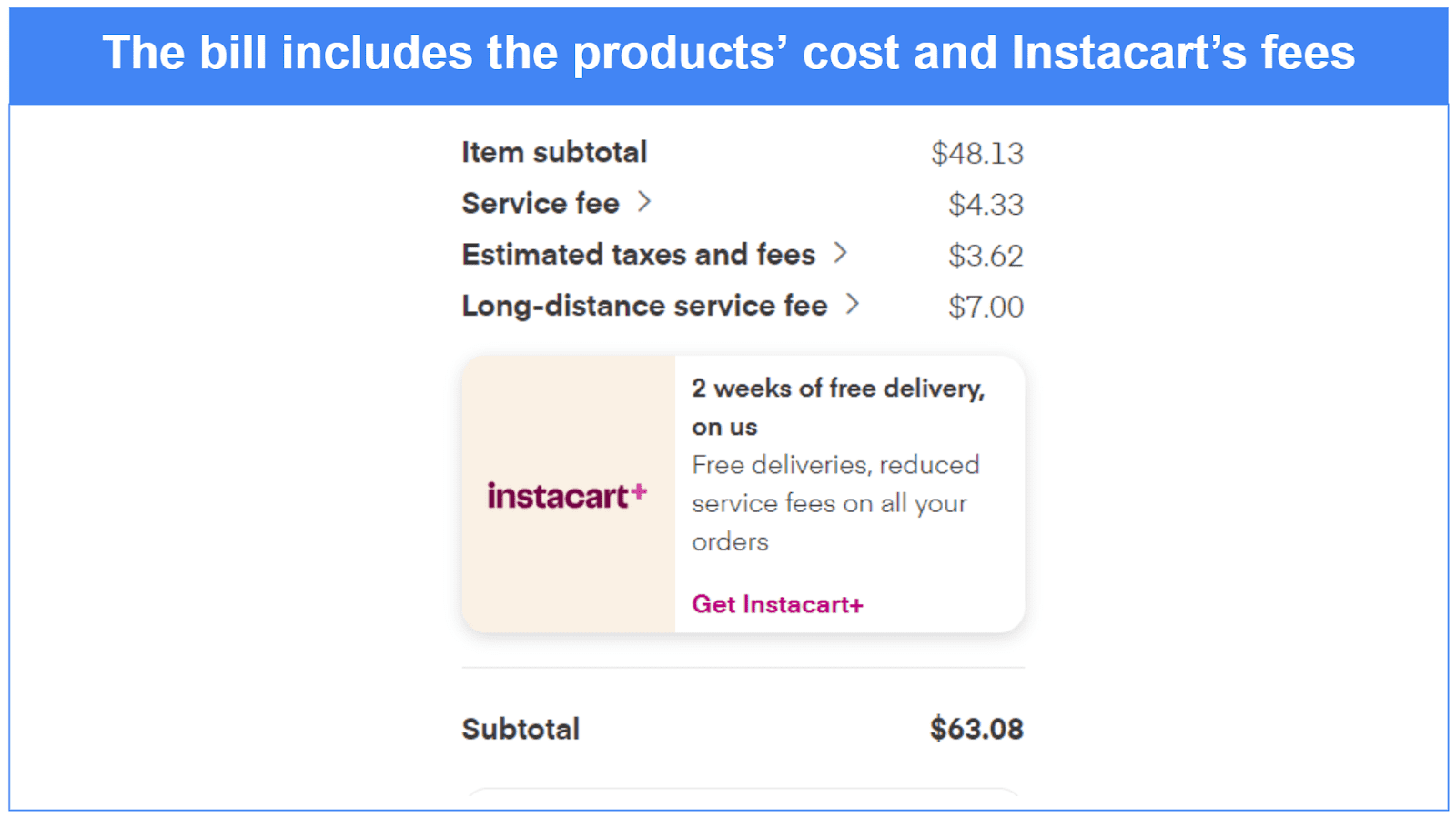 But if you purchase liquor, your cost summary will be similar to the following one:
Note that I wasn't an Instacart+ member when making the above-mentioned purchases. If I were, I wouldn't have paid the delivery fee. You don't pay this particular fee for purchases over the specific amount if you subscribe to the Instacart+ plan.
Besides avoiding delivery fees, you get a credit back on eligible pickups and lower service fees as an Instacart+ member. Subscribing to the plan and paying the annual membership fee could be useful if you intend to purchase through Instacart often.
Various Instacart fees tend to inflate the bill. But the subscription might not be worth it for occasional purchases. It would be best to calculate whether it works for you depending on your everyday routine, finances, store availability, and other factors.
Instacart accepts the following payment methods:
PayPal

Apple Pay

Google Pay

China UnionPay

All major US and Canadian credit and debit cards

EBT cards at participating stores in certain states
Instacart operates daily (365 days a year) and delivers groceries to all 50 US states.
The delivery process starts when an assigned Instacart shopper purchases the products you specified in your order. Enter accurate information regarding the address, mobile number, etc., in dedicated boxes during checkout for seamless delivery. You can reschedule the delivery at any time provided that an assigned shopper hasn't started working on your order.
Alternatively, arrange pickup, if available. Choose between various pickup locations, days, and time slots.
If you prefer delivery over pickup, do the following to ensure delivery at the specified time:
Turn the notifications on if you use the Google or Apple app.

Keep an eye out for optional messages or phone calls from the personal shopper.

Leave instructions that would help the shopper deliver your goods. These could be parking instructions, your apartment's floor, etc. You can also mention friendly neighbors willing to receive the delivery if you're not at home.
Note that the shopper can't leave your order unattended without your explicit consent. You must receive the delivery if your order contains alcoholic drinks because of age verification. Instacart reserves the right to cancel your order if the shopper can't find you and get in touch with you for a prolonged time. If you need to change plans, inform the shopper by dropping a note in Delivery instructions or sending them a message.
Customer Service
You can get help from Instacart's customer service via live chat, phone, and email 24/7. Finding either option requires some navigating because Instacart doesn't display related info on its home page, unlike most providers. Even when you find Help Center, you'll have to answer various questions before speaking with an agent.
To get there, click 3 horizontal lines next to the logo in the top-left corner of the website. When the side menu expands, scroll down until you find Help Center in the Support section. Click on it and a new tab will open. Scroll down until you see the Get help button.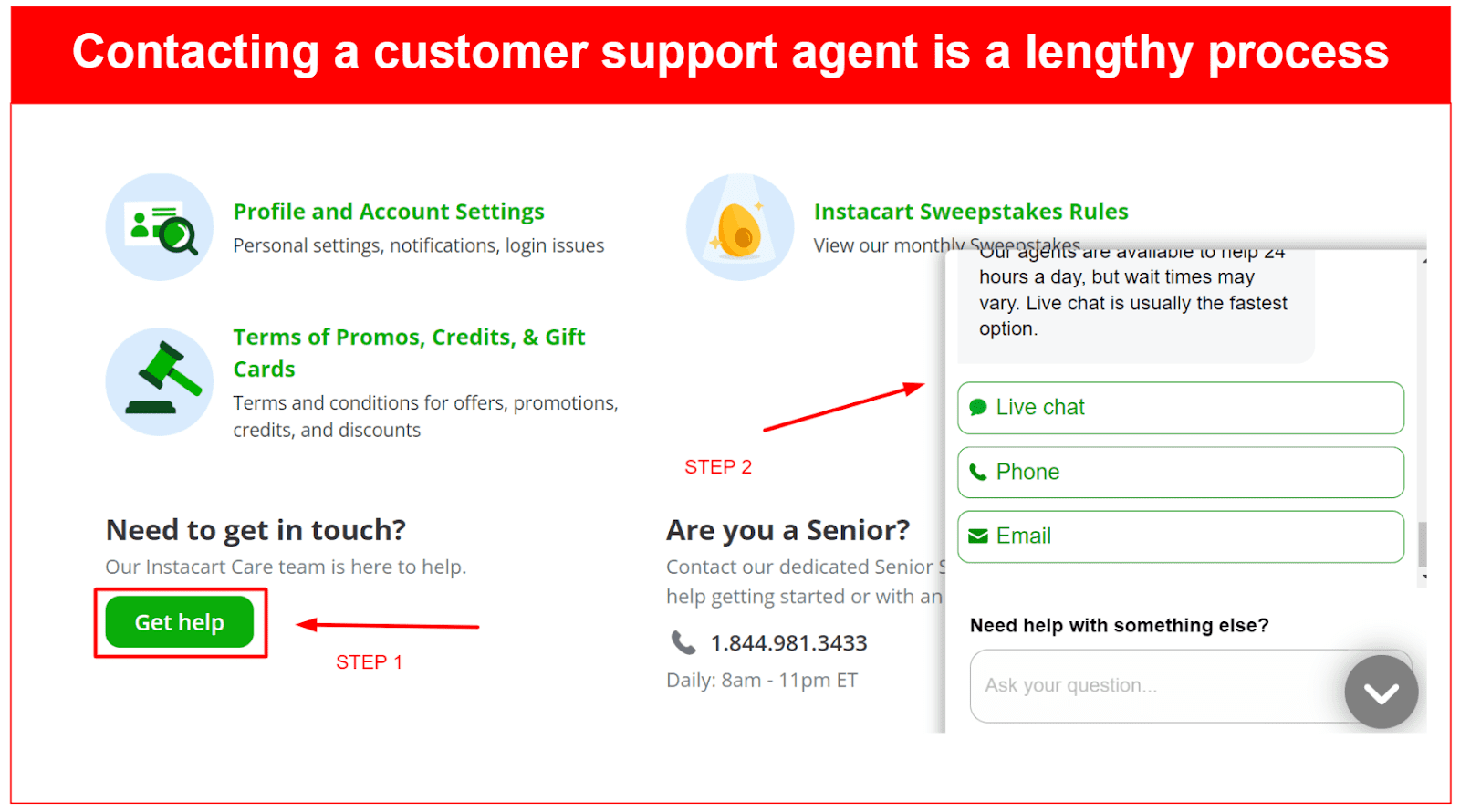 Click the Get help button and the chat window will pop up. You'll need to answer a few questions before getting contact options. I chose live chat. A customer care agent named Monika responded immediately and answered 1 of my questions. She was unable to provide the answer to my 2nd question.
I found that Instacart's Help Center features an extensive library. You can find useful information regarding discounts, fees, account settings, and many other topics there.
How Instacart Compares to Others
Instacart vs. Hungryroot: While Instacart is a grocery delivery service, Hungryroot is a meal delivery service offering grocery shopping , too. What I like about Hungryroot is the quiz you take to help them understand how you eat and the goals you try to achieve. After that, they come up with suggestions about what food works best for you.
Instacart vs. EveryPlate: I find EveryPlate's website easier to navigate than Instacart's. Plus, the service delivers the quantities you need, meaning you don't have to buy a 12 oz bottle when 5 oz is all you need. Additionally, EveryPlate provides you with delicious and high-quality meals for low prices.
The Bottom Line: Is Instacart Worth a Shot?
Shopping via Instacart may be worthwhile if you're busy and struggling to find the time to go shopping in store for groceries. The grocery delivery service shops according to your instructions and delivers products at the specified location. It also works for shoppers preferring to do everything online.
Purchasing through Instacart tends to be costly due to various service fees. You can arrange pickup instead of delivery to counter this potential issue. In that case, you'll pay the price of the purchased goods only. Another potential downside is the higher product price on Instacart's website than in the brick-and-mortar store.
FAQ
How much is Instacart delivery?
How late does Instacart deliver?
How do I cancel my Instacart account?
How much do I tip on Instacart?