Overview
Muscle Meals 2 Go caters to fitness enthusiasts and weight-conscious individuals. But this meal delivery service's plans and add-ons also suit other types of dieters. For example, it has a "Lean" plan, as well as options for maintaining or gaining muscle.
As a prepared meal delivery service, all of its dishes are ready to eat. Simply heat them in the microwave before enjoying. Every meal is designed to be nutritionally complete, so you have an easy source of specialized meals for whatever your dietary goals may be.
Still, the company has its share of pros and cons. It's definitely on the pricier side, and its website has a lot of functionality issues. Overall, I think there are better options out there for diet-friendly prepared meals.
I'm here to give you my unbiased opinion about Muscle Meals 2 Go's products, services, and more. I've researched and reviewed many meal delivery services, so keep on reading to see my thoughts.

| | |
| --- | --- |
| Pros | Cons |
| No prep, just heat and eat | Expensive meals |
| No added preservatives or antibiotics | Website has many issues |
| Decent shelf life for meals | Customer service is hard to reach |
What's on the Muscle Meals 2 Go Menu
Muscle Meals 2 Go has 4 meal plans with a focus on bodybuilding, but it also has categories for anyone who wants high-protein, low-carb dishes. All its meals are free from preservatives, hormones, and antibiotics.
Meal Options
The service has 4 dedicated plans, which you can check by selecting Meal Plans in the header:

Lean Meal Plan

Train Meal Plan

Gain Meal Plan

Low Carb Meal Plan
The service doesn't give much explanation as to the difference between these plans. The Low Carb plan appears to include Keto-friendly meals. The Gain plan is presumably for people who want to gain muscle mass.
It's less clear what market the Lean and Maintain plans are supposed to serve. I would guess that the Lean plan is for losing weight while gaining muscle. The Maintain plan is subtitled "Train," but this is still vague as to what it means.
These plans confuse me because everyone has different caloric needs. There are no guidelines to help you decide which is the best for you (and customer service isn't super helpful), so all you can do is guess which is the best fit for you.
Check out Shop All next to Meal Plans to browse different meal categories. You'll find Gluten Free, Extra Protein Meals, Low Carb Meals, and Breakfast options, among others, as you scroll down. If you're after individual ingredients you intend to mix and match with meals of your design, go for By the Pound options.
Muscle Meals 2 Go has at least a few options for many various dietary preferences. Take a look at the following table for a quick overview:
| | |
| --- | --- |
| Diet | Is Muscle Meals 2 Go Good For This Diet? |
| Omnivore | Yes, it is |
| Keto | Yes, it is |
| Low-calorie | Yes, it is |
| Gluten-free | Yes, it is |
| Dairy-free | Yes, it is |
| Pescatarian | Sort of, there are some options |
| Vegetarian | Sort of, some options might be available |
| Vegan | Sort of, some options might be available |
Expect to find some of the following meals on the menu, depending on the category:
| | |
| --- | --- |
| Meal plan or category | Meal types (including, but not limited to) |
| Lean Meal Plan | Lean Turkey & Sweet Potato, Orzo Greek Chicken, and Beef Goulash |
| Train Meal Plan | Chicken Lasagna, Beef and Broccoli, Muscle Meatloaf, and Lemon Garlic Salmon |
| Gain Meal Plan | Sweet Chili Turkey Meatballs, BBQ Chicken & Potatoes, and Taco Beef Rotini |
| Keto (Low-Carb) Meal Plan | Steak & Cauliflower Mash, Thai Peanut Chicken, and Napoli Meatballs |
Note that Gain Meal Plan meals feature extra proteins, averaging around 60 g per meal.
Select a meal to check the ingredient and nutritional information. In most cases, the service breaks down the amount of calories, protein, carbs, and fat. However, I'd appreciate it if the company revealed additional details, like sodium, dietary fiber, or other ingredient amounts, as the leading meal delivery services do.
Customization
The service offers fairly flexible meal box customization options. Besides choosing recipes from a decent selection, you can select the number of dishes you want to receive within a specific timeframe. Your only options, however, are for 10, 18, or 24 meals.
As for delivery frequency, you can choose between weekly and bi-weekly shipping. You can also opt for a 1-time delivery if you wish to try the company's products before committing long-term.
You can choose up to 5 portions of any individual dish. So, if you opt for 10 meals, you can select a minimum of 2 recipes to make up your order. But, if you go for 24 meals, you can select 5 portions of 4 different recipes at most. For the remaining dish, you can get 4 servings. Once you fill your desired quota, hit the Add to Cart button in the top-right corner of the screen.
Requesting ingredient replacements is not an option with Muscle Meals 2 Go. So, carefully review the recipe before making a purchase if you have any sensitivities or allergies to specific ingredients. The service specifies common allergens in the meal's nutritional information.
If you want a more customizable service, check out Home Chef. In my opinion, it's the best option if you want to personalize your meals.
If you don't follow a particular dietary plan, then use the Shop All menu. Just choose meals you like the look of and add them to your shopping cart. Go to the cart to customize the number of selected meals.
You can mix and match meals from different categories. For instance, you can add dairy-free, low-carb, and breakfast options to the Train Meal Plan.

If you're a pescatarian, Muscle Meals 2 Go may have a few meals available for you. But if seafood and fish take a central stage in your diet, consider subscribing to HelloFresh, which has a dedicated pescatarian plan.
Unboxing
I tried to learn more about the service's packaging to evaluate its eco-friendliness. But I hit my first obstacle when I tried to access the dedicated Our Packaging section in the FAQ. The page appears to have buttons, but I found that they did not work. I couldn't click on any of them.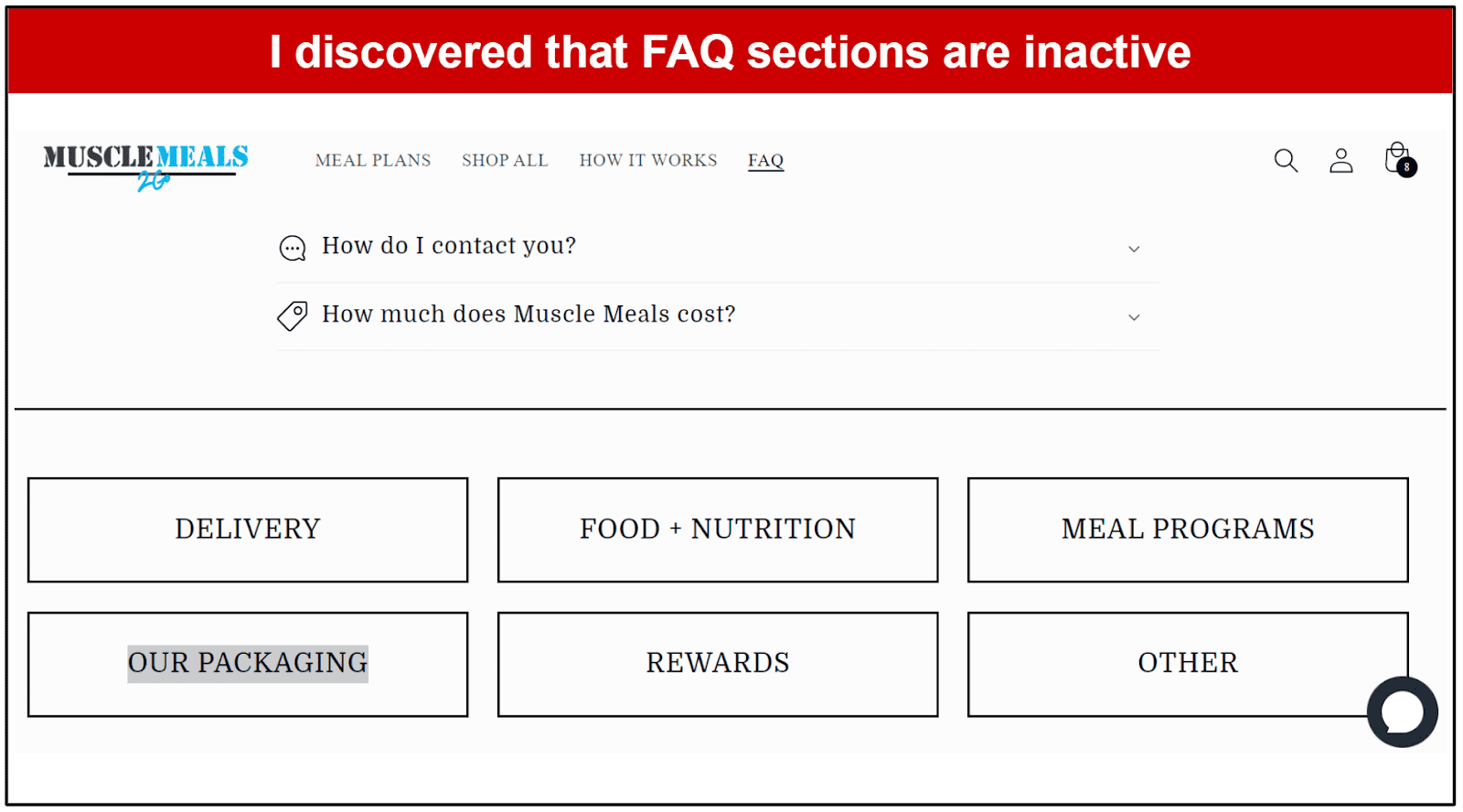 Thanks to the technical difficulties, I found very limited information about the packaging. In fact, all I learned is that Muscle Meals 2 Go ships its products in insulated boxes with frozen gel packs. This is true for pretty much all meal delivery services, so it's not especially helpful.
I wasn't able to find any further information about recyclability. This is a big red flag for me, as I think it's extremely important to know how to properly dispose of your items. Customer service wasn't much help either, as I'll soon discuss.
Each meal is packaged individually for your convenience. Consume them within 7 days from the delivery date if you store them in the fridge. You can also freeze them, however, if you want to keep them for longer.
Cooking with Muscle Meals 2 Go
All the service's recipes are pre-portioned and fully cooked. When it's time to enjoy your meal, take it out of the fridge or freezer and heat it in the microwave. Cleanup should be easy since preparing meals doesn't require a bunch of utensils and kitchen tools.
Refrigerated dishes typically require around 3 minutes to heat in the microwave. If you heat frozen food, warm it in the microwave for around 5 minutes. But the actual heating duration depends on your microwave and the specific recipe you're having.
Shortlist of My Favorite Meals
Thai Peanut Chicken is my favorite Lean Meal Plan dish. I like it because it has my favorite protein, but also grains, vegetables, and even a superfood.
As its name implies, chicken breast and peanuts are the recipe's main ingredients. It also comes with quinoa, rice, and broccoli. Your protein intake with this meal will be a considerable 62 g. But your calorie intake will be moderate (580).
Feta Turkey Burger, Rice & Veggies is my favorite Muscle Meals 2 Go's Standard Meal. It has even more ingredients than Thai Peanut Chicken, some of which I find exotic.
Aside from the obvious, the meal contains spinach, eggs, and extra virgin olive oil. Garlic adds an additional flavor note, as well as Himalayan Pink Salt and various spices. The dish features a low amount of calories (350) and high protein levels (34 g).
Lemon Garlic Salmon is another must-eat Muscle Meals 2 Go meal if you ask me. It features a lemon garlic sauce, green beans, and a blend of garlic rice and quinoa. The dish features 690 calories, 56 g protein, and 56 g carbs.
Prices
Muscle Meals 2 Go's meal plans and individual dishes may have different price tags. The total cost of your order also depends on your meal plan customization. Note that the website doesn't have a cost filter, so you'll need to check products individually to see their prices.
Minimum price

Maximum price

Product or meal plan type

Shipping fee

$122.55

$264.10

Lean Meal Plan

$9.99, $25, or $50

$128.25

$289.75

Train Meal Plan

$151.05

$359.10

Gain Meal Plan

$128.25

$289.75

Keto (Low Carb) Meal Plan

$13

$15.50

Standard Meals

$15.50

$18.75

Extra Protein Meals

$12

$13.50

Low Carb Meals

$10.99

$25

Breakfast

$5

$25

Snacks

$8

$28

By the Pound

$5

$28

Gluten Free

$10.99

$28

Dairy Free
As you can see, prices vary by a large margin. You may find cheaper options available at the lower end of the price range for certain meal categories. But they're vastly outnumbered by the higher-priced meals.
Muscle Meals 2 Go's meals are, on average, higher compared to many great meal deliveries. Factor is a similarly health-focused prepared meal delivery service that is much more affordable. Its recipes start at as little as $6.19 per serving.
The shipping fee is $25 for most of the US, but Florida residents have the much more reasonable fee of $9.99. One order I tested displayed $50 for shipping. This may have been because the meals and protein add-on I selected would have to be shipped separately.
You can use frequently-used credit cards to pay for your meals. These are Visa, MasterCard, Amex, and Discover. If you have a ShopPay account, you can log in through that for a smoother checkout.
I tried to get information about Muscle Meals 2 Go's money-back policy. Unfortunately, each time I landed on the right page, I received an annoying Page Not Found message. So, despite my efforts, I wasn't able to get this information.
Shipping & Delivery
Muscle Meals 2 Go serves customers in mainland US states. Like many other services, it doesn't deliver to Hawaii, Alaska, or P.O. Boxes. Muscle Meals 2 Go relies on FedEx, UPS, and GLS to deliver shipments to its customers.
You can modify your order until Wednesday at 11:59 pm ET the week before shipment. After the cutoff time, you won't be able to make any changes. All meals are delivered on Wednesdays, but some plans give you the option to choose Friday delivery instead.
You'll get your tracking info on Monday. Keep an eye on the updates to stay informed about the order's progress. If the courier fails to deliver your order – it makes more than 1 attempt – it'll return the box to the meal delivery service.
How Muscle Meals 2 Go Works
You can purchase Muscle Meals 2 Go's recipes as a guest. But consider subscribing if you want a discount on your orders. As stated on the website, you can pause delivery or unsubscribe at any moment.
The FAQ section includes a section called Rewards, but I wasn't able to learn more. Like the other FAQ categories, this button didn't work. I was therefore unable to get any information about the rewards program, if it actually exists.
How to Sign Up
I was initially unable to initiate an account registration process with the service. All I could do was select the My Account icon in the upper-right corner of the page, next to the Shopping Cart icon.
I had a recurring issue while trying to subscribe. I kept receiving the Please adjust the following: Incorrect email or password. notification, which became pretty frustrating since I didn't have an existing account with the meal delivery service. Even changing emails and passwords didn't help.
But the system recovered at some point, making a sign-up possible. And the procedure was the following:
Fill out the boxes and hit Create once you're done.
Tailor your first box by choosing the plan and the number of meals. You can check the shopping cart upon customization before moving on to the next step.
Enter the shipping details.
Select the delivery option and check the details once more.
Choose the payment method and the billing address.
You can find the customer service chat bubble in the lower-right corner of any page. And that was the only good thing concerning my experience with Muscle Meals 2 Go customer support.
I had a simple question about the dietary plans on offer. Being a night owl, I sent a message after Friday midnight. Naturally, I didn't expect an immediate response. But, to my huge disappointment, I didn't get a word from the company throughout the entire Friday.
This made the situation even more frustrating. Not only was I unable to find the information on the website, but I also couldn't get in touch with customer service. It would have been helpful to have a reliable means of communication to address my inquiries and concerns. You can try messaging customer service at 352-533-5445, you might have more luck than I had.
In comparison, most other services respond during the following day's working hours, if not at the beginning of the workday.
How Muscle Meals 2 Go Compares to Other Meal Delivery Services
Muscle Meals 2 Go vs. Factor: Factor curates meals weekly, publishing its meal plan 4 weeks in advance. It has a fully-functional, user-friendly website and responsive customer support. It offers nutritionally-balanced and complete meals at lower prices than Muscle Meals 2 Go.
Muscle Meals 2 Go vs. BistroMD: BistroMD is a prepared meal delivery service that has a selection of over 150 dishes, depending on the plan you choose. It especially benefits weight loss dieters but also people who wish to eat healthily.
Muscle Meals 2 Go vs. Purple Carrot: Purple Carrot has prepared meals and meal kits. It primarily caters to vegans but suits many other dieters, too. It has a functional website, and its FAQ section is among the best I've seen. Lastly, it's much more cost-effective than Muscle Meals 2 Go.

The Bottom Line: Is Muscle Meals 2 Go Worth It?
Muscle Meals 2 Go may be a good fit if you wish to build muscles and lose weight. You can also find it suitable if you prefer a flexible meal plan customization. With it, you can choose to receive 10, 18, or 24 meals weekly or bi-weekly. Such flexibility sets it apart from many other services. Also, you can make a purchase every once in a while if you don't wish to subscribe.
But, I found the service disappointingly inefficient regarding my questions and concerns. The inability to subscribe, a barely-functional website, unresponsive customer support, and scarce information are not qualities I desire in a meal delivery service – or any other company for that matter.
I also found the huge price tags to be a major drawback, especially compared to many leading meal delivery services. Additionally, I noticed discrepancies between the information provided in the FAQ section regarding prices and the actual price list. And that made me doubt the accuracy of other information on the website.
To sum up, Muscle Meals 2 Go may suit you if you know exactly what you're after and are willing to pay a corresponding price for that. But if you're looking for more affordable options or a meal delivery providing efficient support, either through providing information or efficient communication, you should check other alternatives such as Factor.

FAQ
How do I meal prep for a week with muscle gain?
Prioritize protein-rich foods like chicken, turkey, fish, lean beef, and eggs to gain muscle. Also, don't forget sources of healthy fats such as avocado, olive oil, and tree nuts.
How can I get big muscles in 2 weeks?
Smart work and unwavering discipline are the keys to gaining big muscles in 2 weeks. And they involve detoxing, high protein intake, drinking a lot of water, sleeping at least 7 hours a day, and extensive working out.
What is a realistic weekly muscle gain?
You might gain 1 lb of muscle tissue a week if you press yourself really hard. However, a more reasonable muscle gain ratio ranges between 2 and 4 lbs a month.