Short on Time? Here Are the Best Bodybuilding Meal Delivery Services of 2023
The Best Bodybuilding Meal Delivery Services Reviewed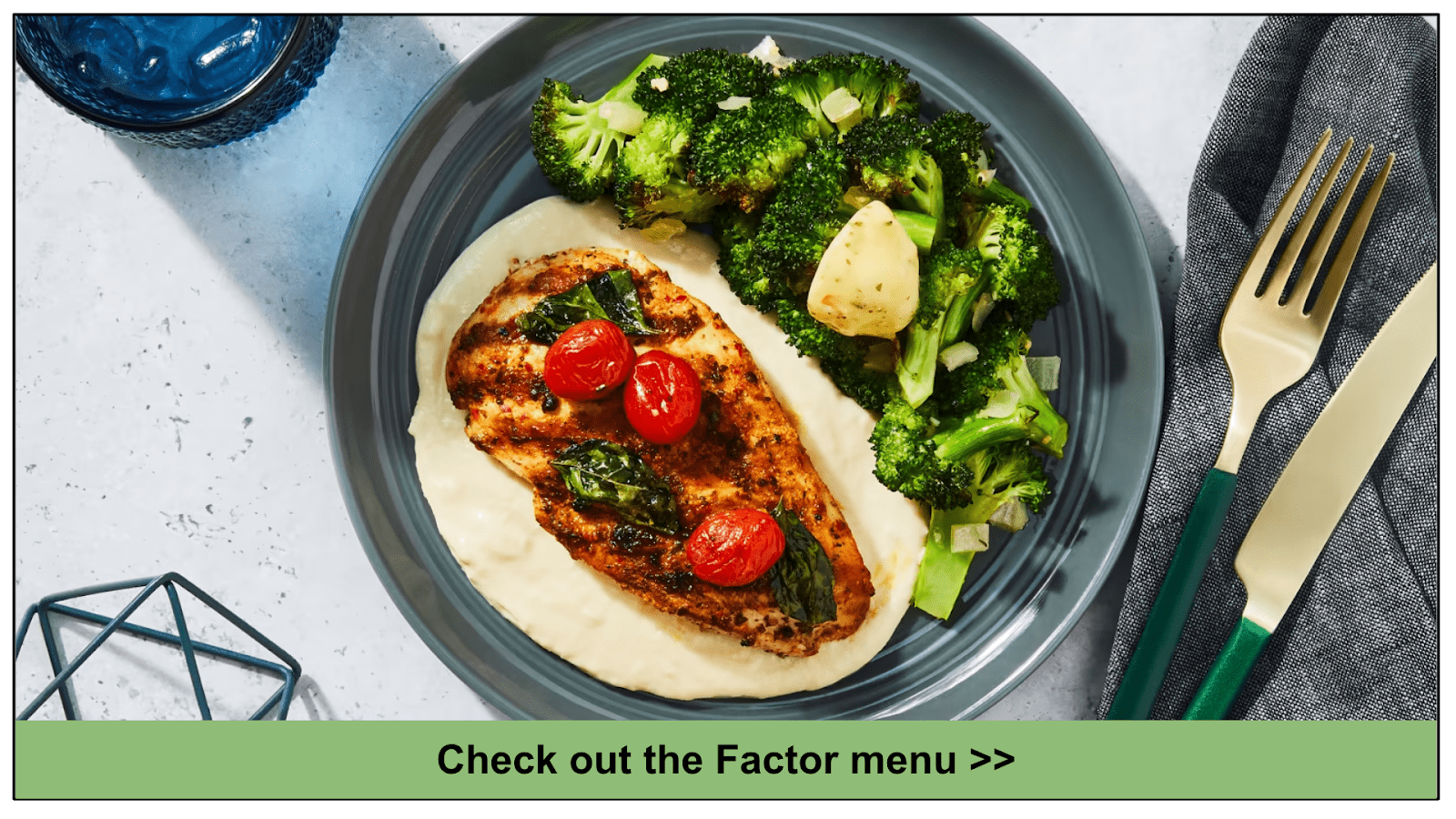 Factor's healthy prepared meals are great for bodybuilders. Every meal includes complete nutrition data and ingredients so you can keep track of your macros. And because Factor meals only require 3 minutes in the microwave, you can spend more time at the gym and less time in the kitchen.
Factor offers the following 6 plans, but you can order any item on the menu:
Chef's Choice: Meals to fit any lifestyle

Keto: Low carb, high-fat meals

Calorie Smart: 550 calories per serving or less

Vegan & Veggie: Meat-free meals

Protein Plus: 30 g or more protein per serving

Flexitarian: Balanced meat and veggie meals

Keto diets are an excellent way to bulk up and to keep your body in a fat-burning state of ketosis. Factor has an excellent selection of prepared keto meals. The Creamy Parmesan Chicken pictured above has 41 g of protein and just 12 g of carbs, with healthy fats provided by a sauce of heavy cream, white wine, and Parmesan cheese.
To help you resist temptation, Factor offers keto desserts among its Add-Ons. Its Strawberry Goat Cheese Keto Cheesecake uses monk fruit sweetener and an almond flour crust for a treat that has just 270 calories and 4 g net carbs. You can also add keto shakes, protein packs, and keto breakfast items like Smoky Bacon and Cheddar Egg Bites to your order.
Factor also gives you a selection of Protein Plus meals that are lower in fat and contain more carbohydrates for workout energy. And if you're lifting to replace flab with muscle, Factor's Calorie Smart meals give you all the nutrition you need with 550 calories or less per serving.
Customers regularly give Factor high marks for flavor. While some bodybuilding meal delivery plans concentrate more on macros than taste, Factor uses a wide range of seasonings and sauces that make their meals stand out. Our expert reviewer tried Factor at home and found its meals to be "of high quality and really tasty."
Factor also offers nutrition coaching plans with in-house registered dietitians. Every Factor subscriber gets a free 20-minute consultation, with optional bi-weekly coaching sessions and unlimited messaging available. This personalized support is very helpful for people who want to achieve specific health goals like losing weight or building muscle.
Factor isn't cheap, with prices starting at $6.19 per serving. But it's a great investment for bodybuilders who live a particularly active and fitness-conscious lifestyle, and it always scores high on our list of the best prepared meal delivery services. You can choose between 6 and 18 single-serving Factor meals per week.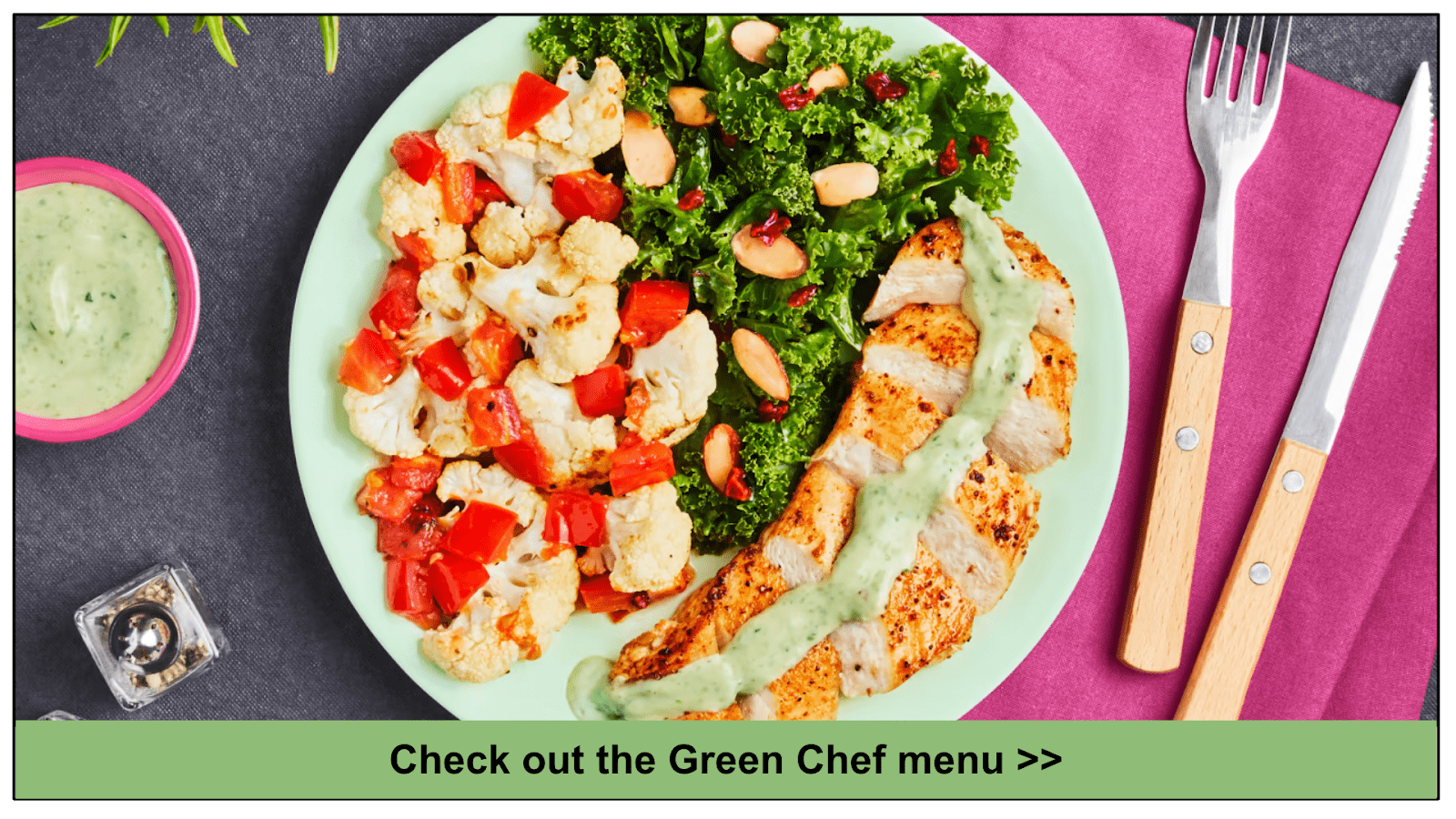 Key Features
USDA-certified organic produce

45+ recipes available each week


Dietary options include Keto, Mediterranean, and Protein-Packed

Current deal: Get $250 off + free shipping
As the first USDA-certified organic meal delivery service, Green Chef always scores highly on our list of the best organic meal delivery services. All produce is organic, so you avoid exposure to synthetic pesticides and fertilizers. Proteins are sustainably raised without hormones or antibiotics.
Green Chef has 8 plans, but you can order from the entire Green Chef menu:
Keto: less than 20 g of net carbs per meal and free of gluten, grains, soy, and legumes

Plant Based: vegan and vegetarian recipes focused on plant-based ingredients


Mediterranean: Mediterranean flavors with lots of veggies and healthy fats

Calorie Smart: calorie-conscious recipes of under 650 calories per dish


Delicious Discoveries: recipes that feature globally inspired flavors


Gluten-Free: free from gluten and soy

Protein-Packed: satisfying recipes high in protein

Quick & Easy: dishes that are ready in 25 minutes or less

Protein-Packed meals average 40 g of protein per serving, which is great for building muscle mass. If you're looking for a good post-workout supper, you'll love the lean protein found in Protein-Packed meals like Herby Barramundi over Parmesan Cauliflower Rice.
The Calorie Smart menu offers quick meals that come in at under 650 calories per serving. While that's a bit high for restricted-calorie diets, it's fine for people who are burning calories in regular workouts. And with Quick & Easy meals that are ready in 25 minutes or less, you'll have plenty of time for the gym.

I prepared 2 Green Chef keto meals at home, including the Lemon-Basil Caper Chicken pictured above. I can honestly attest that Green Chef's meal kits produced some of the most delicious suppers I've ever cooked with a meal delivery service. And Green Chef's premade sauces and seasonings helped me prepare recipes well above my culinary pay grade.
Green Chef gluten-free meals are certified to contain under 20 ppm of gluten. Most of Green Chef's menu is gluten-free, including some items on the Keto menu. Those meals including gluten (typically bread and pasta) are prepared in a separate facility to avoid cross-contamination.
Green Chef's Green Market offers a wide selection of healthy add-ons, including protein packs like chicken cutlets and salmon filets. If you have trouble finding high-quality meats and seafood at your local grocery store, Green Chef can deliver them to your door.
Green Chef starts at $9.99 per serving with a new customer coupon. Green Chef has a minimum order of 3 meals for 2 people per week and a maximum of 4 meals for 6 people per week.
Key Features
All veggies are organic, food is Non-GMO, meals are less than 500 kcal

100+ unique fully prepared meals across various diet plans

7 dietary options including Whole30 and Low-Carb Vegan

Current deal: $20 off + free shipping with money back guarantee

Fresh N Lean caters specifically to the needs of fitness-focused people, making it a great choice for serious bodybuilders. You can order complete meal plans including breakfast entrees and snacks to ensure maximum results from your training program. Fresh N Lean is especially good for Paleo dieters, and it scores highly on our list of the best paleo meal delivery services.
All Fresh N Lean meals are organic and certified gluten-free, regardless of which plan you choose. And Fresh N Lean Allergies/Preferences filter lets you exclude up to 3 ingredients or allergens, including items like bell peppers, red meat, quinoa, mushrooms, turkey, and cilantro.
Fresh N Lean offers 8 plans:
Keto: Meals with premium proteins and clean fats

Mediterranean: Meals based on the heart-healthy Mediterranean diet

Paleo: Paleo-compliant grain-free and soy-free meals

Protein+: High protein meals for high performance

Standard Vegan: 100% plant-based meals for vegan athletes

Low Carb Vegan: Plant-based meals containing 28% or less carbs

Whole 30 Approved: A reset plan with dairy and grain-free meals

Bulk/A La Carte: Clean bulk proteins and side dishes
Whatever plan you're on, you can order bulk proteins or healthy snacks. Snack options include almonds, granola, and oatmeal. Bulk proteins like salmon and steak and sides like brown rice are also available.
Fresh N Lean only lets you select meals from your chosen menu. If you need to focus on a specialized diet, this is helpful. If you want flexibility in your diet plan, you may feel constrained by the limited choices and might be better off with a service like Factor. Even the A La Carte menu only lets you choose from a handful of meal selections rather than giving you access to every listed meal.
Our reviewer recommended Fresh N Lean for those on specialized diets, saying it was "one of my favorite services in its particular niche." Fresh N Lean's single-serving meals make it a poor choice for feeding families, and its meal plans only offer a narrow range of meals. But if you're a serious bodybuilder preparing for a competition, Fresh N Lean may be perfect for you.
Fresh N Lean starts at $7.53 per single-serving meal, with a minimum order of 5 meals and a maximum order of 21 meals plus any sides, snacks, or bulk proteins you choose.
Key Features
Discover tried and tested customer favorites

30+ recipes on the menu per week

Dietary options include carb-smart, vegetarian, and pescatarian, and more
Bodybuilders with families need to make sure everyone eats well. Prepared single-serving meals can be a great part of a bodybuilding regimen, but may not be a good fit when you're feeding a whole household. HelloFresh provides meals that your family will love but which fit into your workout plan.
HelloFresh is America's most popular meal delivery service and always scores highly in our lists of the best meal delivery services. While HelloFresh doesn't cater to specialized diets, its broad variety of meals and add-ons, and its well-organized and labeled menus, make it easy to find meals that will suit most needs.
HelloFresh divides its large menu into 6 categories:
Meat & Veggies: omnivorous meals

Veggie: vegetarian and vegan meals

Family Friendly: kid-approved recipes

Fit & Wholesome: healthy meals with around 600 calories per serving

Quick and Easy: easy prep meals

Pescatarian: meals with seafood and veggies
Fit & Wholesome HelloFresh meals are low in calories but not flavor. The Brown Sugar Bourbon Apple Pork Chops with Apple Pan Sauce pictured above will be a hit with your whole family but have only 610 calories. You can lower the 58 g carb count by skipping the scallion mashed potatoes or look for Carb Smart meals containing 25-50 g of carbs per serving.
HelloFresh categorizes recipes as Easy, Medium, or Hard so you can select recipes based on your cooking skill. Easy Prep and Easy Cleanup recipes are especially convenient and well-suited for busy nights. Our expert reviewer tried HelloFresh at home and stated that everything they cooked turned out looking and tasting delicious.
HelloFresh's HelloCustom feature lets you swap out proteins or sides on some entrees. For example, you can swap jasmine rice with cauliflower rice if you're watching your carbs or add steak or chicken to your Roasted Veggie Kale Salad.
The HelloFresh Market also gives subscribers access to extra grocery items like spices and bulk proteins. You can supplement your HelloFresh meals with extra helpings of steak, chicken, pork, or salmon to make sure you get the muscle-building protein you need while providing your hungry family with tasty, nutritious meals they'll love.
HelloFresh offers a variety of serving sizes suitable for families and couples. You can order 2 to 6 recipes of 2 or 4 servings per week, or between 4 and 24 weekly servings. Prices start at $3.32 per serving.
Key Features
Macro-balanced, organic meals with lean grass-fed proteins

25+ different weekly meal options per plan plus extras

4 dietary options, including Keto, Clean, and Plant Based

Trifecta is a prepared meal delivery service specially designed for athletic lifestyles. All Trifecta meals are nutrient-packed and macro-balanced to help you reach your weight loss and muscle-building goals. No matter which plan you choose, you'll get ready-made, nutritionally balanced meals that are calorie- and portion-controlled.
All meals are made with lean proteins, seasonal vegetables, and whole grains. Trifecta takes pride in using high-quality ingredients sourced from family-run suppliers, including grass-fed meat and sustainably sourced seafood. Additionally, Trifecta uses organic produce to provide the healthiest and most nourishing meal options available.
The meals are between 300 and 500 calories per serving, so Trifecta is great for increasing muscle definition and losing excess weight. With breakfast, lunch, and dinner entrees available, you can eat a straight Trifecta diet for serious gains. And if you're doing the Whole30 elimination diet, Trifecta is on our list of the best Whole30 meal delivery services.
Your Trifecta subscription gets you access to many online tools and resources like macro calculators, meal planning templates, clean-eating food lists, workout plans, shopping lists, and more. And the Trifecta app not only lets you manage your subscription and orders, but also lets you track calories, water intake, and more.
Trifecta offers 4 different meal plans:
Keto

Paleo Whole30 Approved

Clean

Plant Based
Trifecta's plans can be Chef's Choice, which means that Trifecta sends you a set of meals based on your dietary preferences. You can also opt to pick your own meals instead. Menu options change weekly, and you can exclude up to 2 ingredients from your meals based on allergies or preferences. You can also order 1 or more meals from the Classic menu, which features the same 9 meals every week.
Trifecta also offers an a la carte Meal Prep option that lets you assemble your own meals with your choice of protein, vegetables, and carbs. Ordering precooked ingredients and putting them together yourself will save you money vs. buying prepared meals, but it also means you will have to calculate your macros yourself.
If you're serious about your bodybuilding, Trifecta may be a good fit for you. Our expert reviewer was impressed by Trifecta's sense of community and nutrition experts and declared that "Trifecta makes sticking to a healthy diet really easy."
The minimum Trifecta order is 7 single-serving meals, with a maximum of 21 meals. Prices start at $6.00 per serving.
Key Features
Swap, upgrade, or double-up on protein

30+ meals and 18 extras available per week

Dietary options include Carb-Conscious and Calorie-Conscious
Home Chef lets you customize almost all of its 30+ weekly rotating dishes with its Customize It feature. You can order the Stovetop Meatloaf Marinara pictured above with ground turkey or ground pork if you want to lower the fat content. You can also double up on the proteins in some recipes for an extra helping of steak, salmon, or chicken.
The Fresh Start dishes are lighter spins on classic favorites. Home Chef consults with dietitians to ensure that these meals are healthy and marks them with a green tomato icon. The service also offers Calorie-Conscious meals with up to 600 calories and Carb-Conscious meals with less than 30 grams of carbs. The Stovetop Meatloaf Marinara has just 23 grams of carbs!
With Home Chef's user-friendly website filters, you can exclude meals containing specific ingredients like pork, sesame, nuts, mushrooms, or more. You can also order salad bundles, breakfast entrees, smoothies, and other extras in addition to your meal orders. And Home Chef's easy-to follow recipes appear on our list of the best easy-to-cook meal delivery services.
Home Chef offers meals for every level of culinary skill. Culinary Collection meals use more sophisticated cooking techniques and ingredients and cost a few dollars more per serving, while Easy Prep and Express meals can be ready in a few minutes. (The Stovetop Meatloaf Marinara can be on the table in just 15 minutes).
Our expert reviewer tried Home Chef at homeand cooked a Culinary Collection meal, Salmon and Lemon Herb Beurre Blanc, that "came out perfectly – flaky, moist, and delicate." This dish would be a great special occasion recipe for bodybuilders who replaced the roasted potatoes with a lower-carb vegetable, as it has 44 grams of protein per serving.
Although it has a good variety of meals, Home Chef doesn't cater to specialty diets. Nor does it offer organic produce, though antibiotic-free meats are available on some customizable meals at an upcharge. But its 6-serving plan is great for families, and its menu flexibility makes it a good choice for bodybuilders with hungry households to feed. If you're keen to have organic produce, try Green Chef.
Home Chef prices start at $7.99 per serving, with a minimum order of 2 meals of 2 servings per week and a maximum order of 6 meals of 6 servings each.
Key Features
Pre-portioned ingredients and oven-ready dishes

30+ recipes per week (including the Home Chef menu)

Dietary options include Calorie-Conscious and Carb-Conscious
Fresh and Easy is Home Chef's line of quick and easy-to-prepare meals. If you have limited time, kitchen equipment, or cooking skill, Fresh and Easy is a great way to eat better and healthier meals at home. As our expert reviewer says, "you'll save loads of time and hassle!"
Fresh and Easy meal kits come prepped and pre-portioned, which saves you the hassle of slicing, chopping, and peeling. Oven-Ready and Grill-Ready meals can be cooked in their recyclable packaging, making cleanup a breeze.
The Cotija and Jalapeño-Crusted Chicken pictured above is an Oven-Ready meal. You assemble the ingredients in the pan Fresh and Easy provides, then bake it at 425° for 30-35 minutes. The seasonings are provided and the zucchini is sliced, so there are no extra bowls or utensils to wash afterward.
Here are some of Fresh and Easy's meal types:
Fast & Fresh: ready to heat in the microwave or oven

Oven-Ready: dishes you assemble in the oven-safe aluminum tray provided

15-Minute Meal Kits: meal kits ready with minimal prep

Salads: simply toss the ingredients together and enjoy fresh

Extras: prepared desserts, bread, protein bundles, and more
Fresh and Easy's Plus meals let you enjoy restaurant-quality meals that are ready in less time than you might spend waiting for a table at a popular bistro. You can enjoy date night meals featuring shrimp, sirloin steak, scallops, or other higher-end proteins.
A Fresh and Easy subscription also gives you access to the entire Home Chef menu. If you see a meal kit you like, you can add it to your weekly order and prepare it as your schedule permits. And Fresh and Easy is not only convenient, it's on our list of the best cheapest meal delivery services.
You can also take advantage of Home Chef's Customize It feature. If clean proteins are important to you, you can order your Cotija and Jalapeño Chicken with antibiotic-free chicken breasts. You can also swap out ground beef for ground turkey or pork in many recipes if you want to lower the fat content.
Fresh and Easy's minimum order is 2 meals of 2 servings each, with a maximum order of 6 meals of 6 servings each. Prices start at $7.99 per serving.
Key Features
International cuisines including Asian, Italian, and Middle Eastern

70+ options available each week

Dietary options include vegetarian, diabetes-friendly, and low-calorie
Blue Apron's gourmet recipes and international flavors may not seem gym-friendly at first. But Blue Apron gives you a great selection of healthy and delicious meals that your whole family can enjoy. Staying in shape or getting ripped doesn't have to be a joyless slog. Blue Apron lets you eat better without sacrificing taste or variety.
Blue Apron's recipes are easy to follow. Our reviewer had high praise for Blue Apron's variety of cuisines and ease of cooking. And Blue Apron's how-to videos and online demos can walk you through the steps of a recipe if you get confused.
You can choose between 5 different preferences that help Blue Apron select suggested meals, but you can always order any Blue Apron recipe on the menu.
Chef Favorites: The Test Kitchen's top picks

Wellness: Nutritionist-approved recipes


Family Friendly: Kid-friendly meals the whole family will love

Fast & Easy: Includes Quick Prep and Heat & Eat options

Veggies: Plant-based meals
Blue Apron's Wellness menu features nutritionist-approved recipes tailored to your unique goals. Carb-Conscious meals contain under 42 g of carbs per serving, and many Blue Apron recipes offer pointers for cutting calories, like replacing sour cream in a meal kit with nonfat yogurt.

Fast & Easy meal kits offer easier preparation and cleanup than regular Blue Apron meal kits. And Blue Apron even offers Heat & Eat prepared meals you simply heat in the microwave or oven. Not all of these meals are Wellness-oriented, so be sure to check the nutritional information and ingredients list before ordering!
Blue Apron's Customized feature allows you to swap proteins or add meat to a vegetarian meal. For example, the Mexican-Spiced Tilapia pictured above, a Wellness entree, can also be ordered with salmon. And you can boost your intake of lean protein by adding shrimp or chicken to a dinner salad.
The Blue Apron Market offers some useful extras. I like that you can find seasonal celebration meal kits and packs of 4 prepared meals. You can also order kitchen tools, meal kits, and seasonings in the Blue Apron Market.

Blue Apron lets you order 2 to 5 meals for 2 or 4 people, for a minimum of 4 and a maximum of 20 servings per week. Pricing starts at $5.74 per serving.
Key Features
Meal kits and prepared meals

Around 16 dishes on the menu per week – plus extras

Dietary options include gluten-free, nut-free, and high protein
Many bodybuilders are discovering the health and ecological benefits of a vegan diet. But most bodybuilding meal delivery services focus on animal proteins. Purple Carrot has a 100% plant-based menu that will provide you with meals that taste great and meet your macros.
Purple Carrot's menu labels let you sort meals for
High Protein

Soy Free

Under 600 Calories

Gluten Free

Nut Free
High Protein Purple Carrot meals contain 25+ grams of protein, which makes them a good choice for vegan bodybuilders who are cutting. (If you're bulking up, you may want to throw in some extra tofu or plant-based protein supplements). And Purple Carrot's Under 600 Calories meals are excellent for the cutting phase when you're seeking maximum definition.
Purple Carrot meal kits celebrate veggies with dishes that feature Asian, Mediterranean, and Middle Eastern influences. Its meal kits can teach you vegan recipes and techniques you can use in your own cooking. For busy days, Purple Carrot also offers a line of Less Prep meals that include premade sauces and some pre-chopped vegetables.
Braised Coconut Chickpeas (above) is a Less Prep meal that's ready in 30 minutes. Chickpeas and quinoa provide plenty of protein (29 grams per serving), and turmeric's anti-inflammatory properties make this a great and satisfying post-workout meal.
Purple Carrot also offers fully prepared vegan meals that are ready with just 2-3 minutes in the microwave. And because you can order from all menus, you can choose between meal kits, Less Prep kits, and prepared meals – and even order vegan breakfasts, lunches, and staple items like cashew cream cheese at the Plantry.
Lactose-intolerant bodybuilders should note that Purple Carrot made our list of the best dairy-free meal delivery services.
Even if you're not vegan, you could use more plants in your diet for balanced nutrition. Our reviewer, a committed meat-lover, tried Purple Carrot at home and declared its meals were guaranteed to please even the fussiest of omnivores.
Prices start at $8.50 per serving, with a minimum order of 3 recipes for 2 people and a maximum order of 3 recipes for 4 people per week. Prepared meals come as single portions and can be ordered as bundles of 6, 8, or 10 meals per week.
Key Features
A good variety of world cuisines

12-15 meals per menu

Menu options include Keto, Paleo, and Plant-Based
Eat Clean to Go's single-serving meals are inspired by a number of world cuisines, including Latin American, Indian, classic American, Italian, Caribbean, Chinese, and Hawaiian. Many bodybuilding and fitness menus are great for nutrition but uninspiring in the flavor department. Eat Clean to Go lets you enjoy both your meals and your gains.
All Eat Clean to Go meals use organically-grown fruits and vegetables, so you don't have to worry about synthetic pesticides or fertilizers. Eat Clean to Go also lets you choose between regular and large portions, so you can order meals tailored to your nutritional needs and workout cycle.
Eat Clean to Go offers 4 meal plans:
Keto

Paleo

Traditional

Plant-Based
The Eat Clean to Go Paleo plan sends you meals that provide clean proteins, fruits, and vegetables without grains or dairy products. The Chimichurri Steak pictured above is on Eat Clean to Go's Paleo menu. Herby and garlicky chimichurri sauce spices up lean steak and fresh broccoli, with riced cauliflower providing an alternative to rice.
Keto dieters will enjoy Eat Clean to Go's high-fat and low-carb Keto meals. Almond flour stands in for wheat flour to add protein and cut carbs, and there's plenty of cheese and other dairy products provided to keep your body in fat-burning ketosis. And the Plant-Based menu provides a weekly selection of vegetarian and vegan meals.
Those not on a specialized diet will enjoy Eat Clean to Go's Traditional menu, which offers healthy meals that range between 270 and 500 calories (a bit more for the large portions) and contain just 300-500 mg of sodium per serving. Our expert reviewer called Eat Clean to Go "a convenient way to ensure you're fueling your body with all the necessary nutrients."
Each Eat Clean to Go plan has a good selection of proteins, including chicken breast, pulled pork, ground beef and turkey, shrimp, and steak. Customers on the Plant-Based plan can choose veggie proteins like beans, chickpeas, Beyond Sausage, and vegan chicken strips. That being said, vegan bodybuilders will probably do better with Purple Carrot.
You can order a minimum of 6 and a maximum of 14 regular portions and 12 large portions of Eat Clean to Go meals per week. Prices start at $8.60 per serving.
Quick Comparison Table