Pros

Cons

Easy-prep meals

Hefty price tag

Eco-friendly and recyclable packaging

You can't choose meals in the Paleo plan

Chef-prepared food

AIP meals aren't clearly marked

Current deal – $10 off your next order. code: FRESH10
Pete's Real Food is a good choice for anyone following a paleo, keto, vegan, or AIP diet. Even if you don't follow a specialized diet, you'll find plenty to choose from on the menu. And if you're a foodie who avoids gluten or dairy products, you'll be pleased to know that Pete's Real Food caters to your needs as well.
Note that the paleo meal plans don't allow you to choose servings. I recommend checking out Eat Clean to Go if you prefer choosing meals instead of someone else doing that for you.
Meal Plans
You can opt for a Paleo Meal Plans trial before making a long-term commitment. To do so, scroll down, select Paleo Meal Plans and click on the link advertising a trial. This lets you order 5 breakfasts, lunches, and/or dinners without a subscription. This trial option is only available for the Paleo menu, though.
The regular plan lets you order 5, 7, or 10 breakfasts, lunches, and dinners in any combination. This means you can get anywhere from 5 to 30 meals in a single order. Subscriptions range from every 1 to 4 weeks.
The All-Day Paleo Bundle lets you order in bulk to save money. This 4-week bundle includes 5 breakfasts, lunches, and dinners for a total of 60 meals at a lower price than if you pay per week. It also comes with free samples of paleo-friendly products as an extra incentive.
The Paleo menu is the largest, featuring 17+ recipes for every meal of the day. Most recipes are meat-based, featuring proteins like steak, pork tenderloin, and lean ground chicken. Note that the lunch recipes are the same as dinner, just in smaller portions. That means you'll likely repeat some meals – especially on larger plans.
The Vegan Meals and Kids Lunch menus are more limited with around a dozen recipes. The vegan menu relies on whole plants like lentils, mushrooms, and cauliflower. The kids' menu has simple, kid-friendly recipes like chicken nuggets or turkey meatballs.
There's also a Mix and Match option, letting you combine meals from different plans. Here, you'll have access to a variety of Pete's Real Food offerings. This is a good option if you want to combine vegan and paleo meals à la carte.
Pete's Real Food also has a small Extras menu. This has miscellaneous add-ons like various kinds of broth and high-quality bacon, which you can purchase by the pound.
Here are some dietary options you can expect to find on the menu:
| | |
| --- | --- |
| Diets | Is Pete's Real Food Good For This Diet? |
| Paleo | Yes, there are many options |
| Gluten Free | Yes, there are many options |
| Dairy Free | Yes, there are many options |
| Keto | Yes, there are some options |
| Vegan | Yes, there are some options |
| Diabetic-Friendly | Sort of, but it doesn't focus on diabetics |
| Vegetarian | Sort of, there are some options |
Customization
You won't be able to customize individual ingredients in your meals at Pete's Real Food. Depending on the chosen plan, you'll have the option to specify the number of meals, leave out specific meals (breakfasts, for instance), and choose from a few dietary preferences. Check out Home Chef if you want more customization options or want an easy way to exclude common allergens such as tree nuts, sesame, and mushrooms, among others.
Pete's Real Food gives you limited personalization options. You can choose whether or not to include pork in your lunches and dinners (though this choice isn't available for breakfast). You can also choose the number of servings for each meal, which is useful if you always skip lunch or only want breakfast items.
In addition to specific dietary plans like Vegan Meals, the menu has some useful filters. Depending on the plan you choose, you can filter the menu for tags like Gluten-Free, Includes Dairy, Frozen, Vegetarian, and other options.
The service doesn't have AIP listed among its key meal plans. If you're an Autoimmune Protocol dieter, select the Mix and Match plan and search for the AIP Friendly filter. Alternatively, you can simply type "AIP" into the search bar to find all available AIP options. AIP-friendly meals are free of gluten, dairy, legumes, soy, corn, artificial sweeteners, and preservatives.
Note that the company doesn't list specific spice blend elements for meats and veggies. So, if you have a nasty allergy that can affect you severely, you should prepare your own meals.
Pete's Real Food ships its meals in environmentally friendly, curbside-recyclable boxes. Besides packages, the meal trays and liners are also curbside recyclable. Custom-made liners match the size of various boxes. The gel packs accompanying food feature recyclable polyethylene plastic. Sometimes, the service uses dry ice instead of gel packs.
You can find the nutrition facts of your meal at the back of the dish tray. The service vacuum-seals individual meal packages, extending their shelf life. In general, Pete's Real Food dishes remain fresh for up to 10 days in the fridge. If you freeze them, they should last 6 months. To confirm, check the expiration date for each item when you receive your order.
Cooking with Pete's Real Food
Your Pete's Real Food meals arrive pre-prepped and pre-cooked, so you'll only need to heat them before enjoying them. Take the meal out of the refrigerator and heat it according to the instructions, which usually takes up to 5 minutes. Some recipes may take up to 10 minutes to heat up, but these are less common.
Shortlist of My Favorite Meals
Garlicky Greek Chicken with Spinach is my favorite gluten-free Pete's Real Food dish. It features a generous serving size of 11.5 oz (326 g). The main ingredients include garlic, spinach, and tender chicken thigh. Other key elements are olive oil, black pepper, and fresh parsley.
With just 360 calories and 23 g of carbs, it's a carb-conscious option ideal for those watching their intake. It also has a respectable 37 g of protein, making it a filling and healthy option for gluten-free and low-carb diets.
The Coconut Sriracha Tofu Bowl is a vegan dish packed with flavor. It combines fluffy basmati rice, tender asparagus, lime juice, fresh ginger, and sweet peas, among many other elements.
This plant-based meal is perfect for a filling lunch or dinner. The recipe contains 550 calories and 23 g of protein. It's not a low-carb dish, however, with a whopping 67 g of carbohydrates. Like most of the vegan menu, it isn't suitable for a low-carb diet.
Brussel-Kale-Bacon Hash with Steak is a good example of Pete's breakfast options. Its main ingredients include steak, kale, pork belly, olive oil, and Brussels Sprouts. A few complementary ingredients are garlic, black pepper, and dried thyme.
This carnivore-friendly dish is a great low-calorie (230) and carb-conscious (8 g) option with 35 g of protein. To try out meals like this, make sure to opt for breakfasts when personalizing your paleo meal plan.

| | | |
| --- | --- | --- |
| Starting from | Meal plan | Shipping |
| $70 | Paleo Meal Plans | $39 |
| $860 | All Day Bundle | $195 |
| $12 | Vegan Meals | $39 |
| $4.50 | Kids Lunch | $39 |
Most plans with Pete's Real Food have a minimum order requirement of 5 dishes, but there are other requirements depending on your plan and selected meals. Some individual dishes, for example, have a minimum of 2 or more servings. It's not always clear what the limits are, so this can be kind of confusing.
There's also a maximum of 17 dishes per order on most plans, including Vegan and Mix and Match. The Paleo plan is more comprehensive, with a maximum of 30 meals per week.
Check your shopping cart to see whether you have met the minimum order requirement. If you haven't met the minimum order, you won't be able to click on the Check out button. The minimum order is based on the number of items rather than the dollar amount of your order.
Pete's Real Food has high shipping costs for all of its plans. The exact price varies depending on your location and the size of your order. In my experience, shipping fees were a whopping $195 for the All Day Bundle when I tested addresses in New York, Montana, and Texas.
My shipping fee was $39 when ordering 2 Chicken Meatballs with Fried Rice for any of these locations. The total price for 2 meals was $9.90. So I recommend buying in bulk to make the shipping charges worthwhile.
Pete's Real Food accepts major credit cards for payments. When I got to the Payment stage, I saw that the service accepts Visa, MasterCard, American Express, and Discover cards. Additional payment options are available as indicated by the and more... information listed next to the accepted credit cards.
The service didn't provide further information about extra payment methods. But I contacted its customer support and learned that the service also accepts Shoppay and Apple Pay.
Pete's Real Food delivers its meals nationwide, even to Hawaii and Alaska, unlike many other meal delivery services I've reviewed. It uses FedEx for these deliveries.
Keep in mind that the service ships orders on Wednesdays only. Place your order by Friday midnight PST to ensure that it ships by the following Wednesday. Otherwise, you'll have to wait an extra week for your delivery.
Delivery times are usually 1 or 2 days. Choose Next Day Air Saver to receive your shipment as soon as possible. This option will upgrade your shipping, and you'll likely receive your box on Thursday. If you don't upgrade, it's more likely that your package will arrive on Friday.
You can cancel your order until Sunday at midnight. To do so, send a message to hello@petesrealfood.com or call 619.363.7136.
How Pete's Real Food Works
You don't have to open an account to use Pete's Real Food's website. But I recommend subscribing if you're a regular customer to enjoy various benefits. Either way, you can browse food and shop for meals or plans without limitations. Your chosen options will appear in the shopping bag in the upper-right corner of the website.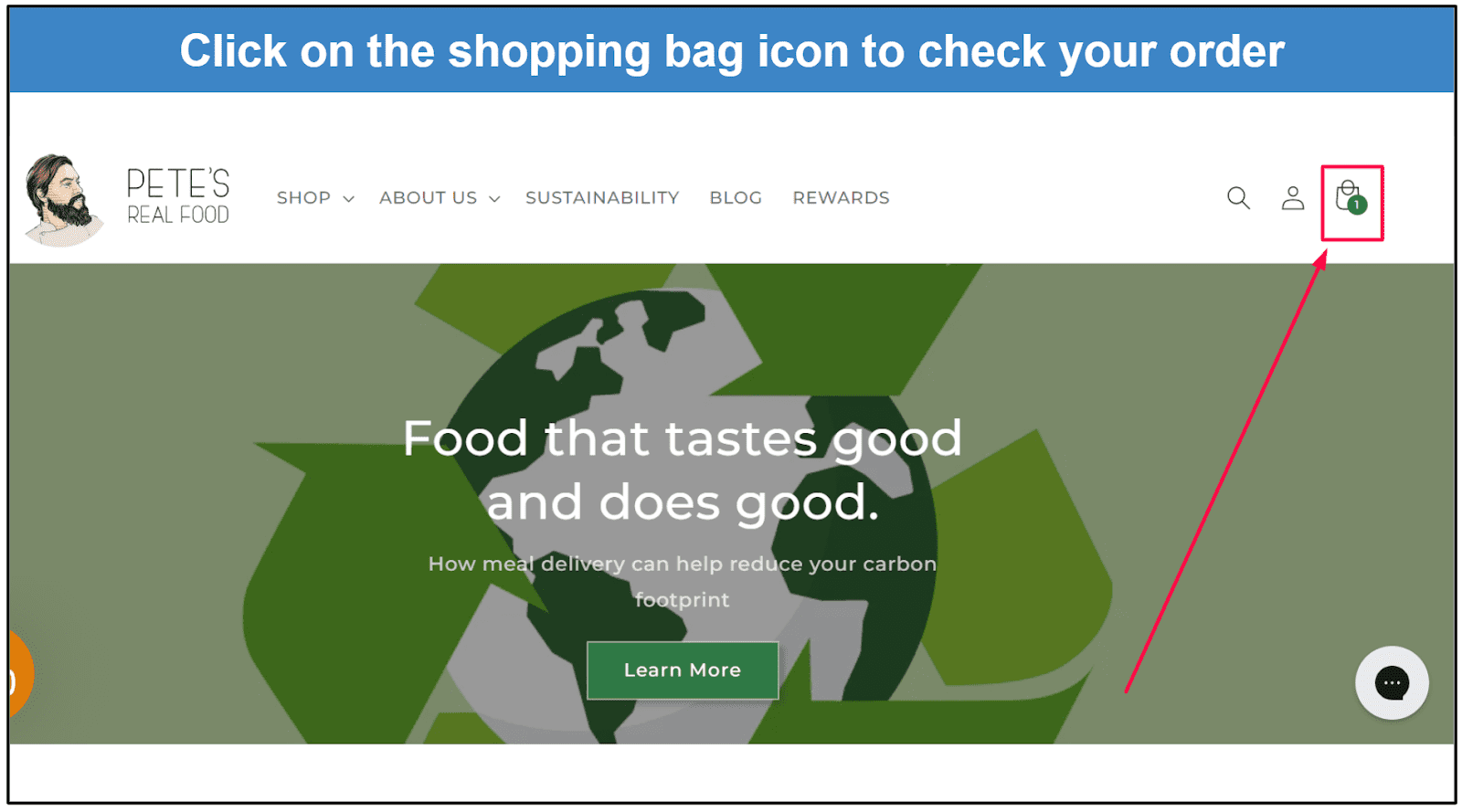 Click on the shopping bag icon to evaluate its contents whenever you wish. You can also manage quantities of the chosen recipes there. Food will remain in your shopping bag if you close the window or leave the site so you can continue your purchase later.
How to Sign Up
Creating an account is a quick and easy process taking only 3 steps:
Sign up – Select the icon between the search box and the shopping bag in the top-right corner of the website.
Create an account – Type your first and last names, email address, and password. Your password must have at least 5 characters.
Check out the menu and plans – You can order à la carte or set up a subscription.
You'll receive a confirmation email once you complete the registration. Log in to your account to save time at checkout for future purchases.
Managing Your Subscription
You can review past orders and adjust or cancel your plan on the account page. Simply click Manage Subscriptions and make your desired changes. You can also add new and remove old addresses in a few clicks.
A subscription isn't required, but lets you enjoy various extra perks. Earning and redeeming points is the most rewarding part of having a subscription.
Click on My Rewards to learn how to earn and redeem reward points. A side window will appear, and you can select the Ways to Earn and Ways to Redeem tabs. You can also see how many points you've earned from past purchases.
Several ways to generate points are:
Order placement – 1 point for $1 spent

Liking on Facebook – 25 points

Writing a review – 50 points

Photo uploading – 100 points

Video uploading – 150 points

Birthday – 400 points
Some ways to redeem points are:
100 points – $2 off subscription coupon or one-time order discount

200 points – $4 off subscription coupon

500 points – $10 off

1,000 points – $20 off
You can contact Pete's Real Food's customer service by clicking on the chat bubble in the bottom-right corner of the screen. This will open up a chat window where you can ask any question.
Agents might take a while to reply, especially if you ask outside working hours (9 am – 5:30 pm PST, Sunday to Friday). You could also type your question in the search field to see what comes up or visit the FAQ section on the website.
Initially, you'll get a few answers to some frequently asked questions. However, if you need more help, select the Leave a Message button. Then, you'll have to choose the nature of your inquiry by selecting 1 of 5 options, such as Track Order or Report Issue, before typing a question.
First, I wanted to know whether I have to be home to receive an order. I'd received an email stating that FedEx usually leaves the package at the door. Arthur, a customer care agent, offered to attach a note with any specific instructions I may have for the driver.
I was also curious about payment methods Pete's Real Food accepts besides credit cards. Arthur informed me that the service also accepts Shoppay and Apple Pay.
Overall, I was fairly satisfied with the customer service performance. The agent was reasonably quick to respond and he addressed my questions to the point.
How Pete's Real Food Compares to Other Meal Delivery Services
Pete's Real Food vs. Factor: You'll find that Factor offers more affordable prices for its meals than Pete's Real Food. Its delivery costs are also considerably lower. In addition, Factor offers a wide selection of keto- and vegetarian-friendly options. Unlike Pete's Real Food, Factor provides nutrition coaching for customers unsure of what diet suits them.
Pete's Real Food vs. Green Chef: Green Chef is a CCOF-Certified Organic meal kit company offering quick-prep meals. You can prepare some of its recipes in as few as 10 minutes if you enjoy experimenting in the kitchen but are short on time. Also, Green Chef features more dietary plans than Pete's Real Food, including Mediterranean and Protein Packed. Pete's Real Food focuses solely on prepared meals, while Green Chef only offers meal kits.
Pete's Real Food vs. Blue Apron: Blue Apron is much more affordable than Pete's Real Food. However, its meal kits support fewer specialized diets. While it offers some vegetarian and Wellness recipes each week, Blue Apron doesn't have any vegan, paleo, or keto meals.

The Bottom Line: Is Pete's Real Food Worth It?
Pete's Real Food is among the top-rated paleo meal delivery services. It's ideal for dieters who value high-quality meals and don't mind spending more for them. The service is also an excellent option for environmentally-conscious eaters since its meals are carefully portioned and the materials are eco-friendly. You can enjoy freshly-delivered meals, as shipping times are typically 1 or 2 days.
Pete's Real Food may not be the best option if you're on a budget as its meals are rather expensive compared to many other meal delivery services. It's also not suitable for people who prefer having control over the meals they get.
The service has limited vegetarian and vegan options, and there are no pescatarian recipes at all. If a seafood diet is more your thing, check out our list of the best pescatarian meal delivery services.
FAQ
How much does Pete's Real Food cost?
The cost of Pete's Real Food meals depends on the plan. The price per meal starts at $15.25. Note that you'll have to pay a hefty shipping fee of up to $200 depending on your order.
Can you freeze Pete's Real Food meals?
Yes, you can freeze Pete's Real Food meals. Their shelf life is typically 6 months when frozen. If you put them in the fridge, they should last up to 10 days.
Is Pete's Real Food worth the money?
Pete's Real Food meals are worth the cost, but it is one of the more expensive services out there. The meals feature quality ingredients, arrive fresh, and have a decent shelf life both in the fridge and the freezer.
How do you cancel your Pete's Real Food subscription?
Contact Pete's Real Food customer service to cancel your subscription. The service doesn't have a related section on its website.
Will Pete's Real Food help me lose weight?
Pete's Real Food offers some dishes that can aid in weight loss, but it's not the primary focus of the service. BistroMD is a better choice for customizable weight-loss plans.