Overview
In our fast-paced world, finding convenient and healthy meals can be a challenge. Seattle Sutton's Healthy Eating has gained recognition for its portion-controlled, nutritionally balanced meals delivered right to your doorstep.
As a health-conscious consumer, I've thoroughly researched Seattle Sutton. Through this comprehensive review, I aim to provide genuine insights into what's on offer, helping you make an informed decision.
While Seattle Sutton's Healthy Eating has its merits, Factor also offers fresh prepared meals. It also caters to a range of dietary options, unlike Seattle Sutton. Here's my detailed look at the menu, pricing options, and more to help you find the right choice for your health and lifestyle goals.
| | |
| --- | --- |
| Pros | Cons |
| Nutritionally balanced recipes | Limited menu with limited customization |
| Portioned and prepared meals | Lack of dietary options |
| Nutritionist guidance available | Not suitable for people with allergies |
What's on the Seattle Sutton Menu
Seattle Sutton offers a decent variety to cater to different preferences. While the specific choices may vary slightly based on the selected meal plan, the service generally provides a range of cuisines and flavors to keep things interesting.
All plans include breakfast, lunch, and dinner, so all your meals are covered. While this is convenient, you are unable to make changes to the menu or choose alternative dishes. The menu rotates every 5 weeks, so you do get some variety each week.
It offers a good variety of proteins, vegetables, and cuisines in its meal selections. It aims to provide balanced nutrition, so you can expect options that include lean proteins, whole grains, fruits, and vegetables. While it prioritizes health and portion control, the variety of choices may not be as extensive as some other meal kit delivery services.
The number of meals you receive per week depends on the meal plan you select. But each plan provides 3 meals and snacks per day. The full plan covers 7 full days, the weekday plan covers 4 full days, and the weekend plan covers 3 full days.
Seattle Sutton focuses on providing pre-packaged meals rather than offering extras. If you are looking for a weight-loss service that does offer extras, Diet-to-Go has specially designed healthy snacks you can add to your order. Seattle Sutton delivers complete, ready-to-eat meals rather than individual components for further cooking or customization.
You can expect to find a range of cuisines, which makes it good for adventurous eaters. I like the look of the Mediterranean Stuffed Pepper, the Jambalaya With Cheddar Grits, and the Homestyle Turkey Sandwich With Pumpkin Bisque, which is a lunch option.
Breakfasts offer a real variety of choices, which could encourage you to get up in the morning. There's no boring cereal on the menu; instead, you can find Lemon Raspberry Blintzes, Hashbrown Casserole, and Maui Wowi Pancake, which is packed with tropical fruits.
While Seattle Sutton offers a variety of meal options, it doesn't have extensive choices or extras like other meal delivery services. Like BistroMD, it does state that all meals follow the guidelines of the American Diabetes Association and the American Heart Association, so it is a good choice to support these conditions.
If you're seeking a wide range of customization, you may want to explore Factor. It offers healthy, freshly prepared meals for a range of diets, plus add-ons including protein, and smoothies.
| | |
| --- | --- |
| Diet | Is Seattle Sutton Good For This Diet? |
| Weight Loss | Yes, all meals are suitable |
| Low-Calorie | Yes, all meals are suitable |
| Low-Carb | No, but some options are low-carb |
| Vegetarian | Yes, there's a full vegetarian plan |
| Diabetic | Yes, all meals are suitable |
| Organic | No, there are no organic options |
| Gluten-Free | No, but some meals are gluten-free |
Seattle Sutton's customization options are incredibly limited compared to other services. While it prioritizes portion-controlled, nutritionally balanced meals, it doesn't provide as many options for individual customization.
In terms of allergies, Seattle Sutton does list common food allergies on its website. However, as meals can't be changed, this makes it unsuitable for those with severe allergies, and it's not certified gluten-free either.
Tailoring the menus to specific dietary preferences is very challenging. If you follow a vegan, paleo, keto, or other specialist diet, Seattle Sutton isn't going to work for you. I'd recommend an alternative such as Factor, as it caters to more niche diets.
Ultimately, Seattle Sutton is focused on portion-controlled, nutritionally balanced meals. If you need to eat healthily to lose weight, recover from ill health, or get back into healthy eating without any hassle, it is definitely geared to you.
Unboxing
In your delivery, you can expect to find a selection of pre-packaged meals. These are designed to be ready-to-eat or require minimal preparation. The contents of the box typically include individually sealed meal containers to maintain the freshness and quality of the ingredients.
Each meal container is typically labeled with clear information about the dish, including the name, ingredients, and any specific dietary notes. This labeling means you can easily identify and choose your desired meal without confusion.
Meals should be stored and refrigerated for the best results. The recommended "best before" dates are usually provided, allowing you to consume the meals within the designated time frame for optimal freshness and taste. Simply take your dish from the fridge and heat when you are ready to eat.
Seattle Sutton has recently moved towards "greener" packaging materials. Meal containers are made from recycled bottle caps, using 30% less energy and 30% less materials. The meal containers, cardboard sleeves, and delivery box can be recycled curbside, making it an eco-friendly option.
Cooking with Seattle Sutton
Seattle Sutton's Healthy Eating delivers its meals fresh, not frozen. This means that the meals do not require thawing before cooking and can be enjoyed without any preparation or defrosting. The meals are designed to be enjoyed promptly to maintain its optimal freshness and flavor.
Seattle Sutton uses containers that are suitable for microwave reheating. They are not suitable for oven or broiler use. This makes the reheating process convenient and allows for easy cleanup afterward.
Nona's Lasagna With Mixed Greens is available on the Traditional and Vegetarian plans.
It is filled with ricotta cheese and spinach and looks like a great comfort food dinner option. I like that it is served with a fresh salad, so it's light enough to eat on a warm evening too.
I really like the look of the Chili Lime Tilapia With Pineapple Salsa. It's available on the Traditional 2000 calorie meal plan. It's a fresh and fruity dish that brings a tropical atmosphere to the table. The zingy tilapia is served on a bed of whole grain pilaf for a satisfying meal experience.
The Swedish Meatballs showcase Seattle Sutton's internationally inspired menu. I also like that this dish is available on every plan. The only change is that the meatballs are either chicken or plant based. So you get to have a taste of Sweden no matter what plan you're on. They are simmered in gravy and served with zucchini ribbons.
| | | |
| --- | --- | --- |
| Starting From | Order Size and Price (Before Shipping) | Shipping Fee |
| $7.76 per portion (Traditional plan 1200 Calories) | 21 meals for 7 days: $163 | Varies |
| $9.08 per portion (Traditional plan 1200 Calories) | 12 meals for 4 days: $109 | Varies |
| $8.76 per portion (Traditional plan 1200 Calories) | 9 meals for 3 days: $79 | Varies |
| $8.23 per portion (Vegetarian plan 1500 Calories) | 21 meals for 7 days: $173 | Varies |
| $9.50 per portion (Vegetarian plan 1500 Calories) | 12 meals for 4 days: $114 | Varies |
| $9.33 per portion (Vegetarian plan 1500 Calories) | 9 meals for 3 days: $84 | Varies |
| $9.19 per portion (Traditional plan 2000 Calories) | 21 meals for 7 days: $193 | Varies |
| $10.33 per portion (Traditional plan 2000 Calories) | 12 meals for 4 days: $124 | Varies |
| $10.11 per portion (Traditional plan 2000 Calories) | 9 meals for 3 days: $91 | Varies |
Shipping costs vary depending on your location. If you live in the "Chicagoland" area of Illinois, you can pick up your order free from a local distributor. There are around 30 locations you can collect from.
Alternatively, you can pay $19.98 to have your meals shipped to your home. If you live further away, national deliveries are shipped by FedEx Ground for $31.98. Costs for air shipping can be much more. If you enter your zip code on the website, you can find out accurate shipping costs for you.
Shipping & Delivery
Seattle Sutton delivers orders on Mondays and Thursdays. If you select a full week meal plan, you will receive 2 separate deliveries or 2 pickups. This is to maintain the freshness of the food.
If you choose a weekday or weekend plan, you will only need 1 delivery. This can reduce costs significantly. Weekday orders arrive on a Monday, and weekend orders arrive on a Thursday.
Tracking emails are sent so you can be updated on the status of your order. This makes it easy to check your expected arrival time, so you can get your meals stored safely in the fridge as soon as possible.
It is not possible to make changes to your delivery days. If you do have any issues, you can contact customer services or log in to your account to cancel your order. This must be done by Friday at 10am for the following week's order.
How Seattle Sutton Works
Seattle Sutton isn't a subscription service. However, it functions similarly if you make a recurring order. You can place a 1-time order, a succession of orders, or have a recurring delivery if you prefer.
How to Sign Up
Enter your zip code for your delivery day options. You can pick up your meals if you are in the "Chicagoland" area near the Seattle Sutton production facilities.
Choose the plan most suited to your health goals. There are 3 different plans including a Vegetarian plan.
Decide how many days you want your plan to cover. There are 3 options to choose from.
Decide on whether you want a 1-time order or for a specific length of time. You can also choose a recurring order, but this can be canceled easily at any time.
Confirm your order and click Check Out to view shipping options.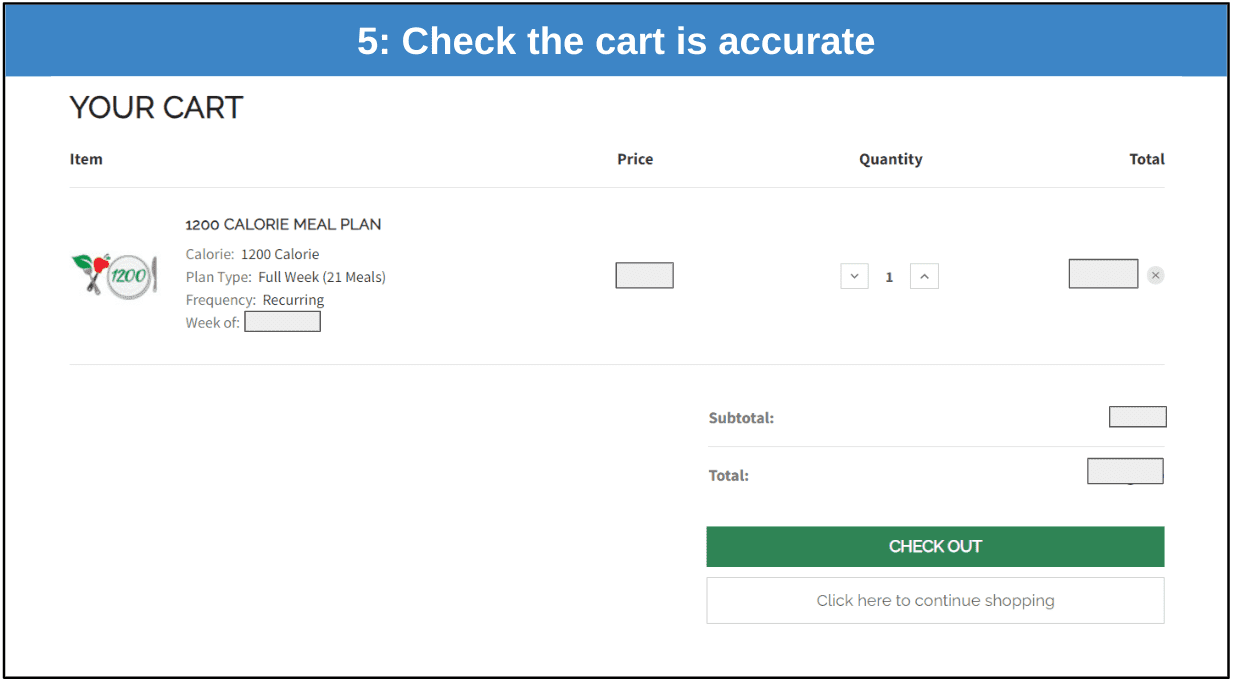 Enter your delivery address to view your shipping options and your order total. Note you will pay tax on each order. For the full plan, this worked out at $2.04, to give you an idea of costs. Then pay for your order.
You will be asked to create an account as part of the sign up process. This means you can easily view your orders and make any changes as necessary. You will also hear about special offers and learn about updates to the menu.
Managing Your Subscription
Seattle Sutton is not a subscription service and welcomes 1-time orders. Managing your orders can be done via your online account. Simply sign in to view your upcoming orders.
You can cancel your plan easily on your account page or by contacting customer services. As this is not a subscription service, you won't be automatically charged for future orders unless you select the Recurring order option at sign up.
Customer Service
You can contact Seattle Sutton using its online form, by phone, or chat. Phone lines are open Monday to Thursday between 8 am and 7 pm CT, Fridays from 8 am to 6 pm, and Saturday 8 am to 2 pm.
The chat option is available Monday to Friday between 9 am to 4 pm. Outside these hours you can use the online form to email your queries. My email was responded to a few hours later the same day.
I asked a follow up question about shipping costs but received a suspicious reply. I wanted to know about the shipping costs on the East Coast, West Coast, and local area, which made the agent believe I was "engaging in industrial espionage"...
I also like the comprehensive FAQ section on its website. This makes it easy to find the answers to anything related to the food, how it works, or your orders.
There's also a blog that focuses on healthy eating. Categories include diabetes, heart health, and motherhood. It contains plenty of actionable tips about healthy eating that you can easily adopt for a healthier you.
How Seattle Sutton Compares to Other Meal Delivery Services
Seattle Sutton vs Factor
Factor provides a more customizable and flexible meal experience. It offers a wider variety of meal options, catering to different dietary preferences such as vegan, paleo, and ketogenic diets. Unlike Seattle Sutton's, Factor allows you to exclude specific ingredients and provides more extensive customization options.
Seattle Sutton vs Blue Apron
Blue Apron provides a more interactive and engaging cooking experience. Its meal kits come with fresh, high-quality ingredients, allowing you to prepare meals from scratch. Unlike Seattle Sutton's limited customization options, Blue Apron offers a wide range of recipe choices each week, accommodating different dietary preferences and restrictions.
Seattle Sutton vs Diet-to-Go
Diet-to-Go provides a more comprehensive approach to healthy eating. Diet-to-Go offers a range of customizable meal plans tailored to specific dietary needs, including low-carb, vegetarian, vegan, and diabetic-friendly options.
The Bottom Line: Is Seattle Sutton Worth It?
Seattle Sutton's offers a convenient solution for sustaining a healthy eating plan. The pre-packaged meals save time and effort, allowing you to focus on your health goals without the hassle of cooking or meal planning. However, it may not be the best choice for picky eaters or those with specific dietary restrictions.
If you have specific dietary restrictions, such as being vegan or gluten-free, the options are limited. An alternative for those on niche diets is Factor which offers fresh, healthy, prepared meals. That said, if having a fixed menu appeals to you, then Seattle Sutton could work for you.
FAQ
What is Seattle Sutton?
Seattle Sutton provides portion-controlled, nutritionally balanced meals to help individuals maintain a healthy eating plan. The company was founded by Seattle Sutton, a registered nurse, with the goal of promoting healthier lifestyles through convenient and ready-to-eat meals.
Are Seattle Sutton's meals healthy?
Seattle Sutton's meals are carefully crafted to include a balance of macronutrients, such as proteins, carbohydrates, and fats, as well as a variety of fruits, vegetables, and whole grains. It prioritizes the use of fresh ingredients and aims to minimize the use of processed foods, artificial additives, and preservatives.
How much do Seattle Sutton's meals cost?
The cost of Seattle Sutton's meals vary depending on which plan you choose. Prices per serving are $7.76 if you choose the full Traditional plan. Weekend plans are more expensive per serving and can cost up to $10.33 per serving.