Diet-to-Go Overview
I'm not new to the meal delivery scene. Over the years, I've tried various household names, including Home Chef, HelloFresh, and Freshly.
However, Diet-to-Go was the first prepared meal delivery service that I'd tried. It's different from these other guys because you really don't have to do anything. You could even eat the meals straight from the fridge if you wanted because they're already cooked.
You can't get more convenient than that. But what you save in time, you sometimes sacrifice in tastiness. In this review, I'll share my personal experience with a five-day breakfast, lunch, and dinner plan.
How Diet-to-Go Works
When you first go onto the Diet-to-Go website, you're asked to choose a plan. The Keto-Carb30 and Vegetarian options are pretty self-explanatory. Balance is its signature calorie-controlled plan, and Balance-D is the diabetes-friendly option.
Once you answer a few other questions (seafood – yes or no? Meals for five or seven days? Breakfast – yes or no?), you're taken to the menu.
It looks a little… dated.
One thing I liked is that the meals come in single-serving portions. This is unlike the meal kit services I'd tried before, where you have to order for a minimum of two people (although in the case of HelloFresh, I was more than happy to have the leftovers – if there were any!).
As I mentioned earlier, you can eat the meals straight from the fridge or heat them up. The packaging only includes instructions for reheating in a microwave, but if you go to the website, you'll find tips on using a toaster oven, conventional oven, and more.
The menu is on a five-week rotation, so there's enough variety to ensure you're not always eating the same things each week. There are quite a few meal substitutions, which I believe are also the same week by week.
There is no Diet-to-Go app. (Which, to be honest, makes sense given that the site looks like it was designed a decade ago.)
Diet-to-Go Menu
The five-week cycle means you'll be choosing from one of five set menus each week.
While this might sound a bit limited, you can make quite a few substitutions, to the point where I feel like any of the meals from the entire five-week cycle can probably be subbed in at any point.
That said, there's no real ability to customize the meals. For example, you can't swap salmon into your Basil Parmesan Chicken dish, as is the case with most prepared meal services.
As I browsed through the menu, I didn't find the images particularly appealing. In fact, I had a sneaking suspicion that some of them are photoshopped, which made me a little suspicious about the meals themselves.
It's a stark difference from companies like HelloFresh or Home Chef, which have professional images and a clear brand image. Though let's remember that Diet-to-Go is also a very different product. The focus here isn't gourmet – it's about convenience and weight loss.
In terms of the meals, you'll find a range of no-frills American dishes. You'll see things like chicken fajitas, turkey burgers, and grilled cheese, as well as scrambled eggs and muffins for breakfast – there's even a Hamburger Alfredo Pizza (I know you are dying to know what the hell that tasted like, but I couldn't bring myself to find out).
When browsing through the menu, you have the option to rate the meal, plus see the nutritional info and ingredients.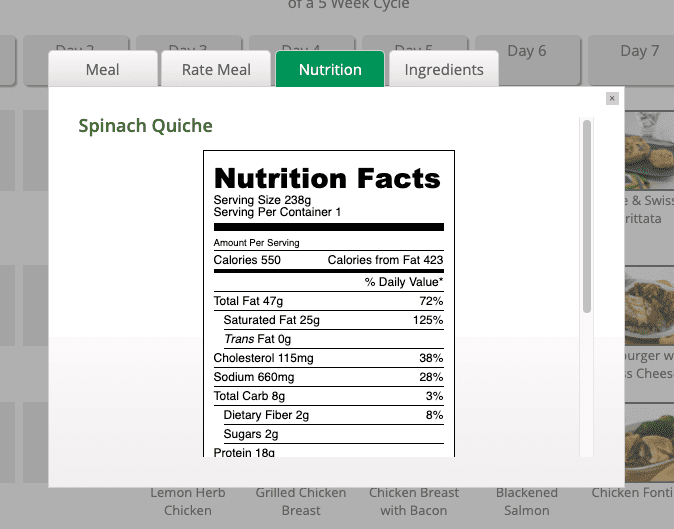 I opted for a five-day plan that included breakfast, lunch, and dinner each day. This was what I ate over the five days (it includes four substitutions):
Breakfast:
Lunch:
Tuna Salad*

Lemon Herb Chicken

Pascale Creole Shrimp

Chimichurri Salmon

Parmesan Chicken Wings
Dinner:
Lemon Pepper Chicken over Zoodles

Cumin Salmon*

Blackened Salmon*

Indian Turkey Tenderloin*

Chicken Parmesan over Ratatouille
*indicates substitution
Diet-to-Go Delivery
I thought I'd placed an order, but I wasn't entirely sure since I hadn't received a confirmation email or anything. A few days later, I got a mysterious text to say that FedEx had picked up a package for delivery – could it have been my order? It was!
You're not able to choose your delivery day, which is probably a result of Diet-to-Go's strict five-week menu cycle. The company has definitely streamlined that part of its business model.
My meals were delivered just after 11 am. This was super convenient since I was at home that day and able to stick them in the fridge and freezer straight away. The package was also delivered to my doorstep, which was nice, as I live in a small apartment building.
Diet-to-Go Unboxing
There was a ton of ice included, so everything was still rock solid. One of the things that bothered me a little was the giant styrofoam container everything was packed in. This is difficult to recycle, so not very environmentally friendly.
I found the 15 boxes to be a little overwhelming. All of the packaging looks exactly the same, so it was difficult for me to separate them by meal and organize everything. The names on some of the boxes also didn't match the names on my receipt, so it took me a while to make sure my order was even correct.
Because all the meals are prepared and frozen you can just store them in the freezer and pull them out to defrost whenever works best for your schedule.
Favorite Diet-to-Go Meals
While I didn't love any of the meals I tried, there were times when I otherwise would have skipped lunch or spent too much money ordering takeout – so I did appreciate having them there as an option. That being said, I'm also not looking for a weight loss solution, like most of Diet-to-Go's customers are, and I can see how having all three meals there each day can take the pressure off what's often a stressful and time-consuming endeavor.
I don't usually eat breakfast either, and when I do it's just a piece of toast or yogurt. I'm not used to eating things like omelets or sausage patties. It was nice to have the option of a bigger meal with such little effort. However, I generally felt they tasted pretty processed and not particularly flavorful – sort of like airplane food.
It's also worth noting that I don't have a microwave, so everything had to be thawed and heated in the oven.
I found almost all the meals I tried to be bland – even dishes like the Indian Turkey Tenderloin with Red Pepper Yogurt Sauce, which you'd think would be well-seasoned and really flavorful.
Most of the vegetables tasted watery – and, honestly, if it were a blind taste test I probably wouldn't have been able to guess what they were. I was also disappointed that the proteins (I typically chose either chicken or salmon) tended to be on the dry side.
I'm guessing this all has something to do with the meals being precooked. It seems like it would be a challenging way to lock in flavor.
Diet-to-Go Customer Service
This was another weak area for Diet-to-Go.
I submitted two questions to the customer support team via the contact submission form. While I received an automatic "thanks for contacting us" email, I never heard back from anyone either time.
This was pretty frustrating, especially because it says on the company contact page that it is "offering extended email hours." Apparently not for me!
The first time I asked whether I could heat up the meals in the oven. I was able to quickly find this information on the website, so it wasn't that big of a deal.
The second time I sent a message, it was because it wasn't clear whether my "hold request" on the next box had been successfully submitted. (It must have been successful as the next shipment wasn't sent – although it would have been nice to have that confirmed ahead of time.)
The third and final time that I tried to get in touch with Diet-to-Go was to cancel my plan. Since I hadn't had any luck with the online support, I gave the 1-800 number a try.
I hit option one for Support, confirmed my address with a woman named Joan, and within two minutes my plan was canceled.
On one hand, this was super convenient, but I also found it weird that it was so difficult to get help when I actually wanted to keep the plan. It also seems like a missed opportunity for the company not to ask why I wanted to cancel, and to get some feedback on its product. You would think more effort would be put into this area.
Diet-to-Go Prices
When you change your plan, the system automatically calculates the price per week and price per meal based on your selections, which is pretty helpful.
Based on things like how many meals you want delivered per week and whether you want to consume 1,200 or 1,600 calories per day (this option is not available on every plan), you can expect to spend between $10 and $14 per meal. Adding breakfast increases the price by around $25, or around $5 per breakfast dish.
The prices do vary between plans (Vegetarian, Balance, KetoCarb30, etc), but not by much.
I noticed that my receipt was a little over $3 more than the "base price per week" listed on my account. I don't remember seeing any sort of indication that I was exceeding this price when I ordered.
Every time I've gone to the website, I notice there is usually some sort of promotion going on – like a certain discount that will be automatically applied, or free shipping.
Shipping can be quite pricey otherwise – around $20 a week – but there is also the option for fresh local pick up in more than 200 locations.
| | |
| --- | --- |
| Pricing | Approx $10 to $14 per meal |
| Meal plans available | Balance, Balance-Diabetes, Keto-Carb30, Vegetarian |
| Shipping cost | $19.98 per week (fresh local pickup available in some locations) |
| Special deals | |
Alternatives to Diet-to-Go
There are other weight loss meal delivery services like Nutrisystem and BistroMD that bring prepared, low-calorie meals to your door. Vegan meal delivery service Veestro has a weight loss plan, too, that will bring 15 vegan meals – five breakfasts, lunches, and dinners – for $175.50, or $226.80 for a seven-day plan. This is how they all compare:



Starting Price

$4.60 per serving

$7.16 per serving

$8.54 per serving

$8.24 per serving

Meal Plans and Diets Catered To

Balance, Balance-Diabetes, Keto-Carb30, Vegetarian

High-Protein,

Gluten-Free,

Nut-Free,

Soy-Free,

Kosher

Basic, Uniquely Yours, Max Partner, Vegetarian, Basic - Diabetes, Uniquely Yours - Diabetes, Ultimate - Diabetes, Men's

Standard, Gluten-Free,

Heart Healthy,

Diabetic,

Menopause

Pescatarian

✔

✘

✔

✔

Vegetarian

✔

✘

✔

✔

Vegan

✘

✔

✘

✔

Keto

✔

✘

✘

✘

Low-Carb

✔

✘

✔

✔

Low-Calorie

✔

✔

✔

✔

Current Deals
The Bottom Line
I'll admit that I may not be the target customer for Diet-to-Go. If I feel lazy or pushed for time and just want something quick and easy, I'll get takeout or something ready to eat from the grocery store.
That said, if you're looking for a real solution to losing weight, this is the simplest solution imaginable.
Even if you're looking to eat better or manage your diabetes, but don't have the time, inclination, or cooking equipment to create meals that cater to a particular diet, this could be a good option for you. It certainly is convenient.
Are the meal kits that you get from services like Home Chef or HelloFresh tastier? Yes. But they also take time and effort that sometimes you just don't have. There could be room for both types of meal in your kitchen.