Splendid Spoon Review 2021: Vegan Meals Worth Trying?
Splendid Spoon in a Nutshell
All-vegan, non-GMO, and gluten-free healthy meals, designed to help you rethink your food choices. I wasn't expecting just how amazing the meals made me feel.
What I Liked
No cooking required

All-vegan, gluten-free, and GMO-free ingredients

Option for single meals

Free shipping on all plans
What I Didn't Like
A little bit expensive for smoothies and soups

No dinner options available
Splendid Spoon Overview
Splendid Spoon's mission is summed up nicely by their tagline: "we power your 9-5." This vegan meal delivery service provides breakfasts and lunches that come ready-to-eat and in microwavable containers. If you've got a busy schedule, this is an ideal meal plan that keeps you on track with eating clean and vegan, even while at work. But no meal delivery service is perfect. Splendid Spoon is known for its expensive prices. I signed up for Splendid Spoon to find out if it's really as good as they say to perhaps make it worth the heavy price tag. Along the way, I found out some other interesting facts you might want to know.
How Splendid Spoon Works
Let's walk through the signup process, starting with how to choose a Splendid Spoon plan. There are three basic plans to choose from: lunch, breakfast + lunch + reset, and breakfast + lunch.
I chose the breakfast + lunch + reset plan so I could try out as much of the menu as possible (what I wouldn't do in the name of investigative blogging!).
You'll then be asked to input some personal details to see when Splendid Spoon ships to you.
I was impressed to see the Allergies or Avoidances box on the right-hand side of the delivery preferences screen. Unfortunately, when I opened it, I didn't find the list of allergies to be as extensive as perhaps it could have been.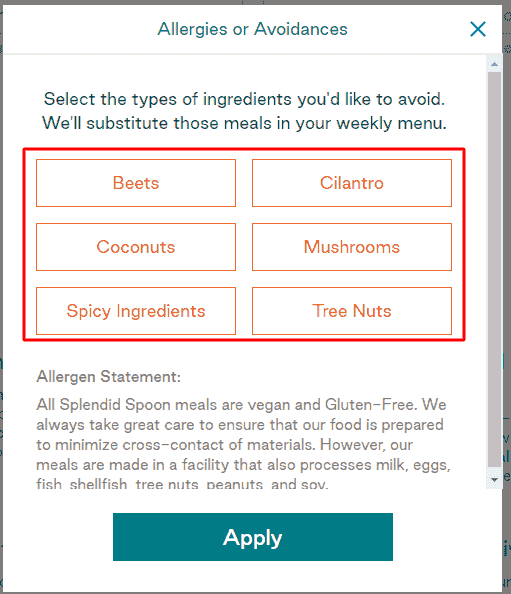 Still, kudos to Splendid Spoon for even including these allergies. Many other meal delivery services don't.
The final step before choosing your meals is adding your payment information. Currently, Splendid Spoon only accepts credit cards, which always rubs me the wrong way. I would have liked to see more payment options, like PayPal, available to make ordering as convenient as possible. Some meal delivery services like Purple Carrot get that. Splendid Spoon, evidently, does not. Moving on!
Splendid Spoon Prices
As an all-vegan, gluten-free, and GMO-free meal delivery service, I was expecting Splendid Spoon to be ridiculously expensive. After all, any type of premium, specialty meal program (think Sun Basket ) is usually at the pricier end of the spectrum.
It turns out, though, that two out of the three plans are actually cheaper compared to other specialty meal delivery services. The Breakfast + Lunch + Reset plan works out to be just $9.00 per portion.
On the other hand, the Lunch plan is actually pretty pricey at $13 per meal. And that's, of course, without any of the more expensive proteins like meat or fish. So what goes into its pricing? It's still a little unclear. This plan is actually priced similarly to Sun Basket . I also balked at Sun Basket charging $13 per portion for something you had to cook yourself (at least with Splendid Spoon's lunch dishes, you just need to heat them up for four minutes max).
The good news is that shipping is free on all plans. This is a touch I always like to see, and something to factor in when you're considering paying for those higher-priced portions.
Splendid Spoon Menu
Splendid Spoon prides itself on being a clean-eating meal delivery service. It promises only "clean, plant-based meals" and "real food for breakfast and lunch." I can't argue with that!
Splendid Spoon really focuses on health and wellness, not only providing you with healthy options but also trying to make a habit of eating healthily for breakfast and lunch.
Interestingly, it recommends you cook your own dinner, to get yourself in the habit of making healthier food choices. While I can't speak for everyone else, I know that I did think about this more, especially as I saw how my body responded to the new meals I was eating.
Splendid Spoon offers more than 40 meal options a week, broken down into breakfast smoothies, bowls, and light soups.
That sounds like a lot of choice, and it is, but bear in mind the options don't change weekly.
Still, I was excited to try out the range and discover my favorites, because everything on offer looked delicious, from the smoothies:
...to the bowls of soup and grains:
To 'The Reset' light soups on offer:
The Breakfast + Lunch + Reset plan had so much choice, I let Splendid Spoon choose the options for me.
I ended up getting
...among others, added to my order.
Here's a quick recap of the pricing and dietary needs and restrictions that Splendid Spoon best accommodates:
| | |
| --- | --- |
| Pricing | From $9.00 per portion |
| Dietary needs | Vegan, non-GMO, gluten-free, various fruit and vegetable allergies |
| Shipping costs | Free |
Splendid Spoon Delivery
Splendid Spoon only delivers on Wednesdays and Fridays, regardless of your area. That's just how it rolls.
You won't receive an exact delivery time, but your box will be insulated by dry ice to keep it fresh (so open with care!). I got my delivery on a Friday at around 11 am, although it was probably outside my door even earlier and I just didn't notice. Everything was cold to the touch and still appeared fresh.
Splendid Spoon Unboxing
I was happy to discover everything in Splendid Spoon's delivery box is recyclable.
You'll receive a big cardboard box, holding all of your smoothies and soups, which are also wrapped in recyclable paper to keep things neat. The combination of the dry ice and the cardboard created a good enough insulation to keep the food and smoothies cool.
The plastic containers for the soups and grain bowls, and the plastic bottles for the smoothies, were a breeze to recycle. Even the dry ice was easy to dispose of: I just let it evaporate outside, and that was that.
I think it's always worth celebrating and acknowledging when I find a meal delivery service with 100% recyclable packaging.
Favorite Splendid Spoon Meals
Let me start by saying I'm not vegan, and initially, I wasn't too thrilled by the idea of giving Splendid Spoon a try. After a week of eating its breakfast, lunch, and resets, I can honestly say that I was completely sold.
The Resets really do live up to their name. Their purpose is to "reset" your digestive system:
At the time, I couldn't quite bring myself to eat soup for a whole day (waking up and eating soup? I don't think so). Now I wish I'd tried it. After a few days of my body responding to the healthier, cleaner food, I started feeling really good: I was sleeping better, I felt more focused, and had more energy.
I'm not really into soups or smoothies usually, but these smoothies were to die for. The Mint Chip Smoothie with cacao nibs and almond butter was so moreish, I wished I'd ordered another one for the next day. It was a bit like eating mint choc chip ice cream for breakfast, which isn't something I'd ever say no to.
I was a little scared of low energy levels after eating a lunch of only soup, but let me tell you, I'm a complete soup convert now.
The Cumin Sweet Potato soup was so filling – but not too heavy – that I was left feeling full for a good few hours. That almost never happens to me unless I eat a really heavy lunch, and afterward, I just feel sluggish.
But my biggest surprise was the Pumpkin Pear Bisque. If I really wasn't a soup person before, I most definitely wasn't a bisque person. But again, this was so flavorful and so filling, yet light – it was the perfect snack.
I also couldn't believe something so tasty would be working to detox my system. I actually looked forward to eating my breakfast, lunch, and resets every day. I'm seriously considering doing a full day reset now, just to see how amazing I feel after!
Splendid Spoon Customer Service
Splendid Spoon has an in-depth FAQ section, complete with subtopics and a search bar. For the most part, I found it very helpful, but it didn't answer one of my questions.
I found the Contact Us button at the bottom of the screen with only one option for customer support: emailing via an online contact form.
While the customer support team is available Monday-Sunday, 9 am-9 pm, I think Splendid Spoon can do better. Sure, I received a reply within three hours of sending my query, but still. If a support team is available during those times, there should be an easy way to directly get in touch with a customer service representative.
Overall, I was pretty disappointed by the lack of support channels.
If you need to pause or cancel your orders for whatever reason, it's extremely simple to do. You can read about it in my short blog post.
Alternatives to Splendid Spoon
Not sold yet? Here are some alternatives to Splendid Spoon that might be more up your alley. Sun Basket's vegan meal plans provide you with the option of cooking your own meals, or getting oven-ready meals delivered right to your door. They've also got meal plans for other dietary preferences for those in your household who need something different.
Veestro's meal plans provide you with a boatload of recipes and an unusual amount of meal options across its different plans. Veestro is known for its eclectic recipes and convenient heat-and-eat model.
Bottom Line
I was pleasantly surprised by Splendid Spoon. Even though the idea behind it sounded great, I confess I wasn't really looking forward to it that much. It's pretty tough to get excited over healthy, non-solid food.
But trying it completely changed my mind. I actually felt better and found I was looking forward to my next meal. I was not expecting this.
You might think $9-$13 is expensive for a smoothie or soup, and you're right. The main idea behind the pricing is less about value for money and more about the value it brings to your health.
I liked how everything was clean, vegan, and designed to make you feel good. Even if it sounds crazy, I'd be happy to pay the price for Splendid Spoon because it means a healthier lifestyle overall.
FAQ
How much does Splendid Spoon cost?
Splendid Spoon has a wide range of plans at a variety of price points. At the cheaper end of the scale, there's a five-meal-a-week Breakfast or Lunch plan, which costs $65 a week and which gets you five breakfast smoothies or five grain/soup bowls.
If you want Splendid Spoon to take care of most of your meals, there's the $185 a week Breakfast + Lunch + Dinner + Reset plan which includes five smoothies, five grain/soup bowls, five noodle bowls and five light soups - with other options in between.
Is Splendid Spoon healthy?
Splendid Spoon offers all-vegan, non-GMO and gluten-free healthy meals. Splendid Spoon says its focus is on making healthy eating easier and helping people to create better eating habits.