Overview
Tovala is unlike any meal delivery service I've reviewed before. It doesn't just offer meals, but a microwave-sized smart oven, too. The oven is designed to take the guesswork out of cooking – all you need to do is scan a QR code to calibrate it to the correct settings.
But this kind of convenience comes at a cost: the oven is priced at $299 (without discounts). So does the foolproof meal prep justify the extra cost and counter space?
Whether Tovala is worth the price depends on your particular needs. It's great if you want fresh, prepared meals that can be on the table in less than 20 minutes. That said, if you want quick, balanced meals without the need to purchase a smart oven, Home Chef is an easier and cheaper alternative.
Read on for my expert insight on Tovala's pros and cons, and to find out if this is the service for you.
Pros
The smart oven can be used to cook other meals

Dishes are ready in 30 minutes or less

The smart oven can cook multiple components at once
Cons
Expensive

You must buy the smart oven to order Tovala meals

Only two vegetarian meals guaranteed each week
What's on the Tovala Menu
You'll find 24+ meals to choose from each week at Tovala, including a good mix of chicken, pork, beef, and fish dishes. Most are single-serving recipes, though a few will serve two.
Your subscription requires you to order a minimum of four meals per week, with a maximum of 16. There's no discount for larger orders, although you do get free shipping on orders of six meals or more.
The kind of cuisines on offer are mostly classic American or Tex-Mex style dishes (think Buffalo Chicken Flatbreads, or Chicken and Sweet Potato Burrito Bowls), as well as some Italian and Asian-inspired recipes.
Just over half the menu is labeled as Calorie Smart, at least two of the dishes will be Vegetarian, and a few are tagged as Carb-Conscious. Some of them will overlap. And while there's some variation, if you're veggie or gluten-free, you won't have many options.
It's also important to note that the kitchens aren't gluten-free by any means, so be wary of this if you have a serious allergy. All info regarding ingredients, allergens, and nutritional value is available when you click through to each dish on the menu.
Tovala meals are individually priced, so you may pay as little as $9.99 per serving for something like Penne Alla Vodka, for example, while premium dishes like the Filet Mignon are upwards of $22.98 per serving.
Some of the meals are customizable, and these are clearly labeled with a Customize It tag. This usually means you can change the side dish, like swapping out mashed potatoes for roasted green beans. Though sometimes it means you can add an optional dessert.
If it's the customization element that appeals to you, Home Chef has more options. It allows you to swap, upgrade, and even double-up on the protein in almost every meal, so you can make changes like swapping the pork in your BBQ Pork and Pineapple Flatbreads for shrimp or steak strips instead.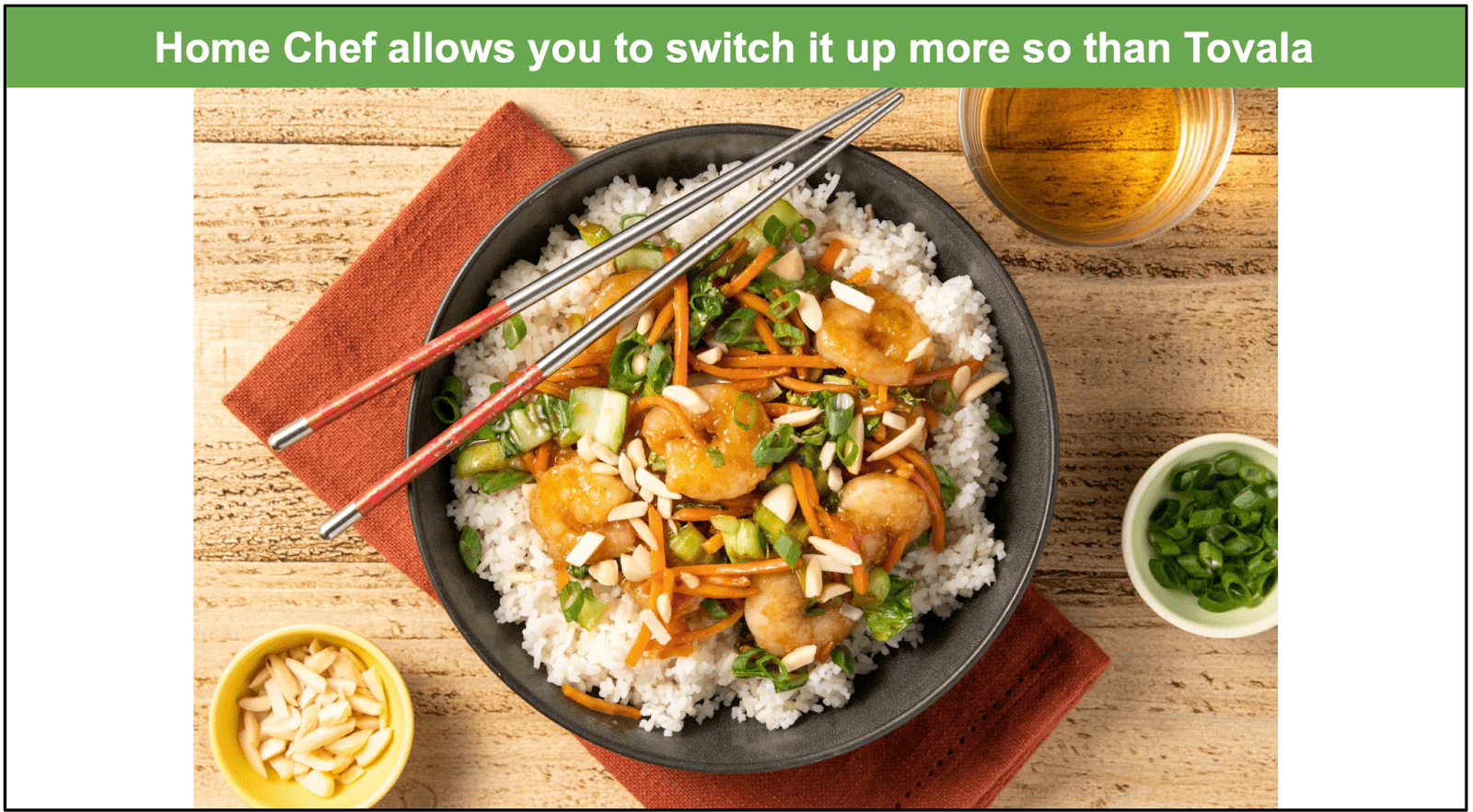 Home Chef features a wider range of meal types – its Culinary Collection meal kits are great for long, lazy weekends when you might want to get creative in the kitchen, while the no-prep, oven-ready dinners are great for midweek. Plus, you'll find plenty of extras, including desserts and proteins.
You'll get your Tovala oven before your meals – within three to five days of signing up. As well as the oven itself, you'll also get these items:
Your first shipment of meals will arrive a week or so after the oven, giving you time to set it up and familiarize yourself with it. Don't forget, you can also use it to cook more than just Tovala's own meal kits.
The meals arrive fresh, individually packed in trays that are kept cool in transit with ice packs. Nothing should arrive frozen – and the food isn't intended to be frozen at home. Instead, you should store everything in the fridge, where it'll keep for around three to seven days.
The packaging is pretty clear and contains all the information you'll need to store and cook everything – from the best-before date to the QR code that you need to scan to get cooking.
I was delighted to discover that everything was recyclable, too: the box, of course, and even the packaging that the meals come in.
Cooking with Tovala
Tovala meals couldn't be easier to prepare. The ingredients arrive prepped but raw – and the oven is designed to cook them to perfection. This means you only have to do the bare minimum, such as add a splash of oil or toss the ingredients in a prepared marinade.
Then, simply assemble the components in the included aluminum trays. Most dishes call for two trays: one for the protein and another for the side dish. You can also cook multiple components at once, making this smart oven much more than just an overpriced microwave.
You only have to scan the QR code, and the oven does the rest. It uses Wi-Fi to access the chef-created cooking cycle for your dish, and includes several different cooking methods, like baking, broiling, toasting, steaming, and more.
Unfortunately, there's no easy way to prepare Tovala's meals without the smart oven. In fact, if you want to try Tovala's meals, you have to commit to purchasing the oven too.
The meals are nutritionally balanced, with plenty of protein and veggies, and there's enough variety to warrant the minimum order of four meals per week, though I found some dishes a bit basic.
You can use the Calorie Smart or Carb-Conscious filters to narrow down your options if you're looking to meet certain health goals but ultimately, it's up to you to look at the nutritional information on each dish (and to resist adding extra dessert options).
This is pretty comparable to many other (non-diet specific) meal delivery services, like Home Chef or Blue Apron. Plus, the oven itself offers a variety of ways to cook meals that are healthier than frying or sauteing.
The meals usually take around 20 minutes to cook, depending on the dish. For the process to work, you'll need to install the Tovala app on your phone and connect the oven to your Wi-Fi network. Then, you'll get a notification when the meal is ready.
You can also use the app to create cook cycles or make meals from the app's library. You can scan to cook more than 850 brand-name grocery products, too, including Eggo® Waffles and Pop-Tarts®.
If you love tech, you'll probably enjoy the app. But using the oven relies on you having an stable internet connection. For a lot of people, it's much more convenient to order from a standard meal delivery service like Home Chef and use your usual oven.
Shipping & Delivery
Tovala ships to all 48 contiguous states. Shipping is free as long as you order a minimum of six meals per week. Otherwise, it starts at $5.99. Delivery of the oven has a one-time shipping fee of $9.99.
You can use the app to make changes to your order, but any changes have to be finalized by 6 pm CT on Wednesday, the week before your shipment.
You also need to choose your meals by this time, otherwise Tovala will pick them for you (unless you've actively paused your subscription).
The service delivers Monday through Friday, and you should be able to select your delivery day. Note that your options may be limited depending on your zip code and your proximity to Tovala's Chicago headquarters.
Subscription
It's easy to sign up to Tovala, but managing your subscription can be more complicated depending on your commitment status!
How to Sign Up
Click on Buy Now and enter your zip code and email address to sign up.
Order the oven and select your meals.
Confirm your order and checkout.
Thankfully Tovala makes it easy to change the size of your order, skip a week, or cancel your subscription directly on the app.
But here's the catch: if you choose to take advantage of the service's offer of a discounted oven when you sign up, you'll need to commit to six weeks' worth of meals. You won't be able to cancel your order if you haven't fulfilled that.
To be able to cancel, you'll need to buy out of this commitment by paying full price for the oven.
Most other meal delivery services I've reviewed are much more flexible. You can skip, pause, or cancel at any time without having to commit to a certain number of meals or weeks.
Customer Service
When dealing with Tovala, I found it a little difficult to get some questions answered. The chief issue is that it's not easy to get in touch with a real person. There's a phone number and a chat feature, but both have limited hours of support.
Tovala also offers email support as well as a customer service request form that includes the option of a video or audio recording – not something I'd seen before.
This method allows you to clearly outline your question and even show the Tovala team the issue (or issues) you're having. This makes it easier for Tovala's customer support experts to understand your query and aid you in the best way possible.
I also tested out the customer support email address and got a response within 48 hours. The chatbot and phone options may be quicker, but the lack of specific information on when real service agents are available makes me hesitant to recommend that route.
If you need to contact Tovala with a specific issue – particularly if it's related to your oven – I recommend emailing or submitting a video for the most reliable assistance. The FAQ page is also a decent resource for some self-service tech support, meal info, and more.
Canceling is also easy, and you can cancel your Tovala plan in just a few clicks on the website or in the app. Returning the Tovala smart oven, however, is more complicated.
If you change your mind, you can only return the oven during the initial 100-day trial period. You'll also have to contact customer service directly via email to start the return process.
You can read more about canceling your Tovala subscription in this short blog post. It includes step-by-step instructions on how to cancel, as well as some useful alternatives.
| | | |
| --- | --- | --- |
| Starting from | Minimum Order | Shipping Fee |
| $9.99 per portion | 4 meals per week | $5.99+ (or free on orders of 6 meals or more) |
Naturally, the biggest expense when signing up to Tovala is the required purchase of the oven at $299 (plus $9.99 shipping).
However, the brand frequently offers discounts that let you get the oven at a discounted rate (as low as $99 sometimes) when you commit to buying a certain number of meals over the course of a set number of weeks.
The meals themselves are individually priced, starting at $9.99 per serving, though most dishes are around $12.99. Meals with premium ingredients, such as steak or salmon, can be upwards of $20. Shipping is free as long as you order at least six servings, otherwise it's $5.99+.
This all puts Tovala at the pricier end of the meal delivery service scale and there are other options out there that offer similar-style, easy-prep meals for a lower cost. My recommendation is Home Chef, where prices start at $6.99 per serving – with no required equipment purchase.
The Bottom Line: Is Tovala Worth It?
Tovala is a popular meal delivery service and a great option if you're specifically in the market for a does-it-all smart oven you can link to your phone.
Sure, it can't replace your microwave (for example, you can't boil water or make popcorn in the Tovala oven) but it does have lots of features that can make your life easier, particularly if you like the sound of Tovala's prepared meals.
Note that most of the meals are single-serving, so this service is probably better for busy individuals who want meals with minimum effort, rather than if you're cooking for a large family. Cost is also a huge factor here – and Tovala will not be suitable for many budgets.
For good value and family-friendly dishes that are quick to prepare (including oven-ready options), my top alternative is Home Chef.
FAQ
Is Tovala worth the money?
Tovala's meals are good quality but they're also expensive. On top of the initial cost of the oven ($299 without discounts), I found Tovala's meals to be at the pricier end of the scale, starting at $9.99 per serving. You'll also find that many of the more substantial meals are more expensive than that – typically around $12.99 per serving.
If you're looking for a more affordable option, I'd recommend Home Chef. It offers quick, easy, balanced meals – including oven-ready dishes and super-speedy meal kits – without the need to purchase additional equipment.
Can you use Tovala without meal plan?
Tovala doesn't sell meals à la carte. However, you can pause or cancel your subscription at any time, as long as you haven't purchased the oven at a discounted rate. If you took advantage of the oven offer, you'll have to commit to a set number of meals and weeks before you can cancel.
The oven itself can be used to cook anything, even if you cancel your subscription.
Can you cook regular food in a Tovala oven?
Yes, the oven can be used to cook non-Tovala food. It's great for baking, broiling, steaming, toasting, and more, but only Tovala's meal kits offer the convenience of pre-programmed cooking cycles. Tovala's oven also comes with recipe cards to guide you when it comes to cooking other foods.