Overview
Tovala is an interesting meal delivery service, firstly because its USP isn't just the food – but rather the smart oven you need to purchase to cook its meals in.
This means two things: one, that it's more expensive from the get-go, as you'll need to make the initial investment of the oven. The second is that the meals will be cooked exactly as they're intended when using the Tovala oven, so they're pretty much foolproof.
But does this justify the extra money and counter space taken up? I've taken time to put this meal delivery service under the spotlight and, well, the answer is that it really depends on what you're looking for.
If what you want are quick, balanced, home-cooked meals, a service like Home Chef could be an easier (and cheaper) alternative. You also won't need anything more than your standard kitchen appliances.
Read on to see exactly what Tovala offers, and find out if your needs could easily be fulfilled by something more straightforward instead.
Pros
You can use the smart oven for cooking other foods

The meals are ready in 30 minutes or less

100-day money-back guarantee
Cons
You can't order meals without purchasing the smart oven

Six-week commitment to order meals if you want a discounted oven

It's expensive – and there's a $9.99 weekly shipping fee
Tovala Is Best For
Busy individuals

People who don't want to cook

Anyone wanting to stick to a low-calorie or low-carb diet
Tovala May Not Be Great For
Households of two or more

Anyone on a budget

People with special dietary needs
What's on the Tovala Menu
You'll find around 20 meals to choose from each week at Tovala, including a good mix of chicken, pork, beef, and fish dishes. Most are single-serving recipes, though a few will serve two.
When it comes to cuisine types, it's mostly classic American or Tex-Mex style dishes (think Buffalo Chicken Flatbreads, or Chicken and Sweet Potato Burrito Bowls), as well as some Italian and Asian influences.
Just over half of the menu is labeled as Calorie Smart, at least two of the dishes will be Vegetarian, and a few are tagged as Carb Conscious. Some of them will overlap. So, while there's some variation, if you're veggie or gluten-free, you won't have many options.
It's also important to note that the kitchens aren't gluten-free by any means, so be wary of this if you have a serious allergy. All info regarding ingredients, allergens, and nutritional value is available when you click through to each dish on the menu.
There are usually two premium meals each week that are fancier (and more expensive), and one or two options for breakfast that each include two servings, and so technically come in as slightly cheaper per portion. Cheesy Egg Biscuit Sandwich, anyone?
You can customize one or two of the meals each week, and these are clearly labeled.
What this means is, you can change the side dish. You can have Tovala's Mediterranean Roasted Chicken with broccoli instead of squash and zucchini pasta, for example, if you're watching your calorie intake.
But if it's the customization element that appeals to you, Home Chef has tons more options.
This service allows you to swap, upgrade, and even double-up on the protein in almost every meal (not just one or two). So you can make changes like swapping the pork in your BBQ Pork and Pineapple Flatbreads for shrimp or steak strips instead.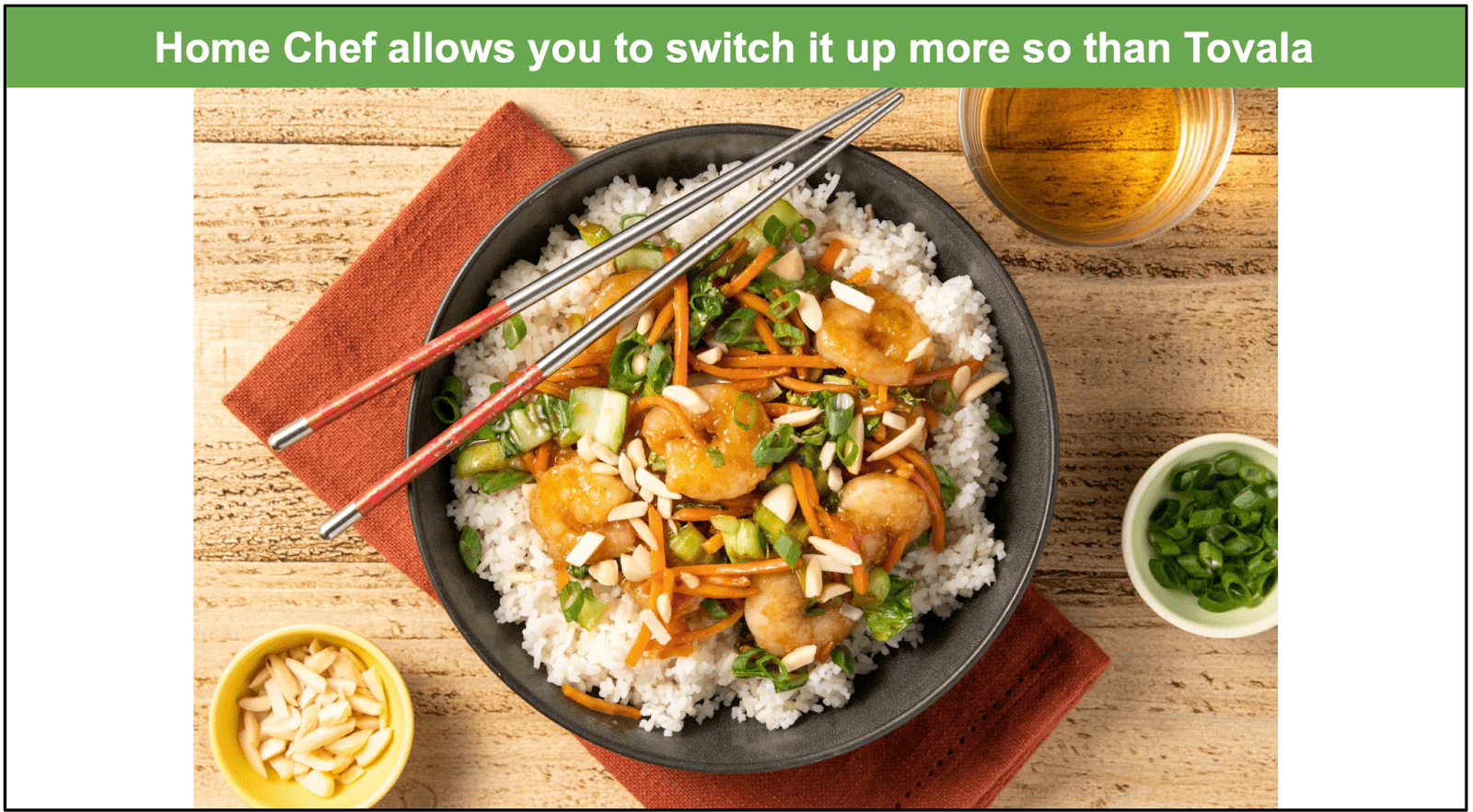 Home Chef also features a wider range of meal types – its meal kits are great for long, lazy weekends when you might want to get creative in the kitchen, while the no-prep oven-ready dinners are great for midweek. Plus, you'll find plenty of extras, including desserts and protein packs.
Unboxing
You'll receive the Tovala oven first, within three to five days of signing up. After that, you'll receive your first box of meals.
The meals arrive fresh, individually packed in trays that are kept cool using ice packs. Nothing will arrive frozen – and the food isn't intended to be frozen at home. Instead, you should store everything in the fridge, where it'll keep for around three to seven days.
The packaging is clear and contains all the information you'll need – from the best-before date to the barcode that you need to scan to cook.
I was delighted to discover that everything was recyclable, too: the box, of course, and even the packaging that the meals come in.
Cooking with Tovala
The meals usually comprise two trays – a main protein and a side. They arrive fresh, having been prepared by in-house chefs.
After some very little prep on your part, such as tossing in a sauce or some extra ingredients, all you need to do is scan the barcode on the tray and let the smart oven cook it exactly how the chefs intended.
The oven pulls the time, temperature, and cooking mode for each dish from the Cloud. So, as the company reiterates, without the oven you can't cook the meal kits optimally.
The meals usually take around 20 minutes to cook, depending on the dish. For the process to work, you need to install the Tovala app on your phone and connect the oven to a Wi-Fi network. Then, you'll get a notification on your phone when the meal is ready.
You can also use the app to create cook cycles that utilize multiple cooking methods or make meals from the app's library. You can even scan and cook more than 850 brand-name grocery products, like Eggo® Waffles and Pop-Tarts®.
So, it's pretty smart to say the least. But it's not for everyone. There will be times when you just don't want to have to connect to your Wi-Fi to cook dinner (not least when it's down and you're struggling with poor connection). That's why Home Chef – which boasts similarly easy, no-prep dishes, including speedy 15-minute meal kits – could be a great alternative.
Shipping & Delivery
Tovala ships to all 48 contiguous states (sorry, Hawaii and Alaska!). The oven will be shipped to you for free, while delivery for your meals is set at a flat rate of $9.99 per week.
You can use the app to make changes to your order, including amending your delivery day out of the two options available – a Tuesday or Thursday or Wednesday or Friday, depending on your zip code.
If you live close to the Chicago facility, however, you'll receive your meals on a Monday – I can only imagine this is because the meals can be delivered instantly without having to wait for them to be shipped.
Subscription
It's easy to sign up to Tovala, but managing your subscription can be a bit more complicated depending on your commitment status.
How to Sign Up
Click on Buy Now and enter your zip code and email address to sign up.
Order the oven and select your meals.
Confirm your order and checkout.
Managing Your Subscription
You can order from four to 16 meals per week, but, if you need to, you can change the size of your order, skip a week, or cancel your subscription directly on the app.
What you need to take into account is that, in order to receive a discounted oven when you sign up, you need to commit to six weeks' worth of meals. You won't be able to cancel your order if you haven't fulfilled that.
To be able to cancel, you'll need to buy out of this commitment by paying full price for the oven.
Also note that you only have two delivery days to choose from, which will vary depending on your location. So, even though you can quite easily change your chosen day, you only have one other option to switch it to.
There are other services out there, like Home Chef, which are much more flexible in this regard. You can skip, pause, or cancel at any time, without having to commit to a certain number of weeks or meals.
In some cases you can even set your subscription frequency to bi-weekly or monthly.
Customer Service
In the case that you want to return your Tovala oven during the 100-day trial period, you'll need to contact customer service via email. You don't need to do this if you want to cancel your plan, however, as you can do it directly from the app.
You can read more about the cancellation process in my short blog post. It includes step-by-step instructions on how to cancel, as well as some useful alternatives.
When it comes to getting questions answered, I found customer service a bit difficult to reach, to be honest.
After sending an email, I got a response within 48 hours, but you might have better luck using the live chat if your query is urgent – just note that its hours of operation are 10 am to 9 pm (CST) Monday to Thursday, 10 am to 8 pm (CST) on Fridays, and 11 am to 6 pm (CST) on Saturday and Sunday.
The company states that it has limited phone staffing, so while you could try calling, you'll likely have to leave a message and wait for a call back within one to two business days.
Like I said – not the easiest to reach! There's a pretty detailed FAQ page, though, so if you have a query, it's worth seeing if the answer can be found on there.
Prices
| | | |
| --- | --- | --- |
| Starting from | Minimum Order | Shipping Fee |
| $9.99 per portion | 4 meals per week | $9.99 |
As well as the initial investment of the oven – which can vary anywhere between $49 or $299 (full price) depending on the deal you're able to get when you sign up – you'll also need to pay for each meal in full, plus shipping.
And don't forget, if you got a discounted oven, you'll need to commit to at least six weeks' worth of meals.
The price per portion very much depends on the ingredients and complexity of each dish, but the lowest price you'll find per serving for a dinnertime meal is $9.99.
Premium dishes, such as steak for example, can go as high as $16.98 per serving, while a basic breakfast oatmeal will come in at $5.99. Still quite expensive for oatmeal, right?
In comparison, Home Chef's prices start at $6.99 per serving – plus it doesn't require you to purchase any additional equipment.
The Bottom Line: Is Tovala Worth It?
If you're specifically looking for a smart oven, Tovala's offering is a pretty good one. It can't replace a microwave oven, as it doesn't do certain things such as heat liquids or make popcorn, but it has some nice features like toasting and broiling.
But if it's strictly a meal delivery service subscription you're looking for, Tovala is one of the more expensive options and requires a lot of commitment. It also won't necessarily make your life any easier than the meal kit offerings from more affordable services such as Home Chef.
It could be great for individuals who really don't have the time to cook, but I also think you could tire from the lack of variety in the menu – and some of the portions are on the small side.
FAQ
Is Tovala expensive?
As well as the initial cost of the oven ($299 in full, around $49 to $99 when discounted), Tovala's meals can be pretty expensive. Portions start at $9.99, but the price can vary depending on the ingredients and complexity of the dish. A steak can go as high as $16.98 per portion, for instance.
If you're looking for a more affordable option, I would recommend Home Chef instead. It offers quick, easy, and balanced meals, including oven-ready dishes and super-speedy meal kits. Plus, there's no fancy oven purchase required!
Is the Tovala oven good?
The Tovala oven could be a good option if you're looking for a smart oven. It can heat, reheat, toast, roast, and broil, among other things. As well as cooking Tovala meals, it can cook a number of big brand-name groceries, including Eggo Waffles.

It can't replace a microwave oven, though, because it's not good for heating liquids or popping popcorn.
Is Tovala healthy?
Tovala does offer a range of balanced recipes – the Carb Conscious meals are probably the healthiest but are on the small side and usually just comprise a protein with a side of veggies or salad.
On the whole, however, Tovala could do better. There are a number of its meals which contain hard-to-pronounce ingredients and food additives typically found in ready meals, such as carrageenan, xanthan gum, or sulfites.