Trifecta Overview
Trifecta is a meal delivery service that helps you to meet your health goals – whether that's losing weight, gaining muscle, or just switching to a more nutritious diet. It does so by providing calorie-controlled, macronutrient-balanced meals that have been designed by nutritionists. The professional chefs that prepare the food are also nutrition-trained – so every element of your meal has been well thought-out.
Trifecta also has a tight community of experts and customers who have a passion for fitness and healthy eating. There are tons of testimonials from men and women who've lost considerable weight, got ripped, or since become athletes with the help of Trifecta. There are even professional, world-class athletes – like strongman Brian Shaw – who recommend this company.
This is why I had mixed feelings about it. It sounded like an elitist meal delivery service aimed at top athletes and people with very active lifestyles. And I am – well – neither of those things. Could this service work for anyone? And are the organic, chef-prepared meals worth the price tag?
How Trifecta Works
Trifecta is based on a simple philosophy: Our mind, body, and social life are interconnected, so you should address all three areas if you want to succeed in any of them. This is why Trifecta puts so much emphasis on having a supportive community and creating the right mindset, alongside eating the right foods.
The company was created by brother and sister duo Greg and Elizabeth Connolly. They wanted to provide fresh, organic, healthy meals that would free people from menu planning, shopping, and cooking, and help them become the best version of themselves. The success they've had is pretty obvious, with thousands of testimonials from satisfied customers.
When it comes to meal plans, Trifecta offers six options:
There is also an a la carte option, where you can assemble your own meals (for half the price!) with your own choice of protein, veggies, and carbs. This is very different from Veestro's a la carte menu, from which you choose prepared vegan meals that are already put together and flash frozen.
Signing up for Trifecta is easy. You can create an account using your email or social media logins. I used Facebook, as it was quicker. In two clicks, I was looking at an empty dashboard that was encouraging me to add a meal plan or a la carte options to my cart.
After selecting a plan, you choose the five-day or seven-day option, as well as the meals you want – breakfast, lunch, dinner, or a third entree. This means you can add up to 28 meals to your cart. The price will update with every change you make.
When I glanced at the a la carte menu, I found there was also a range of snacks on there – namely Cinnamon Maple Almonds and Lemon Chili Almonds. Not exactly what I'd choose, but it's exactly the type of high-protein snack you'd expect from a company like Trifecta.
If you're not entirely sure which meal plan is the right one for you, you can take a two-minute quiz, which includes filling in some info about your body and food preferences. This is part of the online coaching Trifecta offers.
The rest comes in the form of free online tools and resources. You'll get access to a multitude of calculators, like macro and keto, downloadable "toolkits", which include meal planning templates and clean-eating food lists, workout plans, shopping lists, and more.
However, if you're looking for personalized, direct advice from a registered dietitian, BistroMD is another great weight loss delivery service that offers exactly this, alongside many other helpful resources.
As for the social part of Trifecta's offerings, you just need to download the app on your phone and you can start keeping track of everything, from calories and water intake to exercise. It also allows you to manage your subscription and track your orders.
Trifecta Menu
Trifecta works differently to other meal delivery services in the sense that you can't actually see the menu. You choose your meal plan, and the chefs will prepare dishes to suit that specific plan based on the local, seasonal produce available.
This could be tricky if you're picky about what you eat or if you want to exclude more than two ingredients from your weekly menu. If you fancy seafood, there's a chance you'll only receive chicken and beef that week. You never know what you're going to get, so you can't really plan in advance.
If that idea doesn't really appeal to you, there is always the Classic menu, which features the same 12 meals every week – and you can add these to your order at any time. Look out for dishes like Chicken Breast with Sweet Potato and Mixed Vegetables, or the Salmon with Brown Rice and Mixed Veg.
If it's important to you to pick your own meals, you might want to opt for BistroMD, which has more than 150 dishes in its repertoire. Veestro's also has more than 40 vegan weight loss meals that you can see on its permanent menu.
Trifecta's a la carte menu allows you to go a step further and build your own meals by combining your preferred (and already cooked, of course) proteins, carbs, and veggies. This way, you have total control over what you receive, and it's also cheaper than the set meal plans.
However, the options seem limited and this can get a bit repetitive, so if you don't have specific preferences and enjoy surprises, there's really nothing to fear with the set meal plans.
Here's a quick summary of Trifecta's pricing and the dietary needs it best accommodates:
| | |
| --- | --- |
| Pricing | From $6 per serving (a la carte); from $8.15 per serving (meal plans) |
| Meal plans available | Clean, Paleo, Keto, Vegan, Vegetarian, Classic |
| Shipping costs | Free |
Trifecta Delivery
Trifecta delivers to all 50 states, including Alaska and Hawaii, which is a rare thing among meal delivery services.
And there is no additional cost either: every order has free shipping.
The delivery date is usually Friday, but it can change to Saturday depending on your location.
If you want to amend your order, you need to do it by the Friday before your next delivery to give Trifecta a week to adjust it.
And, of course, this week-long notice is also the same if you want to skip a week of delivery or close your account.
You can set the frequency of your orders to weekly, biweekly, every three weeks, or once a month. This is way more flexible than BistroMD, which only allows weekly shipments. And you might find that being able to spread out your deliveries works better for you, particularly if you order a la carte. The minimum order for this is $119, which could translate to as many as 20 meals.
Trifecta Unboxing
One of the things Trifecta prides itself on is how eco-friendly the packaging is, so I had great expectations. It comprises a cardboard box, ice packs, ClimaCell® panels, and plastic trays.
The plastic trays and the lining of the ice packs can be recycled in most local facilities, while the box and panels are entirely recyclable and biodegradable. The company is striving to have fully biodegradable packaging – which may be a first when it comes to meal delivery services!
The only service I can think of that has similarly eco-friendly packaging at the moment is affiliateLink product="bistromd"]BistroMD, with its recycled box and reusable cotton liners, but Trifecta is close behind and perhaps will soon surpass it.
Trifecta's meals arrive fresh – never frozen – and thanks to the technology of the ClimaCell® panels and the ice packs, they're kept cool and fresh during transit.
If you choose to freeze the meals when they arrive, they can last up to three months in the freezer, or up to 10 days in the refrigerator.
Favorite Trifecta Meals
Trifecta promises clean, low-calorie meals that don't taste like diet food, but considering the company's light-seasoning policy, I had some doubts.
Still, I really liked the sound of the Sustainably-Caught Salmon, Wild Rice, Dried Cranberry, and Rosemary which comes as a lunch dish on the Clean plan. The addition of rosemary with the dried cranberries was a great touch.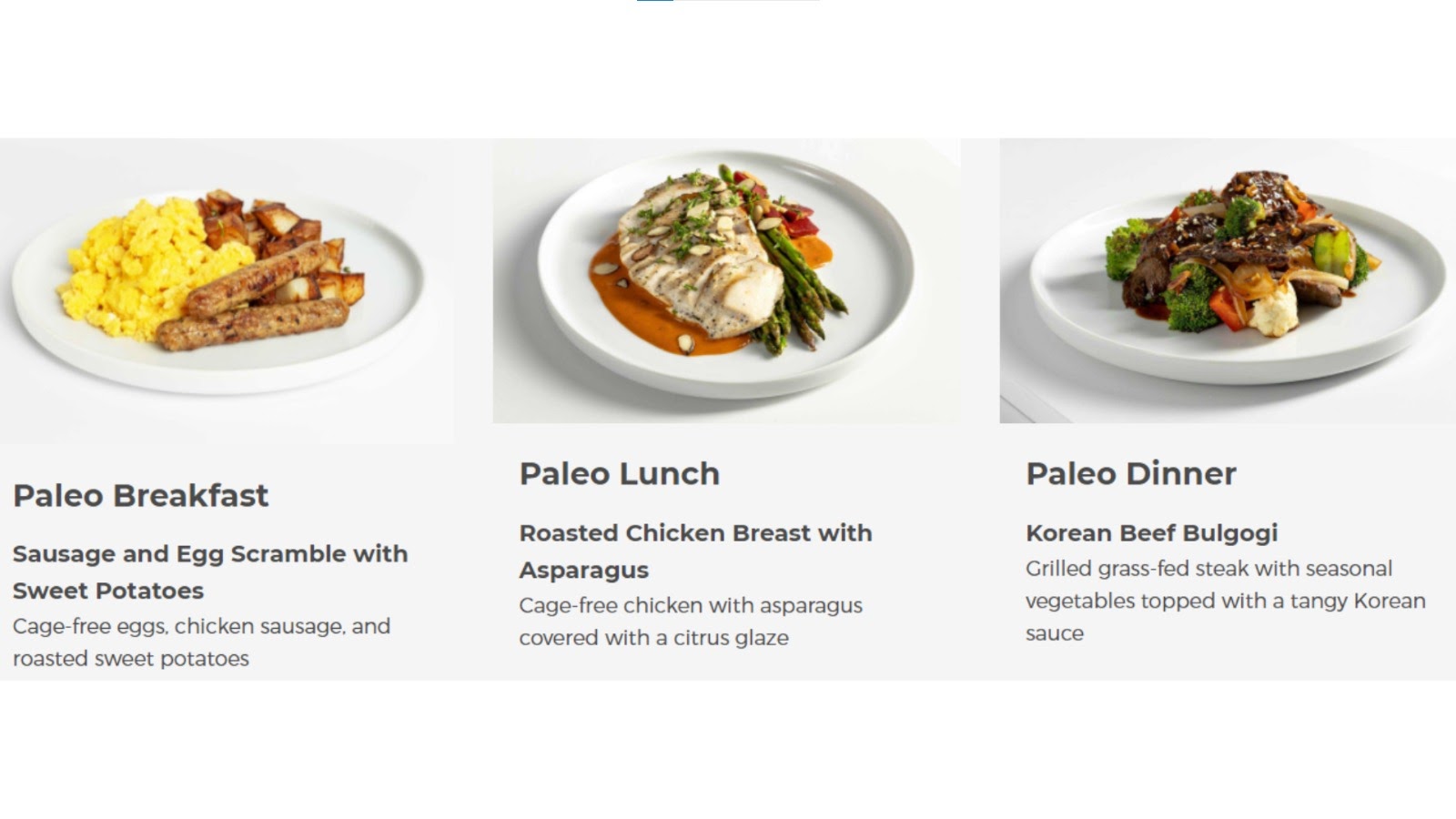 The breakfasts also seem delicious, from the Pineapple Coconut Loaf to the Turkey Bacon Cheddar Frittata with Spinach. All the loaves are gluten-free, just like the rest of the meals.
I took a look at the sample menu for the Vegan plan and it was the Roasted Organic Brussels Sprouts with Quinoa and a Tangy Sauce that caught my eye. If you're looking for healthier, plant-based twists on takeout or comfort foods, I'd recommend checking out Veestro's meals.
You can heat Trifecta's meals in your microwave, or take them out of the container to heat on the stovetop or in the oven. The portion sizes are really generous considering they all come in at under 500 calories each.
Trifecta Customer Service
It's pretty easy to get in touch with Trifecta's Customer Success Team, as it's called on the website. As well as contacting them via email or phone, you can type directly into the live chat. You can use it seven days a week, from 8 am to 5 pm PST, and get any answers you may need.
If you need to cancel your account, you need to call the customer service team. Be sure to do this at least seven days before your next delivery date, otherwise your food will be in the process of being prepared and you won't be able to cancel that order.
Trifecta Prices
The price you pay for Trifecta meals depends on a lot of factors, like the plan you choose or how many daily meals you want to order. You can opt for just dinners or lunches, or you can go for the full four meals a day, seven days a week, which makes the cost per serving drop a little.
To give you an idea, the price for the Vegan plan with just lunch seven days a week costs $90.93. This comes in at $12.99 per serving. Adding breakfast and dinner gives you a weekly total of $226.59, which brings the meals down to $10.79 per serving. It's even less if you add the third entree.
If you choose the Keto, Paleo, or Clean plan, the cost is more expensive, likely because of the high-quality meat and fish used.
The a la carte meals are cheaper, starting at $6 per serving, but the minimum order is $119, which gets you around 20 meals. That's still a pretty good deal.
Even though Trifecta's prices are higher than other meal delivery services, it helps when there's no shipping fee, which people often forget to take into account.
Alternatives to Trifecta
Want to see how Trifecta compares to other weight loss delivery services? I've compiled a quick chart to give you a better idea:
| | | | | |
| --- | --- | --- | --- | --- |
| Alternatives to Trifecta | | | | |
| Starting Price | $6.66 | $8.24 | $4.60 | $7.16 |
| Plans | Clean, Vegan, Vegetarian, Keto, Paleo, Classic | Men's, Women's, Gluten Free, Heart Healthy, Diabetic Friendly, Menopause | Balance, Balance-Diabetes, Vegetarian, Keto-Carb30 | Weight Loss |
| Meals Available | Breakfast, lunch, dinner, and third entrée, five or seven days per week. A la carte available | Breakfast, lunch, and dinner, five or seven days per week. Snacks available at additional cost | Breakfast, lunch, and dinner, five or seven days per week. Snacks available at additional cost | Breakfast, lunch, and dinner, five or seven days per week. A la carte available |
| Meal Types | Prepared | Prepared | Prepared | Prepared |
| Frequency | Weekly, bi-weekly, every three weeks, monthly | Weekly | Weekly | Weekly, bi-weekly, every three weeks, monthly |
| Vegetarian | ✔ | ✔ | ✔ | ✔ |
| Vegan | ✔ | ✘ | ✘ | ✔ |
| Low-Carb | ✔ | ✔ | ✔ | ✔ |
| Low-Calorie | ✔ | ✔ | ✔ | ✔ |
| Special Discount | | | | |
If you have health conditions, such as diabetes, BistroMD or Diet-to-Go could be a better option for you as they both have special plans dedicated to keeping your insulin levels stable.
If you want to be able to pick your own meals, all three alternatives give you that option.
The Bottom Line
Reaching certain health and fitness goals requires effort, and what Trifecta strives to do is take most of this effort off your shoulders by providing the meals you need. Diets like keto and paleo are pretty hard to maintain, so having fresh, prepared dishes on hand will help.
But even people like me, who don't necessarily want to become athletes, can reap the benefits of having healthy meals delivered to their door. You'll spend less time in the kitchen, and more time doing what you love – even if that's not exercising!
But what I liked best about Trifecta is the feeling of community. When you see other people succeeding in their journey towards a healthier lifestyle, it gives you that extra motivation you need to keep your own habits in check.