Nutrisystem in a Nutshell
Nutrisystem offers a huge range of monthly delivered meals designed to help you lose weight. It also includes a helpful app and free counseling.
What I Liked
Lots of choices designed to help you lose weight

Cheaper than other weight loss plans

Positive testimonials
What I Didn't Like
Nutrisystem is Ideal For
People who want to lose weight

People with a tight schedule

People who like eating often, even on a diet
Nutrisystem Overview
Nutrisystem is a weight-loss meal delivery service that promises a steady loss of one to two pounds per week. You get a mix of shelf-stable and ready-made meals, probiotic shakes, and snacks that are low-glycemic and low in calories while being high in fiber, lean protein, and other vital nutrients. There are also vegetarian, diabetic, dairy-free, and low-sodium options.
Along with the Nutrisystem meals and snacks, you'll get access to its NuMi app. This app is like your own health coach, giving you reminders to drink enough water, directions to prepare your own supplemented meals, and great tips on weight loss and eating well.
I took a closer look at Nutrisystem to see if it's worth all the fuss.
How Nutrisystem Works
Nutrisystem offers a range of four-week plans to cover the number of weight-loss meals you want while accommodating different dietary needs. Once a month, you'll get your box with all the meals delivered straight to your door.
If you want to test the waters first and not jump into a monthly subscription straight away, there's also an à la carte option. This means you can add as many meals and snacks as you want to your cart, for a one-time, commitment-free order. Just keep in mind that you won't benefit from the same deals as with the four-week plans (e.g., no free delivery).
You can buy some popular items in bulk (30 pieces) from the à la carte section, such as lunch sandwiches, and store them in the freezer for later. I thought this was a bit bizarre, but if you don't mind eating the same thing, it could save time and money if it's a staple for your diet.
Back to the plans. They are designed to work long-term and each provides four weeks of food, although there are a few key differences between them, including how many items you have to choose from on the menu. The most expensive, "foolproof" plan, covers all seven days a week, rather than five.
Nutrisystem makes some pretty bold statements:
But wait, there's more! Scroll down a little bit, and you'll see there are a few other, more specific plans on offer:
I was impressed to find a diabetic plan, but I was a little confused as to why Nutrisystem had assumed I was female by default as I hadn't added any of my details yet.
Oh, and recently a Partner Plan 's been added to Nutrisystem's offer. This means that if you and another member of your household are dieting together, you can order meals for both of you with a single plan. Convenient, right? The only downside to this is that it only includes a five-day + frozen option, so it doesn't cover the whole week.
After I selected the Uniquely Yours Max+ Plan , I got to choose my menu.
There was the option to go with the most popular dishes or to pick meals myself, but what can I say – I'm a sucker for personalization! There weren't any price differences between the Chef's Choice bestsellers and the I'll Pick My Meals options.
I then answered six questions to help tailor my plan. They were quick, if a little personal, but I guess that's how weight loss works best. I filled out my dietary preferences, how active I am, and what body shape I have.
The last question was really interesting. It gauges the kind of food you're more likely to crave when you're hungry or need a pick-me-up. This is a unique approach to getting your food palate profile.
After my plan was calculated, I was given a personalized menu that I could edit or buy.
If you choose to continue to the purchase screen, you need to put in your personal details (including your height, current weight, and goal weight), and then you're taken to payment. Nutrisystem accepts payments via credit card, PayPal, and PayPal credit, which is a nice range.
During the payment process, you'll see Nutrisystem upsells everywhere.
This is a little much for someone like me who would fall at the first hurdle when it comes to desserts. But maybe that's the business plan – to tempt people into buying more.
Once you've paid, you'll then receive a date for your delivery. Then all you have to do is wait.
Nutrisystem Menu
I have to be honest: diet food usually doesn't appeal to me. Even more so when it's slated as "healthier versions of your favorite food."
But Nutrisystem surprised me. I knew that the meals wouldn't include, say, a full-fat, calorific hamburger, but I was impressed by just how delicious the meals sounded. This is what was added to my menu based on the information I gave.
You still get to have the foods you love – just look at those desserts! – but without some of the more fattening ingredients they're usually made with.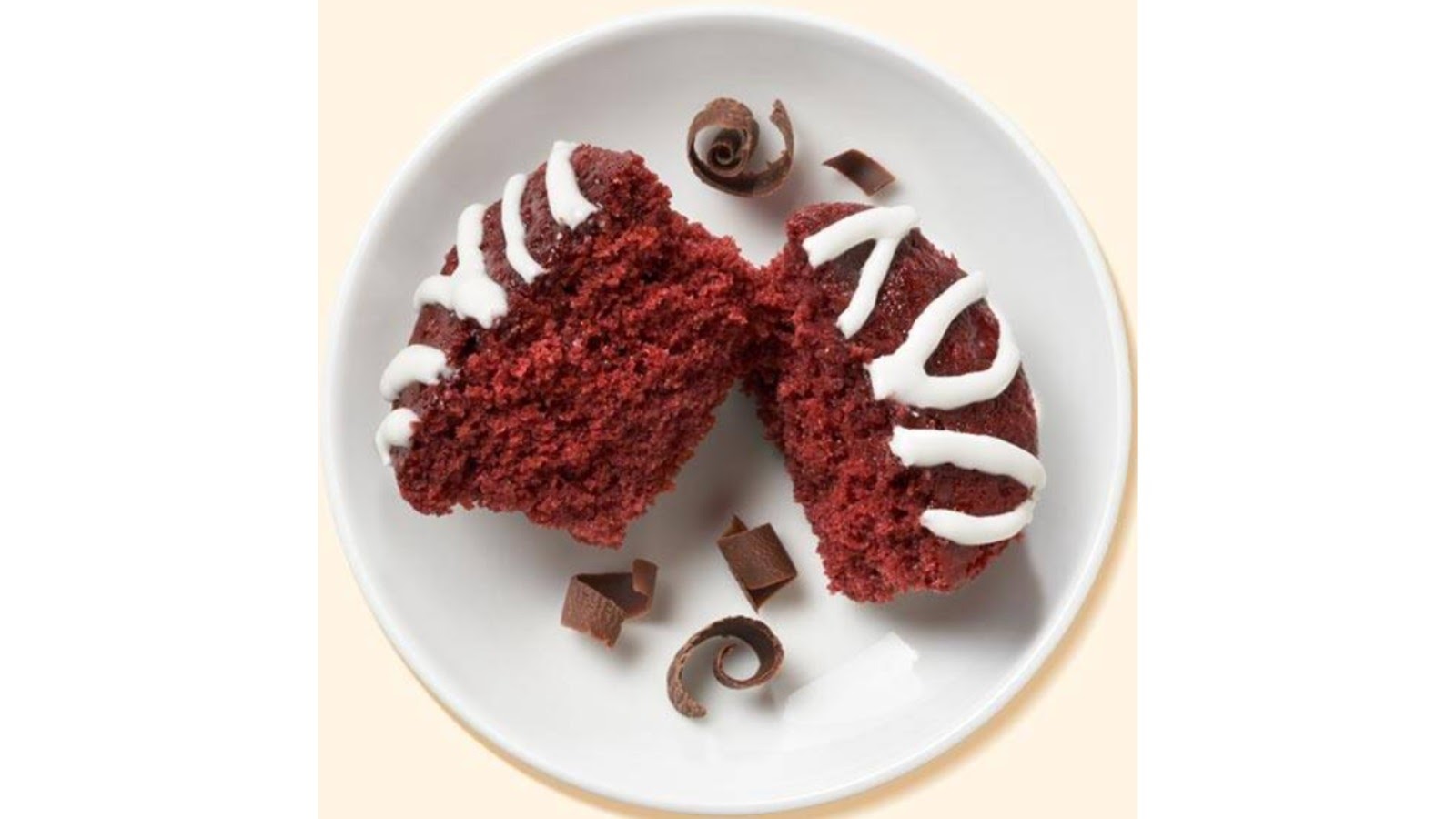 Snack - Red Velvet Cupcake
The menu provides pretty pictures of each meal, as well as nutritional information, testimonials from other customers, and cooking instructions.
Many of the meals on display are frozen or ready to eat after a few minutes in the microwave. Some, however, such as soups and mashed potatoes, just need boiling water added. Not quite cooking, but still a bit more effort than prepared meals, like the ones from BistroMD .
Here's a quick summary of Nutrisystem's pricing and the dietary needs it best accommodates:
| | |
| --- | --- |
| Pricing | From $9.74 per day |
| Meal plan options available | Weight loss, balanced, pescatarian, diabetic-friendly, wheat-free, vegetarian |
| Shipping costs | Free on monthly plans |
Nutrisystem Delivery
Nutrisystem works via an auto-delivery system, with a delivery appearing at your doorstep every four weeks.
This is pretty unusual. Diet-to-Go and Veestro have similar automated subscriptions, but this is one of the few times I've seen the monthly drop-off as the only option. I suppose for the program to be successful, you have to make it as easy as possible not to stray from it.
Because Nutrisystem wants you to sign up for more than a month at a time, you get a 45% discount just for auto-delivery. That means your order will be set to repeat every month – unless you go in and edit, pause, or cancel your order before the cutoff date. If you have long-term, weight-loss goals, auto-delivery might be the right thing for you.
After you place your order, you receive an introductory email, complete with a tracking link for your delivery, and your set delivery date. Delivery takes 1-5 business days for the continental US, plus two-day air for the rest of the US. Deliveries take 4-10 business days for Canada.
Oh, that's right, Canadians can order from Nutrisystem as well! So if you ever plan on vacationing for a few months there, you'll be able to continue your usual diet.
Nutrisystem Unboxing
Since Nutrisystem is designed to work for the long run, its plans take into account your body's transformation as you change your eating habits and start to lose weight. This is why your first delivery will include different food for the initial week, which will help your body get comfortable with this new lifestyle.
In your first box, you'll also receive a Quick Start Guide to follow for week two and beyond, and access to the NuMi app that provides tons of resources.
As for the packaging, you'll receive a big cardboard box holding each of your meals for the month, which are mostly packaged in either cardboard or plastic containers.
Now, because you're getting a month's worth of food, most of the meals come frozen, while your first week of meals come chilled. That means the boxes have to be well cooled and insulated. To solve this, Nutrisystem adds in a frozen pack, which is 92% biodegradable, meaning you can recycle or simply throw it away.
So on the recycling front, Nutrisystem definitely gets an A. It's a similar all-encompassing recyclable approach to Veestro .
Favorite Nutrisystem Meals
If you're comfortable with shelf-stable foods making up a part of your day, you won't mind the way Nutrisystem works. Foods like oatmeals, soups, and stews come dry, with spice packets. Just add hot water and let it stand.
It's not the most glamorous way to eat, but if you have a very busy lifestyle, this is an extremely effective way of sticking to a weight-loss diet.
As expected, a lot of the portions are on the smaller side, too. BUT, the NuMi app gives great ideas on how to bulk up the meals in a healthy way. For the chili with beans meal, for example, you can steam a bunch of broccoli to serve on the side. You can also mix it in to spruce up the broccoli.
I really liked the sound of turkey medallions, and they could be paired with steamed veggies, too. But the meals that didn't look diet-y at all were the pizzas and burgers.
I mean, does this look like 260 calories to you?
Or this lunch, which seems pretty close to what I'd eat for takeout:
affiliateLnk product="Nutrisystem" nameSfx="353581153"
And if we're talking breakfast, I was surprised something as delicious-looking as this cinnamon roll was on the menu:
These are all examples of frozen food, by the way, so you won't need to prepare anything for any of them.
Nutrisystem Customer Service
Nutrisystem offers support across three main channels: phone, email, and live chat.
All of these channels operate from Monday to Friday 8 am-8 pm EST and Saturday to Sunday 9 am-5:30 pm EST. There's a variety of support available, including weight-loss counselors, nutrition support, program consultants, and straight-up customer service.
I appreciated this commitment to advising both current and potential customers. It's the first time I've seen this at any meal delivery service I've reviewed.
To test it out, I contacted a program consultant via live chat to ask which program was best for me. I was linked to a representative within seconds, and after a few questions about my habits and preferences, I had my answer in less than five minutes. It was a really great experience.
Nutrisystem also provides on-demand weight-loss counselors to help keep you on track. If you require a diet of less than 1,500 g of sodium per day, a weight-loss counselor can guide you to the meals, shakes, and snacks that are best for you.
Weight loss can be a challenging, and often emotional, journey. It's more than just eating fewer calories. Nutrisystem seems to get that and offers support where possible.
In case you do end up ordering from Nutrisystem, this blog post gives you a clear idea of how you can pause or cancel your orders as needed.
Nutrisystem Prices
Although the packages start from just $9.74 a day (for Basic) or $12.98 a day (for Uniquely Yours Max+) , you're paying for a full month at a time, and that adds up.
Other meal delivery services may seem cheaper because they offer payment on a weekly basis. But when you look at the price per meal, I do think Nutrisystem works out to be pretty reasonable.
After all, for a $400.99 monthly personalized plan, you receive a lot of stuff. You get six meals a day, every day of the week, perfectly optimized for your weight-loss journey.
That stuff doesn't come cheap. In fact, compared to Diet-to-Go's similar program (which costs $212.99 per week, plus $9.99 weekly shipping, so $891.92 per month), it's actually less than half the price.
Also, paying $9.74 per day is cheaper than what you'd be paying per portion at some meal kit delivery services that you have to cook yourself. Even low-cost providers, like Dinnerly, have single meals starting from $4.69 – and that's just for one meal. With Nutrisystem, you get all your meals and snacks for the day for only double the price.
As for delivery, Nutrisystem has free shipping on all four-week plans in the continental US, whether it's a one-time order or you put it on autopilot.
For the à la carte purchases, however, shipping costs may apply depending on the size of the order and your location. The shipping also varies for orders to non-contiguous states and Canada.
Alternatives to Nutrisystem
Here's how Nutrisystem compares to similar weight loss delivery services on the market:
| | | | | |
| --- | --- | --- | --- | --- |
| Alternatives to Nutrisystem | | | | |
| Starting Price | $9.74 per day | $7.50 per serving | $8.57 per serving | $10.80 per serving (for the weight loss plan) |
| Plans | Basic, Uniquely Yours, Partner, Diabetes, Vegetarian, A la Carte | Standard, Gluten Free, Heart Healthy, Diabetic, Menopause | Balance, Balance Diabetes, Vegetarian, Keto-Carb30 | Weight Loss, A la Carte |
| Meals Available | Breakfast, lunch, and dinner + snacks, five or seven days a week | Breakfast (optional), lunch, and dinner, five or seven days a week | Breakfast (optional), lunch, and dinner, five or seven days a week | Breakfast, lunch, and dinner, five or seven days a week |
| Meal Types | Prepared (frozen + shelf-stable) | Chef-prepared | Chef-prepared | Prepared meals (frozen) |
| Frequency | Monthly | Weekly | Weekly | Weekly |
| Pescatarian | ✔ | ✔ | ✔ | ✘ |
| Vegetarian | ✔ | ✔ | ✔ | ✔ |
| Vegan | ✘ | ✘ | ✘ | ✔ |
| Low-Carb | ✘ | ✔ | ✔ | ✘ |
| Low-Calorie | ✔ | ✔ | ✔ | ✔ |
| Menu options | 160+ at any given time | 150+ at any given time | 15+ per week per plan | 40+ per week |
| Special discount | | | | |
If Nutrisystem's plans don't have you covered, Diet-to-Go offers weight-loss meal plans for more specialty diets. Its Carb-30 keto plan is tailor-made to keep you in ketosis while helping you lose weight.
If you're following a vegan diet and can't find a weight loss meal delivery service that accommodates plant-based choices, the Weight Loss Plan from Veestro might be your best bet.
Meanwhile, BistroMD offers doctor-approved weight-loss prepared meals. It's particularly useful for people with health conditions thanks to its dedicated plans, such as Gluten Free and Heart Healthy.
The Bottom Line
Nutrisystem is pretty much everything you could want in a weight-loss meal service. From the ease of receiving your order to the range of prepared meals and snacks on offer, you shouldn't feel too much like you're really dieting.
There might be a bit of an adjustment to eating five to six times a day, as well as the system as a whole. Nutrisystem tries to get you eating healthier by giving you a pared-down version of the foods you're craving, but it can be tough to continue this type of eating without the meal delivery service.
I think Nutrisystem is a great option if you want to learn how to eat properly and lose weight. However, if you're looking to lose weight on stricter diets like keto, paleo, or vegan, or you simply want to cut down on processed foods, you might want to shop around a little more.
FAQ
How much does Nutrisystem cost?
Nutrisystem has a range of plans. The Basic Plan starts at $9.74 a day and includes five breakfasts, lunches, dinners, and snacks a week. The Uniquely Yours Plan costs from $11.57 a day and includes everything in the Basic plan, plus frozen meals and snacks.
The Uniquely Yours Max+ costs from $12.98 a day and gives you food for a full week.
Shipping is always free on monthly plans.
Is Nutrisystem healthy?
Nutrisystem offers healthy food designed to help you lose weight – fast. It's low-carb and high in fiber and protein to help you feel fuller for longer, keeping those cravings at bay. The Nutrisystem philosophy also recommends eating every 2-3 hours, or six times a day!
There's also a focused Diabetes Plan that helps anyone who's diabetic or prediabetic to lose weight and keep their blood sugar under control. If you don't eat meat, there's also a plan with more than 90 healthy vegetarian options.
Is Nutrisystem worth it?
If you want to lose weight without spending a ton of time cooking or planning, Nutrisystem is absolutely worth it. You get six different meals and snacks daily to keep the cravings at bay.
If you don't mind drinking shakes and using meal replacements, the Basic Plan is a good bet. For more "real" food, try the Uniquely Yours or Uniquely Yours Max+ plans . There's also the helpful NuMi app, plus the free weight loss & nutrition counseling.
How do you cancel Nutrisystem?
Canceling your Nutrisystem plan is easy and – compared to other meal delivery services – generous. That's because you have until 6 pm ET the day before your next auto-delivery ship date to cancel. Just call customer service, hit a couple of buttons, and you're done.
Don't try to cheat, though. If you get the autopilot discount but try to cancel before paying for your second delivery, you'll be charged the full amount. Find out more in this blog post on canceling your Nutrisystem plan.