a Pot for Pot 2022: Growing Pot Made Easy!
DeliveryRank chats with Jason Levin, Founder of a Pot for Pot, about this 'budding' little enterprise that offers complete grow kits, support and advice for growing cannabis at home with ease. a Pot for Pot caters for the mass and novice markets.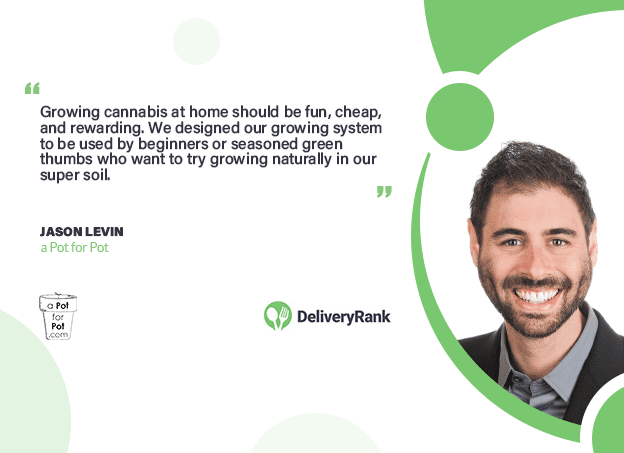 When was a Pot for Pot launched and did you meet with any hurdles/challenges particularly?
We launched in 2018 and we met with many different hurdles:
We had to move our first inventory batch out of our first office pretty much immediately, because we were lacking in space dramatically. We were 'evicted' from our warehouse in Stockton because we were affiliated with cannabis and for an entire month thereafter, we ran the business out of a U-Haul truck.
Due to our affiliation with cannabis we had issues with credit card processing, were not allowed to be advertised on Google Ads or Instagram, and fundamentally we were confronted with many fringe restrictions. However, we have made it through the rough times and we now have very friendly offices and go pretty much unnoticed.
Since the legalization of Cannabis for recreational use in the States do you feel there has been a surge in users?
There has definitely been a surge. Of course, cannabis is not (yet) recreationally legal all over America. Infact, our launch was orchestrated to match the timing of the legalization of cannabis for recreational use shortly thereafter in California.
We definitely see a surge in attention, web traffic and customers every time a new State comes online with recreational laws.
What exactly is the concept behind a Pot for Pot?
Simply to make growing cannabis at home easy and approachable, like a house plant. Most people are under the misconception that growing cannabis has to be expensive and complicated. It really doesn't have to be this way. It can be a fun and inexpensive hobby that you can make money from, learn a lot from and ENJOY! There is really no need to go overboard.
People should start with a simple approach - an autoflower soil grow for example - so as to gain experience and learn some of the pitfalls of the growing process. I definitely recommend learning the ropes with a pot and soil first before spending thousands of dollars on the likes of a grow tent, timers, lights and filters before acquiring the necessary techniques and savoir-faire.
Is growing cannabis a tricky business or a walk in the park?
It certainly can be tricky if you are running a large, professional warehouse grow for profit, but if you are trying to grow at home as a hobby, it can be a walk in the park. It can be as expensive as you want to make it.
Do you offer step by step guidance to your customers?
In addition to having printed step by step, week by week instructions we have video series to accompany everybody's grow to help walk them through the process. We also have live professional growers who act as one-on-one coaches with our customers over email or live chat, a little like penpals. People really appreciate the personal touch.
We also have a summer grow class which is a video series providing all the tips and tricks and trade secrets to a successful grow. Basically, we hold the hand of novice growers, help them gain experience and walk them up to more advanced levels.
What are your suggestions on growing cannabis around children, if any?
Actually a question that we are asked frequently, and to which the answer is the same, revolves around pets and the potential consumption of the plants. The answer is NONE. THC in its natural state in a cannabis plant is actually THCA, the acid form of THC. To make it psychoactive you need to decarboxylate it - introduce heat in order to knock off the functional group (ie. the A falls away from the THC and this is what allows people to get high).
So with cannabis, if you smoke it or cook it - either way - you are applying heat so the THCA becomes THC and you get high. You could however eat the cannabis plant all day long and feel absolutely nothing as the chemical composition of the THCA remains unaltered without the use of heat. Therefore, to get back to the question, children and pets are in absolutely no danger of getting high or harming themselves in any way!
Want to find out more about a Pot for Pot, visit https://apotforpot.com/ or follow on https://www.instagram.com/apotforpot/