A Pup Above 2023: A Tail of Doggie Delight
Ruth Stedman, Co-Founder & CEO of A Pup Above talks to us about the importance of sustainability, the "sous-vide" cooking process, and traceable ingredients – all of which keep this little business thriving and keeps dogs all over the US begging for more.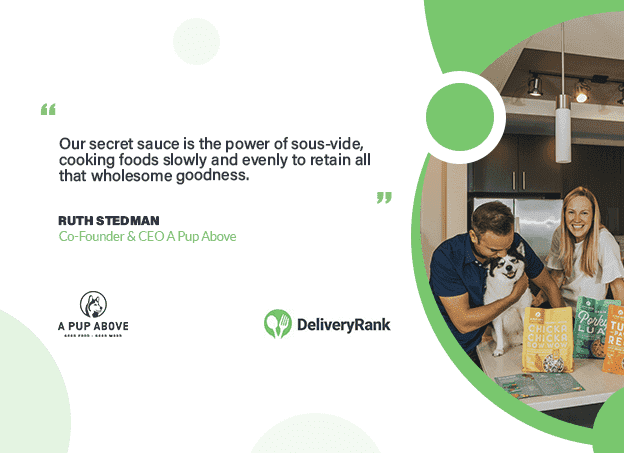 What were your motivations behind A Pup Above and when did you first launch?
Our motivation for the business was our pup, Lola. When my husband and I first brought her home, we struggled to find food that worked for her and that we felt was good enough.
The labeling on pet food is incredibly obscure about the content and source of ingredients. Also, the dog food industry has had deadly recalls, which motivated us to gauge whether what was going into her bowl was safe and nutritious.
We knew we wanted her to have a fresh food diet, but when Lola arrived in 2016, raw food was the only fresh dog food option available in stores. Lola didn't like raw food but she did like it when I cooked for her. At this point, we decided to create our own gently cooked, Lola-approved product that we felt good about feeding her.
In May 2018, we launched the business. Today, Lola is the "pup above" on our logo and she's still the inspiration behind everything we do. All of our products must be Lola approved and since Lola is an avid consumer, nothing will ever be released that we don't feel comfortable feeding her first.
What did you and your husband do before launching A Pup Above?
My husband and I met at business school at UT Austin. Before launching A Pup Above, I worked in merchandising at Walmart and my husband worked for his family business based in Ecuador.
We both came from retail backgrounds so starting our own business was an exciting and challenging move. We are privileged to work with our dog Lola daily and she is part of the team. She comes to meetings and is fully involved in most aspects of the business.
It took us between eight to twelve months to get the business up and running. We are super passionate about our business. As an entrepreneur, you have to be. You eat, sleep, and breathe your business.
Could you explain the difference between human-grade and feed-grade dog food?
Human-grade is one of the few claims that's closely regulated in pet food. To be able to print "human-grade" onto packaging, a brand must demonstrate the food is made in a USDA-inspected facility and that all of the ingredients are USDA/FDA certified as human-grade.
We want our food to be human-grade because there are significantly more safety and quality measures that must be followed to achieve this. We feel much better knowing Lola's food is made with the same safety and quality standards as our own food.
To put the difference into perspective, feed-grade food follows approximately fifteen manufacturing and quality control regulations whereas human-grade food follows approximately one hundred regulations.
Additionally, it's legally allowed to add ingredients into feed-grade food that we'd never want Lola, or any other pet, to ingest. For example, vegetables that have been overexposed to pesticides and sick animals contaminated with drugs or other residues can be diverted to feed.
Do you believe in the mantra: "We are what we eat"
One hundred percent! When we eat healthier foods, we feel better and have higher levels of energy. The same goes for our pets. The more we can feed our pets fresh, real foods instead of highly processed foods, the better.
Many customers have told us of the improved energy levels and coat quality when they switch from kibble to our food.
Kibble is thought of as traditional dog food, but it's actually highly processed food that was invented post World War II. Due to the aluminum shortage at the time, canned food wasn't as readily available and hence kibble was born.
The heavy processing and high level of carbohydrates that go into making the dough for kibble create food that can be taxing for dogs to consume daily. It's like eating meat chips for every single meal.
Is sustainability a big part of your business?
The human and pet food systems are interconnected. For us, it's not enough to fix the human food system. Our animal food system needs changing as well.
Regenerative farming is a big part of this for us. This type of farming captures carbon from the soil and restores the health of our water and soil. Each year, we contribute one percent of our revenue to the White Buffalo Land Trust. They are doing amazing things to educate and familiarise farmers with regenerative farming and the practices involved.
Our packaging is also one hundred percent recyclable and we use ugly produce (imperfect products farmers can't sell in stores or markets) in our recipes. We upcycle where we can, and we're looking at various ways we can reduce our carbon footprint.
How present is A Pup Above in the retail sector, and which is a greater part of your turnover: online or retail sales?
Our retail sales are larger than our online business. We sell to pet specialty stores in California, Washington, Oregon, Arizona, Nevada, Texas, Louisiana, Oklahoma, and Arkansas.
Do you think you'd branch out into creating cat food?
For us, it's all about Lola. If we get a cat sibling for Lola, we'll definitely look into cat products.
How does A Pup Above differ from other companies in the same niche?
We use a unique cooking process called sous-vide, which was popularized in high-end restaurants. We decided to use it for our dog food for a couple of key reasons:
Higher Nutrient Retention – Research has shown sous-vide cooking retains more nutrients than traditional cooking methods. This is because the food is sous-vide cooked in BPA-free, vacuum-sealed bags so the nutrients have nowhere to escape. With traditional cooking, nutrients are lost to the water the food is cooked in.

Better Flavor – Sous-vide enhances the flavor of foods. With our product, the food simmers in meat juices for more than two hours, resulting in a product ALL dogs love.

Higher Protein – With traditional cooking methods, between 20 and 25% of the food weight is lost, but with sous-vide, this doesn't happen. This allows us to pack in more meat protein. On average, our recipes have 72% more protein than other gently cooked recipes.
In addition to our cooking process, we also have fully traceable ingredients. To see where each and every ingredient was sourced from, pet parents can take the lot code on the back of our bags and input them into our lot-look-up tool on our website. They can also see our safety report for that particular lot, which proves the food was tested and cleared for pathogens.
Do you come up with new recipes regularly?
We typically release one new product each year.
What exciting plans lie ahead for the business?
We're super excited about our launch into Mud Bay and Hollywood Feed pet stores this month. Mud Bay has about sixty stores in Oregon and Washington. Hollywood Feed has more than one hundred in the southeast.