allmanhall 2023: Insights From Award-Winning Food Procurement Experts
Established in 2006, allmanhall is an independent, family-owned, and managed business providing expert food procurement and supply chain management, combined with hands-on catering and nutrition advice.
Clients enjoy essential food cost savings and award-winning support as a result of specialist, market-leading insight, and supplier negotiations.
Working across a range of sectors, allmanhall is particularly well established in the independent education and care sectors, as well as working with a number of contract caterers and other catering-related businesses.
In this interview, DeliveryRank hears from allmanhall's Procurement and Sustainability Director, Mike Meek who's on the University of Warwick's advisory committee to the Government regarding food supply. Mike shares his perspective on the current state and future of the food industry.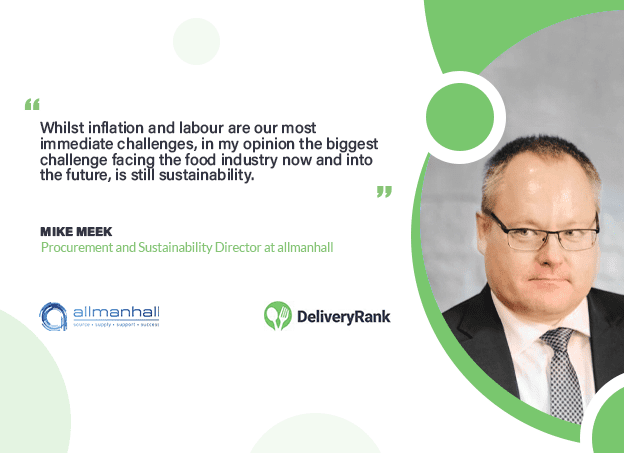 What are the biggest challenges being faced in the food industry at the moment?
I'm going to focus on food supply rather than the well-publicized labor challenges being faced across the food industry, of which we're all aware.
So, it would be difficult not to start with the very high levels of inflation, including food, that are affecting countries across the globe. When you explore the causes, you realize that this is the cumulative effect of many issues, which is why it's so pronounced and likely to be with us well into 2023.
Supply chains are still trying to recover from the reverberations of the pandemic, port congestion, and historically high energy prices that impact inputs across the entire supply chain from fertilizer prices, farming, manufacture, packaging, storage, and distribution.
In fact, energy prices directly impact many of our core food staples as these are used to produce biofuels such as sugar and vegetable oils. Compound this with labor shortages, which are at critical levels within the UK food industry, and amplify it again with the impacts of the current war in Ukraine and the outlook continues to look very challenging for farmers, manufacturers, distributors, and catering teams.
What does this mean for the future of food and food prices?
Most commodity prices are expected to remain stubbornly high in the medium term and particularly those in which Russia and Ukraine are large exporters. Obviously, the duration of the war in Ukraine and the extent of supply chain disruption will have a considerable impact on how long the supply side is constrained.
Brent Crude Oil prices are expected to remain above $100 per barrel throughout 2022 and both Russia and Belarus are major exporters of fertilizer due to their main inputs which include natural gas. In some instances, fertilizer prices have tripled over the last two years, to levels that are comparable to the last great food crisis in 2008. Russia and Ukraine produce 28% of global wheat exports and 16% of maize, which is why they've reached an all-time high.
My colleague and allmanhall's Managing Director, Oliver Hall, recently wrote a piece regarding food inflation forecast expectations. Here, he rightly cited as alarming Citi economist, Benjamin Nabarro's note to clients which predicted that "we now expect price growth here to peak at a little over 20% in Q1 2023, with producer price inflation here continuing to accelerate…"
Whilst inflation and labor are our most immediate challenges, in my opinion, the biggest challenge facing the food industry now and into the future is still sustainability.
Our global food systems are just not sustainable or designed to feed a global population that's growing exponentially. The figures really are sobering, with our food systems accounting for 30% of all global greenhouse gases and requiring 70% of all freshwater. One-quarter of our vegetated land suffers poor and degraded soils due to poor farming practices. Our food systems result in two-thirds of biodiversity loss with one million species facing extinction, and 77% of agricultural land used for meat and dairy production produces only 18% of global calories.
There are big questions being raised about food security, the direction of travel for new international trade agreements, our agricultural policy, and of course the environment.
Carbon-impact assessments can help raise awareness and educate the customer regarding the bearing of what they eat on their carbon footprint. At allmanhall our hope is that visibility of data and availability of carbon-impact labeling will be a big trend in the future. You can read more about a partnership solution for this, here.
Apart from inflation, in what areas should we be preparing with regards to food, for the autumn and winter?
Looking ahead to autumn, keep a keen eye on the UK and European potato growing season. The key metrics will be how much land is set aside for growing potatoes and the crop yields, which will be determined by the weather of course. A good season would help ease pricing on these key staples, but production capacity constraints and high demand have been the cause of some very stubborn chip prices in the UK!
With the UK being 60% self-sufficient it's always worth keeping an eye on the strength of the Sterling. Fears of stagflation and a potential recession might weigh heavy on the GBP, making imports more expensive. Conversely, any downside to the UK economy could also have demand impacts, which we would expect to soften.
China's strict zero covid policy and full city lockdowns continue to lead to disruption in supply chains and component parts, and this is unlikely to change any time soon.
It's also worth keeping an eye out for chicken prices as wheat and maize price rises pass through the food supply chain.
Food security is deserving of a place both on our personal radars and on political agendas.
What advice would you give to catering teams or people managing food budgets?
I would focus on identifying where value can be released from the supply chain. For example, is there an opportunity to consider cheaper bulk packs such as our 10 kg or 15 kg Tilda rice that offer better value? Is it time to reappraise which brands to use? A category like gravy and bouillons features multiple branded manufacturers at various price points and whilst a brand like Bisto might be considered traditional it does offer relative value.
Likewise, the same is true for own label or branded goods choices. Whilst the trade-off in quality doesn't always allow, it's worth deciding where to seek premium quality and where to seek value.
For those core suppliers that offer drop discount incentives, I would look to take advantage where possible. Even removing one delivery per week can have a significant impact.
Protein items tend to be the most expensive items within a recipe, so tailoring recipes to amend the ratios of high-value protein to vegetables or changing the menu ratios between higher-cost recipes and more affordable ones. For example, pork will always be cheaper than beef or lamb. Forequarter beef cuts are cheaper than hindquarter. As always, this needs to be made in consideration with offering a healthy, nutritious, and balanced diet.
Finally, managing food wastage is also another key area to focus on. Reducing waste won't only reduce food costs but will also reduce negative environmental impacts. In developed countries, most food waste occurs at the household and catering establishment level.
For more interesting insights on a range of topics visit allmanhalls webinars or market analysis.