5 Best Vegetarian HelloFresh Meals 2023: Better Than Takeout?
Out of the top meal kit delivery services in the US, HelloFresh clearly has a lot of vegetarian options. On first impressions, it seems like a service dedicated to omnivore diets, so I was pleasantly surprised to discover its dedicated Veggie plan is just as well developed.
Each week, you can choose from around seven vegetarian recipes from HelloFresh's menu. They range from one-pot wonders perfect for families to spicy, decadent food. What I love the most is the variety of recipes and cuisines, so you won't be eating the same type of food again and again.
You'll find what I chose as the five best vegetarian recipes below, so you can get a taste of what HelloFresh has to offer. I put the Korean Bibimbap on top because it's simple, nutritious, and full of flavorful veggies, without being too heavy on calories.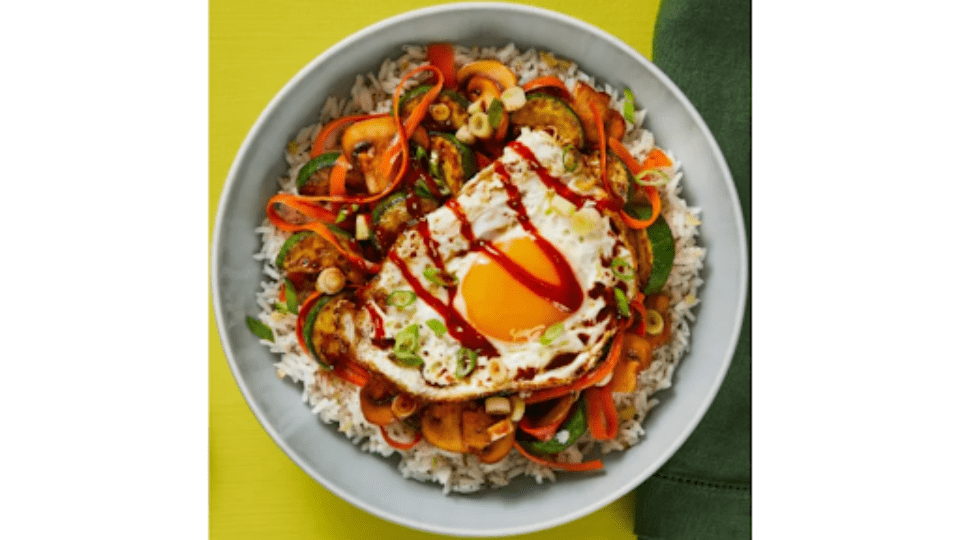 Key Features
Only 600 calories

Can be easily made vegan by omitting the eggs

No oven needed – ready in 35 minutes
I was intrigued to see this dish in the Hall of Fame, as it's a classic dish in Korea. But this only means one thing – that the chefs from HelloFresh crafted the recipe so well that people loved it enough to ask for it over and over again.
The key difference in this meal kit is that all ingredients are to be cooked. So don't worry, there are no raw eggs like in the traditional way (except if you want to, of course).
The fried egg on top provides a nice addition of protein to the rice bed, as well as the mushrooms. But the best part is how the veggies (carrot, zucchini, and scallions) combine with the sesame-sriracha-soy sauce and the ginger to create a unique flavor.
Even though the recipe is classified as Medium difficulty, it's actually super easy to make. You just need to do some basic multitasking. And you get to pickle the scallion yourself in the process, which is something you can boast about later.
Key Features

Spicy – Tuscan heat spice blend provided

Ready in just 35 minutes

Italian cheeses and panko breadcrumbs on top
This dish is the definition of a plant-based alternative to popular food. All the fun of eating meat, without the meat, am I right? The protein works in this dish as a replacement for ground meat, so you can enjoy comfort food other than plant-based burgers.
This time, the influence is clearly Italian. From the Italian cheeses to the Tuscan herbs and the crushed tomatoes, it really creates the feeling of a genuine Italian experience.
Plus, of course, the pasta, which the recipe recommends to be cooked al dente for extra crispiness. You can choose to cook it for longer if, like me, you prefer your pasta more squishy.
The recipe is labeled Easy, so it won't give you any trouble. The only thing to keep in mind is that you need to use the oven at the end for the cheese and panko blanket to get real crispy and melty.
Key Features

Ready in 40 minutes

Southwest spice blend included

Can be easily made vegan by omitting the cheese and crema
This is the perfect example of a healthy, nutritious meal that feels just as decadent as takeout, earning its place in the Takeout Favorites category from HelloFresh. Mexican food in the comfort of your own home – and what's best, the guacamole comes pre-made!
The rest of the flavor comes from the fluffy cilantro lime rice, the smoky red pepper crema, fresh pico de gallo, and, of course, the Monterey Jack cheese sprinkled at the end. The hearty black beans provide protein and combine very well with the veggie concentrate.
I was surprised to see the difficulty being marked as Hard because the only part that I find rather annoying is softening the tortillas in wet paper towels.
Of course, the prepping takes a bit of work – and perhaps tears because of the onion. But it should only take about 15 minutes and then you can have fun assembling the burritos and enjoying them in peace.
Tip: you can customize the burritos by stuffing the wraps with your desired quantity of each filling. The recipes are helpful suggestions, not rules, right?
Key Features
Curry base sauce included

Fresh cilantro to add more flavor

Super quick for a Tikka Masala – 40 minutes to make
Another great Takeout Favorite from HelloFresh, this Tikka Masala is perfect for a cozy night in, but also as a leftover for lunch. This time, it's time for Indian food to shine, as it's one of the best cuisines to draw vegetarian inspiration from.
The original paneer Indian cheese is switched here with grilling cheese to the same effect: a soft, but not melted, goodness drowned in curry sauce. The rotis are replaced with tortillas, and this is my favorite part – you brush them with melted butter and GARLIC. Like super-thin garlic bread. Amazing.
Just like for the burrito recipe above, the prepping might take a bit of time, but it's a bit easier overall as the recipe has fewer ingredients and is marked Medium.
You also need only a few utensils, namely a large pan, a medium pot, and a small bowl to microwave the butter (I think you can also let it soften by itself if you live in a warmer area).
Key Features
This soup is the type of food that you make because it has tons of veggies so you know it'll be healthy, but you end up loving it because it's warm and full of flavor. It's perfect for families as well as singles, and like all veggie soup, it reheats well.
The Tuscan herbs and the mushroom stock give the recipe personality. The onion, carrots, kale, and tomatoes fill it with fiber and flavor. The chickpeas and couscous add protein and texture and make you feel fuller.
Garlic bread is present here once again (I love garlic bread, in case it wasn't clear) but this time it's in the form of buttered ciabatta. If you want to make the dish vegan, swap the butter for olive oil and skip the parmesan.
This recipe is in the Easy category, and it cleans up really easily as well, as you really need just one big pot and a peeler.
Quick Comparison Table
| | | | |
| --- | --- | --- | --- |
| | Prep/Cook Time | Cooking Difficulty | Suitable For |
| | 35 minutes | Medium | Calorie-Smart, No Oven |
| | 35 minutes | Easy | Plant-Based Protein, Spicy |
| | 40 minutes | Hard | Takeout Favorites |
| | 40 minutes | Medium | Takeout Favorites |
| | 35 minutes | Easy | Family-Friendly, Easy Prep, Easy Cleanup, Spicy |
Tips for Choosing the Best Vegetarian Meals
When you have so many options, the best way to select the best vegetarian meals is to look for these four details:
Veggies: This is the base of any balanced, nutritious meal, but it's especially important for vegetarian ones. Veggies are a must as an integral part of the meal, not just as a skinny side. And no, potatoes don't count.

Protein: There should be a clear source of protein in the dish, be it soy-based like tofu, a plant-based meat alternative, or beans/legumes. Mushrooms can work as well, but they have very few calories so you won't feel as full.

Spices: This is a good indicator that the recipe will taste good. If there are no herbs or spices in the dish, it's possible that it'll taste bland at the end, or that it won't feel as rich.

Method of cooking: A plant-based burger can be nice from time to time, but you need to look for recipes that focus on baking, steaming, stir-frying, and boiling rather than deep frying. This is not only healthier but makes the veggies taste better.
Bottom Line: Plenty of Vegetarian Options That Are Better than Takeout
My initial impression that HelloFresh is better than takeout turned out to be accurate. The inclusion of whole, fresh vegetables ensures that you receive the best nutrition, while the incorporation of various protein sources adds to the overall quality. Additionally, the recipes draw inspiration from different cuisines, resulting in exciting and flavorful dishes.

Plus, you'll get to cook things that are usually made with meat without having to worry about how to replace it. HelloFresh already did that for you.
Whether you want to cook for yourself, your loved one, or the whole family, I think the vegetarian meals from HelloFresh pass the test.
FAQs
Can you choose recipes on HelloFresh?
Yes. You can choose the recipes yourself from the HelloFresh menu after you select your desired plans, including Veggie. Each week there are over 25 recipes available, out of which around seven are vegetarian. You can order two to six recipes (or four to 24 servings) each week, enough to feed yourself and/or your family.
What are the best meals in HelloFresh?
You can see the top five vegetarian meals from HelloFresh that I selected above. From the Hall of Fame to Takeout Favorites to One-Pot Wonders, the best meals are the ones that the chefs from HelloFresh took the time to craft and refine. Full of spices and flavors, they'll surely not bore your tastebuds.
What is Hall of Fame on HelloFresh?
The Hall of Fame is a category of recipes from HelloFresh that have gotten the most positive feedback from customers over time. They are so loved that the company decided to make them reappear regularly on the menu. Read about one of those great recipes above.