The Best Meal Delivery Services for Singles Reviewed
Factor's single-serving dishes are not what you'd expect from typical microwave meals. Not only are they free from additives and made with premium ingredients, including humanely raised proteins and some organic produce, but each meal is also dietitian-approved and prepared by in-house chefs.
With Factor's meals, there's zero prep or cooking required – all you have to do is pop them in the microwave for around 3 minutes. Since the meals arrive fresh, you don't even have to thaw them before heating. You'll save on some serious washing up, too.
This service also caters well to dietary needs, plans dedicated to keto, vegan, vegetarian, flexitarian, high-protein, and low-calorie diets. You can subscribe to a specific plan when you sign up, but this is just so Factor can streamline your options to show you the most relevant choices – you'll always be able to mix and match.
The meals taste great, too – as my colleague found out when they put Factor under the microscope at home. In particular, look out for the options labeled as Top Rated for customer favorites.
Factor also offers dietary support with its optional nutrition coaching programs. You'll get a free 20-minute virtual session when you sign up, with further coaching available for anyone who wants help overhauling their eating habits or meeting their fitness goals.
Prices start at $6.19 per serving. You can order 6, 8, 10, 12, 14, or 18 single-serving entrees per week, plus add-ons. This means you could have a week's worth of food fulfilled with a single Factor order!
Key Features
Swap, upgrade, or double-up on protein in almost every dish

25+ meals per week, plus add-ons

Dietary options include carb- and calorie-conscious
Home Chef has a huge array of meal types – which means there's always something on the menu to suit your schedule. In addition to its standard meal kits, you can pick up Express meal kits that take around 15 minutes to make, Oven-Ready options, and even microwaveable meals.
The Culinary Collection is perfect for when you're hosting. The recipes might be more complex and take a little more time, but you get the chance to enjoy restaurant-quality proteins like sirloin steak, craft burgers, and salmon with gourmet sides.
Home Chef's biggest draw is its Customize It feature, which gives you numerous protein options for each dish. Whether you want to swap out ground beef for turkey or upgrade a chicken dish for steak, it's really easy to do so, as my colleague discovered when they tried Home Chef for themselves.
Vegetarians can find around 6 dishes per week on the menu. I like that you can sometimes switch the protein in some recipes for Impossible Burger. It's worth noting that there are very limited options for vegans, since many of the recipes contain dairy as well as meat.

You can also add extras to your order, separately from the meal kits. There are breakfasts and salads that come with pre-cooked proteins, desserts, beverages, and even different types of bread and spreads. Some of them come in pairs or bundles and if you order them as such, you can get an extra discount.
You can also get extra proteins a la carte which you can pair with a side dish to construct a super-quick lunch. If you have the freezer space, you can get them in bundles, which range from "Essential" to "Premium".
Home Chef starts at $7.99 per serving. You can order between 2 and 6 meal kits each week, each with 2, 4, or 6 servings.
HelloFresh is popular across the US and renowned for its extensively tested recipes. The crowd-pleasing dishes, which include a number of vegetarian and vegan variations like the Buffalo Cauliflower Tacos (pictured), are perfect for singles who want leftovers for lunch or dinner the next day.
The menu offers everything from classic American to Indian, Italian, Moroccan dishes, and more. It's one of the largest menus out there, which means there's something for even the pickiest of eaters, and the best recipes come back in the Hall of Fame category. With such variety, you can stick with HelloFresh for the long haul without ever getting bored.
You can order from HelloFresh's Premium Picks collection, too, which boasts meals made using gourmet proteins such as seafood or steak. They're understandably pricier than the standard meal kits, but are great for a special occasion.
The recipes promise to be easy to follow – even for novice cooks, as my colleague discovered when they put HelloFresh to the test.
You can also make customizations on some dishes, swapping the protein or sides to suit you. You'll find labels such as Spicy, Calorie Smart, Protein Smart, Easy Cleanup, and Dietitian Win to help you navigate the menu, while plans such as Quick & Easy and Fit & Wholesome will also streamline the recommendations you see each week.
Subscribers will have access to the HelloFresh Market, which is perfect for weekday staples. Shop pantry and fridge essentials like fresh produce, proteins, and snacks, plus a selection of quick-cook meals, breakfasts, and desserts.
HelloFresh starts at $3.32 per serving – making this another budget-friendly option for singles. You can order between 2 and 6 meals per week with either 2 or 4 servings of each.
Key Features
Meal kits with prepped ingredients

30+ recipes to choose from per week

Dietary options include keto, gluten-free, plant-based, and more
Green Chef prides itself on delivering balanced, USDA-certified organic meal kits. That commitment to quality is reflected in the care with which every dish is designed – from the complex flavor profiles to the proprietary spice blends, marinades, and sauces.
Green Chef also has high standards when it comes to sourcing its ingredients. All the meat comes from local and trusted suppliers that have high animal welfare standards, while the seafood promises to be ethically caught.
The recipes strive to be flavorful yet healthy, and cater to specific dietary needs. You'll find many Mediterranean influences (like the Gyro-Spiced Pork Tenderloin Kale Salad, pictured), plus Asian, Mexican, and more.
It has a solid number of recipes for vegans and vegetarians, too, with dishes like Pesto and Kale Salad Flatbreads with Roasted Peppers, Mushrooms, Onion, Dried Apricots and Almonds, or the Coconut Curry-Glazed Cauliflower with Jasmine Rice – yum!
Most of the entrees take around 30 minutes to make, though some of the ingredients arrive prepared for extra convenience, with premade sauces and marinades to make cooking homemade meals even easier – something our reviewer loved when they tried Green Chef.
You'll also find a selection of handy add-ons to stock up the fridge with, including extra proteins, vegan oatmeal bowls, and 1-minute breakfasts like Smoky Bacon and Cheddar Egg Bites and Cinnamon Crumb Muffins.
There are 7 plans available, including Keto, Mediterranean, Vegan, Gluten-Free, and the Fast & Fit menu, which features calorie-conscious meals that can be whipped up in 25 minutes or less. There's also a Protein Packed option for those looking to up their protein intake. Whichever you choose, you'll always have access to the wider menu.
Green Chef's meal kits start at $9.99 per serving. You can order 3 or 4 meal kits per week, each with 2, 4, or 6 servings. While the 2-serving plans would suit most people living alone, anyone bulking up or wanting leftovers could still benefit from the larger options.
Key Features
Pick up extras like sides, salads, and desserts

17+ meals on the menu per week

Dietary options include carb- and calorie-conscious
Fresh and Easy is part of the Home Chef family, offering a curated selection of quick-to-cook recipes. If you want access to Home Chef's easiest recipes, this plan could be the option for you.
The menu includes Oven- and Grill-Ready options, with prepped ingredients that just need to be assembled in the accompanying oven-safe tray, as well as Fast & Fresh meals that can be popped into the microwave. You can also pick up the Express meal kits, and entree salads that just need to be combined with the pre-cooked proteins they come with.
Everything requires next-to-no prep or washing up – so it's perfect for anyone who finds themselves coming in late from work night after night.
And just because they're fast, doesn't mean your meals can't be gourmet. Look out for the Express or Oven-Ready "Plus" tag, which indicates easy-cook meals that contain more elevated ingredients, such as the Cherry Balsamic Pork Medallions with Rosemary Carrots and Fingerlings.
My colleague was blown away by the flavor and convenience when they reviewed Fresh and Easy. Plus, you'll also have access to Home Chef's wider menu if you want to mix and match with some of the more complex recipes on occasion.
You can customize the proteins just like Home Chef, too. The only time you can't do this is on some of the microwaveable Fast & Fresh meals. Plus, you get access to the same selection of add-ons, like bread, desserts, beverages, and more.
Fresh and Easy's meals start at just $7.99 per serving. Just like Home Chef, you can order up to 6 recipes each week, each one with 2, 4, or 6 servings.
Key Features
Meal kits and prepared meals

16+ new recipes each week, plus tons of add-ons

Dietary options include vegetarian, low-calorie, and diabetes-friendly
Blue Apron offers both meal kits and prepared, microwaveable meals, so you really do get the best of both worlds with this service. The menu boasts 19+ meal kits each week, all of which are easy to follow thanks to the clear instructions and step-by-step photos, plus a great range of single-serving prepared meals.
Blue Apron's main menu is the Signature plan, which features everything from grain bowls and shrimp tacos to fettuccine, steak, and more each week. You'll find a lot of Italian and Mediterranean inspiration, but also popular American fare, including some tasty-looking craft burgers. If you have other dietary needs, you might choose the Vegetarian plan or Blue Apron's Wellness plan.
The meal kits bottom out at 2 servings per recipe, but it means you'll have leftovers for lunch or dinner the following day. You could even have your whole week in meals covered if you order the maximum of 4 recipes per week! Find out more about how my colleague got on, when they put together this in-depth review.
Blue Apron is also a smart choice for singles who like to host. The company's gourmet meals are the perfect way to level-up your meal times. Plus you can also pick up prepared meal bundles for special occasions and holidays, making party preparations way easier.
There's also a huge range of add-ons to choose from, including breakfast items like Homemade Granola and Yogurt Bowls with Pineapple-Mango Compote, salads, sides, desserts, and extra proteins such as skin-on salmon fillets or black bean and red pepper patties.
Blue Apron starts at $5.74 per serving, with the option to order 2 or 4 servings of 2, 3, 4, or 5 recipes per week. Taking into account its excellent quality and variety, Blue Apron is both an affordable and sustainable option for those who live alone.
Key Features
Doctor-designed prepared meals

100+ meals on a weekly rotation

Dietary options include gluten-free, keto, diabetic-friendly, and more
BistroMD simplifies the weekly meal planning process for anyone wanting to lose weight or manage a health condition. If you choose to, you can order the single-serving meals for every day of the week, including breakfast, lunch, and dinner. Since everything is taken care of, there's no cooking or calorie-counting involved.
All the meals are cooked by in-house chefs and delivered flash-frozen – all you need to do is heat them for a few minutes each time before digging in. Each doctor-designed dish promises to be perfectly balanced and free from trans fats, artificial sweeteners, and additives, with the optimum amount of macronutrients. If you prefer cooking your weight-loss meals from scratch, try Green Chef's Calorie Smart meal kits instead.
You'll find separate plans for men and women, plus a number of health-focused programs to help you manage certain medical conditions, such as Heart-Healthy, Diabetic-Friendly, Gluten-Free, and the Menopause program, which you can find out more about in my colleague's BistroMD review. You'll have the support of BistroMD's registered dietitians, too.
Expect to find mostly American fare, with a lot of meat. You'll get entrees like Meatloaf with a Honey Bourbon Glaze, or Turkey Breast with Herbed Brown Gravy, plus a selection of sweet and savory options for breakfast each day – think pancakes, waffles, and protein-packed omelets.
You can also pick up BistroMD EATS – essential and tasty snacks – to keep you fuelled in between meals. These are designed to be high in protein and fiber, with options like whey protein bars and shakes, granola and nut mixes, chips, cheesecake, and more.
Prices for BistroMD start at $8.24 per serving. You can order 2 or 3 meals per day for the full 7 days, or for 5 days per week. In the case of 2 meals per day, breakfast is the dish that's omitted, while the 7-day plan gives you one "cheat" night for you to eat as you please.
Key Features
Choose between meal kits or prepared meals

16 entrees per week, plus extras

Dietary options include low-calorie, high-protein, nut-free, and more
Purple Carrot's meal kits and prepared dishes are perfect for singles who live a plant-based lifestyle. In fact, even if you're not strictly vegan, you'll find a lot to love about this service – it's a great way to incorporate more (inspiring) veggie meals into your diet, for one!
Rather than relying on meat substitutes, Purple Carrot celebrates all kinds of Earth-given foods in their natural form. Dishes like the Black Bean Enchilada Pasta with Sweet Peppers and Lime are packed with flavor and nutrients. Yet there's the occasional plant-based burger in there if you're craving comfort food.
The meal kits take around 30 to 35 minutes to cook, though you'll also spot some Less Prep options on the menu which include pre-chopped and washed veggies, and ready-made sauces to streamline the cooking process even further.
The dishes deliver on taste, too – as our reviewer reveals when they tried Purple Carrot for themselves.
If meal kits aren't your thing, Purple Carrot's prepared meals might be. Pick up dishes like the Peanut Thai Noodles with Tofu and Shiitake-Edamame Stir-Fry or the Spelt Risotto with Roasted Eggplant and Romesco Sauce which can be heated up in minutes. It's worth noting, however, that you can't mix and match between the meal kits and prepared meals – you'll have to choose between one or the other.
Purple Carrot also offers 2 lunch and 2 breakfast options each week. They only take 5 to 15 minutes to make and though they can serve up to 4, it does mean you could have breakfast or lunch sorted for almost the entire week. Pick up add-ons in the Plantry, too, including plant-based cheeses and sweet snacks.
Purple Carrot prices start at $8.50 per serving, based on the largest plan size. The minimum order for meal kits is 3 recipes that serve 2 per week, while the single-serving prepared meals can be ordered in batches of 6, 8, or 10.
Key Features
Premium dishes available for an extra cost

100+ recipes on the menu each week

Dietary options include veggie, dairy-free, low-calorie, no added gluten, and more
Dinnerly is, without doubt, the cheapest meal delivery service out there right now. But despite the low price, this service offers tons of variety, with a seemingly endless rotating menu of entrees, breakfasts, desserts, and snacks.
The focus is primarily no-frills meal kits, with dishes like Buffalo Fried Chicken Tacos, Turkey Meatball Parm, Cheeseburger, and Black Bean Burrito Bowls. Many of the sides that accompany the dishes are simple salads, vegetables, or potatoes of some kind – but if you want fuss-free meals on a budget, Dinnerly's vast choice is hard to beat.
Each meal kit can be made in 30 minutes, in 5 easy steps or less – though some steps may incorporate a few different tasks at once! But with fewer ingredients than many other meal kits, even novice cooks shouldn't have a problem getting Dinnerly's meals on the table, as our reviewer points out. Plus, fewer ingredients means less cleanup, right?
You can also make some customizations, too. Look out for the Customizable tag which allows you to make swaps such as upgrading to an organic protein or switching your pasta for a gluten-free version.
Alongside the many, many meals is a wide range of extras, including breakfasts, desserts, and a number of prepared meals. If you have the fridge space, you can also pick up prepared meal bundles – think Tex-Mex and pasta dishes – to save for busy weeknights.
The prepared meals, however, do come under the PremiYUM category, which costs a bit extra – likely thanks to how convenient they are. In the same category, you can find fancier meal kits which are more on par with Blue Apron's standard offerings.
Dinnerly starts at just $2.12 per serving. You can order between 3 and 6 meals per week, each comprising 2 or 4 servings. This includes the prepared meals, which cost a bit more.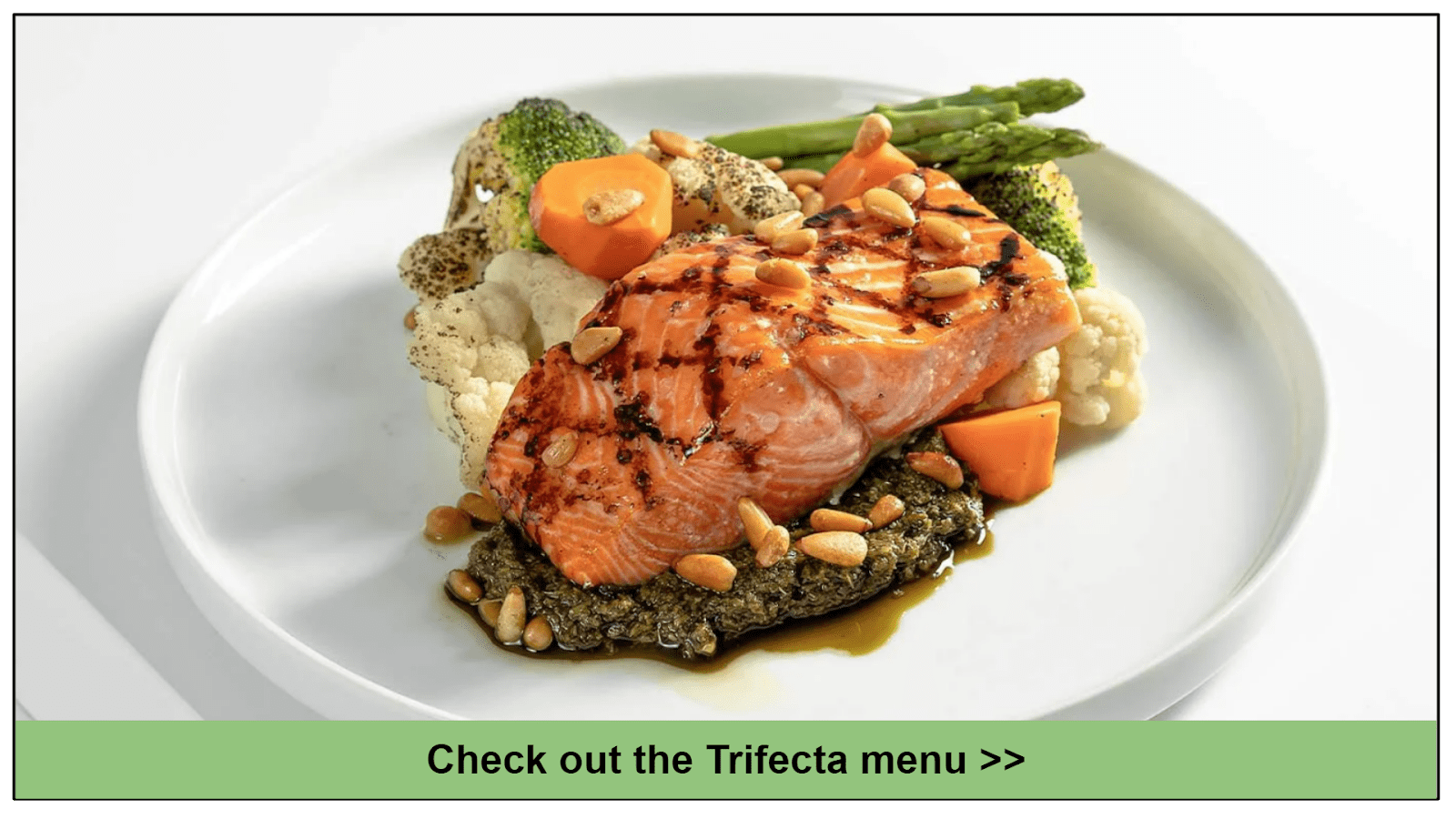 Key Features
Get breakfast, lunch, and dinner

100+ entrees available on a rotating weekly menu

Dietary options include keto, paleo, and plant-based

Trifecta is focused on delivering high-quality prepared meals that help individuals meet their health and fitness goals. The single-serving dishes are gluten-free, macro-balanced, and dietitian-approved to give you the best possible head start. It's also a popular choice with athletes.
The service is best known for its Keto program, which promises meals high in protein and healthy fats and just 10g of net carbs per serving. The other options to choose from are Clean, Paleo Whole 30 Approved, and a Plant Based plan, so you can choose the best fit for you.
It also allows you to put your meals on autopilot, with a chef-chosen menu each week. This means your meals are selected for you, which will appeal to some but perhaps not others. If you'd prefer to choose your own meals, you can do that, too.
You can order up to 3 meals per day, and you can exclude up to 2 ingredients from a limited list when you select your plan, such as mushrooms, seafood, pork, or tree nuts.
Subscribers also get support from the Trifecta community via the app – look out for resources such as articles and mini challenges, tools to help you track your macros and weight loss, and peer support. Our reviewer found this a useful tool when putting Trifecta to the test.
Trifecta prices start at $6.00 per serving. You can order 5, 7, 10, or 14 entrees suitable for lunch and/or dinner each week, and you can also add 7 breakfasts if you want the full program.
Key Features
Lots of easy, 20 to 50-minute meal kits
25+ weekly options
Diets include omnivore and veggie
For singles, EveryPlate stands out for its affordable, quick-to-prepare meal kits. If you're short on time and don't want to cook complicated meals just for yourself, EveryPlate is your best bet. You only need 20 to 50 minutes to whip up a meal. The meals from EveryPlate are straightforward and uncomplicated, and they're perfect if you're not into complexity.
Each week, you get to select from over 25 recipes. This vast choice is impressive for the price. For more info about its meal kit options, check out our full EveryPlate review. Apart from the main dishes, you also have several extras to choose from.
EveryPlate offers 5 meal plans. These are Meat & Veggie, Veggie, Family Faves, Quick & Easy, and Nutrish & Delish. You'll enjoy the flexibility to mix meals from different plans. There may not be a broad range of special diet options, but the Veggie plan is there for you if you prefer plant-based meals.
The meals draw inspiration from a variety of global cuisines. You get to savor Mexican, American, Italian, Japanese, Thai dishes, and more. Think about trying the Southwest Pork Flautas or the Sweet Thai Chili Lettuce Wraps. Or maybe the savory Bacon & Caramelized Onion Risotto with scallions.
EveryPlate goes beyond the main dishes with an array of add-ons and extras. These range from breakfast items to salads to soups. You can also add more protein to your order, like salmon, steak, and chicken strips. Yet, note that there are no desserts on the menu.
EveryPlate lets you place an order as small as 3 meals for 2 people per week. But you can also order up to 6 meals for 4 people per week. The best part? The more you order, the less you pay per serving. For the largest order, you only pay $1.49 per serving.
Quick Comparison Table