Short on Time? Here Are the Best Meal Delivery Services in Baton Rouge for 2023
Our 10 Best Meal Delivery Services in Baton Rouge Reviewed
Factor caters to health-conscious people with busy lifestyles. Its single-serving meals are created by registered dietitians and prepared by culinary experts to be both delicious and nutritious. These premade meals are perfect for those who are always on the go or who follow specific diets, as they require no cooking skills and are ready to eat in minutes.
Our Factor reviewer found the meals to be high quality, fast, and really tasty. If you're skeptical about microwavable meals, rest assured that Factor brings the flavor.
The menu is user-friendly and features an array of American and international meals. You can easily filter the menu to show meals that fit your dietary requirements, such as keto, high-protein, calorie smart, spicy, vegetarian, spicy, and vegan.
Factor is especially good for those on specific diets. No matter which of the 6 plans you choose, you are free to select any menu item:
Calorie Smart

Chef's Choice

Keto

Protein Plus

Vegan & Veggie

Flexitarian
Many meals fall into multiple diet categories. For example, the Asian Chili Shrimp pictured above is a Calorie Smart and Protein Plus meal. It gives you spicy chili garlic shrimp over fried brown rice with ginger and red peppers alongside broccoli with a dash of sesame oil and sesame seeds. You even get a side of Sriracha sauce for a delicious Chinese meal that has just 510 calories and 30 g of protein.
Factor's vegetarian and vegan options are somewhat limited compared to the other categories. If you are a strict vegan, you will find a modest selection of meals at Factor but might want to check out our list of the best vegan meal delivery services.
Factor's add-ons include soups, protein packs, smoothies, and breakfast options. The smoothie packs are a convenient way to get a quick and nutritious breakfast, and Factor's keto-friendly snacks let you enjoy a guilt-free low-carb treat.
You get a free 20-minute consultation with a registered dietitian when you join Factor, as well as optional subscription access to Factor's nutrition coaching programs. If you are still having trouble staying away from the beignets, Factor's coaches can help you learn healthier eating habits.
Factor lets you order between 6 and 18 meals every week. Prices start at $6.19 per serving.
Key Features
Recipe shortcuts like premade sauces and marinades

45+ weekly recipes, plus the Green Market


Keto, Mediterranean, Plant Based, and other options available


Current deal: Get $250 off + free shipping
Green Chef uses unique ingredients to create bold and exciting flavors. Premade sauces, marinades, and spice blends make cooking easy, even for those with limited cooking skills. Each recipe comes with step-by-step instructions, photos, and tips, so even those with little experience in the kitchen can feel confident preparing healthy and delicious meals.
You can choose between 8 Green Chef plans, but you can always order from the entire menu:
Mediterranean

Calorie Smart

Quick & Easy

Plant Based

Protein Packed

Keto

Delicious Discoveries

Gluten Free
The Ranch Steak with Truffle Sauce pictured above is ready in just 25 minutes. With pan-seared ranch steaks atop a truffle and cremini mushroom sauce, roasted rainbow carrots, and a sprinkling of chives and parmesan, this is a meal fit for a king. And with just 610 calories, His Highness can enjoy it without worrying about the royal waistline.
Green Chef stands out for its commitment to organic ingredients. The company is USDA-certified organic, which means the produce and eggs used in Green Chef meal kits are organic. All meat is antibiotic and hormone-free, while all fish and seafood is wild-caught and sustainably harvested.
I was impressed by the meals I prepared when trying Green Chef at home. The service's commitment to organic vegetables and clean proteins isn't just healthier: it also resulted in some great-tasting dishes!
If you are gluten-intolerant, some Green Chef meals are gluten-free. Most gluten-free meals are on the Keto menu (including the Ranch Steak), but you should check other menu categories as well.
Green Chef's meals are great for foodies and adventurous palates, but they may not be suitable for picky eaters. (My 11-year-old turned her nose up at meals my wife and I loved.) If you are feeding children who don't share your love of gourmet food, check out our list of the best family-friendly meal delivery services.
The minimum weekly Green Chef order is 3 meals of 2 servings, with a maximum of 4 meals for 6. Green Chef is one of the few meal delivery services to offer 6-serving kits, which makes it a great choice for big households. Green Chef prices start at $9.99 per serving.
HelloFresh is America's most popular meal delivery service, and it's not hard to see why. With a focus on customer service and fresh ingredients, and a huge selection of fun, easy-to-make, and healthy recipes, HelloFresh offers something for everyone.
HelloFresh offers 6 plans, but you can also order items outside your plan.
Meat & Veggies

Family Friendly

Pescatarian

Veggie

Fit & Wholesome

Quick and Easy
Most HelloFresh meals take 30 minutes or less to make, and most dishes require only basic culinary skills like chopping and frying. (Look for Quick and Easy Cleanup recipes for especially busy nights). The Greek Diner Spaghetti pictured above takes just 25 minutes to prepare.
There are many classic American recipes on the HelloFresh menu, but there are also international dishes like Turkish Spiced Chicken in Apricot Sauce or Thai Coconut Curry Chicken with Cilantro Lime Rice. HelloFresh works to prevent food waste and uses farm-fresh, responsibly sourced, seasonal produce.
For those new to meal delivery services, HelloFresh is an easy and approachable option. The website is user-friendly, and customer service is responsive. Plus, Baton Rouge students, military personnel, and veterans can enjoy a 15% discount.
HelloFresh offers some customization options on select entrees. For example, you can replace potatoes with broccoli for a lower-carb meal. Some dishes also offer the option to change the protein choice. HelloFresh's Marketplace also has a curated selection of breakfasts, lunches, and other items, including desserts, spices, bulk proteins, and fresh produce.
The HelloFresh website has over 2,500 recipes, as well as blog posts on different ingredients and cooking techniques. These are great resources if you are looking for new dinner ideas or want to improve your game in the kitchen. Our reviewer tried HelloFresh at home and found that cooking HelloFresh meal kits gave them more confidence in the kitchen.
HelloFresh has a limited selection of meals if you are on a specialized diet, though its vegetarian selection continues to grow. But flexitarians and omnivores looking for a reliable meal delivery service with a good selection of easy family-friendly meals may find HelloFresh is exactly what they were looking for.
HelloFresh prices start at $3.32 per serving. You can order between 2 and 6 meal kits per week, in 2-serving or 4-serving sizes.
Key Features
Most entrees can be customized

39+ weekly entrees plus add-ons

Calorie-conscious and carb-conscious meals available
Home Chef's best feature is its Customize It option. While some delivery services offer a limited number of customizable options, with Home Chef, you can swap, double-up on, or upgrade the protein on most dishes. You can order the Steak Strip and Broccoli Stir Fry pictured above with shrimp, diced boneless skinless chicken breasts, or veggie Impossible Burger.
My colleague raved about the meal quality in their Home Chef review. The service's menu provides information about cooking difficulty and spice levels, so you can choose recipes to suit your heat tolerance and your culinary skill.
The recipe cards that come with each Home Chef meal are a great bonus. With your first order, Home Chef sends a three-ring binder, so you can save your favorite recipes and even recreate them on your own in the future.
Home Chef has meal options to fit any schedule. The Culinary Collection features complex dishes with premium ingredients that take around an hour to prepare. Prices for these meals start at around $15 per portion, which is less than you'd pay for a meal at a high-end restaurant.
For busy nights, Home Chef offers quick options like speedy Express kits, oven-ready kits, and Fast & Fresh microwaveable meals. These kits come with pre-chopped veggies and pre-prepped ingredients. Oven-Ready meals require no prep work and can be cooked in the provided oven-safe tray for a hands-off dinner in 20 to 40 minutes.
You can also order from the Home Chef Market. It offers pre-made breakfasts, salads, pizzas, snacks, and bread options, as well as protein packs of meat, poultry, and seafood. With so many options to choose from, the Market offers a convenient way to stock your pantry and freezer.
Home Chef offers a decent selection of vegetarian entrees, though there are few to no vegan options. Vegans might prefer Green Chef, which offers a better selection of plant-based meals. Home Chef also has Calorie-Conscious and Carb-Conscious recipes, but it's not well-suited for keto, paleo, or other specialized diets.
You can order up to 6 Home Chef meals for 6 people each week, with a minimum weekly order of 2 meals for 2. Prices start at $7.99 per serving, but items are individually priced.
Key Features
Easy-prep meals from Home Chef

Over 17 dishes each week plus the full Home Chef menu

Low-calorie, carb-conscious and other options available
Fresh and Easy is a Home Chef meal plan that includes its most convenient recipes. The meals are designed to be cooked in an oven, microwave, slow cooker, or grill. Rather than prepared meals, it gives you shortcuts for super speedy meal kits.
My colleague reviewed this service and found it to be a great choice for busy people. The pre-chopped vegetables and recyclable trays make Fresh and Easy a great choice for working parents or anyone trying to put a home-cooked meal on the table with limited time.
While Fresh and Easy is designed for convenience, it doesn't compromise on taste or quality. The meals are made with fresh, high-quality ingredients, and the recipes are easy to follow, even for novice cooks.
Fresh and Easy's meal labels include:
Express meal kits

Fast & Fresh

Oven-Ready

Salads

Extras
Fresh and Easy also offers a selection of Plus entrees with high-quality ingredients you find in Home Chef's Culinary Collection. But while Culinary Collection meals tend to use more complicated cooking techniques, Fresh and Easy Plus meals can be ready in minutes.
The Maple Mustard-Glazed Pork Medallions pictured above is an Express Plus meal that combines a sweet and tangy maple/mustard sauce with Brussels sprouts and roasted potatoes. It's a restaurant-quality dinner that takes just 20-30 minutes.
You can also use the Customize It feature with a Fresh and Easy subscription. This allows you to switch up the protein in many dishes. For example, if you're not a fan of pork medallions, you can make Maple-Mustard Glazed salmon filets, chicken breasts, sirloin steaks, or even filet mignon!
Your Fresh and Easy subscription also gives you access to the entire Home Chef menu. You can mix and match more time-consuming meal kits with quick meals as you like. You also can order any of the add-ons from the Home Chef market.
Like its parent company Home Chef, Fresh and Easy's vegan options are somewhat limited. If you're a herbivore with limited cooking time, you might want to check out Purple Carrot's vegan prepared meals. But vegetarians and omnivores looking for easy home-cooked meals will find plenty to love with Fresh and Easy.
Fresh and Easy's minimum weekly order is 2 meals for 2 people, and you can order up to a maximum of 6 meals for 6 people. Prices start at $7.99 per serving.
Key Features
Physician-designed meals for healthy weight loss

150+ meals plus snacks

Heart-healthy, diabetes-friendly, menopause and other options
BistroMD is a convenient and effective way to lose weight without sacrificing flavor and satisfaction. With a focus on science-based nutrition and balanced macronutrient ratios, BistroMD meals are designed to help you burn fat while maintaining lean muscle mass.
BistroMD's founder is a physician specializing in weight management who started the service to provide balanced meals for patients. Today, it employs a team of dietitians and provides weight loss programs for a number of different medical conditions.
The meals themselves are prepared by trained chefs with fresh ingredients. They are then flash-frozen to preserve their nutrients and flavor. Each entrée contains less than 450 calories per serving and is generously portioned to keep you feeling full and satisfied.
In addition to the standard program, BistroMD offers a variety of specialized programs, including heart health, diabetes, men's and women's health, menopause, and gluten-free options. This means you can find a program that works for your specific needs and preferences.
BistroMD's EATS (Essential And Tasty Snacks) are a great way to stave off cravings. These high-protein and high-fiber snacks can help you avoid temptation and stay on track. EATS are optional but highly recommended and include items like low-calorie cheesecake. Our reviewer spoke highly of BistroMD's desserts and snack options.
One of the greatest benefits of BistroMD is the convenience factor. With fully prepped meals delivered straight to your door, all you have to do is heat them up in the microwave or oven and enjoy. This takes the stress and hassle out of meal planning and preparation, making it easier to stick to your weight loss goals.
The service also offers a vegan plan for plant-based dieters. However, the menu selection is much more limited compared to its other plans. Factor's healthy prepared meals offer a good selection of fresh vegan food, although BistroMD's meals are still better for weight loss.
You can order as few as 2 BistroMD meals per day (lunch and dinner) or order a complete meal plan of 3 meals per day for 7 days a week. Pricing starts at $8.24 per serving. BistroMD also offers a 15% discount for couples who want to lose weight together.
Key Features
100% plant-based meal kits and prepared meals

20 entrees each week, plus lunch and breakfast choices

High-protein, soy-free, gluten-free, and other options
As the only vegan service on my list, Purple Carrot has a variety of plant-based options. With 16 breakfast and lunch items, as well as access to the Plantry for vegan staples, the service is a perennial favorite on our list of the best vegan meal delivery services.
Its meals prioritize whole, fresh vegetables over processed meat substitutes, with plant-forward international vegan favorites like the West African Peanut Stew pictured above. Purple Carrot also offers meals for a range of dietary needs, with high-protein, soy-free, low-calorie, gluten-free, and nut-free options.
In addition to its meal kits, Purple Carrot also offers a selection of prepared meals that you simply heat and eat. And if you enjoy cooking but are short on time, Purple Carrot's Less Prep recipes feature pre-chopped vegetables and prepared sauces. Since you can mix and match these items, you can choose vegan meals that suit your schedule.
You can also order staples like vegan desserts and cashew cream cheese at the Plantry. Finding vegan pantry items can be challenging at many grocery stores, but with Purple Carrot, you can get them delivered to your door.
Even non-vegans will have no problem finding Purple Carrot meals they love. Our reviewer, a dedicated omnivore, enjoyed every Purple Carrot meal they cooked at home. They also appreciated the service's mission to provide naturally healthy meals.
Purple Carrot's menu is smaller than many other meal delivery services. And Purple Carrot only posts the current week's menu, unlike services like HelloFresh that let you look at several upcoming weeks to see if the meal offerings have enough variety for a prospective customer.
I can attest that Purple Carrot's menu is consistently excellent and contains enough variety to keep the interest of vegans, vegetarians, and people who just want more plants in their diet.
Purple Carrot's minimum weekly order is 3 meal kits for 2, with a maximum of 4 kits for 4. You can order 6, 8, or 10 single-serving prepared meals each week. Prices start at $8.50 per serving.
Key Features
Many quick and easy options available

100+ recipes on the menu every week

Vegetarian, dairy-free, and other options available
Dinnerly is the most affordable meal delivery service on my list, but you get an awful lot of value for your money. With over 100 weekly recipes and add-ons on the menu each week, it provides a broader meal selection than many more expensive meal delivery services.
Busy folks and families who want to make quick and easy meals at home will love Dinnerly. Its recipes are designed to be simple, with no more than 5 steps and 6 ingredients. This makes Dinnerly an excellent choice for people who want to make a hot meal without spending hours in the kitchen.
Although its dishes contain limited ingredients, Dinnerly's dishes are never boring. The Banh Mi pictured above combines sweet hoisin sauce with tangy pickled cucumbers and carrots for a Vietnamese meal that will please fussy and adventurous eaters alike. Dinnerly and Marley Spoon are owned by the same parent company, so Dinnerly uses many of the same high-quality ingredients as Marley Spoon.
You get a selection of vegetarian and pescatarian options, with around 10 vegetarian and 3-4 seafood dishes available each week. Dinnerly even has 1 or 2 vegan entrees available each week, which is something you won't find on most low-cost meal services. Our in-depth review goes into more detail on Dinnerly's expansive menu, including its new Saver range.
There's also a Market where you can add groceries and ingredients to your weekly box. Here, you'll find snacks, seasonal desserts, and breakfast options. And if you're really short on time, Dinnerly also has a small selection of heat-and-eat prepared meals.
Dinnerly is committed to reducing its environmental impact while keeping costs low. Unlike many other meal delivery services, Dinnerly bundles its ingredients together to reduce the use of plastic and paper in its boxes. This means less waste for you to dispose of and less cost for Dinnerly to pass on to you.
However, Dinnerly's eco-friendliness comes with a trade-off. There are no paper recipe cards in your box – instead, you'll have to follow digital versions on your device. If you're looking for more guidance in the kitchen, Blue Apron's detailed recipe cards and follow-along videos might be a better choice.
Dinnerly's minimum weekly order is 3 meals for 2 people, and its maximum is 6 meals for 4 people. Prices start at just $2.12 per serving.
Key Features
Fresh ingredients and chef-inspired meals

16 weekly meal choices + extras


Vegetarian, low-calorie, and other meal choices
Blue Apron is a great choice for people who love trying out new recipes. Its ingredients are always fresh and sustainably sourced, and the generous serving sizes will leave you feeling full for hours.
Even inexperienced cooks will have no trouble preparing Blue Apron meals, thanks to the easy-to-follow recipe cards and step-by-step instructions. And if you start to feel like you're in over your head, there are additional cooking resources and videos on the website and mobile app.
Blue Apron gives you 5 menu preferences to choose from, but you always have the flexibility to order anything on the menu
Chef Favorites

Family Friendly

Wellness

Veggies

Fast & Easy
Blue Apron's Wellness menu features healthy, flavorful meals inspired by the Mediterranean diet. Recipes offer diet tips like using nonfat yogurt instead of sour cream, making Blue Apron a great choice for those looking to lose a few pounds.
The Veggie menu features meals packed with fresh, nutritious ingredients like vegetables, fruits, grains, legumes, and artisan cheeses. The Cornbread Chili Casserole above combines pinto beans and tomatoes with a smoky guajillo chili sauce, then tops it with sweet cornbread and kicks it up a notch with sliced jalapeños.
You can also find a number of easy prep meals on the Blue Apron menu. The Cornbread Chili Casserole arrives with a recyclable baking tin. All you have to do is assemble the pre-chopped ingredients, bake for 30 minutes, and enjoy a spicy vegetarian supper.
Blue Apron also lets you customize some entrees. You can order your Chili Cornbread Casserole with pork chorizo sausage, or swap the ground beef in your Mexican-Style Beef & Rice Bowls with black beans and a bell pepper.
Our expert reviewer was very impressed with Blue Apron's selection of American and international recipes. There are enough sophisticated meals here to please foodies but also plenty of meals that will leave a big smile on the pickiest eater's face.
Blue Apron's minimum order is 2 meals of 2 servings, with a maximum of 5 meals for 4. Pricing starts at $5.74 per serving.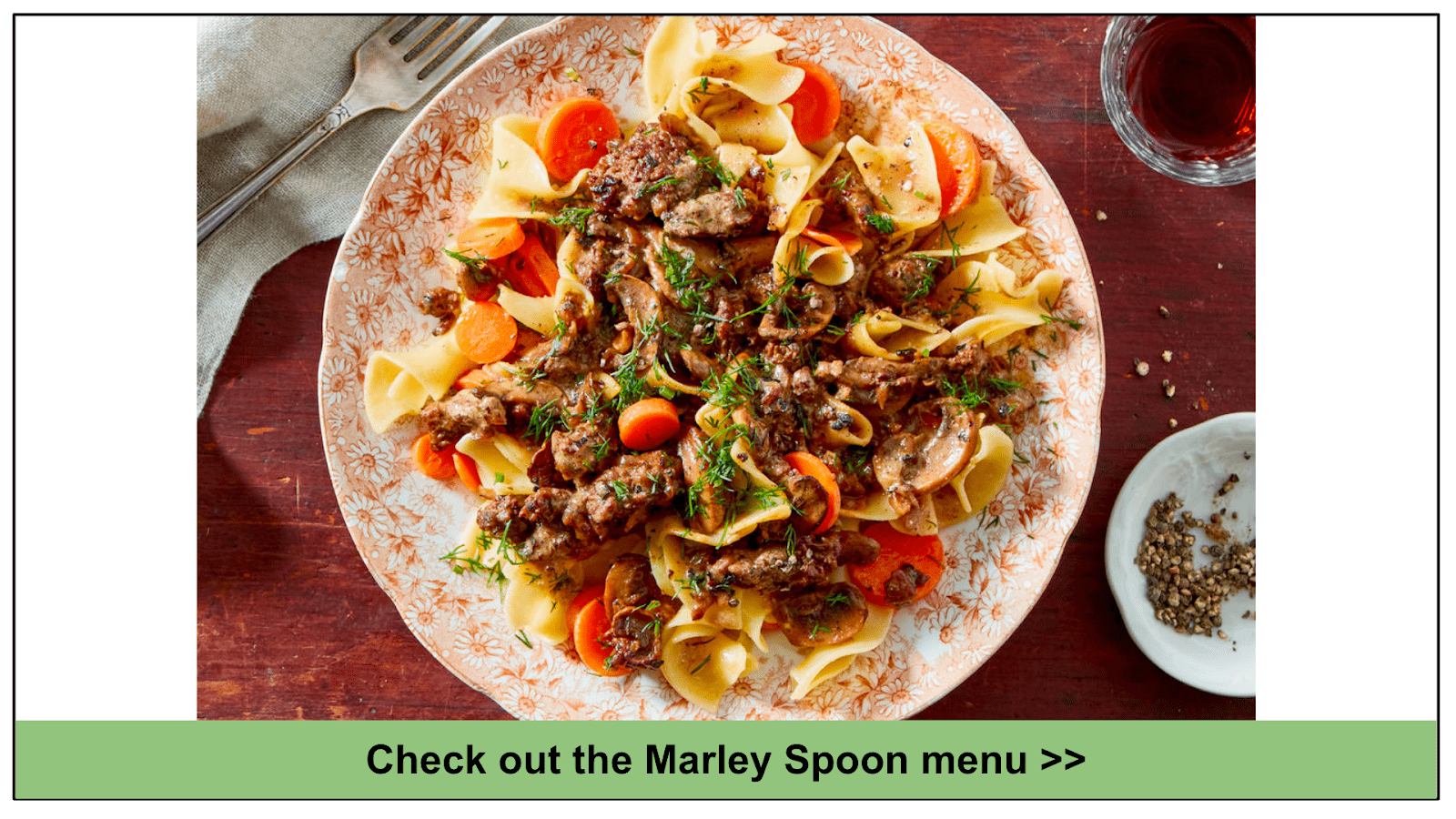 Key Features
Menu includes climate-friendly options

100+ weekly choices

Vegetarian, vegan, no added gluten, and more
Marley Spoon is a great choice if you're looking to learn new cooking skills. With over 100 Martha Stewart recipes to choose from each week, you'll find meals suitable for kids, families, dieters, vegans, and more.
Marley Spoon offers a diverse range of cuisines to cater to various flavor preferences, such as Japanese, Middle Eastern Latin American, French, Italian, and Mediterranean meals. Even sophisticated meals are made kid-friendly and accessible by avoiding over-the-top or spicy flavors. And there are plenty of classic American recipes like white pizza and burgers.
Martha's Beef Stroganoff (above) is a great example of a hearty Marley Spoon entree. It combines a velvety sour cream sauce with sweet carrots and dill alongside an umami mushroom note for a meal that will appeal both to foodies and fussy eaters.
My colleague tried Marley Spoon at home and found the recipes easy to follow and the final results mouth-watering.
Dozens of menu labels make it easy to find meals that suit your needs. Some label choices include:
Under 30 Minutes

Dairy Free

One Pot Meals

Kid Friendly

No Added Gluten

Low Calorie
Marley Spoon is also environmentally conscious, with clear and concise recycling instructions for all its packaging. The company achieves a zero-carbon footprint, and its Climatarian label helps you find meals that require less than 1.1 pounds of CO2 emissions per serving to grow, harvest, and produce.
Marley Spoon's Ingredient Hub provides information on allergens and a complete list of all ingredients used. Unfortunately, there are no filters to exclude entrees so you must check each meal before ordering if you have serious sensitivities or intolerances.
Marley Spoon offers No Added Gluten meals, but there's a cross-contamination risk since all the recipes are prepared in the same location. For individuals with serious sensitivities, other gluten-free meal delivery services might be a better option.
Some recipes require you to have a well-stocked pantry, with ingredients like balsamic vinegar and utensils like a microplane grater. You should check the weekly recipes when ordering to make sure that you have everything on hand to avoid suppertime complications. You can also order spices and grocery items as add-ons if you can't find them at your store.
You can order between 2 and 6 Marley Spoon recipes per week in either 2-serving or 4-serving sizes. Meals start at $2.99 per serving, which is very reasonable given the ingredient quality.
Key Features
Healthy home-cooked meals

40+ meals per week

Dietary options include traditional, paleo, keto, and plant-based
Eat Clean To Go features fully-prepared meals that are ready in just 2 minutes. The company is committed to delivering fresh (never frozen), healthy, clean meals. So, if you're looking to eat healthy without sacrificing time or breaking the bank, this is a great service.
Eat Clean To Go takes pride in using high-quality ingredients that prioritize your health. The recipes feature premium proteins, nutrient-rich vegetables, and complex carbohydrates, so you can trust that every bite you take is packed with essential nutrients.
Moreover, Eat Clean To Go doesn't compromise on quality. The meals contain zero preservatives or artificial flavors, so you can enjoy delicious food without any hidden unhealthy additives. Everything offered by the Eat Clean To Go menu is as natural as possible.
There are 4 different menus catering to specific dietary options. The options are Keto, Paleo, Plant-Based, and Traditional, so there's something for everyone's health needs. Check my colleague's in-depth review of Eat Clean for more on plans and recipes.
When it comes to sodium intake, Eat Clean To Go keeps it in check. Its meals have little to no sodium per serving (ranging from 300-500mg). This makes it an excellent choice for individuals conscious of their salt intake or those who want to reduce bloating and water retention.
Eat Clean To Go offers an easy way to enjoy international flavors. The company offers simple recipes inspired by American and global cuisines that make eating healthy exciting and enjoyable. You can try tasty dishes from around the world while still sticking to your health goals.
Pricing-wise, Eat Clean To Go provides affordable options without compromising on quality. Prices start at just $8.60 when you order the maximum number of meals (which is 14). This ensures that eating healthy doesn't have to cost a fortune.
Eat Clean To Go also offers meal plan sizes to accommodate different needs. Whether you're dining solo or feeding the whole family, it has options that fit your requirements. You can order between 6 and 14 single-serving meals each week.
Quick Comparison Table