The Best Meal Delivery Services in Huntington Beach Reviewed
1. Home Chef – Best for Meal Customization
Butter Cracker-Fried Mahi-Mahi and Honey Mustard Aioli
Key Features
Meals ready to eat in as little as five minutes

30+ customizable meals a week

Vegetarian, carb-conscious, and calorie-conscious options
One of the main complaints about meal delivery services is that they can get repetitive and the recipes are inflexible to personal taste. However, Home Chef has pretty much eliminated this issue thanks to its Customize-It! meal options. With this plan, you can customize your protein choices according to your own tastes. Not a fan of steak? No problem, swap for a delicious chicken breast.
For full details on how the Customize-It! feature works, check out our full Home Chef review.
Home Chef also has the option of buying online or in-store. Home Chef has partnered with Kroger to make its healthy meals accessible to customers in person. So, if you need a last-minute meal, you can rest assured that you'll be able to find a healthy, tasty option at your local Ralph's, or another Kroger store.
2. HelloFresh – Great for Quick and Healthy Meals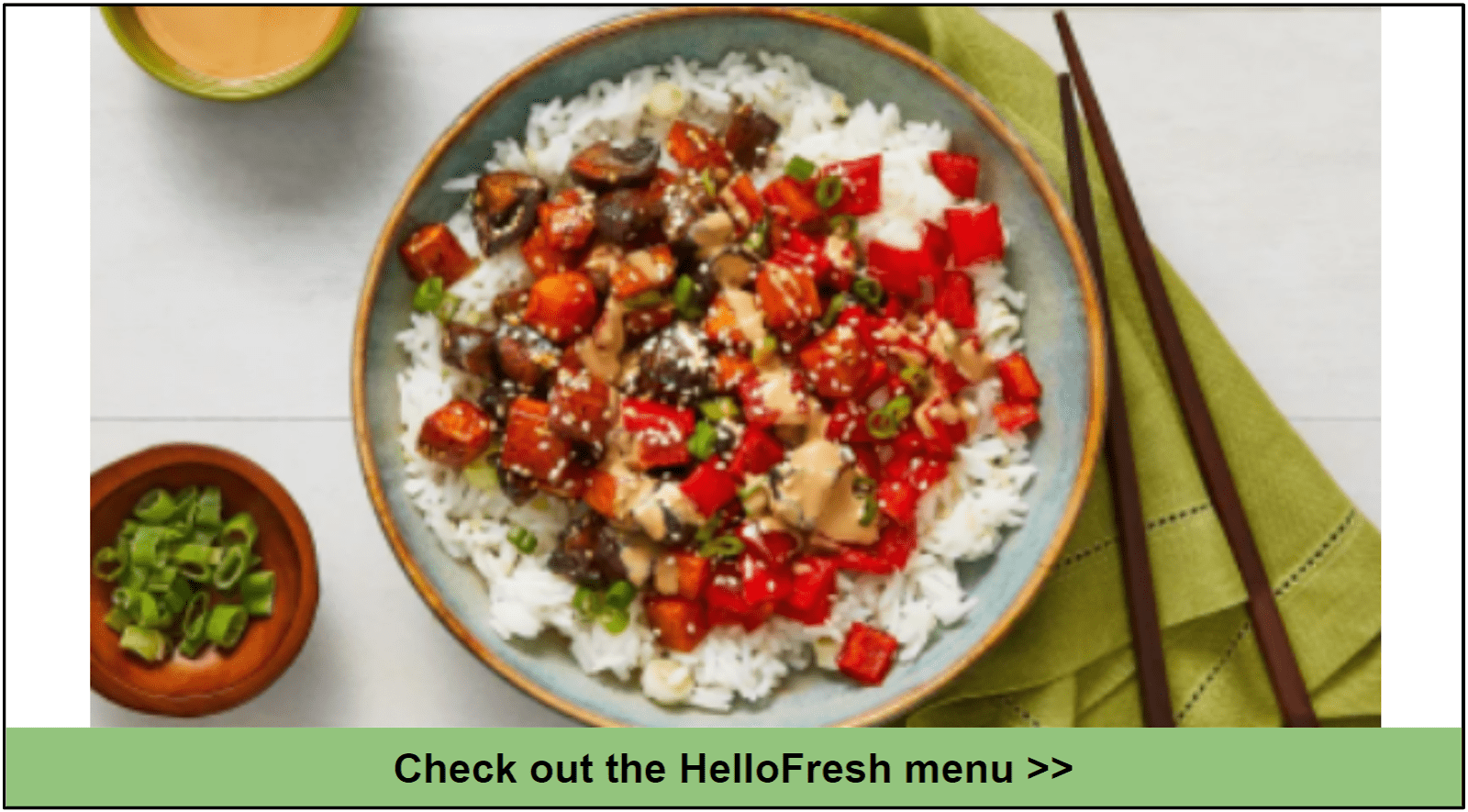 Glazy Shrimp and Sweet Potato Bowls
Key Features
HelloFresh is America's most popular meal kit, and for good reason. It's ranked number one in customer service according to TrustPilot, and is one of the best meal kits for saving money, according to customer reviews.
HelloFresh also has a new feature that lets you pick and upgrade your protein choices on a select number of recipes. Meals from HelloFresh start at $3.32 per serving, which means you're getting a pretty good deal compared to eating out. For full pricing, take a look at our HelloFresh review.
Another plus of HelloFresh is that it has meals designed specifically for those busy weekdays when the last thing you want to do is cook. The Quick & Easy meal plan will keep your prep and cooking time under 15 minutes.
Sesame-Ginger Chicken
Key Features
Certified organic by the USDA

Nine unique recipes per meal plan per week

Keto, vegetarian, paleo, and allergen-free meals

Current deal:

Get $250 off

+ free shipping

Green Chef is a premium, organic meal delivery service available in Huntington Beach. It's also one of the best meal delivery services on this list for those following strict diets like keto or paleo. In fact, Green Chef has an entire meal plan dedicated to paleo and keto diets.
You can see more about Green Chef's meal plans in our full review.
If there's one downside to Green Chef, it would be the price. However, you do get a lot of bang for your buck. Green Chef meals are of the highest quality, and you may well find that the price is worth it.
4. EveryPlate – Budget-Friendly Meals for the Whole Family
Creamy Dijon Chicken
Key Features
Extra protein packs available

14+ unique recipes per week

Plans include classic, family-friendly, and vegetarian
EveryPlate is the best meal delivery service for families and individuals on a budget. Meals from EveryPlate start at $1.49 per serving. For that low price, you can get family-friendly meals designed for picky eaters and children. For more on the pricing options from EveryPlate, read our EveryPlate review.
Another bonus feature is the option to buy extra protein packs. These packages of meats like beef, chicken, and pork, are perfect for freezing for a rainy day or barbecuing for large groups and events.
There are three meal plans available from EveryPlate: the ClassicPlate, the VeggiePlate, and the FamilyPlate. The VeggiePlate is designed with plants at the center and covers vegetarian diets. Unfortunately, vegetarianism is the only special diet catered by EveryPlate so those following specialized diets would be better elsewhere. However, if you follow a balanced/vegetarian diet then EveryPlate is definitely worth checking out.
5. Blue Apron – Great Family-Friendly Meals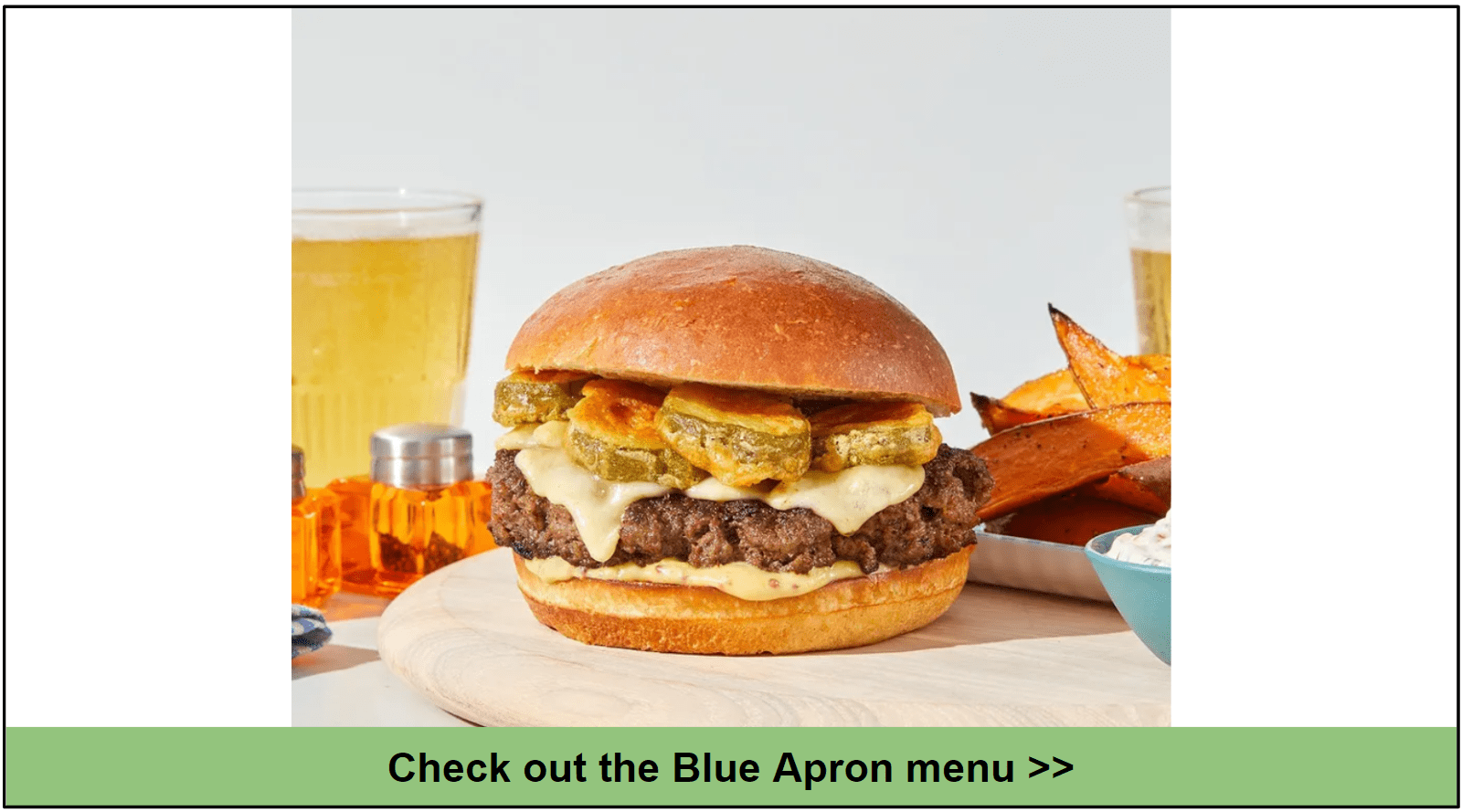 Smoked Gouda & Fried Pickle Burger
Key Features
Vegetarian, pescatarian, weight-loss, diabetes-friendly, and carb-conscious meals

19+ unique recipes per week

Option to pair meals with Blue Apron wines
Blue Apron is a staple of the meal kit industry. It has everything you need for classic dinners with a luxury feel. You can choose from over 19 meals every week – including a small selection of prepared meals for even more convenience. The menu is constantly being updated for maximum freshness.
Check out our Blue Apron review for more details on the high-quality recipes.
Blue Apron allows you to select your preferences from a list including Chef's favorites, Wellness, Fast & Easy, and Family Friendly. There are also options for diabetics, vegetarians, and a range of low-calorie meals for weight loss.
Kimchi Grilled Cheese
Key Features
Options for breakfast, lunch, dinner, and snack items

20+ recipes per week across meal kits and prepared meals

Gluten-free meals, soy-free, and high protein meals available
Purple Carrot is the meal delivery service for anyone looking to try veganism with little effort and a low price. All Purple Carrot meals are 100% plant-based, and many are also gluten-free. Unlike a lot of meal delivery services, Purple Carrot covers all three meals a day, and you can pick from the snacks in the "Plantry" section too including items like Chocolate Tahini and Vegan Pesto.
You can find out more about the Purple Carrot meals in our Purple Carrot review.
Because Purple Carrot has so many add-on options, it can be hard to limit yourself. However, there's a cap to your order based on the size of the box, so you'll only be able to add a limited number of items in addition to the meals. Purple Carrot also has a fun and unique line of merch designed as comfy activewear and athleisure for the whole family!
7. Sunbasket – Best Meal Delivery for Niche Diets
Chicken Panang Curry
Key Features
USDA certified organic ingredients

20+ unique recipes per week

10 meal plans including Vegetarian, Paleo, Carb-Conscious, and Diabetes-Friendly
Sunbasket is one of the most versatile meal delivery services on this list. It has a total of 10 different meal plans that cover just about any dietary need. You can also choose between meal kits and prepared Fresh & Ready meals that require no prep.
One unique thing about Sunbasket is that it rotates ingredients with the seasons, so you can expect only the freshest produce in your meal, but the exact ingredients may vary with the seasons. For more details on Sunbasket meals and prices, check out our Sunbasket review.
Sunbasket also has a charity initiative, so for every meal you buy, a portion of the proceeds goes towards food banks that work to end food insecurity in America.
8. Marley Spoon – Sustainably Sourced Meals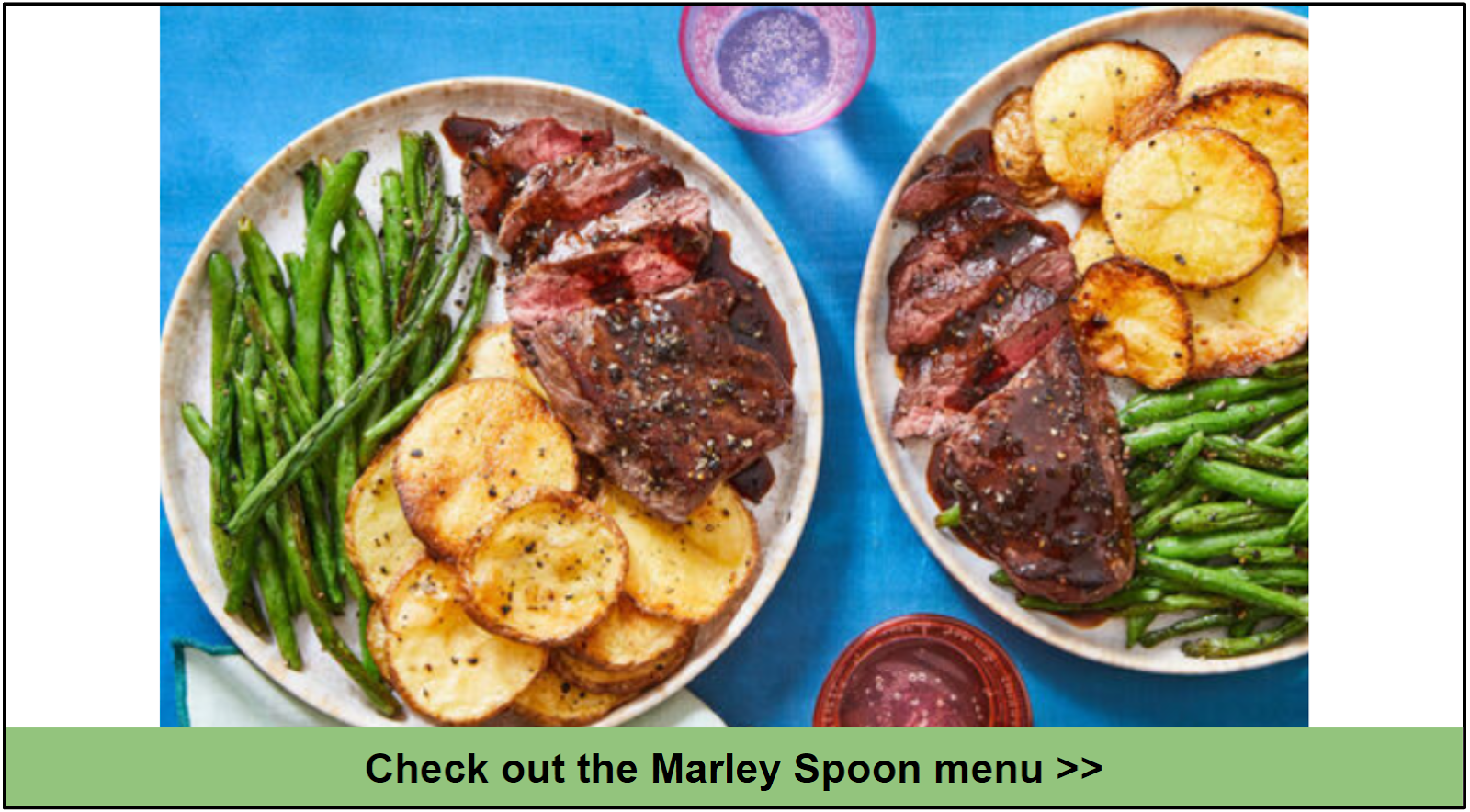 Honey-Dijon Ranch Steak
Key Features
Recipes designed by celebrity chef Martha Stewart

35+ unique recipes per week

Balanced, family-friendly, and vegetarian meal kits
Marley Spoon has the advantage of being created by celebrity chef Martha Stewart. The meals are designed to be a healthier twist on classic Southern comfort cuisine. Recipes and prices are covered more in-depth in our full Marley Spoon review.
Another unique feature of Marley Spoon is its green initiative. Marley Spoon is one of the most environmentally friendly meal delivery services on this list. It has committed to limiting its environmental impact by offsetting 100% of its carbon emissions and using only recyclable packaging.
Marley Spoon's meals fall under five categories: Meat & Fish, Vegetarian & Vegan, Health & Diet, Under 30 Minutes, and Family-Friendly. So if you're craving comfort food without the effort of planning and shopping, then Marley Spoon could be the meal delivery service for you.
9. GrubHub – Best Food Delivery in Huntington Beach
Nova Lox Bagel from Tribute Coffee House
Key Features
Order meals from your favorite restaurants

Endless choices

The ultimate convenience when you don't want to cook
Unlike the other services on this list, GrubHub is a food delivery service, not a meal delivery service. The difference is basically that a food delivery service delivers hot food that's ready to eat immediately and meal delivery services deliver meal kits or prepared meals with at least some prep left up to you.
The best thing about a food delivery service like GrubHub is that there are endless options because you're ordering from local restaurants, rather than just one service. The downside of food delivery is that it can get expensive and unhealthy fast. GrubHub lets restaurants set their own delivery prices, so you can find a deal with a little digging around.
You can save some money by joining GrubHub + for $9.99 per month. This gives you free delivery on all orders over $12. There's even a free trial so you can try it out with no commitment and see if it works for you.
Tips for Choosing the Best Meal Delivery Service in Huntington Beach
With so many great options, it can be hard to choose a meal delivery service that fits you and your lifestyle. Luckily, I've put together a quick list of my best tips on how you can narrow down your options to find the best one for you.
Set a budget: Take a look at what you spend every week on food, and decide what you can afford to spend.

Shop for your diet: Make sure any meal delivery you're considering caters to your dietary needs.

Check your schedule: It's best to be home when your delivery arrives, so make sure to check if a company delivers when you'll be home (or close to that time).

Browse the recipes: Make sure that the recipes match your tastes, otherwise, you'll end up disappointed.
Bottom Line: Is Meal Delivery Worth it in Huntington Beach?
The short answer is, yes! A meal delivery service can be a great way to save time and money on food while still eating healthy. Not only that, but meal kits can be a great way to increase your skills and confidence in the kitchen, even if you're a complete beginner.
Choosing the right meal delivery service can be challenging, but you can narrow down your options by setting a budget, browsing recipes, and ensuring that the meal plans align with your dietary needs.

Not satisfied with the options on this list? Check out even more options on our list of the Best Meal Delivery Services of 2023.
FAQ
What's the Most Affordable Meal Delivery in Huntington Beach?
The best meal delivery service in Huntington Beach for low-cost, high-quality meals is EveryPlate. It has meals starting at $1.49 per serving, making it the most affordable service by far.
What's the Healthiest Meal Delivery in Huntington Beach?
The healthiest meal delivery service in Huntington Beach will be determined mostly by your diet. Sunbasket has the largest range of healthy meal plans that cover the widest range of diets, from pescatarian and paleo to Mediterranean and gluten-free.
What's the Best Meal Delivery in Huntington Beach?
Home Chef came top of my list for meal delivery services in Huntington Beach, thanks to its low prices and easy customizability. However, that doesn't mean it's the only good option. All of the services on this list are excellent options, and you can find even more on our list of the best meal delivery services of 2023.

Best Meal Delivery Services in Huntington Beach in 2023 – Final Score: