Top Meat Alternatives: 25+ Healthy Foods to Replace Animal Products in Your Diet
Many of us are opting for plant-based alternatives as a way of reducing the amount of meat we eat, whether for ethical, environmental, or health reasons. And some of us want to eliminate meat from our diet altogether.
Fortunately, cutting out meat doesn't have to mean cutting out taste and texture. And it certainly doesn't mean you can't enjoy your favorite meals. The selection of healthy, delicious meat alternatives is growing fast, with more options available than ever before.
So, what swaps can you make? We've rounded up 25+ of the best healthy meat alternatives and substitutes so you can keep on eating the same tasty meals you love.
Natural Plant-Based Meat Alternatives
Plant-based meat alternatives are a great idea if you want to stay full and hit similar nutritional goals while eliminating meat from your diet.
The following meat substitutes are typically high in protein and fiber, helping you feel full, while getting all the vitamins and minerals your body needs. Not to mention there are hundreds of easy, tasty recipes to keep things exciting and fun while on your plant-based diet. They're also the healthiest options, as they're unprocessed and come in their natural form.
Rather than mimicking meat dishes, such as steaks, sausages, and burgers, plant-based meat alternatives are generally plants and produce in their natural, unprocessed form, including plenty of leafy greens, pulses, nuts, seeds, and soy.
Lentils
Lentils might be small, but they pack a protein punch. Per 100g, there's around 25g of protein and only 115 calories. Plus, they're full of fiber and slow-burning carbohydrates to keep your energy levels high. They're also incredibly low in fat, but high in nutrients like iron and potassium.
You can usually find lentils in the dry food or pantry aisle in your local grocery store, either canned in water, dry, or frozen (the most convenient option). If you opt for the canned version, it's usually best to choose ones in unsalted water to cut down on sodium content too.
One of the best things about lentils is that they're so versatile. You can buy them in various colors, all with slightly distinct flavors. Throw them into an aromatic curry, a shepherd's pie, or (if you're a little more creative) try making your own lentil burgers.
Beans
Black-eyed, black, kidney, cannellini, you name it, there are plenty of different types of beans to choose from. They're an excellent staple for bulking up dishes that typically contain ground meat, such as bean burritos and stews, or adding textures in soups and salads.
Beans are usually available in the dry goods section, either canned, dry, or frozen. The canned versions usually need draining before cooking, but you can use the water as a broth to create a tasty sauce.
As with most legumes, beans are an excellent source of fiber and come packed full of nutrients. High protein and low fat beans are great for maximizing nutritional value and flavor in your favorite recipes.
Chickpeas
Chickpeas are another perfect pantry staple. Although probably most well known as the main ingredient of hummus, chickpeas can be used in various ways. Think curries, burgers, falafel, and even brownies.
Compared to other legumes, chickpeas are considerably higher in calories. When canned, they're also much higher in sodium than other options, so probably not best if you need to keep your salt intake low. However, they're very high in fiber and protein, helping keep you fuller for longer.
Most chickpeas contain around 20g of protein per 100g. If you're a regular gym-goer and still need your protein fix, they're a reliable option for your meals.
Jackfruit
Jackfruit has a very similar texture to shredded meat, particularly chicken. It's ideal for meaty dishes, especially if you want to "feel" like you're eating meat. In fact, jackfruit is, as the name says, a fruit.
It's perfect in curries, burritos, fajitas, and slow-cooker meals that you'd usually make with chicken.
Being a fruit, Jackfruit is quite high in carbohydrates and sugars, so probably not best for anyone diabetic. Per 100g, there's around 38g of carbohydrates and 32g of sugar. Don't let that scare you off, though — they're all natural sugars rather than refined.
Edamame
Edamame is a type of soybean that is especially tasty in Asian cuisines, such as stir fries and ramen. And they make an excellent low-carb snack with a side of soy sauce.
Edamame beans are a great source of protein, with around 11g of protein per 100g. Aside from plenty of essential vitamins and minerals, edamame soybeans have about 20% of your daily recommended fiber intake.
Nuts & Seeds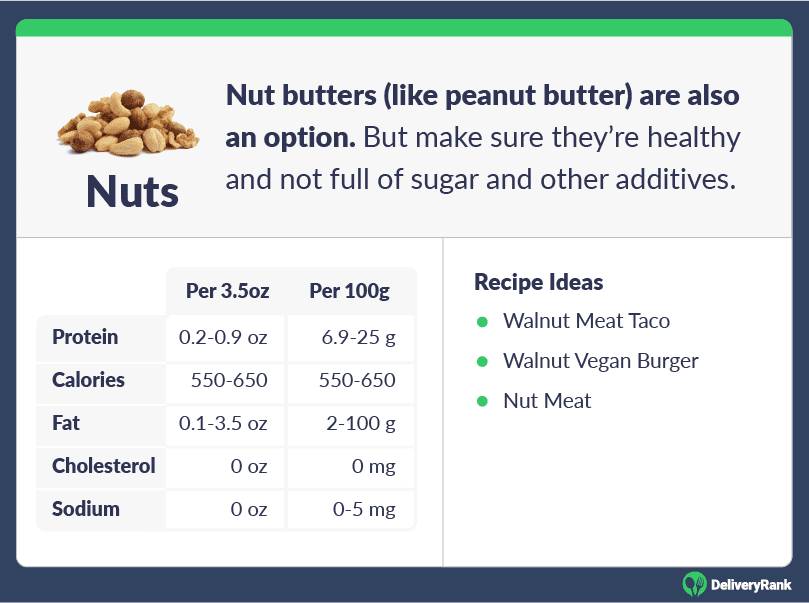 Nuts, nut butters, and seeds are an easy way to increase the nutritional value of your foods and keep your energy levels high. Sprinkle over your breakfast to add some extra crunch, or stir some peanut butter into a curry for extra texture and flavor.
For more protein, opt for peanuts, walnuts, and almonds, as these contain more per gram than other options.
Nuts and seeds are notoriously high in fat and calories, however, so it's important not to overconsume them. Try to stay away from nuts that have added salt too. Or, if you do buy salted nuts, eat them in moderation rather than making them a staple part of your meals.
Nut butters can also be full of extra preservatives and sugar, so make sure you go for healthier options. Look for nut butters that are 100% natural and palm oil-free.
Green Spelt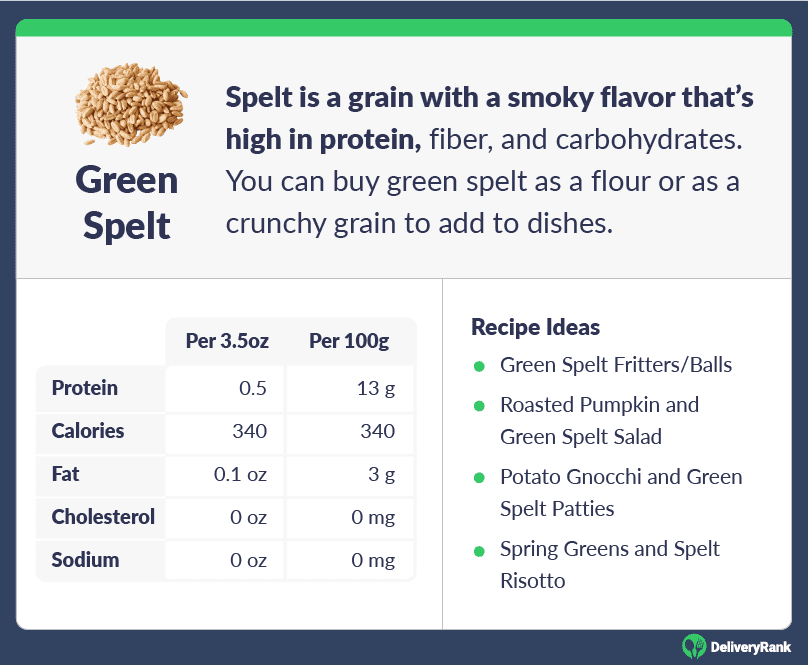 Spelt is a cultivated grain that's harvested early and dried over a wood fire to give it an earthy, smoky flavor.
It's similar to quinoa in appearance, and is an excellent source of protein, fiber, and carbohydrates. Green spelt is also full of vitamins, especially vitamin B and phosphorus.
If you're a lover of soups and stews, green spelt makes an excellent addition to add nutrients. You can also eat green spelt as a side dish, in salads for extra crunch, or crushed to make patties and burgers.
Green Vegetables
Many of us underestimate the power of a green vegetable. But certain leafy greens like spinach and kale are easy ingredients for bulking up dishes and adding nutrients to keep you full. They're incredibly low in carbohydrates, too, and ideal if you're following a ketogenic diet.
Leafy greens are very versatile and can be used in both sweet and savory dishes. Blend in an early morning smoothie for an extra shot of greens, stir through stews and curries, or have a go at spinach patties.
Other greens such as broccoli are another excellent source of nutrients, though it's best to lightly boil or steam to make sure you benefit from them. You could blend broccoli to add to pasta sauces or even make broccoli burgers and burritos.
Soy Protein
Soy protein is extracted from soybeans and usually sold as chunks, making it a great meat substitute in your favorite dishes. It consists of dehydrated soya and is commonly sold as mince, in cutlets, or even balls.
It's ideal in meat-heavy dishes such as pasta, burgers, and burritos. Although it's quite plain, you can easily add marinades and seasoning to suit your palate and create more flavor.
Soy protein is high in nutrients and packed full of protein and fiber. In fact, 100g contains around 15g of protein.
If you have any allergies or intolerances to soy or wheat, it's best to avoid soy protein. While it's gluten-free, other soy protein powders (with additives) and soy foods may contain wheat and other grains. Too much soy also isn't ideal for anyone with thyroid issues.
Lupin Protein
Lupin protein is made from the lupin bean, and it's incredibly high in protein and fiber. Per 100g, there's around 40g of carbohydrates and 36g of protein — more than many actual meat sources.
You can often buy lupin protein as a powder, which is excellent for adding to smoothies or stirring through porridge and yogurt. Your local grocery store may also sell lupin beans that you can blend and smash yourself to create savory dishes, including cutlets, kebabs, and burgers.
Pea Protein
Pea protein is an extract from split peas. You can either buy the split peas themselves in the pantry aisle, or opt for the ground pea protein powder. That also means you can add pea protein to both sweet and savory dishes, whether a smoothie or a veggie-packed curry.
Split peas are low in fat and carbohydrate but high in protein and fiber, making them a perfect meat substitute. It also means they're ideal for anyone following a low-carb, plant-based diet.
Processed Plant-Based Meat Alternatives
Plant-based meat alternatives are perfect for anyone who still wants to enjoy a burger, bowl of pasta and meatballs, or meaty burrito (but minus the meat, of course).
While they still use plant-based ingredients, these foods are typically processed to create new food types (i.e., tofu) or sold as imitations of well-known meat products, such as a plant-based burger. They aren't necessarily supposed to taste like meat, but rather help you enjoy the same kind of meals you would if you ate some beef or chicken.
Tofu
Tofu is a source of soy protein that's sold in blocks. It has a firm texture and is typically used in Asian dishes to imitate meat pieces.
It's low-calorie and very porous, making it ideal for seasoning and marinades. You can actually buy tofu in many different flavors and styles, including smoked and breaded.
While primarily used for stir-fries and rice dishes, and nuggets, and can be added to salads. At around 8g of protein and 2g of carbohydrates per 100g, it's an excellent meat alternative. It's also quite low fat, with about 6g per 100g.
Tempeh
Tempeh is similar in texture to tofu and is also made from soybeans. However, it's more poignant in flavor, so it's better for eating on its own than for seasoning. It's also higher in protein, fat, fiber, iron, and potassium than tofu, with around 20g of protein per 100g.
Pair tempeh with salads, pasta dishes, tacos, stir-fries, and grain bowls to make the most of its nutty flavor. You can also fry, grill, and bake tempeh, so it gives you plenty of variety in the kitchen.
Seitan
Seitan is commonly known as "wheat meat," and unlike tofu and tempeh, it's made with wheat rather than soy. For that reason, it's best avoided if you have celiac disease or any gluten intolerances or allergies.
It's incredibly high in protein, perfect for anyone needing to up their daily intake while cutting out meat. There's around 75g of protein per 100g, yet less than 1g of fat, making it a lean option too.
Seitan is perfect in meaty dishes, including chili, gyros, fajitas, and burgers. You can even season seitan and serve it on its own as a steak-style dish.
Veggie Burgers & Sausages
Veggie burgers and sausages are typically a blend of different plant-based foods, and can either be homemade or shop-bought. Usually, they include a mixture of ingredients such as black beans, sweet potato, tofu, greens, soy protein, and others.

They're an excellent alternative to meat, so you never have to miss out on enjoying sumptuous burgers. Most veggie burgers are quite high in protein, typically containing around 11g of protein per 100g. Depending on the ingredients used, they can also be low carb or low fat.
Sausages usually have an even higher protein content, but can be heavy in carbohydrates.
Vegetarian Bites
Like burgers, vegetarian bites are designed to substitute another meaty favorite — chicken nuggets.
You can make these yourself with tofu and coat them in breadcrumbs, or buy them from your local grocery store. Usually, they include plenty of greens and other vegetables, alongside a protein ingredient such as lupin or soy.
Vegetarian bites are typically higher in carbohydrates, and lower in protein and fat, thanks to the breadcrumbs or other coatings used.
If you buy rather than home bake, be sure to check the ingredients list first. Sometimes they can come with hidden preservatives and additives. While this might add some taste, it's not ideal for your health.
Imitation Meat Products
For those that still want to enjoy the taste and texture of meat while swapping it out for plant-based alternatives, imitation meat is a viable option.
Imitation meat substitutes are designed to taste, look, and even smell like meat, so much so that you could be eating the actual meat itself. They're more processed than natural, plant-based ingredients, but still come with high protein content and a variety of other nutrients. And there are plenty of different, well-known brands on the market.
Quorn meat alternatives have been around for a long time. And they're probably one of the most popular imitation meat options.
There's a huge variety of products, including everything from substitute meat slices and nuggets, to sausage rolls, mince, and burgers.
In some grocery stores, you can even buy Quorn ready meals already prepared for you, which saves you some hassle in the kitchen too. The majority of foods are also frozen.
Quorn ingredients are typically high in protein and soy-free, but some options are also fairly high in fat and should be enjoyed in moderation. Some Quorn products are also not vegan, so check the labels before buying.
Beyond Meat is a plant-based meat substitute that's fast-growing in popularity. It offers a variety of meat options, including mince, sausages, and burgers, all of which are frozen for ease.
One of the best things about Beyond Meat is that all ingredients are kosher and gluten-free. They also use pea protein rather than soy, with extra vitamins and minerals such as vitamin B, zinc, and calcium to give you more nutrients.
As with most imitation meat options, Beyond Meat includes plenty of protein, moderate fat content, and lower carbohydrates. While not as much fiber as purely plant-based ingredients, you can still get 2g of fiber from one burger.
If you favor white meat over red, Tofurky is an excellent substitute. It offers a range of sausages, deli slices, seasoned "Chick'n," and much more — all of which you can buy frozen or refrigerated, depending on the product.
Tofurky caters to different allergies and sensitivities, so you can buy gluten-free, wheat-free, and nut-free products. It uses soy protein in most of its products, and even offers some tempeh-based ingredients.
Most products are highly flavored and seasoned, making them ideal for sandwiches, wraps, and salads. And they're much higher in protein than some other imitation meat products.
Gardein offers vegan and plant-based meat substitutes for chicken, beef, fish, and others.
The range includes burgers, meatballs, sausages, nuggets, and fishless fillets. You can even buy plant-based jerky in a variety of different flavors.
Some plant-based, high-protein soups and chilis are available, which come pre-prepared in tin cans that are great for grab n go.
Gardein foods are made with soy and pea protein, alongside various other ingredients, including wheat, cornflour, and gluten. And, as Gardein is a vegan company, all their products are dairy-free, too — ideal if you're lactose intolerant.
Vivera has a range of fresh, kebab-style meat alternatives that can also be used in shredded meat recipes. It also offers mince, burgers, meatballs, goujons, and other popular meatless products.
All of Vivera's products use a combination of wheat and soy protein, alongside added nutrients including vitamin B12 and iron to replicate meat.
The fat content can be quite high in some of Vivera's products, especially the meatless chicken breasts. But they're all quite low-carb, so a good option for ketogenic dieters.
Impossible designed its range of plant-based meat imitation products to taste just like beef, chicken, pork, and sausage.
Its latest specialty is ground pork, ideal for tacos, burritos, and chili. But you can buy a variety of fresh and frozen meat, from ground meatless mince to patties and nuggets.
Impossible's products are low in sugar and fat, yet high in protein and fiber. Most contain soy protein as the main ingredient with a mixture of herbs and spices.
Simulate® is best known for its tasty, meatless chicken nuggets. They offer more protein than a typical chicken nugget, plus less cholesterol and fat.
Available in spicy and plain, Simulate® chicken nuggets use soy and wheat-based protein to offer 13g of protein per serving. They are available frozen, so you can order them online and have them delivered to your door.
MorningStar is an excellent option for ex-chorizo lovers. One of its best products is the chorizo crumble, which has the same taste and texture as pork chorizo, minus the meat.
There are also various other products to choose from, including sausage patties, burgers, veggie dogs, and popcorn chick'n. You can even buy a meat alternative to corn dogs.
As with most imitation meat options, MorningStar uses a mixture of soy and pea protein to keep protein content high in its products. While not as high protein as other meat-free options, Morning Star's meat alternatives are very low fat. Even the patties have less than 3g of fat per serving.
Redefine Meat™ has a great choice of red meat imitation products, including kebabs, burgers, sausages, and ground beef. All products are GMO-free, with no added preservatives, mainly using soy protein to replicate the protein content of meat dishes.
Redefine Meat™ focuses heavily on imitating meat texture and taste, so much so that you can't actually taste the difference. Each of their products is made using a combination of high-level technology and science, including 3D printing (yes, they 3D print your steaks), to give you the exact same plate of food without the animal protein.
However, most Redefine Meat™ products contain gluten and pine nuts, so be wary if you have allergies or intolerances to either of these ingredients.
Is Cultured Meat the Future?
Cultured meat is the newest innovation on the traditional meat alternatives scene. However, it's slightly different from other alternatives, and the technology is still in the early stages of development.
Cultured meat is actually meat, but without the slaughter element. It's grown in laboratories using cultured animal muscle cells, meaning that animals suffer and die in order for us to eat it. For this reason, it's growing in popularity amongst consumers that want to eat meat more sustainably, but don't want to cut it out altogether.
Although it's not yet available to buy, you'll likely be seeing cultured meat on the shelves in your local grocery store soon. But for now, stick to your plant-based alternatives.
Same Taste, Same Flavor… Or Better?
Eating plant-based foods can be fun. There are lots of choices out there, from veggie burgers and sausages, to meatless chicken pieces and nuggets, or even deli slices and kebab meat.
Some of the alternatives we've recommended have even higher protein content than the original meat options. Not to mention less fat and cholesterol. And with added vitamins and minerals, plant-based alternatives are also great for getting your daily nutrients.
If you don't fancy cooking, you can even get plant-based meals delivered straight to your home. We found the best vegan and vegetarian delivery services that'll keep you on track.
So, who's up for making some veggie patties then?