Biblical Protein 2023: The steps of a man are established by the Lord, And He delights in his way - Psalm 37:23
Dror Tamir, Founder of Biblical Protein, chews the proverbial cud with DeliveryRank and reveals the nutritional benefits and historic traditions of Israeli-grown locusts.
What can you tell us about Biblical Protein as part of the Hargol FoodTech umbrella?
Biblical Protein is actually a side business of Hargol. Hargol is a FoodTech startup which focuses on food of the future. It brings novel ingredients to the food market that we know are healthier, higher in nutritional content and more sustainable.
The history of locusts begins in the Bible over three thousand years ago as the food of the Ancient Hebrews as they walked through the desert. The locust is the only insect that is approved as kosher in the Bible. It was also John the Baptist's staple diet. This tradition vanished about two thousand years ago when the Jews fled from Israel to other parts of the world where the grasshoppers were not as prevalent as they were in Israel.
Thanks to Hargol technology we can bring this tradition back. We obtained a kosher permit three years ago making us the first ever kosher approved locust company in the world. Orthodox Jews and Christians are now asking for this product and this traditional and historic food product is making a comeback to our tables. They can enjoy it in the traditional form of a whole locust (which they love) or even better in the form of modern food products enriched with high quality protein. Furthermore, with our technology it is very efficient to produce locusts on a large scale, incredibly sustainable and, in fact, the whole world can be fed with these means.
Is there a difference between grasshoppers and locusts nutritionally speaking?
Locusts come from the group of insects known as Orthoptera, to which grasshoppers, crickets, cicadas and others belong to. There are about 10 000 different species of grasshoppers in the world and sometimes grasshoppers have a tendency to swarm. They change their social behavior, appearance and metabolism. When they do this they are known as locusts, of which there are fourteen species around the world. Therefore, every locust is a grasshopper but not every grasshopper is a locust. Hargol FoodTech works with four different species of grasshopper but Biblical Protein is about the only two kosher locust species.
What is your target market and what challenges have you faced, if any?
The target market is the Jewish and Christian communities. We offer a wide range of food products such as gummies, whole ready-to-eat locusts, chocolate protein shakes, falafel mixes, crackers etc…Soon our old favorite energy bars will be back in the stores too - the list is endless.
I wouldn't describe our products as simply food, but as both an experience into ancient traditions and a culinary 'degustation'. We also offer lectures about our products and will publish recipe books offering advice on how to cook with locust protein ingredients.
The most challenging aspect of penetrating the market is overcoming the general perception of eating insects.
What products do you have available and which would you say is your best-seller?
The whole locust, believe it or not. Americans are going mad for whole locusts and we have sold thousands of jars over the last couple of years. Orthodox Jews also buy this product. It has a very long shelf-life of two years at room temperature. We also have many other modern products on offer, as I mentioned earlier.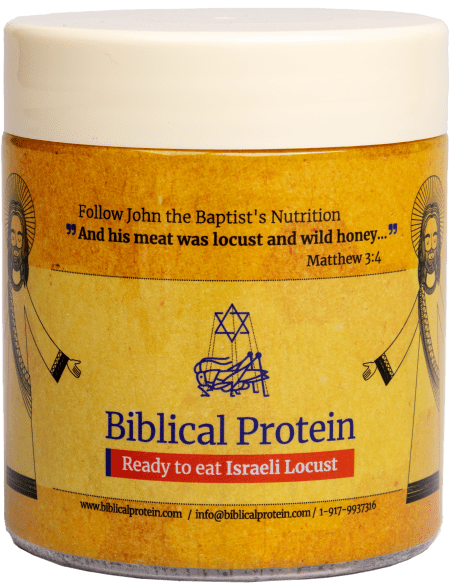 How do you see the future of locust farming on a global scale?
The technology developed by Hargol is climate resilient which means that the company will eventually be able to establish farms anywhere around the globe, the easiest being Europe, Africa and Asia all the way to Australia as the grasshoppers in these regions are native. In America, this is not the case so it will take a little longer.
Our long-term plan is to grow and develop our business based on demand and commercial agreements with food producers and distributors to establish local production. The world is our locust!
If you would like to find out more about Biblical Protein, visit https://biblicalprotein.com/ or follow on https://www.instagram.com/biblical_protein/