Blue Apron vs. Sunbasket 2023: Savings or Variety?
While Blue Apron and Sunbasket are two of the most popular meal delivery services in the US, they have several key differences.
Blue Apron caters to a broad audience – including couples and families – with a menu that includes global-inspired takes on classic American dishes. It's also a very reasonably priced meal kit, particularly for larger orders.
Sunbasket is the pricier of the two, but it's easy to see what you're paying for. The company places organic ingredients and sustainable produce at its heart – so everything you receive is of the utmost quality.
Sunbasket's biggest advantage, though, is how well it caters to specialized diets. Whether you're vegan, paleo, or trying to avoid gluten, Sunbasket has a menu for you. In this particular arena, Blue Apron simply can't compete.
For me, Sunbasket came out on top in this comparison, but both services have their strengths. Read on to find out more about each company's pricing, ingredients, packaging, menu variety, and more.
| | |
| --- | --- |
| ? Price: | ($5.74 per serving) |
| ? Menu Variety: | (30 choices per week) |
| ⏰ Prep Time: | (4 to 40 minutes) |
| ? Customization: | (around 12 dietary options) |
| ? Ordering and Delivery: | It's a tie! |
| ? Customer Support: | |
Menu Variety
Winner: Sunbasket
With around 19 meals on the menu each week, five of which are vegetarian, Blue Apron doesn't offer quite the same variety as some other meal delivery services.
That said, the dishes suit a variety of tastes; there are gourmet twists on kid-friendly, American classics like burgers and tacos, plus some more adventurous meals that incorporate international flavors.
In terms of both numbers and cuisine types, Sunbasket has a more extensive menu, with 20 meal kits and 10 prepared meals available each week. It features a strong mix of Indian, Middle Eastern, Mediterranean, and Asian cuisine, as well as family-friendly bowls of pasta and chicken dishes.
But both Blue Apron and Sunbasket offer more than just dinner. Blue Apron has an optional monthly wine subscription, as well as an online marketplace where you can buy kitchen utensils, signature spice blends, and fun extras like the Blue Apron cookbook.
In addition to dinner, Sunbasket is a bit of a one-stop shop with plenty of healthy breakfast, lunch, and snack options, as well as grocery items like smoothies, oatmeal cups, fresh pasta, cheese, fresh and pre-cooked proteins, crackers, nuts, veggies and dip, and so much more.
Meal Customization
Winner: Sunbasket
Neither Blue Apron or Sunbasket offers many ways to customize individual meals. Blue Apron occasionally gives you the option to swap out a protein (switching ground beef for Beyond Burger, for example), but little else.
While Sunbasket doesn't let you customize individual meals at all, it does offer a much more varied and malleable menu than Blue Apron. Sunbasket's diet-friendly menu caters to a number of allergies and restrictions – an area where Blue Apron falls short.
Blue Apron's menu is solid for most Americans, with 19 balanced meals on the signature Chef Favorites plan and around five options each week if you're veggie.
There are also up to five meals per week on the Wellness plan, which is a great option for anyone limiting their carb and calorie intake, and who might follow the WW points system.
You'll also find plans for Family Friendly meals and Fast & Easy, which features recipes designed to be ready in 30 minutes or less.
Compared to Blue Apron's minimal dietary offerings, Sunbasket offers dietitian-approved meals for pretty much any lifestyle you could think of, including paleo, vegetarian, gluten-free, carb-conscious, diabetes-friendly, pescatarian, and more.
There are 10 plans to choose from, but within those you'll also find plenty of meals that are vegan, dairy-free, soy-free, with no added sugar, and more.
Both companies allow you to filter out ingredients when you sign up – but Sunbasket provides more options. Blue Apron lets you check off a limited number of animal proteins, while Sunbasket gives you both a longer list of ingredients you can omit and dietary preferences you'd like to incorporate.
If you're someone who prefers to shop organic and sustainably, Sunbasket is one of the best meal delivery services on the market for that, with USDA-certified organic produce available 99% of the time, and antibiotic- and hormone-free meat, free-range poultry, and more.
Ordering, Delivery, Unboxing
Winner: It's a tie!
Blue Apron delivers to every location in the continental USA. Sign up and fill in your zip code to see the exact days available for your area. Blue Apron also offers a wider range of delivery days than Sunbasket. For me, Blue Apron shipments are available seven days a week.
Once your Blue Apron order has shipped, you can track it via the information sent to your email and on the Upcoming page in your account. If you've downloaded the Blue Apron app, you'll also get notifications updating you on the status of your delivery.
Sunbasket's delivery options are more limited. The company doesn't ship to AK, HI, MT, ND, and parts of NM. The exact days available for delivery will depend on your location. In my case, I was able to choose between Monday, Tuesday, and Wednesday.
Sunbasket has an app, too, where you can conveniently manage your account and keep track of your order.
Both companies package your ingredients in recyclable cardboard boxes with ice packs and insulated liners to maintain freshness. While it's recommended that you refrigerate your order as soon as you receive it, it's not the end of the world if you're not home when it's delivered, as everything should stay cold.
According to its website, more than 85% of Blue Apron's packaging is recyclable by weight, and the company uses easy-to-identify labels to help reduce the amount of recyclable materials that get thrown in the trash.
You'll find more information online about how to recycle each element – but I still feel like there's work to be done here, and Blue Apron should strive to reduce the amount of materials it uses that are either particularly difficult or just plain impossible to recycle.
On the other hand, Sunbasket is one of the most environmentally responsible meal delivery services I've come across. The website provides detailed recycling instructions, as well as creative ideas on how each element of the packaging can be reused.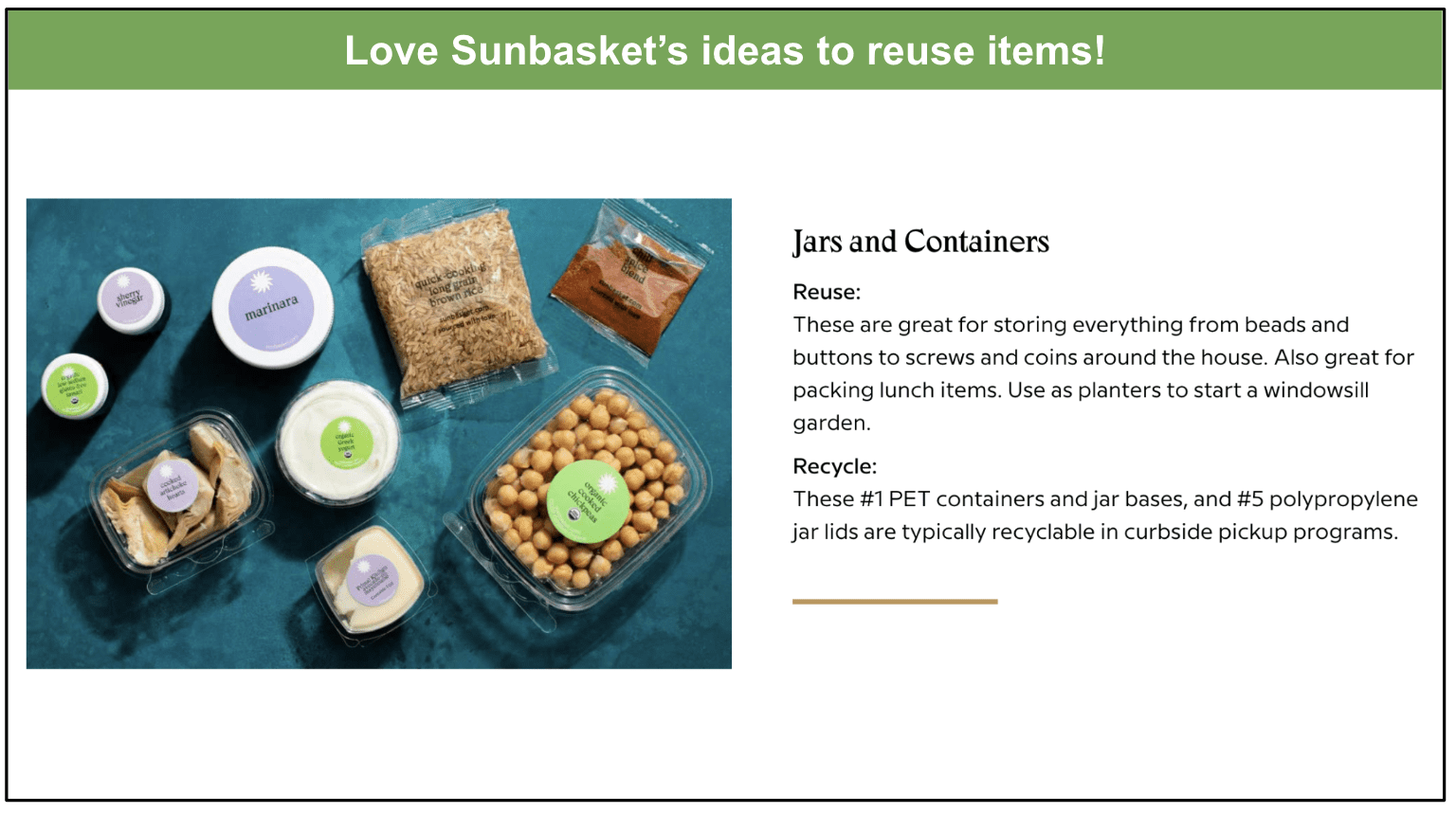 While many companies (we're looking at you, Blue Apron) choose to package their spices or small ingredients in little plastic baggies, Sunbasket makes an effort to use jars and containers that are easier to reuse.
Winner: Sunbasket
Blue Apron primarily offers meal kits, each of which can take anywhere between 20 and 55 minutes to get on the table. Prep times are clearly labeled on the menu for convenience, so you can choose the meals that work with your schedule.
There are also a few Heat & Eat meals each week, which are ready in just five minutes.
If you regularly want to avoid spending too much time in the kitchen, simply pick Blue Apron's Fast & Easy plan when you sign up, and you'll only receive meals that can be ready in 30 minutes or less.
Elsewhere, Sunbasket's meal kits take anywhere between 15 to 40 minutes to prepare.
While prep times aren't clearly listed on the menu, you can filter your selection to see only the meals that can be ready in less than 20 minutes, of which there are usually a good number! These meals will also be tagged Speedy and/or Pre-Prepped.
Sunbasket's Fresh & Ready meals can be heated in just four minutes. But what's particularly handy is that the company offers 10 of these meals per week, which is more than double the prepared meals Blue Apron has on its menu. I just love that there's so much variety here.
When you open up your box, you'll find perfectly portioned ingredients and handy recipe cards with both companies. But for me, Sunbasket has the edge for its particularly well-written and well-laid-out instructions.
While seasoned home cooks won't find either of these service's recipes particularly taxing, I personally found Blue Apron's directions to be a little vague for a total newbie. The recipes expect you to intuitively know how much olive oil to drizzle in a pan or how much salt to add to pasta water, for example.
Meanwhile, Sunbasket's recipe cards, organized by ingredient, made a lot more sense to me. Each recipe even has a Kids Can! section with ideas for any young sous chefs at home.
Customer Support
Winner: Sunbasket
Both Blue Apron and Sunbasket offer pretty standard customer service channels. Each has robust FAQ sections on the website, covering everything from shipping and billing issues to information about where each company sources its ingredients.
Both also provide email addresses and phone numbers to reach customer service, but Sunbasket gets the edge thanks to two extra features. In addition to a toll-free number, Sunbasket has a number you can text to get your questions answered.
It also doesn't stop there. Sunbasket's website is also home to the adorably named Sunny B., an automated digital chat support assistant who can answer basic questions or connect you to a live agent.
So, Sunbasket already has the edge when it comes to accessing information, but how easy is it to cancel both these services? This is yet another arena where Sunbasket comes out on top, thanks to its much simpler cancellation process.
Blue Apron requires you to get in touch with a customer service rep in order to end your subscription. This is a huge sticking point for me: most of its competitors – Sunbasket included – let you cancel with the touch of a button.
For a more detailed look at how to cancel your Blue Apron subscription, be sure to check out this short blog post.
Pricing
Winner: Blue Apron
Blue Apron and Sunbasket are quite different when it comes to pricing. With meal kits starting at $5.74 per serving, Blue Apron is one of the more affordable services on the market. Sunbasket's prices start at Price: Missing Product sunbasket per serving, with its prepared meals being cheaper than the meal kits.
A couple caveats here, however: Blue Apron's price-per-serving adjusts depending on the size of your order. To get the lowest price, you'll have to sign up for the largest plan of 16 servings per week (that's four meals for four people).
If you sign up for Blue Apron's smallest plan (two meals for two people per week), your price-per-meal can actually come out higher than with Sunbasket, at $11.99 per plate.
Blue Apron wins on affordability, but only if you plan on placing large orders. If you're a household of two, Sunbasket could be the better deal.
You should also note that Sunbasket's pricing varies by recipe. A good number of its meal kits and prepared meals cost more than the advertised starting price. The extras are cool, but you'll be more limited in your meal choices if you're sticking to a budget.
For both companies, shipping costs a flat fee of $9.99 per week.
Features Comparison: Blue Apron vs. Sunbasket
| | | |
| --- | --- | --- |
| | Blue Apron | Sunbasket |
| Best for | Families on a budget | Specialized diets and allergies |
| Starting price | $5.74 per serving | Price: Missing Product sunbasket per serving |
| Shipping cost | $9.99 | $9.99 |
| Minimum order | 2 meals for 2 people ($57.95) | 2 meals for 2 people (from $49.95) |
| Menu Variety | 19 choices per week | 30 choices per week |
| Prep Time | 5 to 55 minutes | 4 to 40 minutes |
| Convenient Options | Heat & Eat prepared meals, <30 minutes | Fresh & Ready prepared meals, <20 minutes |
| Allergy Options | Limited | Gluten-free, dairy-free, soy-free |
| Special Dietary Options | Vegetarian | Paleo, vegetarian, pescatarian, vegan, Mediterranean, carb-conscious, diabetes-friendly, low-calorie |
| Customer support | FAQ, email, phone | FAQ, email, phone, text, automated 24/7 chat |
| Promotions | | |
And The Winner Is: Sunbasket
If you're a family household dining in on a budget, you enjoy cooking, and have a straightforward diet, Blue Apron may be an excellent fit.
But, there's no getting around that Sunbasket takes the win when it comes to picking and choosing and looking out for special diet needs. Yes, this service costs a bit more, but you're getting the best organic ingredients, plus the extra benefit of more variety.
That said, if affordability is the issue here, you can find plenty of other budget-friendly meal kits on our list of the cheapest meal kits for 2022.
So, Sunbasket is a better fit for healthy diets than Blue Apron, but these two services are just the tip of the iceberg. To compare even more, check out our list of the best healthy meal delivery services of 2022.
FAQ
Is Blue Apron more expensive than HelloFresh?
Blue Apron is similar in price to HelloFresh, but ever so slightly more affordable. Both services bottom out at $7.99 per serving when you order four recipes for four people per week, but HelloFresh offers more Premium Pick dishes, which can jack up the prices.
When I researched Blue Apron vs Sunbasket, I found Sunbasket to be slightly more expensive than both Blue Apron and HelloFresh, thanks to its niche menus and organic ingredients.
Are Blue Apron meals already cooked?
Blue Apron's weekly menu mainly offers meal kits that you assemble yourself, however, it does have a few prepared Heat & Eat meals that take just five minutes to warm up in the microwave. Sunbasket has a much larger range of Fresh & Ready meals and would be a better choice if you're looking for no-prep meal delivery.
Which is better: Blue Apron or Sunbasket?
Sunbasket is better than Blue Apron in almost every category I considered for this comparison. However, Blue Apron is the better choice for families who want to save money and who don't have dietary restrictions.