Detox In A Box 2021: Health and Well-Being in the Corporate World
We chat with Inês Góis, Founder and CEO of Detox in a Box, to find out more about this Portuguese-based business that provides healthy and nutritious food within the corporate arena (and more), and how companies can invest in the health and well-being of their employees.
What exactly is Detox in a Box and how did the idea come about?
Detox in a Box is a healthy food solution for companies. Our goal is to make healthy food as accessible and convenient as possible. We decided to put particular focus on companies as they're a big part of people's everyday life.
We've created various solutions to provide healthy food both inside and outside of the office, and we also help companies promote healthy habits among their employees.
One of our first products was our smoothie solution. The adapted blender is easily set up in offices, and we deliver the smoothie cups with all the fresh fruit in the correct portions, ready to be blended. This makes it easy for people to have a healthy, delicious breakfast that can boost energy all from the comfort of the office.
In the meantime, we've expanded our solutions to include gift boxes delivered to employees' homes, nutrition workshops to boost healthy habits, and more recently the Healthy Station – a completely innovative solution to offer fresh meals throughout the day.
How popular are your products in the corporate world?
Our main focus remains on the corporate world although we do also offer smoothies for home delivery via online ordering. Corporate people tend to live extremely busy lives and don't have the time or energy to dedicate attention to their health.
Also, it's becoming clearer that companies have a responsibility to help their employees take on healthier habits and boost their well-being. By promoting healthier eating habits, companies help their teams have better health, energy levels, and overall happiness and therefore are investing in a perk that actually brings a big return for all.
Can you tell us about the Healthy Station?
The Healthy Station is a grab-and-go smart fridge for healthy food. Instead of a traditional vending machine, this machine allows you to first swipe your bank card, then it opens and you can choose what you like. You'll be charged for what you've taken once the door closes.
We offer everything from breakfast selections to full meals, so it's almost like an unattended canteen for healthy food. The Healthy Station can be in offices or co-working spaces, and even in hospitals and medical clinics.
The idea is to provide healthy food options with no additives or preservatives while being easy to access.
Where do you source your ingredients?
Most of our ingredients are sourced locally. We do change our ingredients quite often to keep in line with seasonal produce. We have partners for different products, but they're mostly Portuguese or local, so as to maintain sustainability and freshness of produce.
Being organic isn't our main focus, although we use organic produce whenever it's available. Our goal, however, is to make sure our products have no additives and use virtually no processed ingredients. We also feel very strongly about making sure people know what they're consuming by using simple labels, without complicated ingredients that are bad for you.
Where do you find inspiration for your Detox in a Box recipes?
We build our recipes around functional nutrition by understanding the best combinations of ingredients and how we can use them to our benefit. Our products are divided into four categories: brain food, energy boost, anti-aging, and healthy balance.
We create recipes that make sense in terms of our criteria and that fit into our categories and serve a purpose. We also try to make people see that healthy food isn't about diet and losing weight, but can be all of the above-mentioned dimensions and more importantly, a lifestyle.
We sell both Detox in a Box branded products and others, from selected partners that we love and share the same values with. Everything that isn't produced by us is curated by our team of nutritionists to make sure it complies with our standards.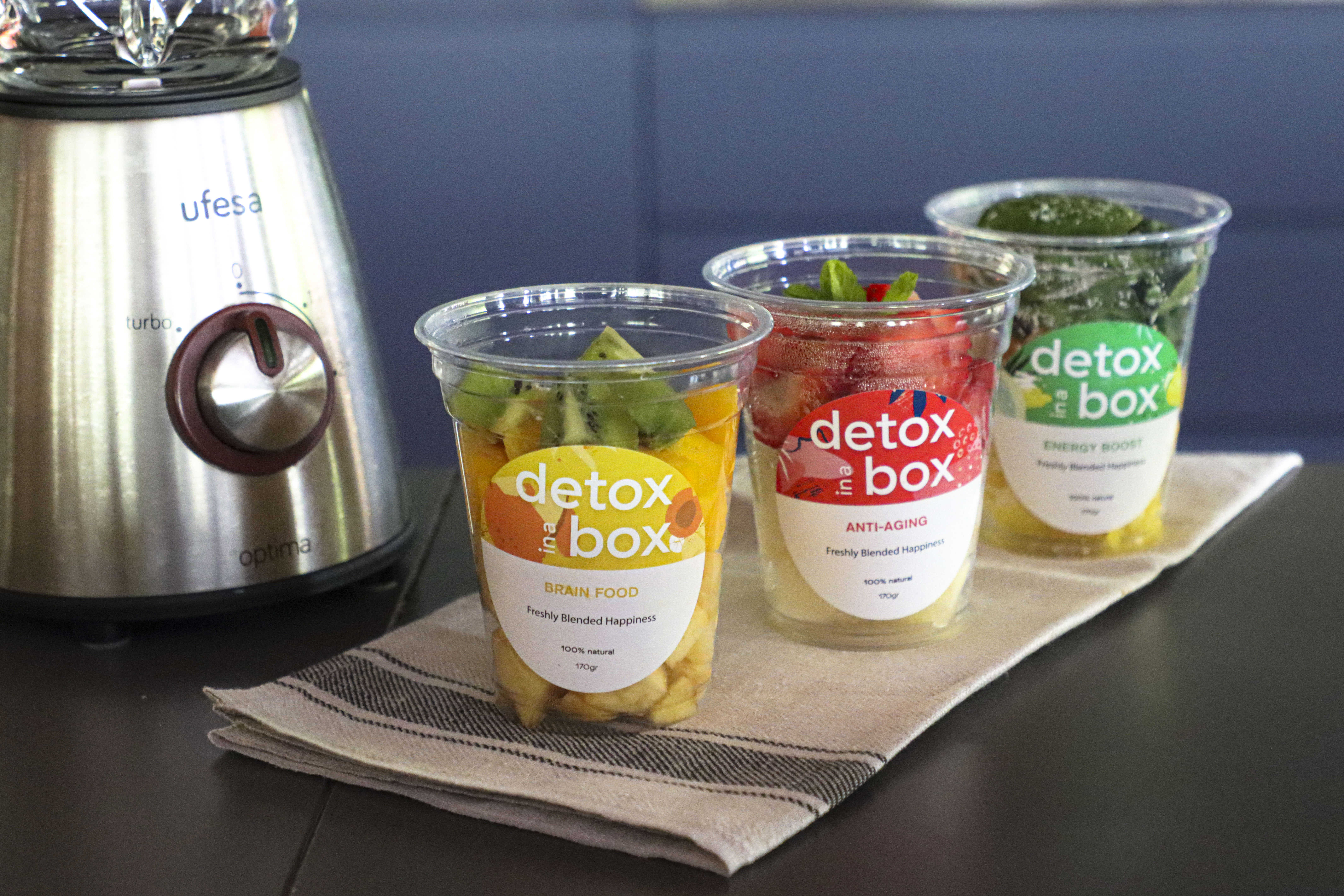 Do you have plans to go global?
We started in Porto and are now in Lisbon too. These are the two cities in Portugal where most big companies are situated. We do have plans to expand, firstly in Europe and those countries closest to us.
The idea would be to keep things local by creating hubs in those countries where the produce would be sourced locally to ensure optimal freshness of our products. We would outsource and have a network of partners (as we currently do in Portugal) and would maintain a replicable and scalable business model elsewhere.
Food is becoming more important in the workplace and is particularly important nowadays with the uncertainty of how much time we'll be spending in the office. I believe that because we're spending less and less time together in an office environment, companies need to focus on spaces where colleagues can share moments together.
Bringing people together around healthy and nutritious food can achieve this goal, in addition to having a positive impact in many other ways.