Dooloop 2023: Hands-Free Dog Poop Bag Holder
Beth Herriman from dooloop gives DeliveryRank the lowdown on this nifty little creation that takes doggie poop bags to another level. Made in Maine – "I like carrying dog poop" said no one ever!
How long has dooloop been out on the streets (literally)?
The dooloop prototype was first sold locally, in the Spring of 2019 at Fish and Bone. SuperZoo 2019 was the national launch, and there was nothing else like them in a million square feet of all things pet!
How did you come up with the ingenious design?
Desperation was the mother of this invention. Walking the ladies struggling to break free, led to a 4 AM problem-solving ideation, followed by a slow walk through the local hardware store for inspiration.
Eventually, a potato masher was my "aha", and the dooloop came about after fiddling around in my kitchen trying out different shapes and concepts. Patric Santerre later turned it into what you see today, an iconic finished product.
How did you get your name out there and how have customers reacted to your products?
Getting brand and product awareness is an ongoing project; as far as dooloop goes. It's literally been from the ground up, little poop humor! Trade shows, social media, and interviews like this, are helping to spread the word, but people who have a dooloop are my best salespeople by far.
The challenge continues to be that very few people are looking for dooloops in stores (mostly). There isn't an established classification, not even a noun for what one is. But….
Reactions? A quick demonstration or graphic, and "why hasn't anyone thought of this before?" This is the typical response. When you think of the worst part of having a dog, it's dealing with their poop. Poop will never be fun, but there's no reason to cling to it during your walk.
The dooloop's challenge and opportunity are opening a new classification. So bottom line (no pun), this is all still a work in progress. "dooloop" is trademarked, turn it upside down and it remains "dooloop."
Where can we get hold of dooloop?
You can find dooloops at https://thedooloop.com/, look at where to buy, and see if your local store carries them or order directly from us. They're also found on Chewy and Amazon. The hope is to have people shop locally, it helps people's local tax base, and other small businesses – and both are so important these days.
What is dooloop made of and what about sustainability?
Like the hokey pokey, this IS what it's all about. Sustainability in materials, where they're made, paying people a fair wage, doing it locally, remaining under $10, and giving stores a good margin have all been goals from the beginning.
The dooloops are made in Maine of recycled/recyclable plastic. The packaging is minimal, a paper tag (ME) and ball chain (NY), all hand assembled with a good wage baked in and no single-use plastic.
Additionally, there's been research into the environmental damage that dog waste causes and it's bad. It affects water tables, wildlife, soil chemistry, and alters what can grow. If dooloops make it easy for people to responsibly deal with dog poop, hopefully, we can lessen the impact.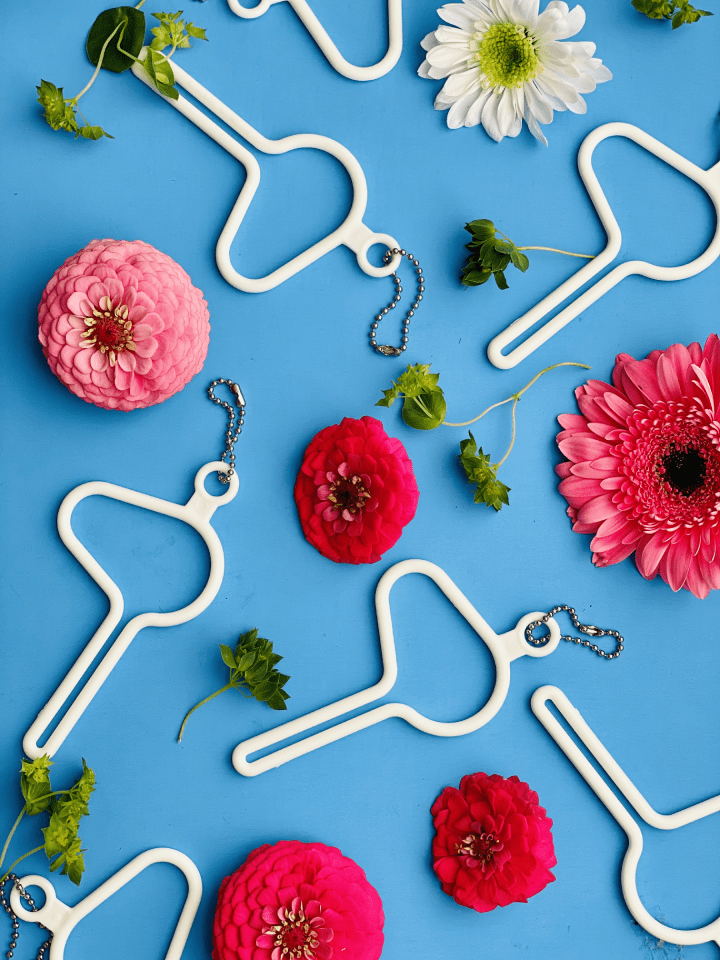 Is it true to say that without Bella and Angie, there would be no dooloop?
110%!! Without Bella and Angie, the dooloop wouldn't exist. We've had many "gently used" dogs over the years and like everyone, I've scooped and mindlessly held onto their sh*t for the duration.
When Bella and Angie arrived, they ran away from us inside the house. It was clear that if a leash was dropped outside it would be the end of them, meaning stress for everyone. The dooloop was an immediate need, a hail Mary for sanity.
Nothing on the market allowed me to maintain leash control with an easy one-hand way to deal with multiple bags of poo on walks. Bella and Angie spurred this innovation, as is so often the case, the challenge becomes the gift.
We all owe Bella and Angie (RIP) a debt of gratitude. No one likes holding a warm bag of smelly dog poop (right?!), but it took two traumatized bassets to make it untenable. Gotta love those ladies, they touched our hearts and made life easier for dog lovers everywhere.
Want to find out more about dooloop, visit https://thedooloop.com/ or follow on https://www.facebook.com/dooloopdogs/?modal=admin_todo_tour