Jump to see some great alternatives
Sign in / Open Settings – From the Factor website, navigate to the Settings menu.
Select Plan Settings – This will be located on the left-hand side of the Settings page.
Look for the Deactivate My Plan button – If you don't see this option, skip to Step 5.
Choose Deactivate My Plan and follow the steps – Simply follow the steps, and your subscription will be canceled. Now you're free to move on with your Green Chef subscription.
Call or email to cancel – If you didn't see a button on your account, you'll have to get in touch with a Factor representative at 888-573-5727 or help@factor75.com. The representative will talk you through the steps to close your account.
Step-By-Step: How to Cancel Factor
Factor's cancellation process is a little convoluted, and it can be frustrating depending on your location. Factor offers an easy, touch-of-a-button cancellation only where required by law. If it isn't required where you live, you'll be forced to call or email.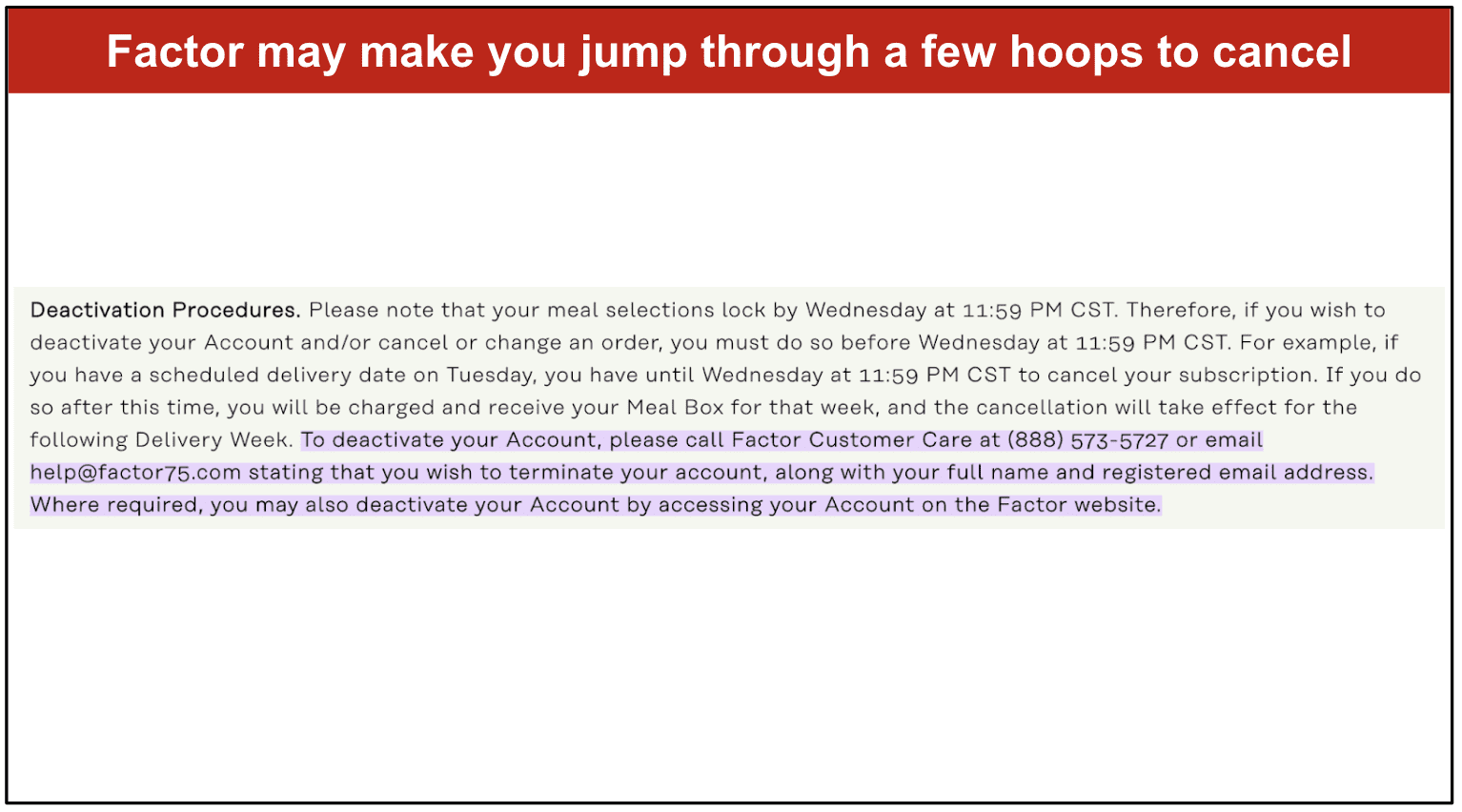 Also, make sure you adhere to the weekly cutoff date and time! Otherwise, you'll receive (and be charged for) another week of meals.
Factor's cutoff for order processing is 11:59 pm CT every Wednesday. Make sure you cancel before this time if you don't want to receive (and be charged for) the following week's shipment.
Here's a more detailed step-by-step for canceling your account via the Factor website:
Sign in / Open Account Settings – The Account Settings menu is accessible after you've signed in using the Log In button in the upper-right corner of the Factor website.
Select Plan Settings – On the Settings page, you'll see several options on the left-hand side of the page. Select Plan Settings, open the Status section, and then choose Deactivate My Plan.
Confirm your option – Factor will offer you several options, but if you're set on canceling, choose Cancel Anyway. Next, choose your reason and click on Deactivate Now.
Once again, there's a chance that you won't see the option to deactivate your plan in your Settings menu. If this is the case, you'll have to get in touch directly with customer service via 1 of 2 methods:
Email Factor customer service – Send an email to help@factor75.com with your full name, email, and other vital account information. Say you wish to cancel, effective immediately.
Call Factor's helpline – Call 888-573-5727 and ask to speak to a representative about canceling your account. Once you reach someone, they'll walk you through everything you need to do.
Factor makes it easy to restart your subscription at the touch of a button if you ever have second thoughts about canceling.
At a first glance, Factor and Green Chef aren't that different. But when you look at the fine print, it's easy to see why some people prefer Green Chef over Factor.
First, Green Chef is a meal kit service. This means you have more control over what goes into your meals. Since you're doing the cooking part, it's easy to remove and swap ingredients as you like. For instance, if you order the Chickpea Salad Sandwiches and you don't like celery, you can just skip it when assembling the meal.
Second, Green is certified organic. This means the fresh produce and eggs are organic. Green Chef puts more care into choosing premium ingredients, like organic beef, chicken, or wild-caught seafood options. Factor's ingredients weren't low quality by any means, but Green Chef offers more certified premium options whenever possible.
Both companies cater to a range of healthy diets, such as Keto and High-Protein. Factor also offers a good selection of Calorie Smart dishes, but Green Chef also has a Gluten-Free meal plan. According to my colleague's full-length review, "most Green Chef meals are certified gluten-free by the Gluten Intolerance Group (GIG)".
Both companies have impressive add-on menus, but Green Chef's is more focused on pre-cooked proteins and options for breakfast and lunch. Factor, on the other hand, offers a good selection of smoothies, juices, and some delicious vegan desserts.
Green Chef also wins some points for its sustainable and eco-friendly practices when it comes to packaging and recycling. Factor is also working on reducing its carbon footprint, but its containers aren't easy to recycle in every community, which can be a bit problematic.
Green Chef's prices start at $9.99 per serving, which is quite similar to Factor's. Premium services usually cost a little more, so I'd recommend taking advantage of a new customer discount to try it out. The latest live coupon I found is Get $250 off + free shipping.
Unlike Factor's single servings, you can order for 2, 4, or 6 people (3 or 4 meals per person) each week with Green Chef.
Trifecta is laser-focused on fitness-oriented meal plans that follow specific dietary needs. While Factor has a good selection of Calorie Smart and Keto meals, Trifecta offers several meal plans specially designed to help you lose weight, build muscle, and support an active lifestyle.
Trifecta is a completely gluten-free service, and the recipes are designed by a team of nutrition experts. Also, the service puts a lot of effort into selecting only high-quality ingredients, like organic produce, grass-fed protein, free-range chicken, and sustainably caught seafood.
You can specify your allergies, and the service will accommodate the menu to fit your needs. For now, Trifecta offers soy-free, dairy-free, peanut-free, and meat-free options. Most of the recipes on the menu are inspired by American cuisine, but you can also find the occasional Mexican or Asian dish.
Trifecta asks you to subscribe to one of the 6 meal plans, specify your dietary preferences, and let the chefs design the menu for you.
Trifecta also lets you customize ready-made meals, which is a feature Factor doesn't offer. For this, Trifecta has an A la Carte menu that includes veggies, carbs, proteins, and ready-made meals, and users can order as much or as little as they need. As my colleague said in their in-depth review, Trifecta makes sticking to a healthy diet a lot easier than other services, like Factor.
Trifecta takes extra steps to help its users eat healthily and have a healthier lifestyle. While Factor offers a 20-minute session with an online nutrition coach or dietitian, Trifecta takes things a bit further and offers access to the Trifecta app, where you can connect with a registered dietitian to work on a personal plan, get tips on how to improve your workouts, and get in touch with other users on a similar journey.
In terms of pricing, Trifecta is more expensive than Factor. Prices start at $6.00 per serving with the maximum meal plan, which brings you 21 meals (14 entrees and 7 breakfasts) per week. The minimum order is 7 entrees and no breakfasts, but the price per serving can be pretty steep.
Eat Clean offers single-serving, ready-made meals suited for several dietary preferences. You can choose between Traditional meals, Keto, Paleo, and Plant-based. As my colleague puts it in their Eat Clean review, this service is a convenient way to fuel your body with all the necessary nutrients, regardless of your diet.

Eat Clean features a good selection of recipes inspired by international cuisines, such as Indian, Chinese, Latin American, Italian, Cuban, Hawaiian, Japanese, and more. Despite this, all the recipes include simple ingredients that usually appeal to even the fussiest of eaters. So, Eat Clean can be a good option for singles, couples, and even families with children.
Both services offer plant-based meals, but Eat Clean's menu is more varied, with 10 veggie dishes per week (Factor has about 5 vegan and vegetarian recipes each week).
The menu rotates weekly, so it's easy to find new and interesting meals. With recipes like Buffalo Cauliflower Florets with Yucca Fries and Chimichurri Palomilla Steak with Baked Sweet Plantain, you won't get bored too soon.
Eat Clean doesn't have an add-on menu, but it does offer a couple of breakfast options, like pancakes, scones, and french toast. However, keep in mind that you can't mix and match between plans, and not all meal plans have the same breakfast options.
Neither service offers customization options, however, Factor will provide some information on possible allergens in each recipe. Eat Clean doesn't offer such a feature, so it may not be a great fit for people who suffer from allergies.
Eat Clean wins major points when it comes to pricing, though. Starting at $8.60 per serving, this is the most budget-friendly service on my list of Factor alternatives. Plus, you can order between 4 and 12 single-serving meals each week, so it can be a good option for a wide range of people.
Quick Summary of the Best Alternatives to Factor