How to Cancel Factor Subscription 2023: Quick & Easy Steps
Factor makes it really easy to pause or cancel your subscription, without having to offer any explanation as to why. That's even the case if you purchased using Factor's special discount.
I like Factor's flexibility, and felt spoiled for choice while trying to cut calories. But in the long term, this service can be expensive. The vegan and vegetarian menus are more limited, too, so it's easy to understand why Factor perhaps isn't a good fit for everyone.
If you want to mix it up, I found Fresh N Lean to be the best alternative to Factor. Like Factor, it offers prepared meals for keto, vegan, and other specialist diets, but Fresh N Lean is also a little cheaper – especially if you use our discount code.
Regardless of your reasons, if you want out, I'll show you step-by-step how to cancel Factor. I'll even throw in a few reliable alternatives, so make sure to read on!
Jump to see some great alternatives
Sign in and open Settings – From the Factor website, navigate to the Settings menu.
Select Plan Settings – you'll find this on the left-hand side of the Settings page.
Look for the Deactivate My Plan button – If you don't see this option, contact customer service.
Choose Deactivate My Plan and follow the steps – Simply follow the steps and your subscription will be canceled!
Step-By-Step: How to Cancel Factor
Factor offers easy, touch-of-a-button cancellation, so you won't have to sit on hold waiting for a representative.
If you want to cancel your Factor subscription, make sure you adhere to the weekly cutoff date and time! Otherwise, you'll receive (and be charged for) another week of meals.
Factor's cutoff for order processing is 11:59 pm CT every Wednesday. Make sure you cancel before this time if you don't want to receive (and be charged for) the following week's shipment.
Here's a more detailed step-by-step for canceling your account via the Factor website:
Sign in and open Account Settings – The Settings menu is accessible after you've signed in using the Log In button, situated in the upper-right corner of the Factor website.
Select Plan Settings – Once the Settings page opens, you'll see several options on the left side of the page. Select Plan Settings, open the Status section and then select Deactivate My Plan.
Confirm your option – Factor will offer you several options, but if you're set on canceling, choose Cancel Anyway. Next, choose your reason and click on Deactivate Now.
If you ever have second thoughts about canceling, Factor makes it easy to restart your subscription at the touch of a button. But you may also want to try out some of these alternatives:
If you're looking for a similar alternative to Factor, Fresh N Lean has many of the same features. Both services offer prepared meals that cater to a variety of diets, including vegan and keto. Like Factor, Fresh N Lean also offers a combination of breakfasts, lunches, and dinners.
The main difference is that while Factor lets you mix and match meals across all its plans, with Fresh N Lean, you have to commit to one particular menu: Protein+, Keto, Paleo, Vegan, or one of four other plan options. This makes it easy to stick to a certain diet, but it might not suit fussy eaters.
My colleague's review of Fresh N Lean walks you through example dishes on the menu so you can decide which is the right plan for your needs.
Fresh N Lean's prices depend on the plan you select. The Vegan plan is the least expensive, starting at $7.53 per serving. And while the Keto and Paleo plans are pricier, they still cost slightly less per serving than Factor.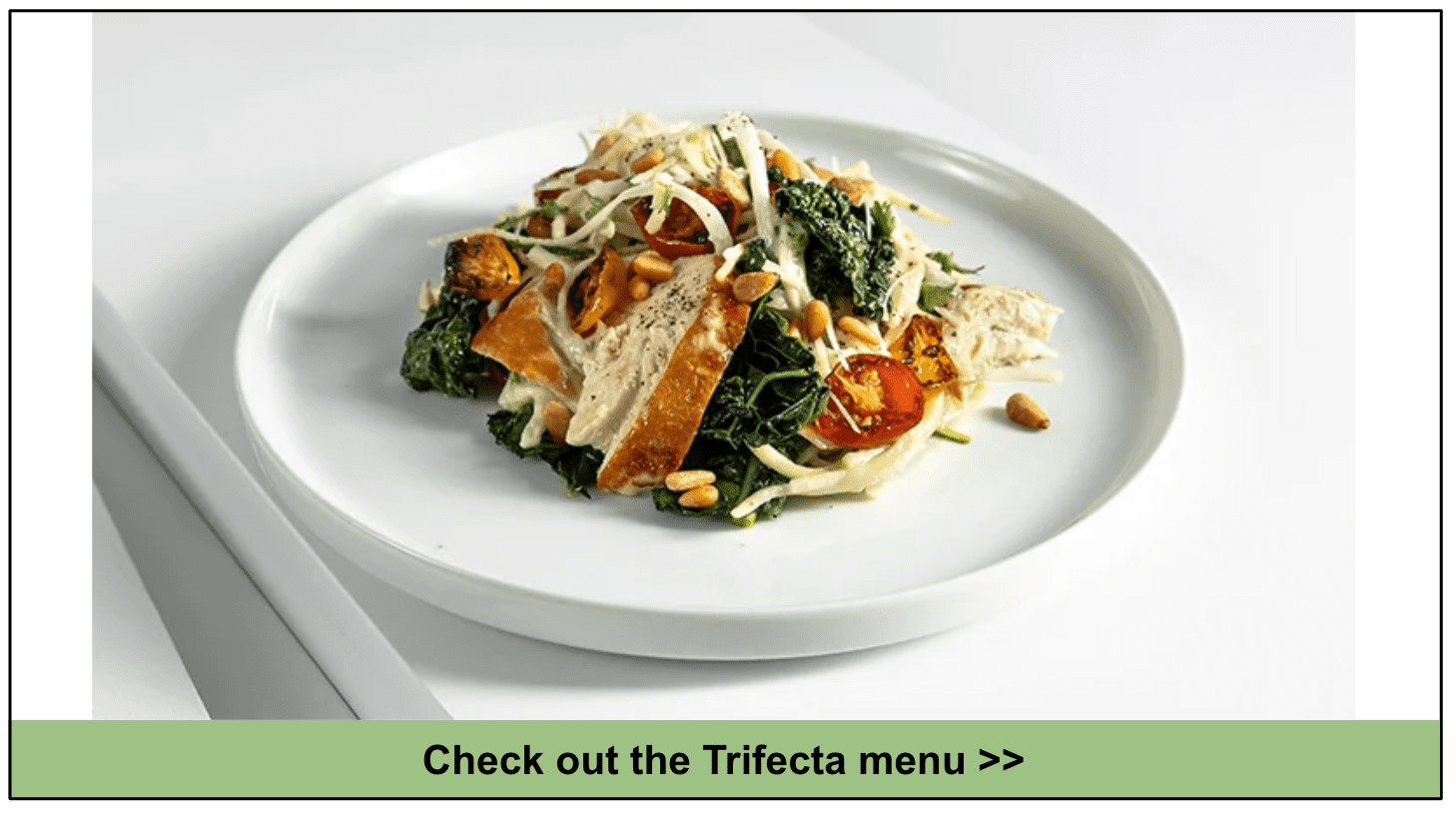 Trifecta is one of the few organic meal delivery services to offer even more premium options than Factor. This service isn't for people on a budget, but it offers a truly gourmet experience for those who can afford it. Trifecta essentially grants you access to a personal chef who will prepare a curated menu for you each week from the service's rotating dishes.
My colleague's review lists the full range of plans , but Trifecta covers most of the same diets as Factor. Plans can include breakfast, lunch, dinner, and a third entree daily, and there's also an A La Carte "build it yourself" menu.
Each single-serving meal has balanced macros, which is great for time-pressed athletes and people looking for healthy prepared meals. Even though it's slightly more expensive than Factor, you can try it for less – our new customer discount brings down the price to just Price: Missing Product trifecta per serving.
Blue Apron is easily the most affordable alternative to Factor, with prices as low as $5.74 per serving.
Blue Apron is a slightly different service that's better known for its meal kits, but you'll also find several Heat and Eat meals on the menu that can be microwaved in minutes. This could be a good switch if you only need two or three prepared meals each week, or if you want a mix of prepared meals and meal kits.
Its WW-approved Wellness menu is the best choice for healthy meals, although it doesn't cater to as many health diets as Fresh n Lean or Trifecta.
Our review of Blue Apron walks you through each of the plans, but look out for tasty-sounding dishes such as Miso Sesame Chicken, Spanish-Style Beef and Rice, and more.
Bottom Line
Factor is a high-quality meal delivery service and a great way to enjoy quick, balanced meals and sustainable ingredients cooked well, but that doesn't mean it's right for everyone!
There are other services out there, such as Fresh N Lean, which offer a whole different approach to meal delivery, not to mention a range of meal types and price points that may better suit your needs.
Luckily, Factor's cancellation process is relatively straightforward, and my three favorite alternatives might help you move on to something new!
Here's a Quick Summary of Best Alternatives to Factor:
| | | | | | |
| --- | --- | --- | --- | --- | --- |
| Meal Delivery Service | Special Discount | Starting Price | Dietary Preferences | Our Rating | |
| | | $7.53 per serving | High-protein, Keto, Paleo, Vegan, Whole30-approved, Low-carb, Gluten-free | 7.5 stars | |
| | | Price: Missing Product trifecta per serving | Vegetarian, Vegan, Keto, Paleo, Whole30 | 8.7 stars | |
| | | $5.74 per serving | Diabetes-friendly, Low-calorie, Carb-conscious | 9.4 stars | |
FAQ
Is it easy to cancel a Factor subscription?
Yes – you can cancel Factor in three easy steps. All you have to do is access your account (using the website or the mobile app) and choose Deactivate My Plan. This won't delete your account, so if you ever want to return, you just have to reactivate your subscription.
Are there cheaper alternatives to Factor?
Blue Apron is the cheapest alternative I found to Factor. But it has a smaller range of prepared meals and caters to fewer diets. My top alternative is Fresh N Lean, as it's very similar to Factor, but still comes in at a lower price point.
Until when can you cancel a Factor subscription?
You must cancel your Factor subscription by 11:59 pm CT every Wednesday. If you miss the deadline, you'll have to pay for another week of meals.