Farm to Table Foods 2023: It's All in the Blend
Martin Canellakis is a visionary entrepreneur and the founder of Farm to Table Foods, a company that is revolutionizing the food industry by bringing sustainable and locally sourced products to consumers across the United States. With a passion for healthy living and a commitment to supporting small-scale farmers and artisanal producers, Martin has built a thriving business that is redefining the way we think about food. His innovative approach to sourcing and distributing high-quality products has earned him a reputation as a trailblazer in the industry. Through his work at Farm to Table Foods, Martin is on a mission to create a more sustainable and equitable food system that benefits both people and the planet. DeliveryRank chats with Martin.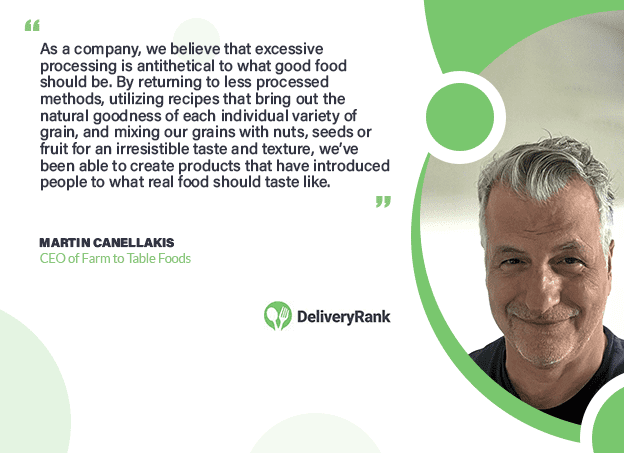 What inspired you to start Farm to Table Foods, and what is your mission?
Years ago, when my daughter Eva was about 6, she went through a phase where she would only eat oatmeal. So in order to branch out, I started blending different grains together. I experimented with organic rye, hard red winter wheat, spelt and Kamut. At one point it hit me that there wasn't anything else like this on the market. From there a business was born.
How would you describe your "artisanal approach" and do you believe this to be the key to your success?
We never knew anything BUT an artisanal approach to creating our product. We don't really know how to do it any other way and maintain the level of quality that makes the business worth running for us. But I've got to say, fortunately there are other people like us out there–people who appreciate the integrity that goes into a well made product. Once they've gotten used to it, it's hard to go back to the mass market stuff.
Interestingly, our biggest champions have been chefs. We sell to some of the best restaurants in the country and virtually all of that business has been built one chef at a time.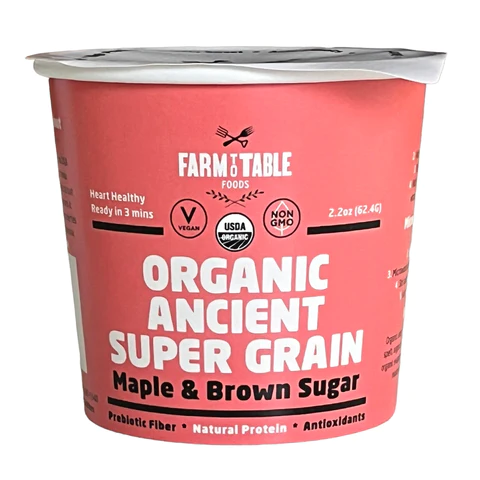 Can you describe the process you use to source your ingredients and work with local farmers and producers?
Like anything, the food industry is built on relationships. We began by seeking out farmers, who turned us on to some great grain mills. Now we are able to use that resource for finding other growers who work to our standards. This is important, especially when you consider that some organic growers are dealing with glyphosate contamination blowing over from neighboring conventional growing operations.
What challenges have you faced in growing your business, and how have you overcome them?
The hardest part for us is sales. We're great at making a great product, but getting the word out has been our biggest impediment. Our best sales tool has always been, and continues to be, word of mouth. For instance, we have not put one dime into advertising our product on Amazon, but we continue to experience year after year growth. Our return customer base is what drives us. They tell their friends, and soon we have more return customers.
In what ways do you see the food industry evolving, and how do you plan to adapt and stay ahead of the curve?
What I like about where the food industry is going is that there seems to be a lot more outlets for nontraditional or artisanal products these days. The truth is, you can't spend what we do on quality ingredients and employ the race-to-the-bottom pricing plans that have dominated in the supermarket industry. If we are going to invest in a retailer or distributor, we want to make sure they are willing to invest in us.
If you would like to find out more about Farm to Table Foods, visit https://farmtotablefoods.com/ or follow on ​​https://www.facebook.com/FarmToTableFoods or https://www.instagram.com/farmtotablefds/