FitSW 2023: The All-In-One Fitness App for Personal Trainers and Gyms
Jacob Montoya, Founder of FitSW, reveals how this App can help personal trainers and gyms to grow their business and stay on top of their client's fitness with the touch of a button.
When did you come up with the idea for FitSW and how did it get started?
I was a personal trainer part-time whilst at college studying software engineering, and saw a need for a tool that would help track client progress and help trainers plan workouts and meals. At that time I didn't have the time or capabilities to build an App.
As time went on, I found the time and the technology was there too so I built the initial version. I made it available and pushed it on several forums. People were using it so I decided to leave my full-time job and focus on the App full time. I proceeded to continue to improve it. The business grew and we added more team members to add all the feature requests that we were getting from users.
Who can best benefit from the App?
We started out by focusing on personal trainers and their clients but have since had the likes of physical therapists (to plan workouts and track progress for their clients) and nutritionists (to manage their client's meal plans, for example). We've expanded into studios and gyms and sports coaches are using it in similar ways to personal trainers, except on a bigger scale.
Where can FitSW be deployed?
We started out creating a web app accessed through fitsw.com. We then added an IOS and Android app.
What would you describe the App's best features to be?
Our fitness program creator is very powerful. It allows trainers, fitness coaches, or physical therapists to create an entire fitness program that would have all the workouts, nutrition plans, reminders, and automated messages that their clients would need.
The personal trainer can assign it to clients and tailor and customize it to those clients. It's a big time-saver as the trainer only has to build these programs once and then tweak them for different clients.
Trainers can also sell services and programs in packages (e.g., a 10-week fitness package or a 5-week weight loss package) through our website. When the client purchases through the website, they're automatically assigned an account which makes it super easy for both client and trainer. It also allows trainers to sell their services online easily without a lot of setup.
I'm also very proud of our messaging capability which allows trainers to communicate one on one, or with large groups of clients. The app allows users to create fun group chats, send broadcast messages, send voice memos, video messages, pictures, and more.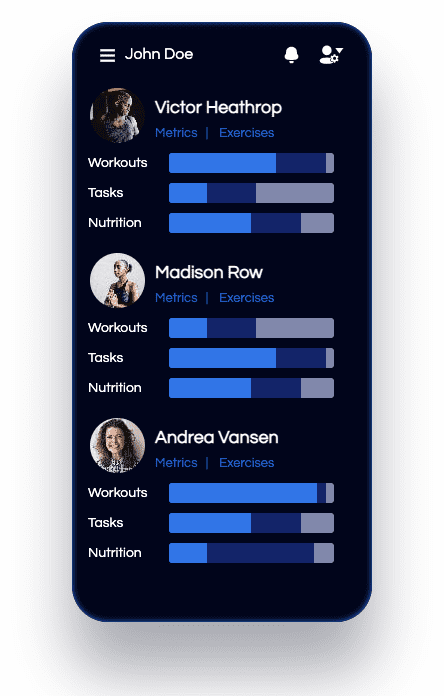 What hurdles have you encountered in this business venture?
The biggest challenge is prioritizing requests and making things work best for the largest number of people. We have so many different requests and it's difficult to find the right balance between what features to add, how they work together, and identifying priorities.
How does FitSW compare to other apps in this field, in terms of what offers and pricing?
We offer the most features at the best price. Additionally, the feedback we've received from users who've switched from competitors is how simple and straightforward our platform is to use. We've focused on making it intuitive and as fast and easy as possible to optimize the trainer's precious time.
What does the future hold for FitSW?
A key feature that we want to expand is our nutrition planner capability. We'd like to make it faster to use and make it easier to build meal plans and for clients to understand these plans and track their progress throughout the day.
We have some international partnerships in place with requests for additional foods for different areas. We're adding more food to support more regions. Watch this space!