Free Vegan Recipe Books: 20+ e-Books, Websites, and Apps To Inspire You in The Kitchen
People are quickly realizing that the vegan diet is not what they once thought. Yes, eating vegan is eco-friendly, but it can be so much more: simple, cheap, healthy, indulgent, and delicious!
That point is proven in our list of free vegan recipe books.
I'll repeat: they're all completely free! That fact, in particular, is quite astounding — especially considering the size, scope, and quality of the cookbooks we've collected. There are comfort food recipe books along with healthier options, full-length cookbooks, and samples from world-class vegan chefs.
We'll be focusing on downloadable ebooks for this article, though that's not to say we won't mention a top-quality blog or two in the process. Enjoy!
Great All Round Resources
Genuinely fantastic resources that cover all bases, whether you want access to high-quality recipes, a variety of cuisines, or you want a slice of education with your vegan pumpkin pie. It's all here.
1. Veganuary
I'm sure most people have heard of Veganuary. The famed non-profit has been convincing people to eat vegan for a long time. Now, you can grab 2 free Veganuary recipe ebooks to help you do just that.
Veganuary will even throw in a Vegan Starter Kit when you sign up for its newsletter. With over 60 recipe-packed pages between them, the cookbooks are two of the best options on this list.
Budget Meal Plan will walk you through a ton of affordable (and tasty) vegan dishes, but the jewel of the crown is the Celebrity Cookbook. This beauty features vegan recipes from some of your favorite personalities, including Joanna Lumley's green soup recipe and Beyonce's (yes, Beyonce's!) nutritious guacamole. You'll find other contributions from the likes of Joaquin Phoenix, Pamela Anderson, and many more!
Free Plan: 2 vegan recipe ebooks and a vegan starter kit when you sign up for free (plus blog content).
Paid Plans: This is a charity, but feel free to donate!
2. My Darling Vegan
My Darling Vegan is one of the top vegan food blogs on the internet. The site features a massive library of simple and scrumptious vegan recipes, from baking and salads to breakfast, dinner, and everything in between.
Author Sarah is a classically trained chef. She's also clearly a kind and generous person. In the name of veganism, Sarah will let you access a whole library of her ebooks for free when you sign up for the site's newsletter. That includes 30 recipes in The Clean Eating Vegan and 100 Vegan Baking Recipes, plus themed cookbooks (like Christmas), a beginners' guide, pantry tips, and more. 100% worth a look.
Free Plan: Access to 9 vegan ebooks and resources (inc. 4 cookbooks) when you sign up for free (plus blog content).
Paid Plans: Paid cookbooks and vegan products are available in the site's shop.
3. ProVeg
Most people come to a BBQ to eat one thing and one thing only: meat. That's why hosting a BBQ as a vegan can be stressful.
Well, there's no need to worry. The leading food awareness organization ProVeg will supply you with 11 Plant-Based Recipes for the Perfect BBQ. That means your meat-free cookout will be a hit with the neighbors (yay!). ProVeg also has 2 other plant-based e-cookbooks available for free, plus an extensive recipe database.
Free Plan: 3 plant-based recipe ebooks available when you sign up for free (plus blog content).
Paid Plans: Charitable donations are welcome.
Want more BBQ ideas? Instagram celebrity Joe Wicks' Veggie BBQ: 10 brand-new Lean in 15 recipes is available free on Kindle.
4. TryVeg
TryVeg is a one-stop destination for budding vegans, offering recipes, tips, educational content, and even a podcast. TryVeg is a project funded by the US animal rights charity, Animal Outlook.
You can get your hands on the site's Easy Vegan Recipes ebook, which features traditional American favorites like vegan meatloaf, creamy mac 'n' cheese, and chocolate chip cookies.
There's more. Run through the organization's Vegan Starter Guide, or brush up on Eating Sustainably. There's even a vegan guide for African Americans, which sprinkles in a few more recipes to boot. Check it out!
Free Plan: Access a vegan recipe ebook and educational resources when you sign up for free (plus blog content).
Paid Plans: Go ahead and donate if you love the resource!
5. BenBella's Best of Plant-Based Eating
BenBella Books has published impressive green resources in the past, not least The China Study, a famous nutrition book that's sold over 3 million copies.
BenBella has returned with a resource packed full of hand-picked recipes from brilliant plant-based cooks, not to mention articles written by leading scientists such as T. Colin Campbell.
The variety and value in this cookbook are fantastic. Buddha lentil burgers from HappyCow, fig and caramelized onion tarts from Heather Crosby, or why not try one of Tracy Russell's wonderful green smoothies?
Now you can: the ebook version is free on Kindle and barnsandnoble.com. Check it out!
Free Plan: Extensive and varied cookbook now free on Kindle and barnsandnoble.com.
Paid Plans: N/A.
6. The Effective Vegan
The saying "nothing good in life ever comes free" is incorrect.
Why? Because you can get 3 full-length cookbooks from Chef Effect's The Effective Vegan series for a grand total of $0.
"Good things come in threes." That's more like it.
I'm referring to 3 ebooks in particular: Instant Pot Cookbook, Instant Pot Cookbook for 2, and Slow Cooker Cookbook for 4, all of which are free on Kindle.
Throughout 400+ pages, these books provide you with 200+ one-pot vegan recipes that are healthy, easy to follow, and delicious. But there's so much more to make this a complete resource: tips, tricks, advice about one-pot and slow cooker cooking, vegan diet education, and pantry lists. This is a no-brainer!
Free Plan: 3 full-length vegan one-pot/slow cooker cookbooks ft. 200+ recipes, tips, and advice, free on Kindle.
Paid Plans: There are other cookbooks available from Chef Effect.
Quick, Cheap, & Easy
Resources are designed to make vegan life easier with recipes just about anyone could make.
7. People's Potato
This legendary vegan resource from the People's Potato is ginormous — easily one of the largest sources of free vegan recipes on this list.
The People's Potato is a donation-funded vegan soup kitchen in Montreal that offers free meals to students and members of the community. PP also provides free recipes to all of us. Thank you.
I'm talking nearly 450 pages of cheap, tasty vegan recipes and tips spread across 3 separate ebooks (Vegan on a Shoestring #1, Vegan on a Shoestring #2, and the Potato Workers' Recipe Zine). All absolutely free.
Free Plan: 3 separate ebooks packed with cheap and flavorful recipes.
Paid Plans: I'm sure People's Potato would welcome any donations.
8. Vegan in the Freezer
Meal prepping is a huge part of living a vegan lifestyle. What if you can cook something today that's going to taste just as good out of the freezer in a week? Now that's a game-changer!
Vegan in the Freezer is a food blog focused on easy recipes that taste great now and later. A vegan diet has so many fantastic benefits, but time efficiency is not one of them. Vegan diets require extra effort, but with the help of Vegan in the Freezer's Easy Vegan Dinner ebook, that process just became a lot more straightforward.
Free Plan: Easy Vegan Dinner cookbook when you sign up for free (plus blog content).
Paid Plans: 2 additional cookbooks are available to buy.
9. Easy Tofu Cookbook
Tofu is a staple of the vegan kitchen and one of the most delicious meat-free alternatives. Tofu absorbs flavor like a sponge, making it a super-adaptable ingredient.
Chef Maggie Chow will show you just how adaptable (and easy) tofu can be in the Easy Tofu Cookbook: 50 Unique and Easy Tofu Recipes.
This is 173 pages all about tofu: from basic tofu dishes to recipes based on global cuisines. Thai coconut curry and lemongrass tofu, tofu burgers, Italian herb tofu soup, maple syrup, and hot sauce tofu bites. It's a great book. Better still, it's free on Kindle.
Free Plan: 50 varied and easy tofu recipes, plus tips about tofu cooking.
Paid Plans: Maggie Chow has other books available.
Want more tofu inspiration? Cauldron offers a selection of free e-cookbooks that use meatless products, including a free 30 recipe ebook supporting Veganuary.
10. My Goodness Kitchen
Amanda from My Goodness Kitchen, out of the goodness of her own heart, will provide you with 2 free ebooks — Simple and Vegan Baking — when you sign up for the site's newsletter.
What's inside? Simple contains 5 easy and wonderfully delicious vegan recipes, including a stunning chickpea and spinach curry. Vegan Baking will walk you through everything you need to know about, well, vegan baking.
Why should you listen? Cookbook author and columnist Amanda is recognized as one of the leading lights in the vegan food community and has featured in BuzzFeed and Elle. Although small, this resource is worth a look.
Free Plan: 2 vegan ebooks when you sign up for free (plus blog content).
Paid Plans: A paid cookbook is available.
11. Stonesoup
Stonesoup's 6 ingredients 20 minutes is an excellent wholefoods e-cookbook that walks you through simple, fast, and healthy recipes — 3 words not always used in the same sentence. It's "minimalist home cooking" at its finest.
As you've probably guessed, every meal features just 6 ingredients or less. There are endless vegan and vegetarian recipes across the ebook's 100+ pages. While some meals use meat products, author Jules provides countless variations on each recipe to suit a whole range of dietary requirements (vegan, vegetarian, dairy-free, low carb, high carb, you name it!)
The photography is fantastic, and the food is even better. Give it a try!
Free Plan: 100+ pages of simple, healthy recipes with endless variations (plus blog content).
Paid Plans: Stonesoup offers paid coaching and meal plans.
Comfort Food
Food that warms the soul to remind you of better days.
12. Elephantastic Vegan
Elephantastic Vegan isn't the most well-known site on this list, but make no mistake, blogger and cookbook author Bianca offers an impressive pair of free cookbooks when you sign up for the site's newsletter.
You'll find loads of comfort dishes and not-so-healthy guilty pleasures on Elephantastic Vegan. The site's 2 free ebooks, Everyday Vegan and Top 15 Recipes, inspire readers with a diverse range of cuisines. Quick and easy vegan spaghetti bolognese, banana bread pancakes, green falafel. It's all available when you sign up!
Free Plan: 2 vegan recipe ebooks and a regular newsletter when you sign up for free (plus blog content).
Paid Plans: 2 additional vegan cookbooks are available to buy if you like Bianca's work.
13. The Korean Vegan
Joanne started her vegan journey in 2016 and, 3 months later, began blogging about her experiences on The Korean Vegan. Fast-forward 5 years, and Joanne is a New York Times bestselling cookbook author and a TikTok superstar, with a book tour, TV appearances on CBS and ABC, a podcast, and millions of fans across the world.
That's because Joanne's plant-based take on Korean cuisine is warm, comforting, and flavorful. You can grab a small selection of her dishes in a free ebook when you sign up, plus some absorbing stories to read along the way.
Free Plan: Free ebook when you sign up (plus free blog content).
Paid Plans: You can order The Korean Vegan Cookbook on the website.
14. A Taste of One Pot: Three Ways
World-renowned vegan cook Rachel Ama is the proud author of a top vegan food blog, not to mention cookbooks that have sent shockwaves throughout the industry.
A taste of One Pot: Three Ways gives you a sample of vibrant and adaptable recipes from her famous publication. The food is inspired by her Caribbean and African roots: soulful, flavorful, and comforting. Get a taster for free on Kindle.
Free Plan: A handful of adaptable recipes.
Paid Plans: The full-length version of One Pot: Three Ways is available to buy.
15. Totally Fabulous Vegan Bake-Off Cookbook
On the other end of a free Google search, you can find veg.ca's Totally Fabulous Vegan Bake-Off Cookbook. The vegan bake-off is an annual event hosted by the Toronto Vegetarian Association that pits hopeful vegan bakers against one another. You can discover some of the competition's tastiest bakes in the above resource, such as peanut butter cookie dough truffles and vegan lemon doughnuts. Someone pinch me… I think I'm dreaming.
Free Plan: Top vegan baking recipes for free.
Paid Plans: N/A.
Nutrition and Healthy Living
Plant-based diets are scientifically proven to reduce your risk of certain diseases, like heart disease and some forms of cancer. There are also concerns that green eating can lead to nutritional deficiencies. Here are resources that promote a healthy diet and a happy life.
16. Wholly Nourished
A vegan diet is not just about the foods you eat. It's about how food makes you feel, and the life you live beyond the kitchen that contributes to a wholesome, healthy existence. This is the philosophy of lifestyle guru and dietician Jaime — the author of Wholly Nourished.
You can learn more about WN's approach to plant-based healthy living when you sign up for the site's newsletter. You'll receive a free plant-based recipes guide stuffed with dietician-approved meals that'll make you feel on top of the world.
Free Plan: A plant-based cookbook, healthy living classes, and more when you sign up for free.
Paid Plans: WN offers paid meal plans, 1-on-1 coaching, and wellness courses.
17. Eat Green Get Lean
Perhaps the biggest stumbling block for those considering a vegan diet is the popular train of thought that "vegans don't eat enough protein." Acclaimed health and fitness author Michael Mathews is here to tell you that's a misconception.
Eat Green Get Lean presents a list of 100 recipes that will help you cut fat while getting enough of that all-important muscle-building protein. A perfect option for plant-based athletes. For some reason, this excellent book can be found for free on Kindle and barnesandnoble.com. Still, I'm not complaining.
Free Plan: Eat Green Get Lean is free on Kindle and barnesandnoble.com.
Paid Plans: Mathews has plenty of other books available to buy.
18. Vegan Diet: 101 Recipes for Weight Loss
Some people may be looking at a vegan diet that can help them lose weight, rather than stack on extra muscle. That's where Vegan Diet: 101 Recipes for Weight Loss can come in handy.
This is a fully-fledged weight loss cookbook that you can download free of charge on Kindle and barnesandnoble.com. The recipes are simple, offering easy-to-follow step-by-step instructions. It goes without saying the food is calorie-light and the sheer size of this resource compared to most free ebooks is something to behold.
Free plan: The clues in the name: 101 Recipes for Weight Loss.
Paid plan: N/A.
Want more weight loss recipes? Read Daniel Doc's 500+ Lean and Green Diet Recipes, now free on Kindle.
19. The Happy Pear
The Happy Pear, as featured on Netflix, ITV, and The Huffington Post, is a health-centric vegan business run by passionate vegans (and identical twins!) Steve and Dave Flynn.
These brothers have built their shared love of vegan food into a mega-site consisting of 40+ products, online courses, and a range of cookbooks, not to mention shops, cafes, a farm, and a roastery. It's fair to say the two of them are doing something right.
The blog features loads of healthy, professional recipes from cuisines around the world. You can grab a slice of their success when you sign up, too, with the site's Happy Shape Manual, which hands viewers a meal plan packed with 18 delicious plant-based recipes — all 100% free.
Free Plan: A cookbook and meal plan when you sign up for free (plus blog content).
Paid Plans: Foodstuffs, cookbooks, eLearning courses. You name it, they've got it.
20. 21 Day Vegan Kickstart
21 Day Vegan Kickstart is a fantastic resource from the acclaimed Physician's Committee for Responsible Medicine. The program is designed to put you on the path to a healthy vegan lifestyle, and PCRM will provide you with a variety of content to make sure you're doing it right.
You'll receive tips, advice, meal plans, and recipes, all from professional chefs, dietitians, and experts in vegan cuisine. These are delicious science-backed meals designed to make sure you're getting all of the nutrients you need and more. Oh yeah, it's all consolidated in a mobile app, too.
Elsewhere, PCRM has a Vegan Starter Kit ebook that contains a few additional recipes. You're welcome.
Free Plan: 21 days worth of recipes, plus nutritional advice when you sign up for free.
Paid Plans: N/A.
21. A taste of Deliciously Ella: The Plant-based Cookbook
The wildly successful British food blogger Ella Woodward has created countless recipes, an app, a library of best-selling cookbooks, a range of vegan foodstuffs, and her own restaurant.
Deliciously Ella is about feeling better with a plant-based diet. You can get a small selection of recipes from Ella's smash hit Plant-Based Cookbook — self-proclaimed as the fastest-selling vegan cookbook ever — for free on Kindle. Recipes include quinoa and black bean burgers, spiced peanut sweet potatoes, and corn fritters with smoky baked beans and avo smash.
Free Plan: A free sample of Ella's cooking on Kindle.
Paid Plans: Upgrade to the full book or check out some of Ella's other products.
App-Based Resources
Here are some recipe books you can find inside apps. Okay, they're not ebooks, but they are in a downloadable and easy-to-read format. Close enough.
22. One Green Planet
One Green Planet has taken its popular climate-conscious blog to the next level with the Food Monster app.
One Green Planet is already a leading resource for vegan recipes, and the site is responsible for several popular paid plant-based cookbooks, such as Greatest and Fall.
In the Food Monster app, you can access an endless virtual cookbook consisting of hundreds of free vegan and plant-based recipes across seasonal themes (like Thanksgiving) and categories (like hot and spicy). Some 12,000+ recipes are available if you become a subscriber.
Free Plan: Hundreds of free recipes across varied categories (plus blog content).
Paid Plans: Access to the entire library of 12,000+ vegan and plant-based recipes.
---
23. Viva!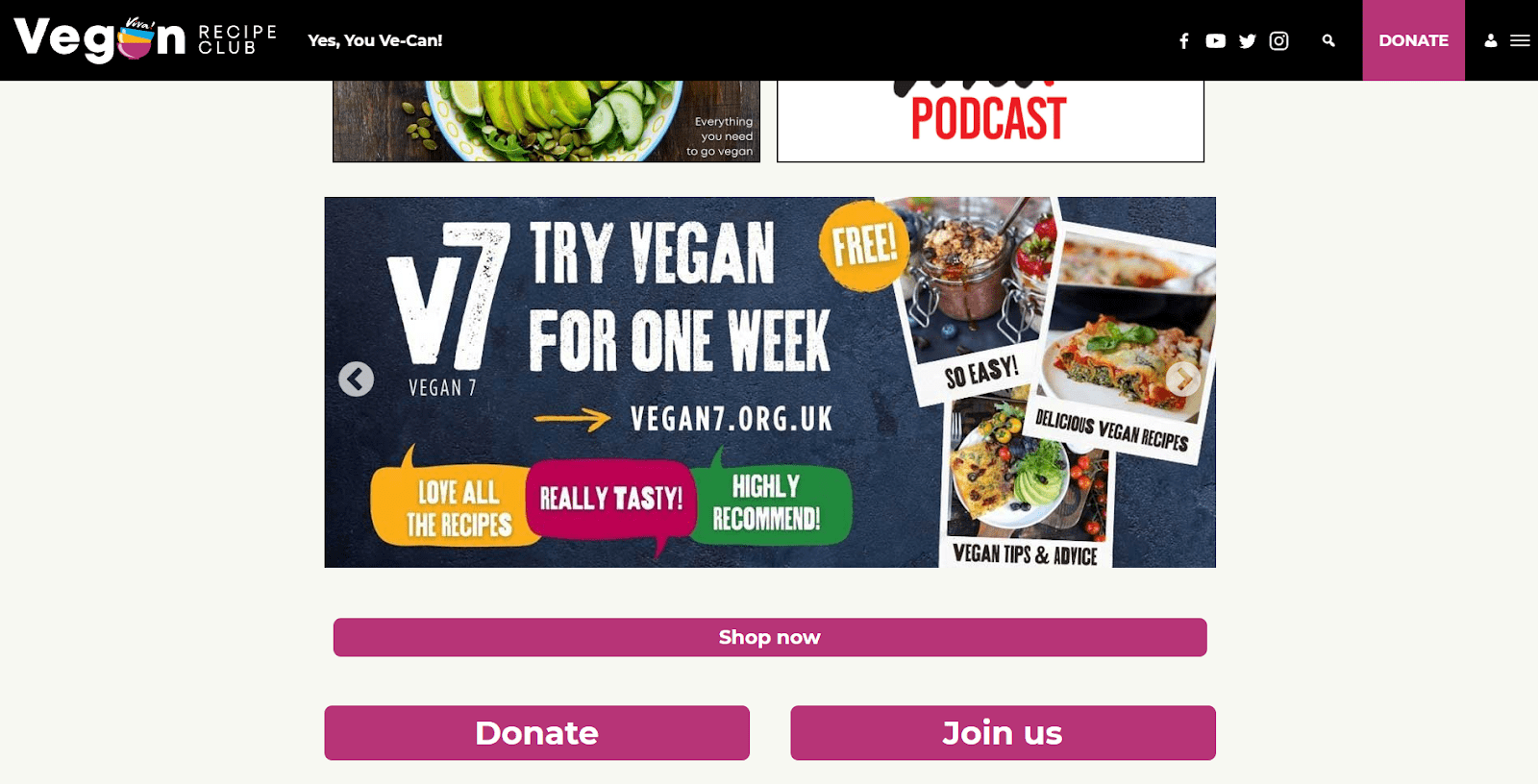 The Vegan Recipe Club app, the 7 Day Vegan, and the 30 Day Vegan app are 3 tremendous free resources from Viva! — one of the UK's top vegan campaigning charities and proud creators of the popular Vegan Recipe Club blog.
You'll be able to access Viva!'s wonderful recipes across all 3 channels.
7 Day Vegan will send you a week's worth of mouth-watering recipes and meal plans, as well as shopping lists to help you prepare. V7 provides sign-ups with some helpful nutritional tips too, and the free 30 Day Vegan app will continue to support you on your path to a successful vegan diet.
If you crave choice — and indulgence — then the Vegan Recipe Club app is the virtual cookbook for you. Here you can discover 600+ vegan recipes across endless categories.
Free Plan: 7 Day Vegan meal plan and recipes, shopping lists, vegan tips when you sign up for free, 2 free recipe apps (plus blog content).
Paid Plans: Everything's free in the name of charity. Donate to Viva! if you like…
The Bottom Line
You can't go far wrong with any of these cookbooks (they are free, after all). There's a bit of everything in this list, too, with resources to support you at every stage of your vegan journey.
Some cookbooks give tips for beginners and teach about why veganism is good. There are tons of quick, cheap, and easy recipes, plus cookbooks focused on healthy living. Best of all, these e-cookbooks have enough tasty recipes to keep your kitchen busy for years.
If you love any of the ebooks featured above, be sure to show your appreciation for the source. Whether that's through a charitable donation or a look at alternative products and services — there are plenty more wonderful recipes still waiting to be discovered!