Grandma Crunch 2023: The Keto Crunch
DeliveryRank chats with Charlotte, the co-founder of Grandma Crunch, a UK-based company that creates delicious, crunchy snacks perfect for those following a keto or low-carb diet. Charlotte and her partner, Norman, who hails from Belgium and is the "ideas guy" behind the business, recognized a gap in the market for tasty, low-carb snacks that didn't rely on artificial fillers or preservatives. Read on to learn more about Charlotte's journey with Grandma Crunch and her thoughts on the low-carb snack industry.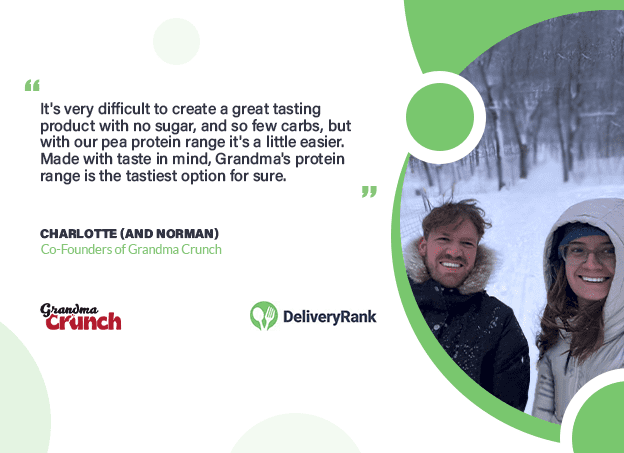 Can you tell us a bit about the inspiration behind starting Grandma Crunch?
I co-founded the company with my boyfriend Norman. He's the ideas guy really. He and his friends were into the fasting trend a couple of years ago, and some of them were trying out keto diets to get the same benefits as fasting, but with food. They found that eating the same foods every day, like meat, eggs, and cheese, wasn't very appetizing after a while, and it made sticking to the strict keto diet even harder.
My partner saw a gap in the UK market for keto snacks, and he wanted to create something different from the keto protein bars and other products that were full of artificial chemicals and filler ingredients. We wanted to make a snack that had crunch, which is hard to find on a keto diet, and something that we wouldn't get bored of eating every day. That's how Grandma Crunch was born.
How do you come up with the recipes for your products? Is there a specific process or philosophy that you follow?
To be honest, in the beginning, the goal was only to fit into a keto diet. I had to think about the macros, such as how much fat and carbs there were, and the fact that there should be no sugar. We also wanted it to be high in protein to keep our muscles going and maintain muscle mass. However, the process was more trial and error than anything else. Before launching, we must have tried 8-10 different recipes, but we kept finding them not "good enough".
What's really challenging is trying to find a product that suits everybody. My partner is only one person, but if we're going to make a product for sale, it has to suit a lot of different people with different tastes and needs. We do have specific goals, such as being vegan, preservative-free, and using as few ingredients as possible. But other than that, it was trial and error in trying to find a recipe that tastes good across the UK and Europe.
What particularities do your products offer that others may not?
Our protein cereal has the lowest carbs compared to other cereal products on the market. We have a high protein to carb ratio, with over 50% protein in our recipe and only 3 grams of net carbs per bowl. This makes it a perfect fit for those on a keto diet. Additionally, our cereal is crunchy and uses vegan ingredients such as pea protein or soy protein instead of whey protein.
Do you target a specific market segment?
Our target market is not only the keto and low carb market, but also people who want to maintain muscle mass, improve brain function, and use keto as a tool to re-composition their body. We believe keto is not a long-term diet, but a short-term tool to teach the body to use fat for fuel instead of sugar and maintain low blood sugar levels. Our high protein product is designed to cater to this specific market of keto users who want to maintain muscle mass and improve their health in many other ways.
Have you faced any challenges since the launch of your company, and how do you see the near future evolving for Grandma Crunch?
We've faced many challenges running our company, one of which is the impossibility of pleasing everyone. Since we started, we've launched two different recipes and made big changes twice, but we have come to realize that we can NEVER please everybody. For example, some men have an issue with soy because they believe it will increase estrogen levels, which isn't necessarily true. We also face challenges with other ingredients, such as the need for them to be organic and sourced from specific places.
Another challenge we face is not wanting to be part of the diet culture world that focuses solely on weight loss. We believe there are benefits to keto beyond losing weight, but it's challenging to educate the public about this. Keto has a negative connotation, and many people view it as a bad thing. We get a lot of complaints and negative feedback, making it difficult to get our messaging right. While we want to make sales, we also want to be a company with good values.
Our company is almost two years old now, and we still have a lot to learn. Our future plans involve launching more products, including snack packs with keto-friendly ingredients that you can take on the go. We want to innovate and create products that make it easier for people to try the keto diet, such as our version of the millions sweets that you can tip back into your mouth. We want to make it easier for people to get their keto protein on the go, without having to rely on traditional breakfast options like cereal.
If you would like to find out more about Grandma Crunch, visit https://grandmacrunch.co.uk/ or follow on https://www.facebook.com/GrandmaCrunchUK or https://www.instagram.com/grandmacrunch/?hl=en