Green Chef vs. Factor 2023: Does It Need to Be Organic?
Green Chef and Factor both offer healthy food for special diets, with a focus on keto and calorie-smart meals. That's great, but how do you know which one is better for you?
Well, Green Chef is certified organic and its ingredients are higher-end. Plus, more than half of the menu is gluten-free (certified as well). But does a meal delivery service have to be organic and gluten-free to help you live a healthy life?
The short answer is not necessarily, especially when Factor has another ace on its sleeve: the smaller price per serving. The long answer is the article below, in which I've compared important features of both services and made some recommendations for different types of people.
At a Glance: Who Won Each Category?
| | |
| --- | --- |
| 💲 Price: | Factor ($6.19 per serving) |
| 🍔 Menu Variety: | Green Chef (30 choices per week) |
| ⏰ Prep Time: | Factor (just a few minutes) |
| 🍴 Customization: | Green Chef (6 dietary options) |
| 👍 Ordering and Delivery | It's a tie |
| 🙋 Customer Support: | It's a tie |
Winner: Green Chef
Green Chef's weekly-changing menu consists of around 30 unique meal kits you need to cook yourself using pre-portioned ingredients and pre-made sauces, dressings, and spice blends.
Most take around half an hour to make, but there are a couple of 10-minute lunch recipes on the menu each week, like these Black Bean and Cheese Burritos with Sour Cream, Cholula Sauce, and Chimichurri Slaw.
In any case, the recipes all come with clear and detailed instructions so all should be easy to make even if you're not an experienced cook. The pictures that illustrate each step, plus the helpful tips from the chefs, make the meals basically foolproof.
The Green Chef menu is a mix of cuisines and influences that'll take you on a world journey. You'll get to taste dishes from the Mediterranean region (Italian and Greek, but also French), South America, Asia, and the Middle East, but also more familiar Mexican and American recipes (like Monterey Jack Burgers).
Many of the recipes are actually fusion cuisine, combining elements from different parts of the world into exciting new dishes, such as the Turkish-Spiced Chicken Tacos.
Factor's menu is entirely made of prepared dishes, so you don't need to cook anything. In order to enjoy the meals, you simply heat them in the microwave or oven and eat them. The menu boasts 30+ recipes each week, so around the same number as Green Chef.
Most of the meals are either keto or calorie smart, so many creatively spin popular recipes into lower-carb and low-calorie versions (using zucchini noodles instead of rice noodles, for example).
However, the menu isn't as internationally-focused or exciting as Green Chef's, with almost all recipes of either American, Mexican, or Italian inspiration, like the Tuscan Shrimp with Creamy Kale and Zucchini-Pepper-Onion Medley pictured below.
Green Chef offers no extras or sides apart from the weekly recipes. In contrast, Factor has an impressive menu of over 30 add-ons, from keto cheesecakes and vegan energy bites to breakfast options and side dishes including pre-cooked proteins. You can also buy bundles of smoothies, shakes, and juices packed with superfoods.
Green Chef's meals can serve as many as six people, making it a better choice for feeding a family. Meanwhile, Factor's meals are made for serving a single person, so it's more suitable for singles and couples that want to share a plan.
Both services have options for special occasions on the menu each week. Those are called Chef Select by Green Chef and Gourmet Plus by Factor, but they're basically the same thing: fancier-than-usual dishes with more expensive ingredients for when you want to enjoy a special dinner.
Green Chef goes a step further: since all ingredients are seasonal and made to highlight what nature has to offer, you can order a special Season's Finest dish that reflects the aroma of local ingredients around that time. Have a peek at the latest Fall's Special:
Winner: Green Chef
When it comes to customization, Green Chef is the only one of these two services that lets you make any changes to the menu, even though small. For example, you can choose the type of chicken in some recipes out of organic and non-organic options.
Other than that, you can't ask for any modifications or exclude certain ingredients from the meals before they arrive. You can of course omit any ingredient you wish when it comes to preparing the meal kit at home.
When it comes to Factor, you need to look at each and every ingredient list to see if the meal suits your dietary needs and preferences, as the meals don't cater to any specific allergies.
The menu from both meal delivery services is categorized into different plans you can choose from, like Green Chef's Keto + Paleo or Factor's Vegan & Veggie. But that doesn't mean you're committing to a single type of meal in your order: you can mix and match recipes from any plan. Really, it's more of a simple way to select your dietary preferences early on.
For Green Chef, many common allergens are excluded from the menu by default. Out of the 30 recipes, a majority of 17 are labeled gluten-free. And rightly so: Green Chef is certified through the Gluten Intolerance Group's Gluten-Free Food Service program. This is great news for celiacs. Plus, all gluten-free meals are designed to be soy-free as well.
The keto and paleo recipes (around 12 total each week) are free from gluten, grains, soy, and legumes, while simultaneously being carb-conscious and high-protein.
Apart from that, you'll find around five vegetarian and six vegan dishes on the Green Chef menu each week, while Factor has only two or three of each. This makes Green Chef a better choice for you if you follow a plant-based diet and seek more variety on your plate.
The Factor menu features around 14 keto and 14 calorie smart recipes (550 calories and less). Many of them are high in protein, with 30g or more per portion. This is great if you're looking to lose weight and/or put on more muscle.
Now, let's talk a bit about the ingredients. Green Chef is a certified organic service, so everything that can be sourced as organic will be. This refers primarily to veggies and eggs, as some things (like salt and seafood) can't bear this label. But even those ingredients will be sourced from sustainable sources with great care.
Factor, on the other hand, isn't organic. However, all Factor ingredients are sourced from trusted sources and are free from hormones, antibiotics, refined sugars, and GMOs. The chicken and eggs are all sourced from farms that stand by ethical and humane practices.
Ordering, Delivery, Unboxing
Winner: Tie
Both Green Chef and Factor have a straightforward ordering process, making it easy to see the menu and select your plan before you pick your meals. I think it's also helpful that Green Chef lets you see the menu for the following three weeks, while Factor for the following two. That way, you can plan your meals in advance.
What I don't really like is that the meal-picking part of the process comes last, after you fill in the payment information and everything else. For Factor, this also means that you can access the prices of the add-ons only at the end, so you can't budget your order before registering first.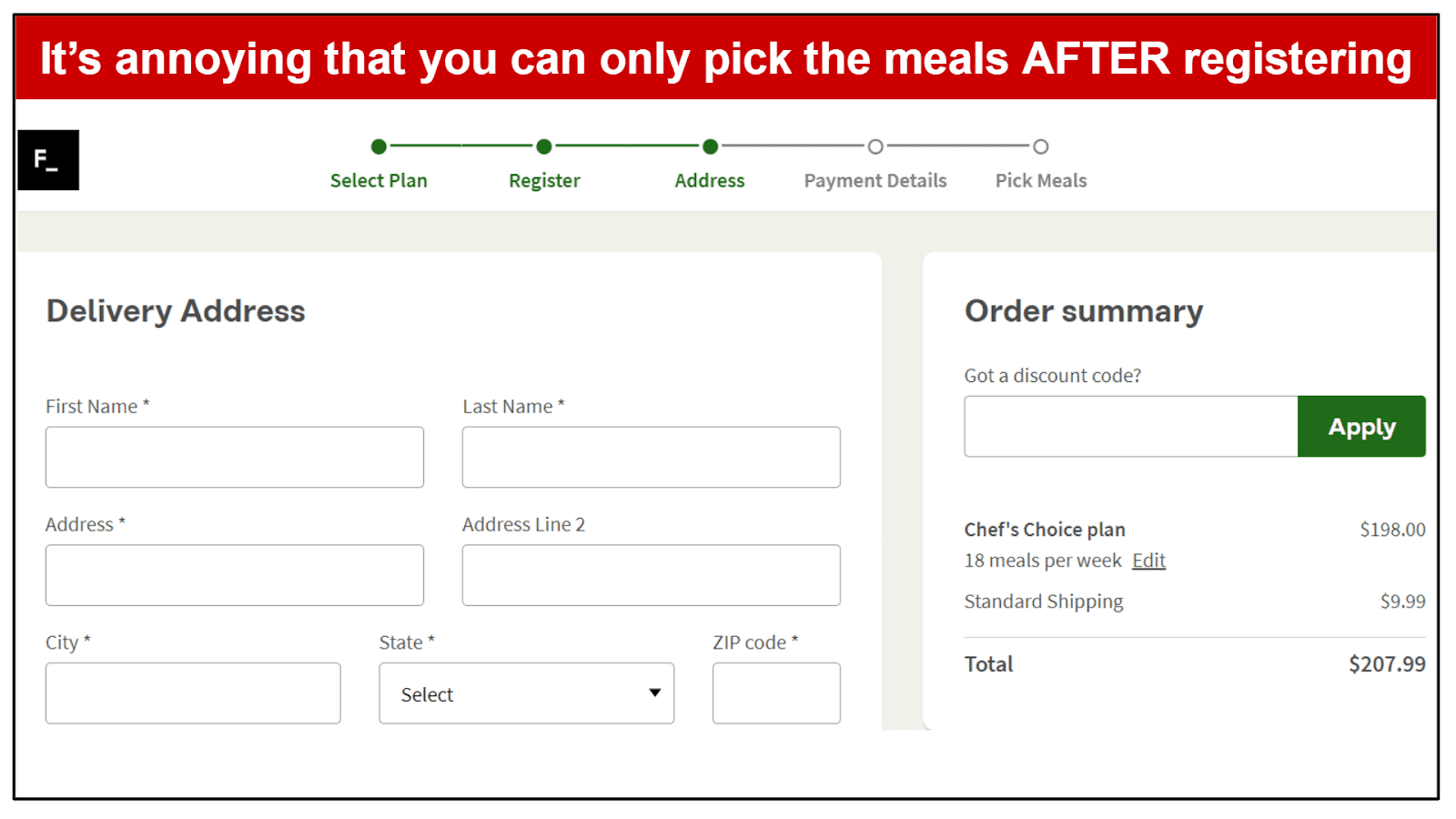 The minimum order for Green Chef is three meals for two people, so six portions per week, while the maximum order is six meals for four people, so a whooping 24 portions per week. This is perfect if you have a small family to feed.
For Factor, you can order from four to 18 single-serving meals each week. This makes it a better choice for smaller orders.
Changing your orders is simple for both services, as long as you do it before the weekly cutoff date. That's seven days prior to delivery at 11:59 pm EST from Green Chef, and 11:59 CT on Wednesday before your next order from Factor.
Both Green Chef and Factor deliver to all continental US States (that's unfortunate if you live in Alaska or Hawaii). You can expect to receive your box from 8 am to 8 pm (local time) on your scheduled delivery day. Your best bet is that you'll find them on the porch when you get home from work.
For Green Chef, boxes are delivered Monday through Saturday and you can choose your desired delivery day depending on where you live. You can even use a commercial address, in which case the carrier will make an effort to deliver your box before 5 pm.
Since Factor uses different carriers depending on where you live, you don't have much control over your exact delivery dates. You can sometimes choose from more options, but for some locations, you're stuck with a single delivery date.
Both Green Chef and Factor have useful mobile apps to help you track your orders or make changes to your box hassle-free.
When it comes to packaging and recyclability, Green Chef does a pretty good job. A nice touch is that the recipe cards and kit bags are color-coded, making it incredibly easy to find what you need when you start cooking.
What's more, Green Chef's packaging is made from recycled, reusable, and/or compostable materials. The only exceptions are for food safety reasons, like the plastic film that wraps tofu to ensure its freshness. In any case, there are tons of resources on the website about how to safely discard every item you receive.
Factor also has plenty of resources on the website about recycling. However, not everything in the packaging can be recycled everywhere, so you need to check with your local facilities. The PET insulation and the cotton insulation, for example, you need to, unfortunately, throw in the trash.
Meal Prep
Winner: Factor
Since Green Chef offers meal kits and Factor offers prepared meals, it's clear that Factor will take less time to be ready in most cases. While you need around 25 to 35 minutes to cook Green Chef's kits, and just 10 for some quick lunches, Factor only needs a few minutes in the microwave.
If, however, you prefer to use the oven, you'd probably need to wait around 25 minutes as well until your Factor meals reach 165 F and are ready to eat. You'll find more detailed preparation instructions on the packaging, but a useful tip is to place the meal container on a sheet pan before you place it in the oven. That way, it's easier to take it out once it's hot.
What I really like about Factor's meals is that you can reheat them directly in their plastic trays, as they are BPA-free and microwave- and oven-safe. Plus, it means that cleanup is virtually non-existent!
Your Factor meals will arrive freshly prepared and cool, but not frozen. When they arrive, you need to unpack them and store them in the fridge. Factor doesn't recommend freezing the meals, as it affects the quality of the eating experience (translation: things would get a bit mushy).
The best-by date is printed on each meal sleeve, but as a rule of thumb, your meals will stay fresh for a full seven days in the fridge. That basically means you can eat them anytime you want before your next box arrives.
Green Chef doesn't come prepared, but almost everything is already done for you. The sauces, dressings, and spice blends are made in-house to make things easier, and many of the pre-portioned ingredients don't need more than a quick peeling or chopping.
You get detailed instructions and cooking tips, plus pictures of every step of the cooking process, in the recipe card of every meal. All kitchen utensils you'll need (and essentials like salt and pepper) are also listed there.
Since Green Chef is certified organic and doesn't use artificial preservatives, the ingredients don't have a very long shelf life. After you receive your box, you should put everything in the fridge and prepare the meals within five days – three if your recipes include seafood.
Your Green Chef box will arrive cool, not frozen, shortly after being procured from trusted suppliers. The produce is always in-season and will stay fresh until it gets to your home, thanks to the insulated packaging.
Customer Support
Winner: It's a tie
Both Green Chef and Factor have great customer service that you can reach either by phone or by texting in the live chat on the website (with a real, human agent). The teams are available for any inquiries you might have, but for most matters, I think the FAQ sections are pretty instructive.
Green Chef's live chat is available every day from 9 am to 7 am EST. (A quick tip: make sure to deactivate any ad blocker so the live chat icon appears on the screen.) For phone calls, the schedule is 6 am to 11 pm EST on weekdays and 7 am to 7 pm EST on weekends.
If you wish to cancel your Green Chef plan, it's enough to log into your account, go to Settings, scroll down to the Account section and click on Deactivate your Plan. After you enter your reason for cancelation, simply click on Deactivate now and you're all set. No need to contact customer service!
All you need to remember is that if you don't want to pay for (and receive) another box, you need to cancel your plan at least seven days before your next delivery at 11:59 pm EST.
Factor's live chat is available 24/7, which is super nice if you're in a different time zone. For phone calls, Factor's agents are there for you from 6 am to 11 pm ET during the week and 7 am to 7 pm on the weekends.
If you want to cancel your order from Factor, you can easily do it on your desktop, laptop, or mobile phone.
Simply log into your account, click Settings, then Plan Settings. Scroll down and click on Deactivate My Plan in the Status section, select one of the options or click Cancel Anyway, and choose your reason for cancellation. After you click on Deactivate Now, you're all done!
You'll need to do this before 11:59 CT on Wednesday before your next order, as you can't modify or cancel orders after this date.
Winner: Factor
Factor wins this category with its lower prices, starting at $6.19 per portion. For both services, the more you order, the less you're gonna pay per portion of food, but Factor still wins if you compare those prices for similar plans.
Let's take Green Chef: if you order 16 portions or more, the price stays the same at $11.99 per portion (the four-meal plan for four people, or the plans for six people).
You get the same price per portion if you order only 10 single-serving meals from Factor. And if you order 12 or 18 meals, you'll pay even less than that per portion: $11.50 and $11, respectively. This makes Factor a better deal for big orders.
For smaller plans, Green Chef costs $13.49 per portion if you order three meals for two people, while the same amount of food costs $12.83 at Factor (the 6-meal plan).
The only way Factor ends up costing more is if you order the smallest plan with only four meals, which ends up being $15 per portion.
The shipping fee for both Green Chef and Factor is $9.99 per weekly order, so there isn't any comparison here.
But while Green Chef doesn't have any extras apart from the entrees menu, Factor has an extensive add-ons section. You can add those to your cart only after you've registered and entered your payment information, which is annoying because you can't check the prices beforehand.
However, you can expect to pay around $29.99 for a seasonal bundle for two people, like the autumnal Pumpkin Chicken Feast For Two. These bundles are available for two to four weeks, so if you want them for an event, you need to hurry. The rest of the add-ons, though, are there to stay.
Features Comparison: Green Chef vs. Factor
| | | |
| --- | --- | --- |
| | | |
| Best for | Organic meal kits | Healthy prepared meals |
| Starting price | $5.99 per serving | $6.19 per serving |
| Shipping cost | $9.99 | $9.99 |
| Minimum order | 3 meals for 2 people per week | 4 meals for 1 person per week |
| Menu variety | 30 choices per week | 30+ choices per week + add-ons |
| Prep time | 25 to 35 minutes to cook | A few minutes to reheat |
| Low-prep options | 25-minute meal kits | Prepared meals |
| Allergies catered to | Gluten-Free, Soy-Free | - |
| Special diets | Keto, Paleo, Vegan, Vegetarian, Gluten-Free, Mediterranean, Calorie-Conscious | Keto, Carb-Conscious, Vegan, Vegetarian, Calorie-Conscious |
| Customer support | Online chat, phone | 24/7 online chat, phone |
| Promotions | | |
And The Winner Is: Green Chef
All things considered, I'd say Green Chef takes the crown. Not only for the organic ingredients and gluten-free meals but for the variety of the menu. More exotic recipes, more plant-based dishes, and greater attention to allergens (which makes it better for families as well).
Still, Factor is a better choice if you simply want healthy meals that you don't have to cook. The add-ons make it great if you want to eliminate grocery shopping too since it features breakfast options, healthy beverages, and sweets. Plus, it fits better into tighter budgets than Green Chef.
Depending on your personal needs and preferences, you may find one or the other more attractive. What's sure is that both services offer great keto and low-calorie meals designed by professional chefs that can help you reach your wellness goals with little to no effort.
FAQ
Is Green Chef or Factor organic?
Green Chef is the only one of the two that's certified organic but both Green Chef and Factor source their ingredients carefully. When I researched the menu and ingredients, I found out that all veggies and eggs in Green Chef's meal kits are organic, and everything else is sustainably raised, caught, or sourced.
Is Green Chef or Factor cheaper?
Overall it's Factor which is cheaper. When you compare the price per portion, in most cases Factor ends up less expensive. With prices starting at $6.19 per portion, you can get more food for your money if you choose Factor. The more meals you order, the less a meal ends up costing.
Plus, you can use our special coupon – Up to $276 off! – to make things even easier on your wallet.
Is Green Chef or Factor keto?
Both these meal delivery services deliver great keto recipes. Green Chef offers a selection of keto and paleo meal kits, while around half of Factor's menu is prepared keto meals.
Apart from that, you can find healthy low-calorie, and high-protein meals on the menu, and Factor even has some protein add-ons and keto shakes and sweets you can add to your cart.