Green Chef vs. Purple Carrot 2023: A Curious Clash
The secret's out – meal kits are a blessing for hectic lifestyles. Not only do they make meal preparation totally hassle-free, but they also give you the satisfaction of having prepped and enjoyed a wholesome, home-cooked meal.
Green Chef and Purple Carrot are both popular meal kit delivery services, with many similarities and some striking differences.
If you've seen our list of the Best Vegan Meal Delivery Services of 2023, you'll know that Purple Carrot ranked one spot above Green Chef. While Green Chef focuses on organic ingredients and has a range of dietary options, Purple Carrot is a vegan's dream. And from pricing to prep time – we've compared it all.
At a Glance: Green Chef vs. Purple Carrot



Dietary preferences

Plant-Powered, Gluten-Free, Keto + Paleo

Vegan, Gluten-Free, High-Protein, Low-Calorie

Menu variety

Nine dishes per week

12 dishes per week

Starting price

$5.99 per serving

Price: Missing Product sunbasket

$8.50 per serving (breakfast)

Shipping cost

$8.99

Free

Prep time

25 to 40 minutes

Five to 40 minutes

Special Deals

Learn more
Dietary Preferences
Known for its high-quality, USDA-approved organic ingredients, Green Chef is one of the few meal kit delivery services that offers both meat-inclusive and plant-based plans. Its Balanced Living plan includes mostly animal- and fish-protein-centered meals, but there's also a Keto + Paleo plan, and a Plant-Powered option.
While there are some gluten-free recipes in both its Balanced Living and Plant-Powered plans, the Keto + Paleo plan is certified gluten-free by the Gluten Intolerance Group.
Meanwhile, Purple Carrot is a completely plant-based meal kit delivery service. While all its meals are vegan and vegetarian-friendly, there are also High-Protein, Low-Calorie, and Gluten-Free plans. And although you can't filter the menu by allergen, the recipes are clearly marked with tags like nut-free, soy-free, etc.
Winner: Tie. Both Purple Carrot and Green Chef offer allergy-friendly options, as well as their own version of high-protein and low-calorie meals.
Menu Variety
Green Chef's menu showcases nine new recipes per plan every week – and since the plans are priced differently, you can't mix and match meals from any of the other plans. You can, however, switch to a different plan at any point if you think there are more recipes to your liking.
Green Chef certainly lives up to its promise of bringing healthy, nutritious meals to your kitchen. The Balanced Living menu is diverse, with plenty of meat, seafood, and veggie options – everything from Greek Pork Couscous Bowls to Orange-Miso Tofu & Rice.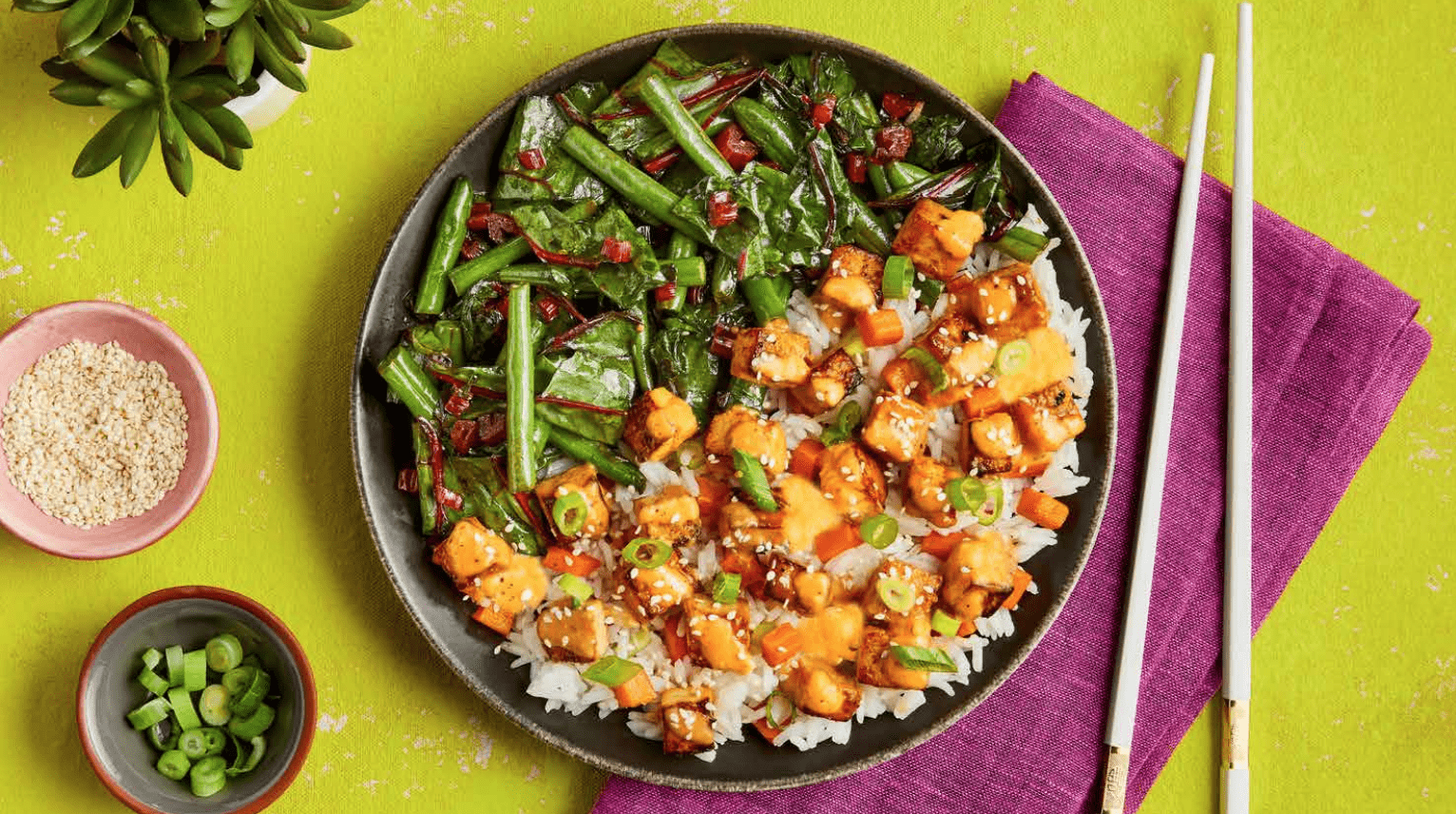 As for its Plant-Powered menu, I assumed from the name it might be heavy on salads. That wasn't the case at all. Dishes like the Veggie & Pesto Flatbreads with Kale Salad and the Dukkah-Spiced Chickpea Bowl with Turmeric-Spiced Rice are sure to tempt even meat-eaters! You'll also find a variety of recipes made with plant-based meat substitutes.
On the menu at Purple Carrot, you'll see a total of 12 recipes – eight dinners, two lunches, and two breakfast options. You'll also find a small range of sweet treats and snacks, including dark chocolate with pink Himalayan salt, and cookies.
Every week there are two breakfast and two lunch options – all of which are quick and easy to prepare. Think Baklava Overnight Oats with Pistachios and Orange, or Matcha Pancakes for breakfast, while more often than not, one of the two lunch options is some type of sandwich.
The eight dinner recipes are more like the dishes associated with meal delivery services. In fact, when you place your first order, all the suggested meals in your cart are dinners. Once you've placed the order, you can swap the meals if you wish.
The dinners feature a good mix of cuisines and meal types. The current menu, for example, has Lemon Basil Spaghetti with Italian Sausage & Asparagus, and Buffalo Cauliflower Quesadillas with Jalapeño Salsa.
Winner: Purple Carrot. With the addition of breakfast and lunch, plus snacks, Purple Carrot wins this round.
Starting Prices
No matter which plan you pick, Green Chef allows you to choose three or four recipes per week for either two, four, or six people. If you're feeding four people, you also get the option to order just two recipes per week.
As is the case with most meal delivery services, the more recipes and portions you order at Green Chef, the lower your price per serving will be. Accordingly, the lowest starting price per serving ($5.99) is offered on the Plant-Powered plan when you choose three or four recipes each week for four or six people.
There's also a flat shipping fee of $8.99 per week. Though there's often a generous discount and free shipping on your first order.
With Purple Carrot, you'll fill in a short quiz that asks about your dietary preferences, the amount of time you want to spend cooking, how many people you'll be cooking for, and whether or not you want leftovers.
Based on your answers, Purple Carrot automatically adds recommended meals and serving sizes to your cart – but these can be changed. Based on this initial sign-up, the starting price per serving is $8.50. On the 4 Serving Plan for two or three dinners per week, the starting price per serving is $9.99.
Once you've placed the order, you can change your meals and add extras depending on how much space you have left in your box (it holds a maximum of 12 servings). Since the breakfast and lunch items are cheaper, starting at $4.49 and $8.99 per serving respectively, your final price may even go down by swapping them in.
Shipping is free with Purple Carrot, so a typical order of 12 dinner servings will cost $119.88. Green Chef, meanwhile, will deliver the same order of 12 plant-based meal servings for $140.87, including shipping.
Winner: Purple Carrot is the uncontested winner here.
Delivery and Packaging
Green Chef deliveries are made between 8 am and 8 pm, Monday through Saturday, though your specific delivery day will vary depending on your location. The meal kits come in a cardboard box which are made from at least 40% recyclable materials. The box itself can also be recycled in the weekly curbside pickup.
Inside, you'll find the ingredients for each recipe packed in paper bags. These contain the fresh produce, grains, sauces, and seasonings. The meats are added separately. All of this is kept fresh with gel packs made with #4 plastic.
While the cardboard and paper bags can be included in the curbside pickup, the plastic used may or may not be recyclable depending on your city regulations. And trust me, you'll find a lot of plastic in there.
Purple Carrot deliveries are from Monday through Wednesday, but again, your specific delivery day will depend on your zip code. For me, Monday was the only available day. Every week you'll receive a tracking link that you can use to monitor your order.
The packaging isn't much different with Purple Carrot either. The cardboard box is insulated and the produce is kept fresh with gel packs. The ingredients for each recipe are sorted in separate bags and are easy to store.
Much like Green Chef, Purple Carrot insists that it's mindful of its environmental impact but again, you'll find no shortage of plastic. In fact, even the individual bags holding the ingredients together are #4 plastic, unlike the paper bags that Green Chef uses. The box can be easily recycled, the insulation is compostable, the containers are reusable, but all that plastic is problematic.
Winner: Ladies and gentlemen, we have another tie!
Meal Prep
Both Green Chef and Purple Carrot send their ingredients in a very organized fashion so you don't have to spend much time sorting. You can pretty much just dump all the bags into the fridge as they are, and take them out as and when you plan to cook each recipe.
As for the prep and cooking times, the estimates on the website alongside each recipe are fairly accurate for both companies. You might need an additional five or 10 minutes if you're a complete novice though. Many of the ingredients are chopped for you, and the sauces and seasonings come mixed and portioned.
Green Chef recipes usually take between 25 to 40 minutes. The dinner recipes at Purple Carrot take around the same amount of time, while the breakfast and lunch meals should take no more than five or 10 minutes.
Both services send kits with detailed, easy-to-follow recipe cards. Green Chef also includes additional tips and tricks for more difficult steps.
Winner: Purple Carrot has a shorter prep time for its extras, while Green Chef has clearer instructions. So a draw it is!
The Bottom Line
As you can see from all of the tied categories above, Green Chef and Purple Carrot turned out to be pretty similar. Going strictly by the above criteria, Purple Carrot is the winner. Not only does it have additional menu items, but it's also cheaper than Green Chef.
That said, if you like to include meat or seafood in your diet and don't mind paying a bit more, you might want to go with Green Chef as it caters to a wider range of diets.
While both Green Chef and Purple Carrot have proved they are worthy meal kit delivery services, there are many others out there that might be better suited to your vegan lifestyle. Check out our list of the Best Vegan Meal Delivery Services of the year to find out which services ranked high up on the list.
Overall winner: Purple Carrot