HelloFresh vs. FreshDirect 2023: Which Comes Out on Top?
In this comparison blog, I'll be pitting one of the biggest names in the meal delivery service industry, HelloFresh, against grocery giant, FreshDirect. Whilst HelloFresh is widely known for its recipe boxes, delivered straight to your door, FreshDirect, is known more for its online grocery deliveries.
FreshDirect also has its own range of prepared meals, meal kits, breakfasts, and sides, making it a viable alternative to specialized recipe boxes and a good option if you're after quick meals with no prep. If it's fun and simple cooking home cooking you're after, however, there's only one real winner and that's HelloFresh.
At a Glance: Who Won Each Category?
| | |
| --- | --- |
| 💲 Price: | FreshDirect Price: Missing Product fresh-direct per serving |
| 🍔 Menu Variety: | Tie |
| ⏰ Prep Time: | FreshDirect (0 to 4 minutes) |
| 🍴 Customization: | Tie |
| 👍 Ordering and Delivery | |
| 🙋 Customer Support: | |
Winner: Tie
This one was simply too close to call. FreshDirect has way more items on the menu but HelloFresh offers a great range of seasonal recipes which rotate weekly. FreshDirect offers 72 4-Minute Meals to choose from as well as a range of meal kits, sides, starters, pies, pizzas, and more. But, even though HelloFresh has fewer stand-alone options, it still offers upwards of 30 new recipes each week and more seasonal variety.
Another key difference between the two services is prep. HelloFresh specializes in meal kits that come with varying degrees of difficulty (great for those who enjoy cooking new, exciting, recipes) and offers options from seven different cuisines including Chinese, Mediterranean, Mexican, Caribbean, Italian, Thai, and American. You'll find exciting flavors on the menu like Pork Bulgogi Bowls and Toasted Coconut Tempura Shrimp.
FreshDirect, on the other hand, offers a small range of meal kits, focusing more on prepared meals (which may be preferable for people who are time-poor). The range of cuisines offered is also more limited.
If creative main meals are what you're looking for then HelloFresh is a great shout, but you won't be able to find any extras. Those looking for more than mains will be better off opting for FreshDirect, which offers a vast range of prepared foods including 4 Minute Meals, entrees, sides, breakfasts, deli salads, holiday dinners, and more.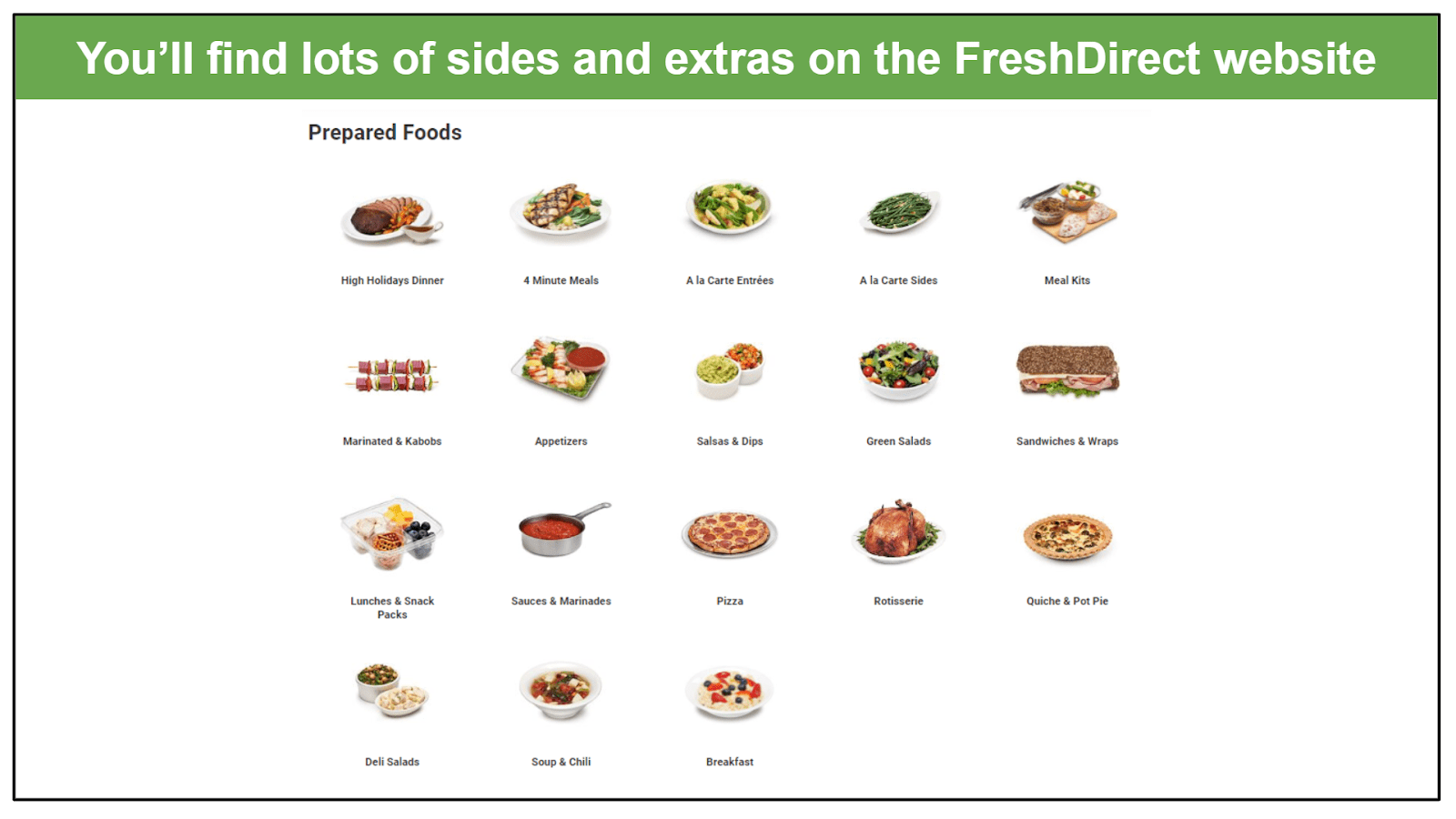 Luckily, both HelloFresh and FreshDirect have some great kid-friendly meals on the menu so either option can be great for families. Although, if you're looking for home-cooked family meals rather than prepared "ready-meal" style dinners then HelloFresh comes out on top.
Meal Customization
Winner: Tie
This was too close to call so I'm calling this one a tie as well.
In terms of customization, FreshDirect does well because it caters to a large number of dietary requirements. You can filter meals according to dietary preferences using the nutrition filter on the FreshDirect website. This allows you to choose from seven dietary categories including high fiber, low calorie, low fat, no added sugar, vegan, vegetarian, and whole grain.
HelloFresh also lets you tailor your menu for specific dietary preferences but there are fewer options. HelloFresh's plans include Meat & Veggies, Veggie, Family Friendly, Fit & Wholesome, Quick and Easy, and Pescatarian options but there are no options for specialized diets like vegan, gluten free, keto, or paleo, for example.
By selecting a plan you don't limit what you can order. You'll still have access to the full menu each week but your menu page will be re-ordered according to your set preferences. HelloFresh also offers the option to swap proteins and sides which is a nice touch and could be useful for people who are allergic to specific ingredients.
Neither service offers specific allergen-friendly recipes or lists of specific ingredients you can exclude, however, both HelloFresh and FreshDirect provide a full lists of ingredients and potential allergens for each meal so you can check if they meet your dietary requirements.
Winner: HelloFresh
When it comes to the ordering, delivery, and unboxing process, HelloFresh comes out on top. HelloFresh's ordering system is simple and intuitive. Simply pick a meal plan that works for your lifestyle and place your order direct from the website. The minimum order with HelloFresh is two meals for two people per week and it's easy to change an order or skip a week too by visiting the My Menu tab in your account.
Since FreshDirect isn't a dedicated meal delivery service, it operates more like an online grocery store. You can order any combination of prepared meals, meal kits, and groceries with a minimum order spend of $30. When it comes to cancelling or rescheduling a delivery, both services are quite equally matched. Both services let you reschedule or cancel your order so long as you do so before their respective cutoff deadlines.
The reason HelloFresh comes out on top is primarily because the service delivers across all states. HelloFresh offers customers flexible delivery dates and times. Delivery times are from 8 am to 8 pm on your chosen day. All areas can received deliveries Wednesday through Friday and some areas can also receive deliveries Saturday through Tuesday. When you sign up, you'll be informed of your delivery days.
FreshDirect, on the other hand, only operates in specific areas. These include New York, New Jersey, Fairfield Connecticut, and (only in the summer) Jersey Shore and the Hamptons. Time slots for delivery vary from region to region but its easy to check available timeslots for your address via the FreshDirect website. If you're lucky enough to live in an eligible district, FreshDirect offers a handy express delivery option that allows you to get some products delivered within a one-hour window.
Comparing the two services, the unboxing experience is quite different. Your FreshDirect order will arrive in bags containing your packaged prepared meals, meal kits, and groceries. Unfortunately there are no specific storage instructions with the items.
HelloFresh will deliver all of your meal ingredients in a box with individual ingredients pre-packaged and clearly labeled. It's recommended that all proteins are kept frozen until a few hours before you want to cook them and, once thawed, used up within 2-5 days. Each part of your HelloFresh box can be recycled (even gel packs). You can find out how to recycle each component by visiting the HelloFresh website and navigating to the sustainability tab.
Winner: FreshDirect
If no meal prep is your kind of meal prep then you'll love FreshDirect. Their range of 4 Minute Meals are already prepared and can be microwaved and ready in (you guessed it) under four minutes. Meals come in a cardboard outer sleave and are sealed with a plastic film. To heat your meal simply remove the sleeve, leaving the plastic film intact, and microwave on high for the suggested number of minutes.
Note that FreshDirect's prepared meals aren't suitable for freezing. These meals are prepared and delivered fresh (not frozen). You'll need to store all of your meals in the fridge and consume by the listed expiry date.
HelloFresh recipes, on the other hand, arrive as meal kits designed to make the preparation and cooking process as fun and easy as possible. Inside your box, you'll find step-by-step recipe instruction cards and pre-measured ingredients for each meal that you can store in your fridge or pantry. The prep time for HelloFresh meals ranges between 20 and 50 minutes and there are three difficulty levels (level 1 being the easiest and level 3 being the most challenging).
It really is a matter of preference. For time-saving eats, FreshDirect is your go-to. For fun, flavorful cooking experiences, head on over to HelloFresh.
Customer Support
Winner: HelloFresh
HelloFresh is our winner for customer support options. It's easy to get in touch with a member of the team if you encounter an issue or have a question before purchasing, and there are a variety of options to choose from.
With HelloFresh you can call, chat online, or report an ingredient or recipe error directly from the HelloFresh website. The virtual assistant and telephone line is available 24/7. There's also a help center and FAQ page full of useful information.
HelloFresh makes it easy to manage orders and cancellations online. You can skip or cancel a delivery up until 11:59 PST, five days before your next scheduled delivery by navigating to the My Menu tab on your account.
FreshDirect also offers customer support by phone, chat, message, and via their online Help Center. FreshDirect's service team is available to answer pre and post-purchase queries between the hours of 6:30 am and 12:30 am. You can also reschedule or cancel an order at any time before the cutoff deadline which is detailed in your email order confirmation.
Pricing
Winner: FreshDirect
Last, but not least, let's talk money. FreshDirect offers the lower price per serving out of the two at Price: Missing Product fresh-direct per serving. Plus, with FreshDirect there's no minimum order volume, just a minimum spend of $30 to be eligible for delivery. By comparison, HelloFresh's lowest serving price is $3.32 per serving.
The price of HelloFresh's meals varies depending on the size of your order. The per serving price gets lower, the larger your order. You can also order between 2-6 recipes for 2-4 people every week. That's a total of 24 serving per week.
Both services charge shipping fees. FreshDirect orders come with a minimum delivery fee of $5.99 and in some locations the delivery fee is higher (for example delivery to the Hamptons costs $15.99). HelloChef charges a fixed delivery fee of $10.99.
Features Comparison: HelloFresh vs. FreshDirect
| | | |
| --- | --- | --- |
| | | |
| Best for | Meal kits | Groceries and prepared meals |
| Starting price | $3.32 per serving | Price: Missing Product fresh-direct per serving |
| Shipping cost | $10.99 | $5.99 to $15.99 |
| Minimum order | 2 meals for 2 people per week | $30 |
| Menu variety | 30+ choices per week | 72+ choices per week |
| Prep time | 20 to 50 minutes | 0 to 4 minutes |
| Low-prep options | Quick Cook | 4 Minute Meals |
| Allergies catered to | Doesn't cater to specific allergies | Doesn't cater to specific allergies |
| Special diets | Meat & Veggies, Veggie, Family-Friendly, Fit & Wholesome, Quick and Easy, Pescatarian | High fiber, low calorie, low fat, no added sugar, vegan, vegetarian, whole grain |
| Customer support | FAQ, online chat, phone | FAQ, online form, chat, phone |
| Promotions | 18 free meals + first box ships free + 3 surprise gifts with code DR18HF | |
And The Winner Is: HelloFresh
This was a tough competition since HelloFresh and FreshDirect each adopt quite different service models. But, overall, HelloFresh comes out on top if you want to start making delicious meals at home with the convenience of pre-portioned ingredients delivered to your door.
HelloFresh is not only our recommendation this time around – it also made it into our best meal delivery services list. Plus, our research also shows that HelloFresh is the more sustainable option as it reduced ingredient wastage and packaging materials are recyclable.
That said, FreshDirect is not without merit. If cooking isn't your jam, and you'd prefer a huge selection of prepared meals then FreshDirect could be the perfect option for you. Plus, many of these meals are eligible for express delivery which means, in some locations, you'll be able to have your meals delivered in minutes.
FAQ
Is FreshDirect a meal delivery service?
Yes, FreshDirect does offer chef-prepared meal solutions delivered to your door. However, unlike many other meal delivery services, that focus solely on meal delivery, FreshDirect is also an online grocery retailer. As well as a range of prepared meals you'll also be able to order fruit, vegetables, meat, seafood, and all kinds of produce, making it a great option if you want to combine regular cooking with some prepared meals during the week.
Can I get prepared meals from HelloFresh?
No you can't get prepared meals. HelloFresh specializes in meal kits that are designed to make cooking fun and easy. Meal kits arrive in a HelloFresh box on your doorstep. Inside your box, you'll find pre-portioned ingredients and recipe instruction cards to help you create delicious meals at home. Though these meals are not pre-prepared, there are lots of quicker options that can be prepped and cooked in under 20 minutes.
Can FreshDirect meals go in the freezer?
No. FreshDirect's range of prepared 4-Minute Meals aren't suitable for freezing. These meals are prepared fresh in FreshDirect's kitchen and are delivered fresh (not frozen). Meals should be stored in the fridge and consumed by the listed expiry date.