How to Cancel CookUnity 2023: No Phone Calls Required
CookUnity is a great meal delivery service for many households, but sometimes circumstances change and you may want to switch up your service or just cancel your subscription.
Thankfully, with CookUnity this isn't an issue.
CookUnity makes it really easy to pause your future orders in the account settings, without having to call customer support. That's even the case if you purchased your meal box using SAVE 30% ON YOUR FIRST WEEK.
There's no doubt that some services make cancellations a huge headache, but not this one. The six simple steps you need to follow are all outlined below alongside some great alternatives to CookUnity, including my top pick – Home Chef.
Jump to see more great alternatives
How to Cancel Your CookUnity Orders – A Quick Guide
Log into your CookUnity account and use the drop down to open the My Account page.
Continue to the Change Plan page where you'll have the option to Cancel Subscription.
Answer the required question. Give your reason for canceling and then confirm and continue.
Confirmation will appear. Once cancellation is processed, you'll see the confirmation note and you're good to go.
Step-By-Step: How to Cancel CookUnity
Sign in to your account: Then use the drop-down menu on the CookUnity site to find the My Account page.
Click on Change Plan: Next to your name and account information, there's a link to change your plan. Click on it to get to the next steps.
Find the Cancel Subscription button: The change plan screen has a few options, but at the bottom of the list, you'll see the option to cancel your subscription.
Select your reason for canceling: This question is required to move to the next step, so select an option from the list. Most answers will trigger a coupon or offer as an incentive to stay, but you can close out of it and move forward.
Confirm your cancellation: Continue scrolling once you've answered the question and you'll find a confirmation checkbox. Then you can click to proceed.
The confirmation screen will appear: Once you've clicked Cancel my Subscription, you should receive a confirmation screen like the one pictured below. This gives you the option to reactivate your subscription if you made a mistake.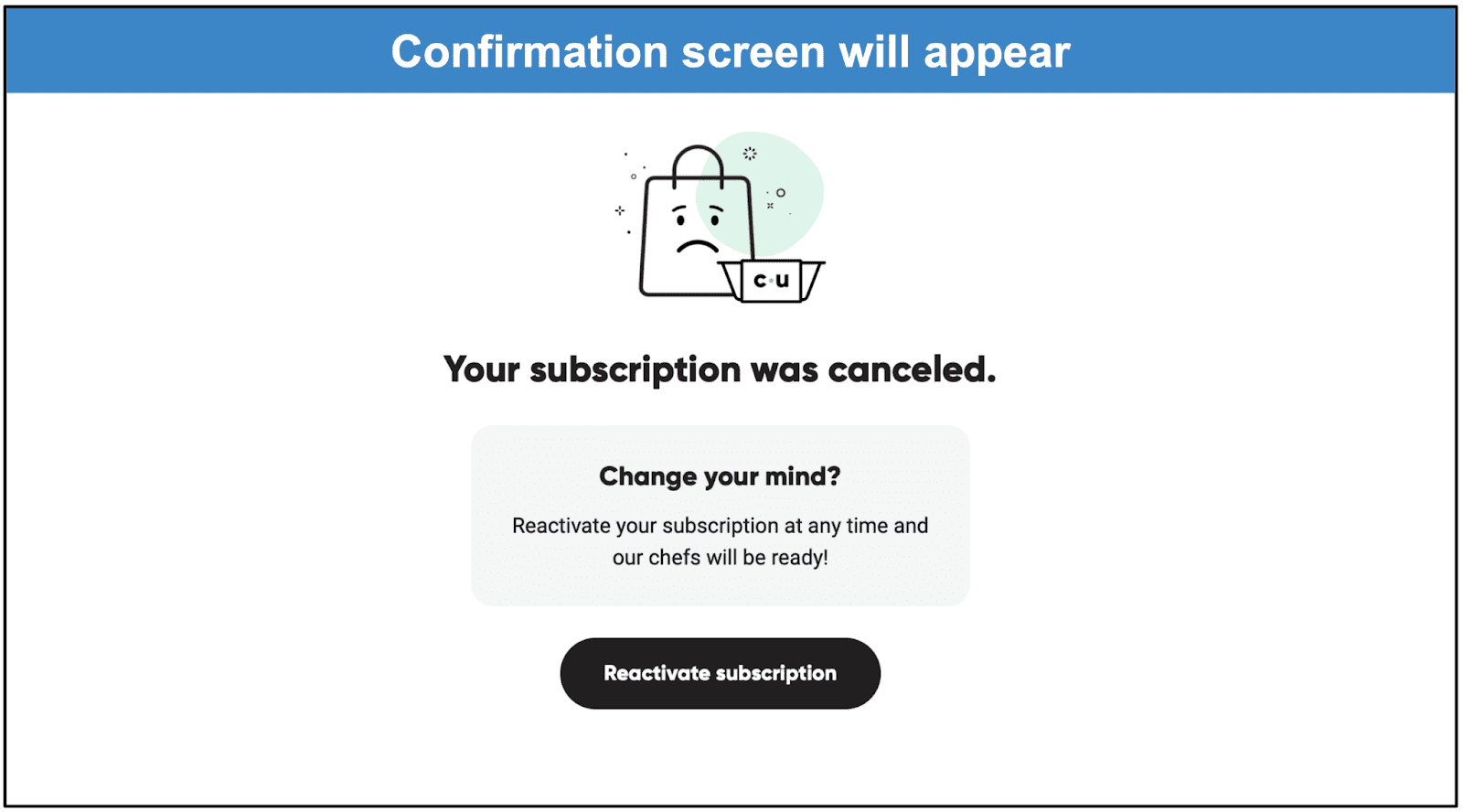 Best Alternatives
1. Home Chef – Best For Customized Meals
Cauliflower Ragout with Linguine & Shredded Parmesan
If you love CookUnity's variety, Home Chef offers up an equally exciting menu of 20 or more recipes per week – plus you have the ability to swap, upgrade, or double-up on the protein in almost every dish, giving you even more options.
Choose from a selection of Calorie-Conscious, Carb-Conscious, and Vegetarian meals, all of which are made up of trad meal kits, super-speedy 15-minute meal kits, and even oven-ready dishes.
In fact, it doesn't matter how busy you are, you'll find something to suit your schedule, as this detailed Home Chef review explains.
You can find meals starting from as little as $7.99 per serving, but be sure to take advantage of Home Chef's current offer, too. Get 18 Free Meals (50% off your first 4 boxes)!? Yes please!
2. Sunbasket – Best For Specialized Diets
Mexican Pulled Chicken with Zucchini, Bell Pepper & Pumpkin Seeds
If you're looking for meals to help you stay on track with a particular diet or lifestyle, Sunbasket has more options than almost all other meal delivery services. Choose from a range of plans, including Paleo, Pescatarian, Diabetes-Friendly, and Gluten-Free.
All plans feature both meal kits and prepared meals, but this in-depth Sunbasket review covers each one in detail.
If CookUnity's organic ingredients were something you enjoyed, you'll be pleased to know that Sunbasket always uses organic where possible, with a focus on seasonal produce and sustainably sourced proteins.
Check out its current promo (No active deal) for the best deal.
3. EveryPlate – Best For Affordability
Cherry-Glazed Pork Meatballs with Mashed Potatoes & Roasted Carrots
If budget is your number-one priority when choosing the right meal delivery service, EveryPlate is a great choice, with meal kits starting at $1.49 per serving. Plus, you can take advantage of its current deal: Try Everyplate at $1.49/Meal.
As well as its affordability, EveryPlate's crowd-pleasing recipes make this a great choice for families. In fact, you'll find a dedicated Family Friendly plan, alongside some veggie options and meals that take 30 minutes or less to get on the table.
Find out more about what our reviewer thought when they put EveryPlate to the test!
Bottom Line
CookUnity keeps the process of canceling your subscription simple and completely online. There's no need to call customer service and give a reason – by signing in to your account, you can make all the changes you need via the website.
If you're still in search of the ideal meal delivery service, you might want to consider the alternatives I've listed above. They might be just what you're looking for where CookUnity didn't quite hit the mark. And the good news is, they're flexible too. Why not try them out to see if they better suit your household's needs?

Here's a Quick Summary of Best Alternatives to CookUnity:
| | | | | | |
| --- | --- | --- | --- | --- | --- |
| Meal Delivery Service | Starting Price | Special Discount | Meal Types | Our Rating | |
| | $7.99 per serving | | Meal kits & prepared meals | 9.375 ⭐️ | |
| | $4.27 per serving | | Meal kits & prepared meals | 9.125 ⭐️ | |
| | $1.49 per serving | | Meal kits | 7.75 ⭐️ | |
FAQ
Is it easy to cancel a CookUnity subscription?
CookUnity makes it very easy to cancel your subscription. It's just a few clicks on the website to finalize the cancellation. It's easy to pause or change your plan as well.
Are there cheaper alternatives to CookUnity?
If you're looking for a cheaper alternative to CookUnity, my pick would be EveryPlate, which is one of the most affordable meal delivery services available right now. With prices starting at $1.49 per serving, you won't find a better deal.
When can you cancel a CookUnity subscription?
The cutoff time to make changes to your order or subscription will depend on your zip code. When you cancel your subscription, you will still receive any scheduled deliveries after the cutoff time for your specific area. That time is listed in your account information on the website.