Freshology in a Nutshell
Prepared healthy meal delivery for weight loss, Keto, and diabetes – from the people behind best-selling Diet-to-Go.
What I Liked
More than 500 meal options across four plans

No prep or cooking

Free access to a dietitian, nutritionist, and health coach
What I Didn't Like
Weekly $9.99 delivery fee after first two weeks

Only five or seven-day plans available
Freshology Overview
Powered by Diet-to-Go, the premise of this weight-loss meal delivery service is to get you gourmet meals made from quality ingredients, ready to heat and eat.
All Freshology meals are low in calories, sugar, carbs, and salt. This both supports weight loss and helps you manage prediabetes or diabetes itself. It even has a plan dedicated to managing diabetes and weight loss.
That being said, I was skeptical. I wanted to know if Freshology was the type of meal service that gives you meals that look like the kind of food you're used to, but leave a lot to be desired in the way of taste and feeling full. Not only that, but I also wanted to know who should avoid Freshology. I discovered all that and more.
How Freshology Works
Freshology's meals are created by dietitians and prepared by professional chefs. It approaches its menu choices and plans a little differently to standard meal services on the market.
For one thing, there are four, customizable plans to choose from:
There are around 500 meal choices across four plans, arranged into five-week meal rotations. Each week, you'll receive a suggested menu (depending on which plan and the number of meals you've requested), and a set of substitute options, as well.
Signing up is a breeze.
You start by entering your address to make sure Freshology delivers to your area. (More on the delivery process later!)
Before choosing your delivery day, you'll need to pick your plan.
Hover over the name of each plan for a clear explanation of what it entails:
I was a little surprised at the customizing questions that followed when I chose the Balance plan.
You rarely get asked your gender when signing up for a meal delivery service. When it comes to calorie-controlled, weight-loss meal plans, this is a pretty important distinction to make from the get-go, considering that men generally require more daily calories than women.
After that, I put in my email address and moved on to the payment screen. I noticed that Freshology only accepts credit cards, while other meal delivery services accept PayPal. That slightly annoyed me.
Once you've added your payment details, it's time to start choosing your meals! Freshology suggests a range of meals from your selected plan, and you can swap out any you don't like. One thing to note: you can't substitute specific ingredients, only entire meals.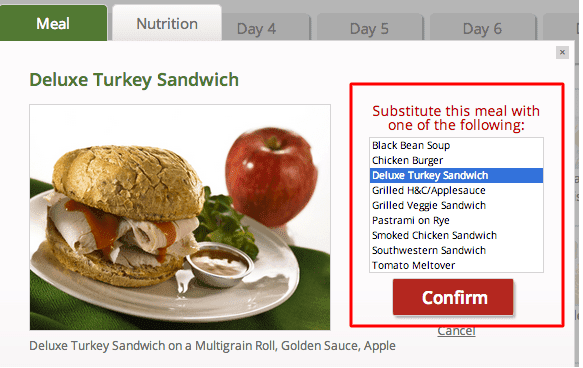 Freshology Prices
You're getting a dietician-designed, chef-prepared meal delivered to your door (with some very specific dietary plans), so you should expect to pay a little more than you would for other meal delivery services.
The thing is, when you work it out, you don't pay that much more at all. Say you order the minimum number of meals (five days a week, with two meals a day) in the Balance plan. That works out $12.20 per meal for women, or $13 per meal for men, where portions are slightly larger to accommodate their higher calorie limit. That's $121.99 and $129.99 in total, respectively.
When you order three meals a day for seven days, the price per meal goes down to $8.57 per meal ($179.99 per week) for women, and $9.48 per meal ($198.99 per week) for men. That's actually some of the lowest prices per portion on the market.
If you have a specific dietary requirement – say Keto or diabetic – you'll be paying around the same amount as with the Balance plan, which is a nice touch. Other specialist meal services, like Sun Basket or Green Chef, charge around $12 per portion for specialist meals, so I really appreciated the pricing at Freshology, especially for gourmet, pre-prepared meals!
On the other hand, Freshology charges $9.99 per week for delivery, regardless of the number of meals you order. While you get your first two weeks of delivery for free, that soon adds up.
Freshology Menu
Freshology's menu features some mouthwatering meals. Here are a few of the dishes I spotted on the Balance plan:
All of these meals come cooked and chilled. Just pop them in the microwave for two to three minutes, and dinner is served! You also get a helpful information card with tips on how to snack while sticking to your particular diet goals.
| | |
| --- | --- |
| Pricing | From $8.57 per portion |
| Meal plan options available | Omnivore, ovo-lacto vegetarian, keto, diabetic, prediabetic, low-carb, low-sodium |
| Shipping costs | $9.99 per week |
Freshology Delivery
Most meal delivery services offer home delivery based on your location, and the actual delivery day will vary.
Freshology offered me two delivery days – Tuesdays and Fridays. If you live in certain areas (Baltimore, New Jersey, greater LA, and the Washington DC metro area), you can opt for local pickup. Even better, these local pickups allow you to sample the different meal options!
Another thing, Freshology offers contact-free deliveries. That's incredibly important to anyone self-isolating (like me), in quarantine, or any germaphobe during non-pandemic times.
Another pandemic-friendly aspect: my delivery date was only three days from the time I placed the order. When supermarkets are freezing their services or offering delivery slots up to six weeks away, the quick turnaround was much appreciated!
Freshology Unboxing
Many meal delivery services try to be environmentally friendly by making some, if not all, of their delivery packaging recyclable.
Unfortunately, I always find a few too many plastic bags for my liking, but I was very happy with my Freshology delivery. Since everything is prepared and cooked, there are no loose ingredients to package up.
This means that everything is recyclable. The delivery is made up of plastic containers (some of which I could wash and reuse) and a cardboard delivery box.
Nice one, Freshology!
Favorite Freshology Meals
Given Freshology's massive menu, you can bet there's something for every kind of palate. These are just some of my favorite breakfasts: french toast,
egg and broccoli pie,
and waffles with peaches and apples:
Freshology Customer Service
Freshology has two support channels available: phone and an online submission form.
Due to the current pandemic, Freshology is offering extended email hours, although I have no idea what that means in practice.
Its phone support is available Monday-Friday, 8 am-5 pm EST, and Saturday 9 am-12 pm. I tried calling out of hours and left a voicemail.
I received a call back within 12 hours when customer support was available. This was the first time I'd been asked to leave a message outside of support hours, so I was pretty impressed.
Need a heads up on the cancelation process before trying out a meal delivery services? No problem, you can find out about that in this short blog post.
Alternatives to Freshology
While Freshology really does hold your hand through the weight-loss process, it might not be the right meal plan for your budget or dietary preferences.
If you're looking for a more inexpensive weight-loss meal delivery service, check out Nutrisystem's weight-loss plans. They provide your entire day's worth of meals and meal replacements, many of which are shelf-stable and easy to take with you while you're on the go. Just add water, and enjoy!
Sun Basket is an organic meal delivery service offering a Lean & Clean plan. Choose from its calorie-controlled menu, and get fresh, responsibly-sourced ingredients delivered to your door. Its a great option for losing weight while eating clean, home-cooked meals. You also get the opportunity to brush up on your healthy cooking skills!
The Bottom Line
Freshology is a winner in my view for two reasons – you don't need to cook anything, so it's super easy, and it helps you on your path toward weight loss and healthy eating. It's the dream, for me at least!
The menu was appetizing, and I found myself looking forward to my next meal. Also, with a five-week rotating meal plan, I knew I wouldn't get bored.
It's a little pricier than some of the meal delivery options on the market, but that's only really because you need to order a minimum of five day's worth of meals per week. When you look at the price per meal, you'll find they're a lot cheaper than others.
A five or seven-day controlled diet is also important to see the benefits of sustainable weight loss. Eating healthily a few times a week won't cut it.
I'd say it's worth trying out Freshology. For one thing, that two-week free delivery is pretty enticing, and hitting your weight-loss goals will keep you coming back for more!
FAQ
What is Freshology?
Freshology is powered by Diet-to-Go. It's a no-prep or cooking delivery service offering over 500 chilled meals across four plans. All Freshology meals are low in calories, sugar, carbs and salt and are specifically designed for weight loss, Keto and diabetes management. There's also a vegetarian plan for non-meat eaters who want to lose weight.
How much does Freshology cost?
Freshology prices start at $8.57 per portion, however, you have to choose either a 5- or a 7-day plan. The most expensive option currently available, which offers 3 meals a day for the entire week, costs $179.99 a week for women and $198.99 a week for men - but you get a lot of food! Shipping is an extra $19.98. That's almost identical to BistroMD, another health focused prepared meal delivery service, which ships at $19.95 per order.
How do you cancel Freshology?
It's pretty straightforward to cancel your Freshology subscription. While you can't cancel directly from your account, all you need to do is send off a quick email or call the customer support team. Just remember to cancel before Friday 12pm EST or you'll have to pay for any orders already being processed.
For more information on how to cancel Freshology, you can read this quick blog post. You'll also find the top Freshology alternatives that might get you the results you're looking for.