How to Cancel Your Fresh and Easy Plan (+ 3 Alternatives) 2023
Fresh and Easy focuses on quick, tasty meals that don't need time-consuming preparations. Like parent company Home Chef, it's a popular choice – but it's not for everyone. If you want to cancel your subscription, I'll walk you through the process in three easy steps (including how to avoid any charges).
Once you're free of Fresh and Easy, I'll show you some great alternatives that fit in the same budget (or even lower). HelloFresh is my top choice since it has a varied range of foolproof meal kits and recipes tested by pro chefs.
Blue Apron and Sunbasket are also great options. I'll get into why after I've gone through the cancellation process.
Fresh and Easy has a simple cancellation process, but you have to input your request before Friday 12 PM CST otherwise your order for the upcoming week will still be processed and you'll receive the box whether you want it or not.
Here's how to pause or cancel your subscription:
Select Account Settings – Go to the Home Chef website (Fresh and Easy is part of the Home Chef brand), log in to your account, and click on Account Settings.
Choose Pause Subscription – Home Chef will ask you to give a reason for cancellation, which you have to supply before you can move on.
Confirm cancellation – Make sure you reach the cancellation confirmation screen to be certain the process is complete! Keep an eye out for the confirmation email that will follow.
Keep in mind that your Home Chef account isn't fully deleted and you can reactivate it any time you want to return.
Also bear in mind that your first order is scheduled automatically and it can't be canceled using the steps mentioned above. You can remove all the meals from the order, which will automatically cancel it during processing or you can contact the Home Chef support team and request a first-order reschedule.
So You Canceled Your Subscription – What Now?
Meal planning and shopping for ingredients are still as boring and time-consuming as ever. Luckily, just because you chose to cancel your Fresh and Easy subscription doesn't mean you have to return to this life!
Whatever your reason for canceling, there are plenty of healthy, quick, and great value alternatives out there and I've found the top three that may be a better fit for you.
1. HelloFresh – Best for A Diverse Cooking Experience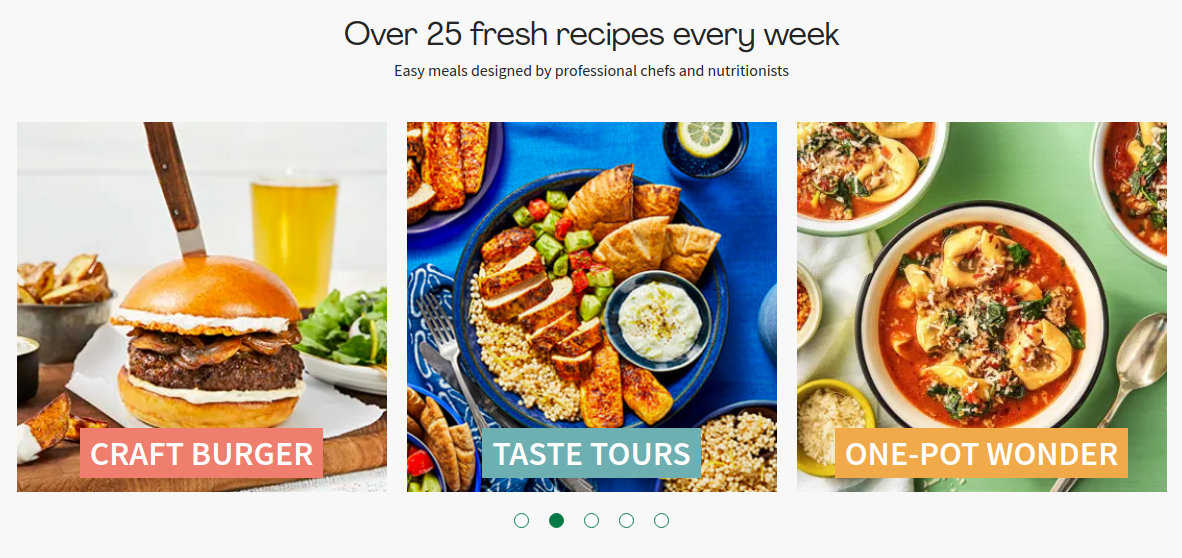 If you'd like something a little more in-depth than Fresh and Easy's kits, but still quick and straightforward, HelloFresh's tried-and-tested meal kits could be the perfect choice.
Like Fresh and Easy, the menu changes each week to keep things interesting. HelloFresh also offers six plans that fit different dietary needs such as Pescatarian, Veggie, and Calorie Smart. For more about the types of dishes on offer, check out our in-depth HelloFresh review.
Most meal kits take around 30 minutes to prepare but if you're looking for low-prep options, it has those too. Keep an eye out for recipes with One Pot in the title or Easy Prep and Easy Cleanup tags on the menu.
If you canceled Fresh and Easy because you want a more hands-on cooking experience, Blue Apron's meal kits could be just the answer.
Each recipe comes with detailed instructions and images, which leaves little room for error. Estimated cooking times are clearly displayed on the menu. They range from 25 minutes (those with an Easy Prep and Cleanup tag will be the easiest) to almost an hour for more in-depth dishes. To learn more about the menu, check out our full Blue Apron review.
Blue Apron focuses on fresh, high-quality ingredients without amping up the cost. Prices vary depending on which plan you choose (Signature, Vegetarian, or Wellness) and the number of meals you order per week. Blue Apron also has a great introductory offer at the moment, which can bring the price down considerably.
Fresh and Easy doesn't cater to a huge range of dietary requirements but Sunbasket absolutely does. Sunbasket has 10 dedicated meal plans to cater to the most common dietary preferences out there, from Vegetarian to Mediterranean, and Pescatarian.
My colleague goes into more detail on the menu and market items available in their Sunbasket review.
Unlike Fresh and Easy, Sunbasket is a certified-organic meal delivery service although the high-quality ingredients do make it a bit more expensive. One perk, however, is that you can find both prepared meals and meal kits on the menu, making it easy to choose between speedy no-prep ready meals or DIY meal kits, depending on your schedule.
Bottom Line
Overall, canceling Fresh and Easy is straightforward, as long as you remember to send your request in time (Friday 12 PM CST). Also, your Home Chef account is easy to reactivate, if you want to return at a later date.
Now is a great time to try out a few different vendors until you find the one that works for you. Luckily, there are plenty of options on the market!
FAQ
Is it easy to cancel a Fresh and Easy subscription?
It takes only three steps to cancel/pause your Fresh and Easy subscription. It's important to note that your account won't be deleted, just deactivated. This way, if you want to return, there's no need to start over.
Get the full scoop on how to cancel your subscription above.
Are there cheaper alternatives to Fresh and Easy?
At $6.99 per serving plus shipping, Fresh and Easy is one of the most affordable vendors on the market. However, you can find meal delivery services at the same level of pricing or even lower.
Still, if you're not on a tight budget, it's best to try a few different vendors (regardless of price) before you decide. This way, you can find a meal delivery service that fits your taste and your budget.
Can you cancel the subscription at any time?
Yes, as long as you submit your cancellation request before Friday 12 PM CST. If you miss this deadline, your order for the following week will enter the processing system and can't be stopped so you'll receive another box of meals before the cancellation takes effect.
If you're in the market for an alternative, check out how Fresh and Easy compares to other top meal delivery services.