How to Cancel/Pause Home Chef (+ Alternatives) 2021 Update
Home Chef has earned its spot as one of the most popular meal kit services on the market, but that doesn't mean it's the perfect fit for everyone. With so many enticing meal kits to choose from, I don't blame you for letting your eye wander. Luckily, if Home Chef isn't working for you, there are some great alternatives.
Does your household have any special dietary needs? If so, Sunbasket can provide meals to suit many preferences, including paleo and vegan. Or maybe you've seen HelloFresh's menu of family-friendly dishes and can't resist trying them out.
If your decision to cancel is simply a matter of dollars and cents, then EveryPlate offers absolutely the best deal. In general, Home Chef is reasonably priced as long as you resist the urge to indulge in its gourmet Culinary Collection, but nothing can beat EveryPlate's price of just $4.99 per serving.
If you're convinced it's time to make a switch, Home Chef actually makes it quite easy to cancel your subscription. The only caveat is that you need to mind the cutoff date of 12 pm CT on a Friday or you'll pay for one final order.
The first thing you'll notice when you go to cancel your account is that Home Chef makes every effort to stay in your life. You'll have many options to switch your plan, change your delivery frequency, or even temporarily pause your subscription. That said, here's what you need to do if you're ready to cancel your Home Chef subscription for good.
How to Cancel Your Home Chef Orders – A Quick Guide
Sign in / Open Account Settings – Navigate to Account Settings and click on the Subscription tab to view your plan. You can also simply click on Pause Subscription to skip ahead.
Pause your account – From your Subscription page, you can change any details of your plan or click on Pause Your Account to continue the cancellation process. Make sure you pause your account indefinitely, otherwise your service may restart at a later date.
Finish the survey – Home Chef will ask you to give a reason why you want to cancel your subscription. It's optional, so only fill it out if you want to.
And you're done – Once you finish the survey and confirm, Home Chef will give you one last chance to connect with its support team. You can also schedule a reminder if you have any intention of restarting your service (for example, if you're just going on vacation).
Lastly, don't forget to look out for a confirmation email!
I have to say I kind of appreciate the fact that Home Chef treats this as pausing rather than canceling. This makes it easy to jump right back in if you ever decide to give it another try. As my colleague's full-length Home Chef review ) discusses, there are many reasons to love Home Chef, so there's always a chance you'll want to try this service again.
So You Canceled Your Subscription – What Now?
Just because you're taking a break from Home Chef doesn't mean you have to stop getting meals delivered. Here are three services that may shine where Home Chef falls short.
Best Home Chef Alternatives
You'll likely recognize HelloFresh as one of the most prominent meal kit services in the United States. My colleague goes into greater detail about how HelloFresh works and its prices in this full length HelloFresh review . Suffice it to say, HelloFresh has earned its renown! As one of the most established meal kits on the market, HelloFresh also has the benefit of experience.
To be honest, HelloFresh and Home Chef are quite similar in terms of what sort of meals they provide and what diets they cater to. However, HelloFresh is known for its family-friendly dishes and Hall of Fame recipes like the Middle Eastern Chickpea Bowls pictured above. It easily lives up to its reputation with big flavors that are sure to delight even the pickiest of eaters.
If you're looking for high-quality, organic, and responsibly sourced ingredients, Sunbasket is a meal delivery service that'll resonate with you. Sunbasket has made thoughtful decisions at every stage, from the diets offered, to the fresh produce, to the packaging.
Our dedicated Sunbasket review goes into detail on this service's many specialized meal plans. Unlike Home Chef, Sunbasket offers dedicated menus for gluten-free and paleo diets along with numerous others.
The downside of these specialized meal plans is a higher per-serving cost than Home Chef. If you struggle to find easy meal solutions to suit your diet though, then Sunbasket's organic meals are more than worth the cost.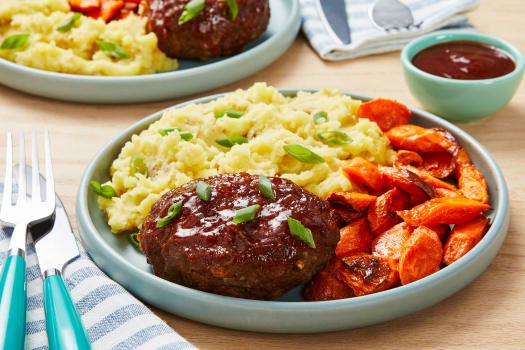 Home Chef is pretty middle-of-the-road in terms of price. Its salads are relatively inexpensive, while gourmet meals from its Culinary Collection come with a hefty added fee. This sort of dynamic pricing can make it difficult to budget, which is why we love the consistent affordability of EveryPlate.
As always, our EveryPlate review contains the most detailed information on this service. But the gist is that, at just $4.99/serving, it's hard to find a better deal than EveryPlate for a weekly meal kit.
EveryPlate is actually owned by HelloFresh, so you can expect to see the same sort of crowd-pleasing dishes here, just in a pared-down, no-frills format. Your diet options and menus are much more limited than other services, but if your goal is to find the most affordable meal kit on the market, you found it.
offers similar meals to Home Chef, but you may prefer its streamlined menu and family-friendly recipes.
is the perfect option if you have certain dietary needs, as it's one of the few meal delivery services to cater to multiple specialized diets. Finally,