How to Cancel Home Chef Subscription 2023: Just 3 Easy Steps
EveryPlate makes it really easy to pause your future orders in your account settings, without having to call customer support. That's even the case if you purchased your meal box using Home Chef's special discount.
Home Chef is one of the most popular meal delivery services on the market due to its customization options and range of prep times. However, if you're like me, you might need a break even from Home Chef's most popular meal plan to get a taste of something different.
If it's time for you to move on, I'll walk you through canceling and suggest some alternatives that might be a better fit.
Like Blue Apron, with its wine delivery program that gets you wines that are perfectly paired with the recipes you order. More on that later. First, let's cancel Home Chef.
Open Account Settings – Sign into Home Chef's website, open your Account Settings and click on the Subscription tab to view your plan.

Pause your account – Click on Pause Your Account, making sure not to set an end time for how long you want to pause your orders for.

Confirm your cancellation – You'll then be taken to an optional survey, then you;ll be given one last chance to connect with Home Chef's support team or schedule a reminder to restart the service. That's it!
Home Chef makes it easy to cancel your subscription.
Keep in mind that canceling your current subscription doesn't delete your account with Home Chef. This way, if you ever decide to return, you just have to log in and reactivate the subscription.
Make sure to submit your cancellation request before Friday 12 pm Central. Otherwise, you'll still receive (and be charged for) the following week's delivery.
Sign in / open Account Settings – Navigate to your Account Settings and click on the Subscription tab to view your plan. You can also click on Pause Subscription to skip ahead.
Pause your account – From the Subscription page, you can change any details of your plan or click on Pause Your Account to continue the cancellation process. Make sure you pause your account indefinitely.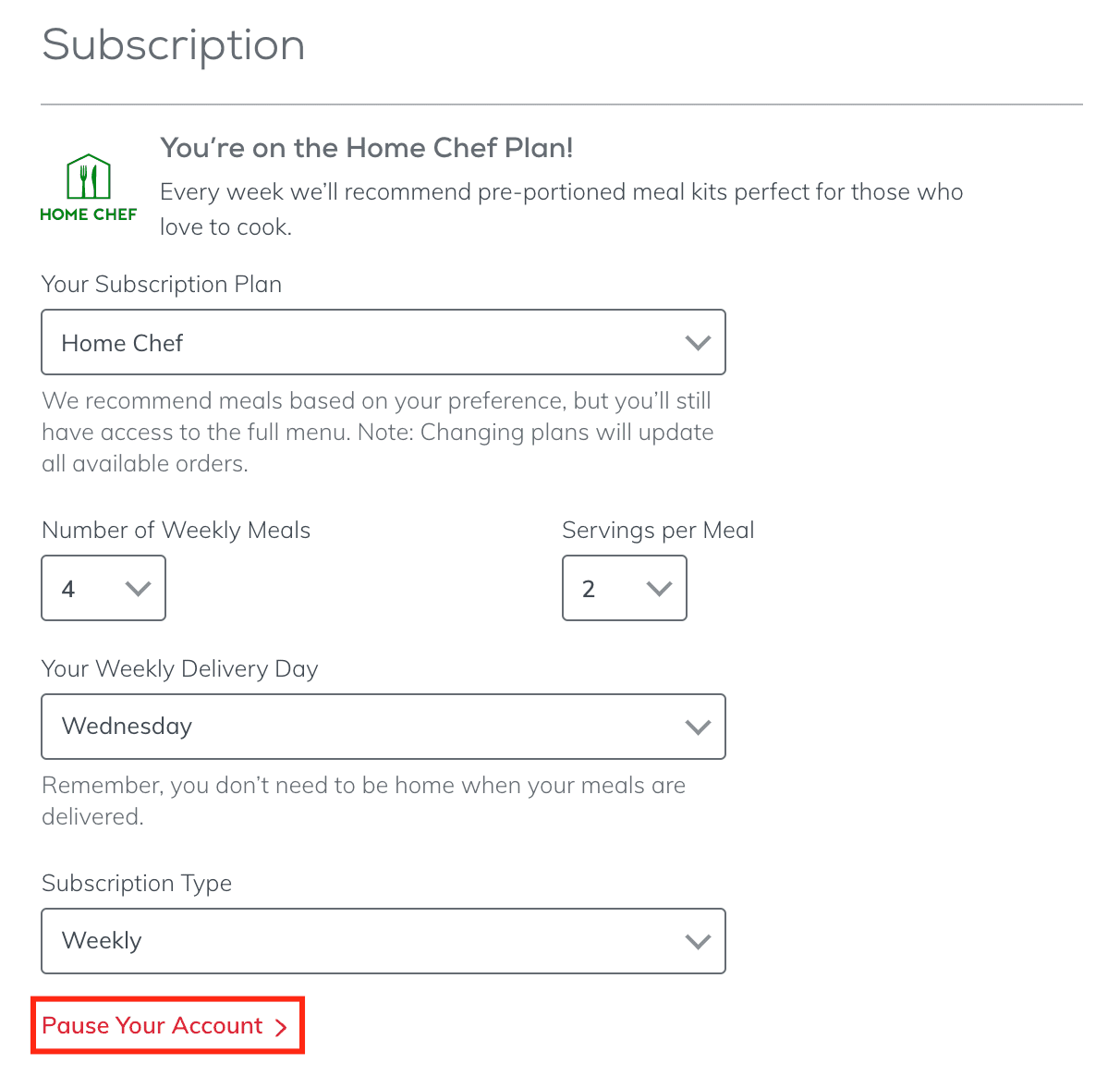 Confirm your cancellation – Home Chef will ask you why you want to cancel your subscription – this survey is optional. Then, Home Chef will give you one last chance to connect with its support team or schedule a reminder to restart the service. The reminder is useful if you're going on an extended vacation and just want to take a break.
Don't forget to look out for a confirmation email! Your cancellation isn't complete if you don't reach the confirmation screen and receive the email.
Lastly, if you want to cancel your first order, you'll have to contact the support team because the first order is scheduled automatically.
So You Canceled Your Subscription – What Now?
Just because you're taking a break from Home Chef doesn't mean you have to lose the convenience of getting meals delivered. Here are three services that I think you might like, as they shine where Home Chef falls short.
Like Home Chef, Blue Apron focuses on meal kits with a weekly menu. However, it features a more diverse menu with health-conscious, chef-designed meal kits that take your cooking to the next level. I like Blue Apron because it feels like you're stepping up from making basic meals, and you get plenty of support to learn new skills in the kitchen.
Unlike Home Chef, Blue Apron offers a Wellness plan that focuses on weight loss and holistic health. The recipes are approved by a nutritionist and they follow Weight Watchers' guidelines. You can find out more about the other menus available in my colleague's full-length review.
To complete the home-dining experience, Blue Apron also offers a wine menu where you can choose the perfect pairing for your recipes.
HelloFresh and Home Chef are quite similar in terms of what sort of meals they provide and what diets they cater to. However, HelloFresh has a better Family Friendly plan. You also get access to its tried-and-tested favorites in the Hall of Fame recipes like the Middle Eastern Chickpea Bowls.
HelloFresh is one of the more well-known services, but it easily lives up to its reputation with big flavors delight even the pickiest of palates. Find out more about prices and see how my colleague got on when they tried cooking with HelloFresh in our full-length HelloFresh review.
HelloFresh rotates its menu every week so you'll never get bored, and you'll get to try new cuisines and cooking techniques with every order.
If Home Chef didn't focus enough on responsibly sourced ingredients for your liking, then Sunbasket is a meal delivery service you'll feel proud to order from. Sunbasket's organic offer is diverse and includes meal kits, prepared meals, snacks, and treats. Plus, with 10 meal plans to choose from, almost anyone can find recipes that fit their dietary needs.
Our dedicated Sunbasket review goes into more detail on this service's many specialized meal plans. Unlike Home Chef, Sunbasket offers dedicated menus for vegetarian and paleo diets along with many others.
The downside of these specialized meal plans is a slightly higher cost per-serving cost than Home Chef. If you're looking for high-quality ingredients or need to cater to a niche diet, Sunbasket's organic meals are more than worth the cost!
Bottom Line
Canceling your Home Chef subscription is as simple as following one of its recipes! While I'm personally a fan of the service, there are several reasons it might not be the right one for you. Fortunately, there are many other options for you to try.
Here's a Quick Summary of Best Alternatives to Home Chef:
FAQ
Is it easy to cancel a Home Chef subscription?
Yes, it's easy to cancel your Home Chef subscription. Plus, if you change your mind and want to restart the service, your account will be waiting for you as it's not completely deleted. You just have to reactivate it and place a new order!
Check out my quick guide above for an overview of how Home Chef's cancellation process works.
Are there cheaper alternatives to Home Chef?
At $7.99 per serving, Home Chef is already an affordable meal kit delivery service. While you may find cheaper alternatives, it's best to focus on the quality of ingredients, taste, and other important factors before considering the price.
You can see my list of top alternatives to Home Chef above.
Can you cancel the subscription at any time?
As long as you cancel before the deadline for the following week's delivery (Friday 12 PM Central), your cancellation will go through. Otherwise, you'll be charged for a new delivery as your order will already have been processed.
Also, if you want to cancel the first order you've ever placed with Home Chef, you'll have to get in contact with the support team since it's scheduled automatically.
You can read about the entire cancellation process above in my step-by-step guide.