How to Cancel Home Chef Orders + Great Alternatives 2021
Home Chef has a lot to offer. I personally tried out the most popular Home Chef plan and saw many ways that this meal delivery service - while very convenient - could improve.
You can get the full scope of what I thought in my full-length Home Chef review .
But in short, it's slightly pricier per serving. A company like HelloFresh is almost $2 less per serving, and EveryPlate is about $3 less per serving.
Also, Home Chef doesn't cater to stricter diets in the same way that a company like Sunbasket does.
Whatever your reason for switching, I can say from personal experience that canceling your Home Chef orders is easy to do – just mind the cutoff date!
Start by going to Account Information and navigate to "Delivery Details". Then click "Pause Your Account."
Then choose the reason why you want to pause your Home Chef account:
The list is a little long…
Home Chef will offer you one more chance to sort out any grievances via customer support, or to set up an automated reminder for when you might want to activate your account again (useful if you're just going on vacation):
And you're done!
You must make sure to "indefinitely cancel" your account before 12 pm CET on a Friday or you'll be charged for the next order in the delivery pipeline.
I appreciated the concept of indefinitely pausing my Home Chef account, instead of permanently deleting it. Who knows – maybe one day I'll decide to give them another chance? It saves time not having to start from scratch. Home Chef also suggests a couple of ways you can make your subscription work better for you – like having less frequent orders.
So You Canceled Your Home Chef Subscription – What Now?
Your Home Chef subscription is a thing of the past. Now the question is, do you want to go back to grocery shopping and deciding what to eat every night? If the answer is no, then read on.
You can find a meal kit that's cheaper, healthier, or more diet-oriented than Home Chef – depending on your needs. Here are three meal delivery services I think you should consider:
Best Home Chef Alternatives
At the time of writing this blog post, HelloFresh offers six plans: Veggie , Meat & Veggies , Family Friendly , Low Calorie , Pescatarian and Quick & Easy .
I go into greater detail about how HelloFresh works and its prices in this full length HelloFresh review . Suffice it to say, though, that HelloFresh has been around much longer than most meal delivery services, and it gets a lot of things right – especially with its pricing.
The meal kits come at different difficulty levels and are targeted at everyone from beginner cooks to those who like a bit more of a challenge in the kitchen. There are tons of rotating meals and unlike some companies with more restricted menus, you'll be spoiled for choice.
If you believe in high-quality, organic, and responsibly sourced ingredients, Sunbasket is a meal delivery service you'll feel proud to order from. Sunbasket has made thoughtful decisions at every stage, from the diets offered to the fresh produce to the packaging.
With a choice of 10 different meal plans (I go into all of them in my dedicated Sunbasket review ), you're sure to find a plan that suits your needs.
Sunbasket also gets points for offering a mix of ready meals and meal kits (with easy-to-follow instructions) so you can cook – or not – depending on your mood. That's certainly great if you know you have a busy week coming up and the last thing you want is to spend any more time than necessary in the kitchen.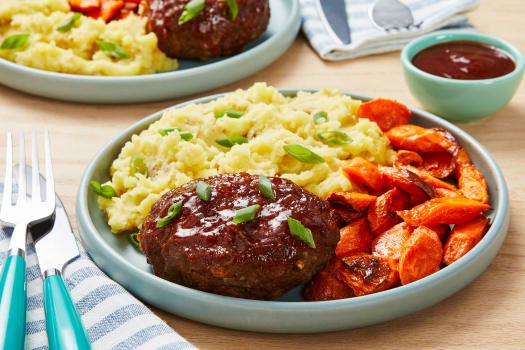 There's a reason why EveryPlate calls itself "America's Best Value Meal Kit." Compared to many others (Home Chef included), it's definitely on the cheaper end of the scale. Its goal is to make healthy home-cooking accessible to everyone. In that vein, you won't find any diet-oriented plans or specific menu options, but you will find delicious meals at affordable prices.
EveryPlate's meal plans are based on the number of meals you order, which you can learn more about in this EveryPlate review .
As someone who has tried a lot of meal kits, I'm the first to say that sometimes too much choice is not a good thing. There have definitely been times when I've sat, endlessly scrolling, unable to decide exactly what I want to eat. When ordering from EveryPlate, this wasn't a problem thanks to its concise but tasty weekly menu.