How to Cancel Purple Carrot 2023 (+ Alternatives!) Updated
Let's be honest – no meal delivery service is right for everyone. Purple Carrot has a lot going for it, but it may not fit your lifestyle and budget. If Purple Carrot isn't for you, other services may better suit your needs.
If you're not a strict vegan and are open to vegetarian options as well, the Plant-Powered menu from Green Chef is a great place to start.
Or maybe you'd prefer a bit more flexibility and variety when it comes to vegetarian meals, in which case HelloFresh has you covered.
If you want the flexibility to choose between meal kits and prepared meals like Purple Carrot, Sunbasket could be a match.
I'll discuss these alternatives in more detail later on, but for now, let's walk through the simple process of canceling your Purple Carrot subscription.
How to Cancel Your Purple Carrot Orders – A Quick Guide
Sign in – Sign in and click on My Account from the menu on the left side of the page.
Select Change – Click the Change link under Subscription Status. This will let you pause or cancel your subscription.
Confirm your cancellation – Click the option to Cancel Your Subscription. A dialogue box will open asking you to provide a reason for canceling. Simply select the appropriate option and click Cancel Subscription to confirm.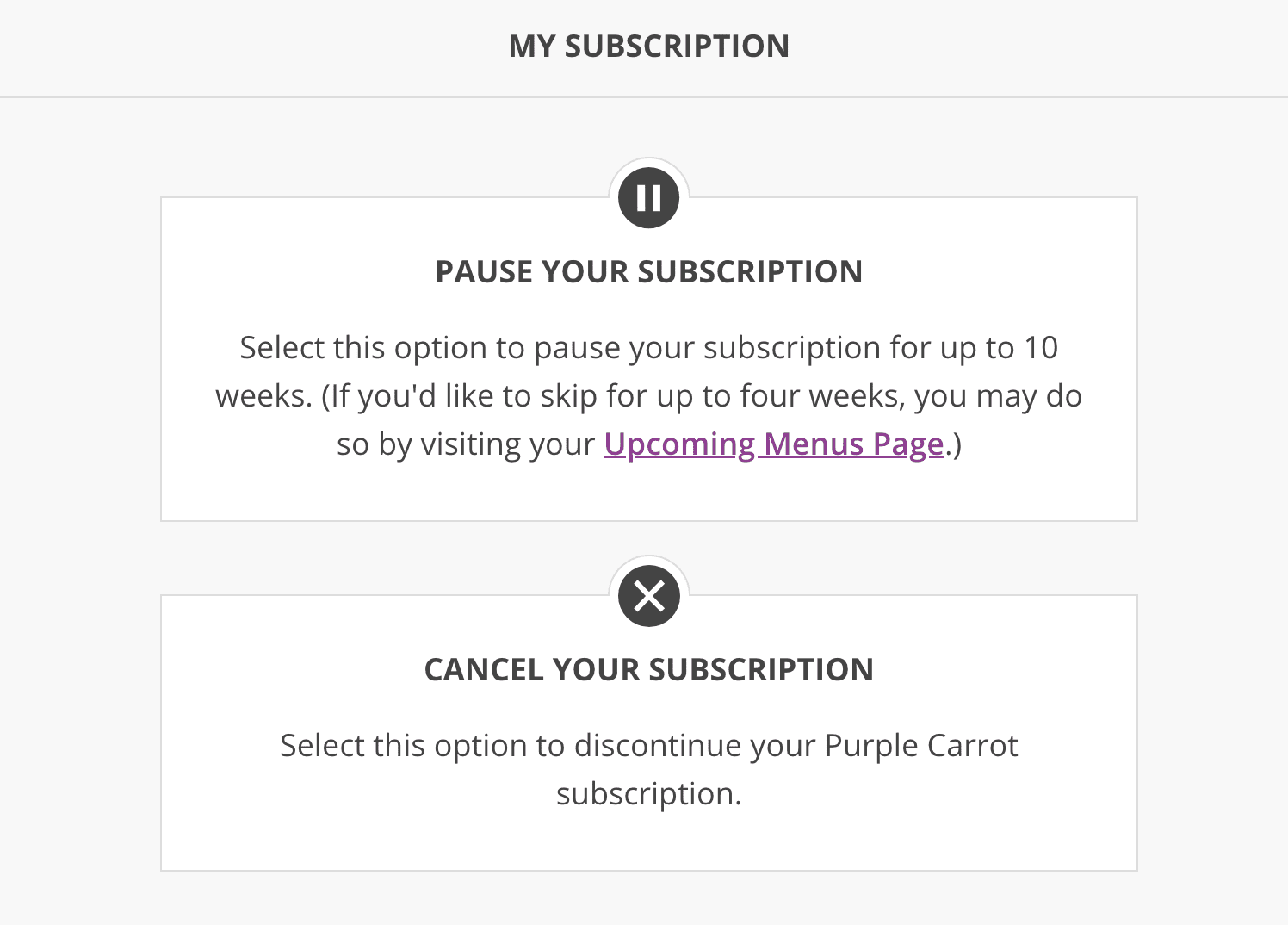 Purple Carrot has a straightforward and painless cancellation process. Ending your subscription is so easy, you don't even have to send an email or pick up the phone.
If you just need a break and don't want to outright cancel, you can also choose to pause your Purple Carrot subscription for up to 10 weeks. In fact, you can even skip up to four weeks simply by unchecking the box on the menu screen (as pictured above).
If you do want to cancel, the process is quick and easy. Simply go to your account settings, select Change under Subscription Status, and cancel your account. Not all meal delivery services make canceling this stress-free, so props to Purple Carrot.
One thing to remember: the deadline for making changes to your order is 11 pm EST the Tuesday before your next shipment. If you go beyond this timeline, you'll be charged for one final week, and your order will be processed as usual.
So You Canceled Your Subscription – What Now?
I firmly believe that there's a perfect meal delivery service for everyone. If Purple Carrot wasn't the right fit for you, have no fear! These three alternatives offer fresh ingredients, plant-based meals, and health-forward recipes with their own unique spin. If Purple Carrot was a near miss for you, one of these three services may just be a bullseye!
Best Purple Carrot Alternatives
Sometimes you want to cook from a meal kit, but other times you just want to stick a premade dinner in the microwave. This can make it difficult to pick a meal delivery service, since most only offer one type of meal. With Sunbasket, there's no need to choose!
When you subscribe to Sunbasket, you can choose from any combination of meal kits and single-serving Fresh & Ready meals each week. Sunbasket even has a marketplace with snacks, drinks, and ingredients that you can add to your order. Our review on this service discusses these features in more detail.
Unlike Purple Carrot, Sunbasket caters to a wide variety of diets. This means there are slightly fewer menu options for vegans and vegetarians, with about five plant-based dishes available every week.
Green Chef is a USDA-certified organic meal delivery service with streamlined menus that suit a number of diets. Of particular interest is its Plant-Powered menu, which offers nine delicious, veggie-forward meals every week. You can usually count on five of these weekly meals to be fully vegan, while the rest contain eggs or cheese.
This service is obviously a good choice for vegetarians who don't always want a fully plant-based diet, but it has another advantage when it comes to the ingredients (one that you might already know if you've read our full Green Chef review).
Unlike Purple Carrot, whose ingredients come in their natural state, Green Chef takes care of almost all the prep ahead of time for you: sweet potatoes come pre-diced, cabbage comes pre-shredded, and corn kernels have been removed from the cob for your convenience. This can save you valuable time in the kitchen if, like me, you're a slow prepper!
Purple Carrot celebrates naturally vegan ingredients. However, this can mean recipes are a little outside your comfort zone – especially if you're fairly new to a plant-based diet. If this makes it hard for you to love Purple Carrot, then HelloFresh may be just what you need.
HelloFresh offers a diverse plant-based menu from a variety of cuisines and packs everything into an easy-to-prepare meal kit. Plus, every ingredient is packed individually, so you can just customize a meal by removing the meat part. You can learn more about it in my colleague's brilliant HelloFresh in-depth review.
The HelloFresh menu rotates on a weekly basis, so even though the offer is a bit limited (around nine options per week), there is variety. Also, most veggie dishes come from exotic cuisines (Asian, Mediterranean, Italian), and the preparation time is between 10 to 40 minutes.
Bottom Line
Purple Carrot excels at its mission, which is providing high-quality ingredients and plant-based recipes that celebrate them. However, that doesn't mean it's the right match for everyone.
There are more meal kits available than ever before to fuel your plant-powered diet. If choosing between them feels overwhelming, be sure to check out our ranking of the best vegan meal delivery services on the market.
Here's a Quick Summary of Best Alternatives to Purple Carrot:
FAQ
Is it easy to cancel a Purple Carrot subscription?
As described above, Purple Carrot makes it easy to cancel your subscription without phoning or emailing customer services. Just go to your Purple Carrot app, select Change on your subscription status, then click Cancel.
Are there healthier alternatives to Purple Carrot?
Purple Carrot is hard to beat for healthy, plant-based recipes, but Green Chef also offers healthy meal kits across a range of diets. Its Plant Powered menu offers several vegan dishes and it also caters to keto and paleo diets, too.
Plus, while Purple Carrot offers gluten-free meals, Green Chef is certified gluten-free by the Gluten Intolerance Group. This means less risk of cross-contamination for those with celiac disease or a serious gluten intolerance.
What's the cutoff for cancelling a Purple Carrot order?
If you want to cancel a Purple Carrot order, be sure to submit your request by 11 pm EST on the Tuesday before your next shipment.
See alternatives to Purple Carrot if you'd like to check out a more suitable vegan meal delivery option.